Due to the rapid growth of the music streaming industry, the competition among various music streaming platforms has become more intense and users are more inclined to seek high quality music. So Tidal and Deezer are racing to launch HiFi music, which offers higher resolution lossless audio. In fact, back in 2021, Spotify has announced plans to offer its premium subscribers Spotify HiFi plan, which offers Spotify Music in lossless, CD-quality to maximize the user's music experience.
Unfortunately, the service launched in 2021 and now that we're in 2022, Spotify HiFi is still absent, which is of particular concern to the public. Recently, you may have seen screenshots of the Spotify HiFi logo online, as well as leaked Spotify HiFi videos, all of which are signs that Spotify HiFi is close to launch. So, while waiting for the official announcement of Spotify HiFi, let's get together to learn more key messages about Spotify HiFi.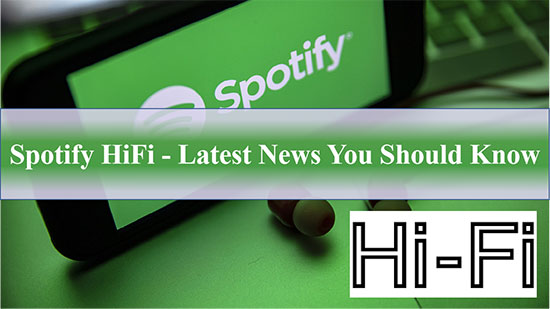 Part 1. What Is Spotify Hi Fi - Related News
Spotify officially claimed in 2021 that it was preparing to launch Spotify HiFi. Once Spotify HiFi officially arrives, it will offer CD-quality lossless audio, which also means that the quality of Spotify Music will be closer to the original recording so that listeners can enjoy higher quality sound. Spotify says it is working with "some of the world's largest speaker manufacturers" to ensure that Spotify HiFi can be accessed through Spotify Connect, then the music service can be delivered directly over Wi-Fi.
Actually, news about Spotify HiFi was first announced in February 2021 and currently Spotify HiFi is not yet available. According to the latest news, Spotify CEO Daniel Ek has admitted that Spotify is having problems licensing content for its HiFi tier. Therefore, based on current indications and news, it seems that it's still unknown when Spotify HiFi will be launched.
Part 2. How to Get Spotify Hi-Fi Lossless Music
Although the launch date of Spotify HiFi is not known yet, if you want to get a CD-quality lossless audio experience like Spotify HiFi, here's an advanced solution to make it all possible. All you need is a comprehensive AudFree Spotify Music Converter, designed to losslessly convert Spotify Music to FLAC and WAV formats, helping you get a CD-quality listening experience to a great extent.
Since all Spotify songs are in Ogg Vorbis format, this makes it impossible for users to listen to Spotify Music on most popular devices. But with this smart Spotify music converter, you can not only get cd-quality sound as well as lossless audio, but also play these high quality Spotify tracks on more music players easily at any time.
How to Get Spotify Hi-Fi Lossless Music
Step 1

Import Spotify Music to AudFree SpoDable

Here are two ways to import Spotify songs, playlists and albums. The simple way is to drag and drop Spotify Music directly into the conversion window of AudFree SpoDable. The other method is to copy and paste the URL of Spotify track into the search box of this converter and then press the Add tab next to it.
Step 2

Customize Spotify Music Output Format

Please click Menu bar > Preferences to open the Settings window, where you can choose lossless FLAC and WAV as Spotify Music output formats. In general, you can also customize other output parameters such as bit rate, sample rate, audio channels, etc. Also, to make the conversion process more stable and avoid accidental errors, it is highly recommended that you set the conversion speed to 1X.
Step 3

Get Spotify Hi-Fi Lossless Music

When all settings meet your needs, click the Convert button in the lower right corner to begin the conversion process. AudFree SpoDable will automatically download and convert Spotify audio files with no quality loss. After the conversion, you can download music from Spotify to computer locally and freely play Spotify Hi-Fi lossless music on any player for offline listening.
Part 3. FAQs About Spotify Hi-Fi Lossless Music
Q: What is the audio quality of Spotify HiFi lossless music?
A: It is worth mentioning that Spotify HiFi will offer audio in CD lossless quality, which is 16-bit/44.1kHz audio quality. At the same time, lossless audio ensures that there is no loss of quality in the digital music files despite the fact that it will consume more data streams.
Q: How much will Spotify HiFi cost?
A: Since Spotify HiFi has not yet officially launched, we can only predict the cost of Spotify HiFi at this time. As you may know, Spotify HiFi is available to Spotify Premium subscribers to be able to upgrade their music, and Spotify Premium subscriptions now cost $9.99 per month, Spotify HiFi will likely cost slightly more than Spotify Premium.
Q: When will Spotify HiFi launch?
A: The idea of Spotify HiFi was first proposed in 2021, but until now Spotify has not provided any specific details about its possible entry into the market. Based on previous conversations from Spotify's CEO and responses to some posts on Spotify's forums, we can roughly expect that Spotify HiFi may not launch in 2022.
Part 4. Spotify Premium vs Tidal HiFi vs Deezer HiFi
You'll want to know the differences among some of the current popular music streaming services, and here we'll compare Spotify Premium, Tidal HiFi and Deezer HiFi in detail for your reference.
| | Spotify Premium | Tidal HiFi | Deezer HiFi |
| --- | --- | --- | --- |
| Music Library | 70+ million | 80+ million | 50+ million |
| Audio Quality | 1411 kbps in FLAC | 1411 kbps in FLAC | 1411 kbps in FLAC |
| Decices Support | Compatible with Spotify Connect | Compatible with Tidal Connect | Compatible with Deezer Connect |
| Subscription Plan Price | $9.99/month | $9.99/month | $14.99/month |
| Availability | 58+ countries | 52 countries | 182 countries |
| Offline Playback | Listen offline with unlimited skips | Listen offline with unlimited skips | Listen offline with unlimited skips |
| Ad-free Music | Yes | Yes | Yes |
Part 5. In Conclusion
After reading the whole article, you must have a more systematic understanding of Spotify HiFi. If you are eager to try Spotify HiFi lossless music, AudFree Spotify Music Converter will be a good assistant. Meanwhile, we will keep up with the latest Spotify HiFi news and provide you with effective information in time. By the way, please don't hesitate to comment or leave a message below if you have any questions.