Apple Music has been one of the top music streaming services for a long time, and millions of people are using Apple Music daily. Being such a famous streaming service, an update was released by Apple for Apple Music, allowing the user to listen to their favorite songs from Apple Music in their vehicle that has Android Auto. It is a great advantage for people who are a part of the Apple ecosystem by, unfortunately, have an Android Auto equipped vehicle.
Android Auto is a great system that makes your experience is a car a lot smarter. You can easily listen to call, navigate through maps, play music, and a lot more. Here, we are going to discuss how we can play Apple Music on Android Auto.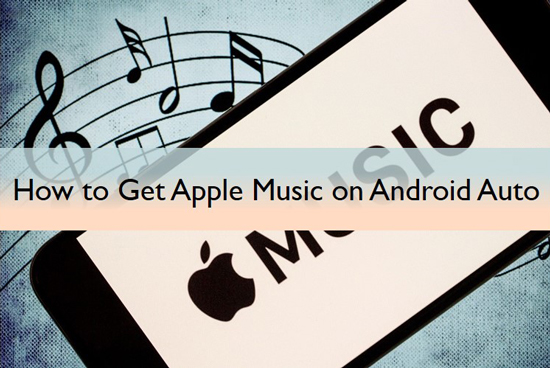 Part 1. Detailed Introduction to Apple Music & Android Auto
Firstly, we are going to start by explaining to you what Apple Music and Android Auto are, to give you a better understanding of both of them.
What Is Apple Music
Apple Music streaming service that is developed by one of the biggest tech companies, Apple. Apple Music, unlike many other streaming services, requires the user to subscribe to a membership plan suitable to their situation in order to listen to music. Apple Music has a library of up to 60 million songs, making it one of the biggest music libraries on Earth.
It comes equipped with all of the essential features of a music streaming service, including downloading the songs so the user can listen to them without the internet. The list of features is not only restricted to that, but you can also listen to radio stations, podcasts, audiobooks; it is also integrated with Siri, allowing you to control the music playback through a simple voice command.
It also makes a recommended playlist based on your liked songs that you can either listen to or download for offline listening. There are multiple membership plans that you can choose from according to your personal preference. It comes with a 3-month long free membership, allowing you as a user to experience all the features before paying for the actual service. All of this makes Apple Music a great choice.
What Is Android Auto
Android Auto is like an app that works over the default infotainment system in modern vehicles. It's able to connect your Android device to your car and do a lot of basic stuff that might be unsafe to do while driving, like calling or scrolling through your phone. Android Auto has a very simple and easy-to-use interface. It enables you to navigate through maps, attend calls, listen to songs, etc.
It allows you to sync third-party apps to increase the features of your cars. It also can access Google Assistant by just using your voice command, making your car truly a smart car. Android Auto is also available on third-party infotainment systems so that you can use Android Auto even in older cars.
Part 2. How to Use Apple Music on Android Auto Directly
Now that you know everything about Android Auto and Apple Music, a question would be arising that how to get Apple Music on Android Auto. Let's get started to follow the simple systematic guide to do that.
The first step is to make sure that you have subscribed to Apple Music, but Apple Music is an ad-free and pay-to-use service. So, in order to listen to songs on Apple Music, you need to have a membership of it. Once that is done, you can follow the below-given guide on how to put Apple Music on Android Auto.
Step 1. Go to Play Store on your Android smartphone, search for the "Android Auto" app, and install it.
Step 2. Connect your Android smartphone to your Android Auto car using Bluetooth or AUX cable.
Step 3. Download Apple Music on your smartphone if you already don't have it. Now launch it.
Step 4. Use your credentials to sign in to your Apple Music account on your Apple Music app on your smartphone.
Step 5. You can simply play songs on Apple Music the Android Auto. You can also access Apple music using a voice command on Google assistant.
Part 3. How to Play Apple Music on Android Auto Offline without Subscription
If you want to cancel an Apple Music subscription and still want to listen to Apple Music on Android Auto, we are going to introduce a tool that allows you to keep Apple Music on computers forever.
The name of the tool is AudFree Apple Music Converter. It is an amazing tool that can break the encryption of Apple Music songs and convert it into MP3 format. You can also change other parameters too, such as codec, sample rate, bitrate, etc. It is an all-in-one tool and works with multiple apps. Now follow the guide given below to learn how to use Apple Music on Android Auto.
Step 1

Add the songs from Apple Music

To Import, sign-in on Apple Music on your computer and search for your desired songs on Apple Music. Once you are done finding your desired song, copy its URL link and paste it into the Audfree Audio Converter.
Step 2

Adjust the format and other settings for Android Auto

Change the format to MP3 by going to the "Preference" settings. After the settings tab is opened, go to the "Format" section and select MP3 from the drop-down menu. You can also change other settings as well to get a personalized result.
Step 3

Convert Apple Music for Android Auto

After confirming the settings, click on the "Convert" button, and the songs will start downloading. Once it is downloaded, the songs will be saved in the destination folder.
Step 4

Use Apple Music on Android Auto

After they are downloaded, go to the destination folder, copy them and simply play your favorite Apple Music songs on your Android Auto car.
Part 4. In Conclusion
In this article, we discussed what is Apple Music, what is Android auto, how to get Apple Music to play on Android Auto directly and indirectly. So, if you want to play Apple Music on Android Auto without any Subscription, going with the Audfree Audio Converter is the better option.

30X convert Apple Music, iTunes podcasts, audiobooks and Audible books. to MP3, etc.