Does Tesla have Apple Music? Since November 20, 2022, users can seamlessly listen to Apple Music from their phones in their cars. However, that may not be enough for Tesla owners. They want to listen to Apple Music directly on their Tesla via voice commands, like Tidal and Spotify on Tesla.
Thankfully, TeslaScope says Apple Music will be part of the Tesla Holiday Update, along with many other features. Although not yet officially released, Tesla owners are looking forward to this update.
What about before the update, how can you play Apple Music on Tesla? Read on, here's a full tutorial. You will get to know all things you want to learn about Tesla Apple Music.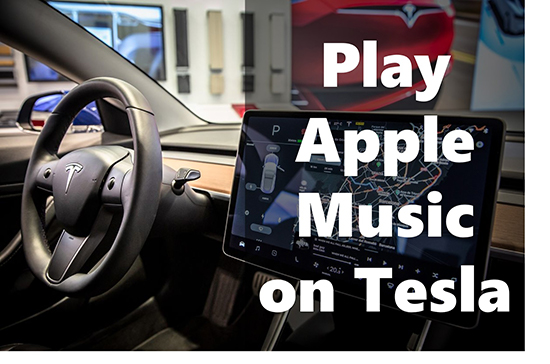 Part 1. How to Get Apple Music in Tesla via Media Player
For several years, Tesla has been integrating music streaming platforms like Tidal and Spotify into its vehicles. Now, finally, Apple Music Tesla integration may be coming in one of Tesla's almost annual holiday software updates.
A Tesla car at the Peterson Automotive Museum was recently equipped with Apple Music integration. There is speculation that it will soon be available on the car. Now, TeslaScope tweeted that Apple Music will be part of the Tesla holiday update.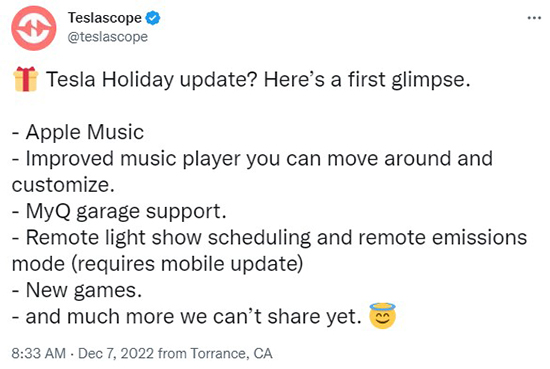 While the 2022 Tesla Holiday Update isn't 100% confirmed, we'll be digging further into the matter, so you can stay tuned.
Also, until Apple Music is added to Tesla, we'll show you 3 other ways to play Apple Music on your Tesla.
Method 2. How to Stream Apple Music on Tesla via USB Drive
The best way to get Tesla Apple Music to work is of course without a phone. Since the Tesla car is able to play music from an external USB drive, you can download Apple Music to USB. Then, the first step you need to do is to convert Apple Music songs to MP3 and download them to USB. You can use AudFree Apple Music Converter to sit this step.
It can download and convert Apple Music songs to MP3, FLAC, and other open formats. Moreover, it can preserve the original audio quality with a fast download speed of 30X. All the metadata of the song will also be saved. After downloading, you can get offline Apple Music files as your own. You can transfer them to a USB drive and then listen to Apple Music in Tesla via this USB.
Note: It can also download music from other streaming music platforms, including Audible, iTunes, etc.
AudFree Apple Music Converter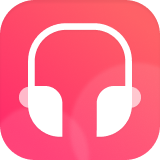 Losslessly download songs from Apple Music at 30X
Convert Apple Music M4P to MP3, WAV, and more formats
Preserve ID3 tags, support editing the output parameters
Use Apple Music on Tesla Model 3, Model Y, and other models
Convert Apple Music to MP3 Files and Add Apple Music to Tesla
Step 1

Add Apple Music tracks to AudFree software

Download and install AudFree Audio Converter via the 'Download' button above. Then click the first 'Add Files' button to import Apple Music songs that you want to play on Tesla.
Step 2

Set Apple Music output format as MP3

MP3 is the default output format of AudFree Auditior so you don't need to change it. But you can also customize other parameters including the channel, sample rate, and more. To do this, simply click the 'format' icon.
Step 3

Convert Apple Music for Tesla

Now click on the 'Convert' button and it will export the MP3 files of Apple Music. You can get compatible Apple Music songs with Tesla. You can click the 'file' icon to locate the converted Apple Music songs. Now you are ready to listen to Apple Music on your Tesla.
Step 4

Transfer Apple Music files to Tesla

After getting the compatible files with Tesla, you can transfer Apple Music to Tesla with a USB drive.

Insert a USB drive into your computer.
Locate and open the converted Apple Music songs in your computer's folder.
Copy and paste the Apple Music files to this USB drive.
Disconnect the USB drive and insert it into your Tesla.
Now you can find and stream Apple Music on your Tesla's media player.
Part 3. How to Add Apple Music to Tesla via Bluetooth
Thankfully, Tesla also supports playing music from Bluetooth while driving. You can follow the steps below to use Apple Music on Tesla via Bluetooth.
Step 1. Enable 'Bluetooth' on your mobile phone.
Step 2. On your Tesla's touchscreen, enable 'Bluetooth'. Then choose 'Add New Device' and tap on the 'Start Search' button.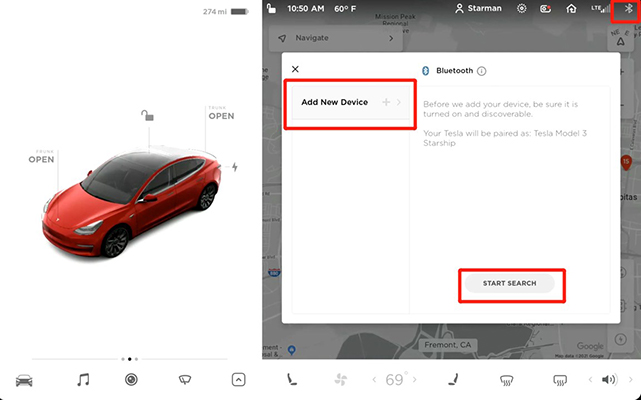 Step 3. Wait for it recognizes your phone. Once found, click your phone name on the touchscreen and pair.
Step 4. Now you can open Apple Music on your phone. Then choose the song you want to listen to and it will stream to Tesla wirelessly.
Part 4. How to Use Apple Music for Tesla via Apple CarPlay/Android Auto
Tesla was not supported by Apple CarPlay and Android Auto. However, Michał Gapiński, a Polish developer, has shown one workaround that allows Tesla to use CarPlay and Android Auto.
It's hard to say exactly how he did it, but you can refer to his video to know what is needed and how to do it. He said it is a simplified approach to encourage more people to use this workaround. It's about providing a responsive Android experience.
However, it is worth reminding you that if you are not skilled enough, then this method is not for you.
Part 5. FAQs about Apple Music and Tesla
Q1: Will Tesla Get Apple Music?
A: It is possible that Tesla will add Apple Music to it in this year's holiday updates.
Q2: Can You Use Apple Music on a Tesla?
A: Yes. You can first use AudFree Audio Converter to convert Apple Music to MP3 or WAV audio files. Then transfer these converted audio files to a USB drive. Finally, you can listen to Apple Music in Tesla via USB.
Q3: How Can I Play Music from My iPhone to My Tesla?
A: You can connect your iPhone to your Tesla via Bluetooth. Then just open the Apple Music app on your phone and stream Apple Music to Tesla.
Q4: What Music Apps Work with Tesla?
A: Media apps on Tesla vary depending on market region. Most Tesla can work with Spotify, Tidal, Caraoke, and Tuneln.
Q5: Can You Upload Local Music to Tesla?
A: Yes. Tesla supports using a computer or a USB drive to upload audio files to it. Note that it only supports file formats in MP3 and WAV.
Q6: Why Tesla Has No Apple CarPlay?
A: Because Tesla's car systems are developed in-house. The huge benefits that other manufacturers gain through CarPlay integration are of little use in Tesla. Furthermore, adding CarPlay/Android Auto would break the seamless experience that Tesla currently offers.
Part 6. In Conclusion
To use Apple Music on Tesla without a phone, you can use AudFree Apple Music Converter. It allows you to convert Apple Music M4P to MP3 or WAV which is compatible with Tesla models. After conversion, you can use a USB drive to stream Apple Music in your Tesla vehicle offline. With AudFree Apple Music Converter, you can get popular audio files as your own. You can listen to Apple Music in car or any device you want.