Apple offers two subscriptions for its cloud services. Comparing the two, Apple Music vs iTunes Match, there appears to be a good range in their differences. However, there is a considerable number of similarities.
These two subscriptions enable you to stream music to various authorized devices as well as download your music from the iCloud library. Besides, users are able to share and listen to music via these two cloud services.
With the similarities clear in mind, it may be even more confusing. So, to solve this, let's have a deeper look at the differences.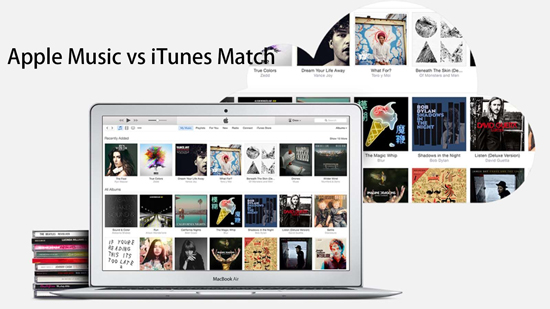 Part 1. What's Apple Music and What Apple Music Offers
Just like Tidal, Spotify, Google Play Music, and many more, Apple Music is a music streaming service that is subscription-based. Pay monthly and get to enjoy its music streaming catalog. This is in the range of 50 million songs on the Apple Music app. However, when you add such songs to your iTunes library, they become protected in AAC format with DRM protected files. You will need a third-party tool to remove DRM from Apple Music and authorize its accessibility.
Part 2. What's iTunes Match and What iTunes Match Offers
iTunes Match works a bit differently from Apple Music. It will match your music library and other uploads then make your music accessible on various devices via the iCloud music library. Furthermore, you have the freedom to download or upload DRM-free AAC music and play them on any device. This is purely without a subscription. What you need to do is to pay some bucks, yearly for your iCloud music library maintenance and activation purposes.
Part 3. Differences between Apple Music and iTunes Match
DRM – Digital Rights Management
This is the widely determinant factor in the difference between iTunes and Apple Music. We have already seen that Apple Music service owns the DRM protected songs. It limits the download and upload of its music tracks. Because of this, you cannot play songs from Apple music until you unlock the DRM protection. For doing this, you can use AudFree Apple Music Converter to convert protected Apple Music songs to any common audio files for playback anywhere.
The DRM protection does not limit you on iTunes Match. It lets you download and upload DRM-free songs to your iCloud music library. Furthermore, you can play your songs on any other device. This is so because any shared or uploaded song is automatically converted to 256kbps DRM-free AAC.
It doesn't end there! You can also save your songs and then listen to them offline. Cancellation of your subscription will not affect your saved songs whatsoever.
Pricing
Pricing is another aspect that clearly brings out the difference in Apple Music vs iTunes Match. Apple Music gives a free subscription of up to three months. Consecutively, it will cost you $9.99 for a single monthly subscription. Additionally, it has a family plan for $14.99 per month. This covers up to six members. For the latter, you will need to set up an iCloud Family Sharing on your device then invite up to six members to join in order to access music.
iTunes Match, on the other hand, does not require monthly subscriptions. Rather, it's a $24 yearly service that lets you store your music on iCloud. You can, additionally, store songs that are imported from CDs and still make them available on the other 10 of your devices. You, however, need an Apple ID in order to sign up for the service and then enable it on each of your 10 devices that you need to use it on.
Usage
Apple Music is a music streaming service that you can use for music playing and download as long as you have subscribed to the service. But, remember that once you unsubscribe, your downloaded tracks also get deleted and become unavailable. Otherwise, Apple Music lets you gain access to additional features like the Beats 1 radio station that you can use for the mix. Additionally, you get a limited selection of Films and TV music-related programs from Apple Music. iTunes Match works a bit differently from Apple Music.
It directly scans your music library to peruse the kinds of songs you have from Apple. iTunes Match then relays the information to Apple concerning the same, which in turn enables Apple to give you access to any related music from their collection. The good news is that you get all these music with no copy protection, encoded as 256kbps AAC files. As if that's not enough!
All the music is synchronized and backed up to your iCloud music library. And besides using any of your devices to access music from the library, you can also restore them via the cloud in case you lose your music due to hard drive crash or loss of your devices.
Limitations
While iTunes Match bigger win is the capability to sync your music across devices, well! This is also its biggest limitation. You can't use iTunes Match to stream music as you would with other services like Apple Music. It limits you to download a song to your device before you can listen to it. This makes your listening options limited to your iDevices or computers.
DRM protection is the greatest limitation for Apple Music. You can't play your music offline unless to remove the DRM protection. AudFree Apple Music Converter is here to help you out. Furthermore, you can only access your downloaded music while on active subscription. You lose your music as soon as the subscription is cancelled.
How to Use AudFree DRM Audio Converter to Convert Apple Music to Common Audio
Step 1

Install and launch the software

Once you install and launch AudFree Apple Music Converter, add the music files to the home screen. Either drag and drop the files or copy the URL link and paste it in the search bar.
Step 2

Choose the output format

The common audio formats include WAV, M4A, FLAC, AAC, MP3, among others. Choose the needed output format and other parameters like the sample rate, bit rate, codec, and many others.
Step 3

Convert audio files

Confirm whether all parameters are in place. You can further split your audios and edit the ID3 tags as desired. When all is in place, hit the 'Convert' button and let the conversion of your Apple Music files begin. Save your files and listen to them offline. You can also share the files.
Conclusion and Suggestion
The differences between Apple Music vs iTunes Match are clearly visible. As much as many users chose Apple Music over the iTunes Match, they are unique in their own ways. iTunes Match does not have a DRM protection and is much affordable as compared to Apple Music. While Apple Music has a big name, you will need AudFree Apple Music Converter to convert and get your music in the needed common files.