Apple Music is one of the most innovative music streaming services in the world. This was expected; after all, it is a product of Apple Inc, the world's most innovative company. However, what many people don't think about is the fact that by offering many innovative features Apple Music has been able to beat completion and rise to the top of the music streaming industry despite coming late to the party.
One of the best innovative features of Apple Music is the Apple Music Family Plan. This plan allows family members to listen to their favorite music at a great discount. If you want to learn more about how to use the Apple Music Family Plan then read on.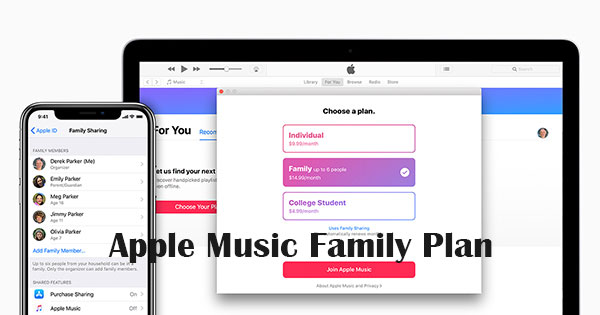 Part 1. Advantages of Using Apple Music Family Plan
With a family plan subscription, you get to access over 50 million songs, watch music videos, listen to podcasts, curated playlists and Beat 1. You don't have to this alone, you have a chance to invite up to six members of your family to enjoy the same. If you still are not on board the Apple Music Family Plan, then here are the benefits you stand to gain by switching to it:
i. More Cost-effective than any Other Music Streaming Plan
Just think of this. Nearly all music streaming services cost $9.99 per month for their premium plan. This includes Apple Music. A family of six, having each member subscribe individually will cost the family $89.94 per month. This is way too expensive especially if some family members do not work and depend on others to renew their subscription. Now with the apple family plan, you only pay $14.99 per month for one family account that covers the six members. Nothing beats this.
ii. Each family Member Maintains Their Independent Apple Accounts
Having a family plan does not mean that everyone will have to switch to one account controlled by one individual. Instead, each member maintains their own account that allows each member to personalize their listening experience based on individual preferences.
iii. Easy Sharing of Playlists and Interesting Content
Nothing brings together a family, like shared activities. When you join a family plan you are likely to think of other members of the family when you encounter a song or podcast that reminds you of them. This intuitive cue plus the tools available for sharing content on the platform will get you sharing more with friends and family than you ever have.
Part 2. How to Use Apple Music Family Plan
To get an Apple Music Family Plan you first need family plan subscriptions. Next, you will need to set up a family group and invite family members to join. From there you can now use the plan for all your entertainment and educational needs.
Get an Apple Music Family Subscription
To get an Apple Music family subsection, follow these steps:
a) Open the Apple Music App
If you have the app already on your device simply click to open it. If not download and install the app then launch it.
b) Select the Family Option
Tap on the trial offer and select the family option then tap Start Trial.
c) Make a Purchase
Now when promoted use your Apple ID and the corresponding password to sign in to purchase the plan. If you don't have an Apple ID simply tap Create New Apple ID and follow the onscreen directions to create one. Then use it to buy the plan.
d) Confirm the Billing Information
You will be asked to add a valid payment method. Do so and confirm the information then agree to the terms when prompted tap to join the plan.
How to Setup Apple Music Family Plan
To set up Apple Music Family Plan, follow these steps:
On an iPhone, iPod touch or iPad:
i. If using an older device with iOS 10.2 or earlier versions click settings then open iCloud.
ii. Now click on Set up Family Sharing and then click get started. Now follow the steps on your screen to set up the family group.
iii. If you, on the other hand, you are using a newer device with iOS 11 or later versions open settings and then select the feature you would like to share with family. Now follow the onscreen instructions to set up a family group and invite members of your family using iMessage.
On a Mac:
a) If you are using an older Mac with macOS or earlier versions then open the Apple Menu and then system preferences then open iCloud. For a newer Mac, click the Apple Menu then system preference then select Family sharing.
b) Confirm your Apple ID that you intend to use and then select the share my purchases button.
c) Now follow the onscreen instructions to complete the process.
How to Join Apple Music Family Plan
To join Apple Music Family Plan simply accepts the invitation to join you receive. When someone invites you to join a family plan you will receive and notification either in your email or as a text message. You can click the link and then join. Alternatively, you can do so on your Apple Music app.
On an iPad, iPhone or iPod Touch:
Open your Apple Music app and click settings then your name and check invitations then select accept
On a Mac:
Open the Apple menu then select system preference and then open the family sharing. Now find the invitation and follow the onscreen directions to accept the invitation.
How to Share Apple Music Family Plan
Once you create the family plan and invite members to join the plan is ready for use. Once members accept your invitation the family sharing features will be set up on everyone's devices.
Now you can share all eligible app store purchases, apple arcade subscription, iCloud storage plan, and apple TV+ subscription.
You can also share photo albums, personal Hotspot, locations, calendars, and reminders.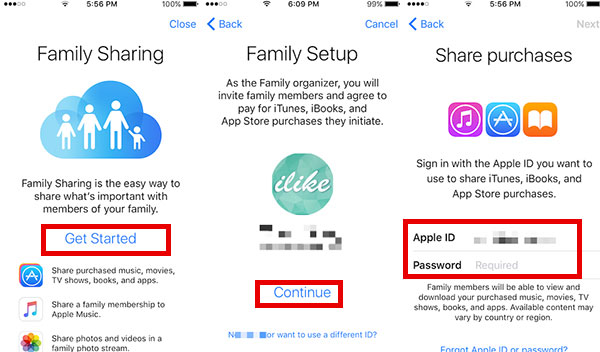 Part 3. How to Switch Apple Music Individual to Family Plan
If you have been using the Apple Music individual plan you can still switch to the family plan. The advantage is that you won't lose your personalized music library when you make the switch. To move to the family plan from the individual plan follow these steps:
Step 1. Open your Apple Music app then click on settings then select your user name and then open iTunes & App Store.
Step 2. Now select your Apple ID then click "View Apple ID". Next key in your Touch ID or password when prompted
Step 3. Click to open the "Subscriptions" button and select "Apple Music Subscription". Select the Family option and click "Confirm". This will enable you to switch to the Family Sharing Plan from the individual plan.
Part 4. Share Apple Music Songs with Others without Apple Music Family Plan
Apple Music Family Plan is great for sharing Apple Music songs with family members. However, if you have a large family of more than six members or you would like to be able to share your Apple Music songs with cousins, friends and other relatives then the plan is of no use to you.
In this case, the best option you have is the AudFree Apple Music Converter. This tool is designed to help you remove the protection from Apple Music songs and then convert the songs for easy sharing with others. The tool can also convert the songs to different formats such as MP3, AAC, FLAC and WAV among others for easy sharing with others and for playing on the device you want. To use this tool to download and share Apple Music songs with others then follow these steps: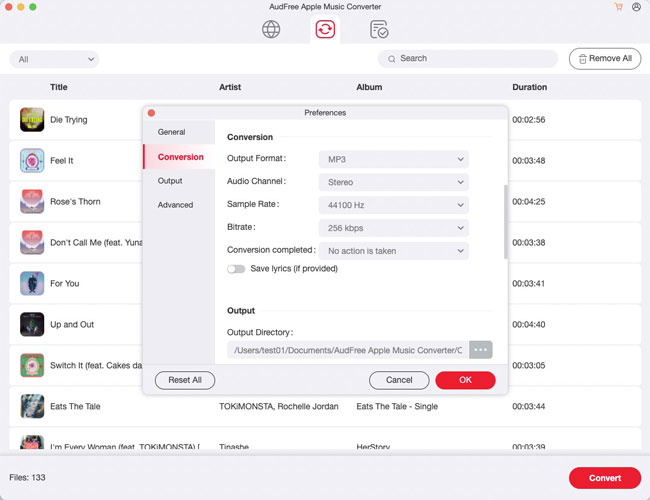 Step 1. Download and install the AudFree Apple Music Converter tool on your computer. Once the installation is done launch the tool.
Step 2. Click the "Add Files" button on the tool which will open your iTunes library where you will select and add the songs to the tool. If you had the songs already downloaded on your device simply drag and drop them on the tool.
Step 3. Tap on the "Edit" button to open the window where you will be required to select the output format for your songs. Here there are options such as MP3, FLAC, AAC, M4A, M4B, and WAV. Select the one you want. If you are not sure just select MP3 as most media players support MP3.
Step 4. Click "Convert" to start the process. the tool will automatically remove the DRM from your songs, convert them to the format you want then download them to your device. Now you can share the songs with others the way you want without the need for a family plan.
Conclusion
Apple Music offers the best plan for you to share Apple Music songs with your family. For a family of up to six members, all you need to enjoy Apple Music is the Apple Music Family Plan subscription. This is a much-discounted plan that allows every member of the family access to all features of Apple Music while using a single subscription.
However, if you want to share your Apple Music with others beyond the six members of the family plan then you will need to find a way to download and unlock the protection from Apple Songs. Luckily for you, there is the AudFree Apple Music Converter that you can use. This tool will in four easy steps to convert the songs to a format you want and download Apple Music to your computer. And then you can easily share with others.