Apple has introduced a unique new feature called "Apple Music Replay". It gives you an insight into the world of the songs, albums and artists you listen to most often. If you are a long-time subscriber to Apple Music, the list of songs, albums and artists from previous years will appear right in front of you. Also, you can see how many times each song has been played on repeat. Isn't that amazing?
However, many users are troubled by the problem that Apple Music Replay not working. Therefore, this article will provide 100% working solutions to fix Apple Replay not working issue. Keep reading to get available answers to your queries regarding Apple Music Replay.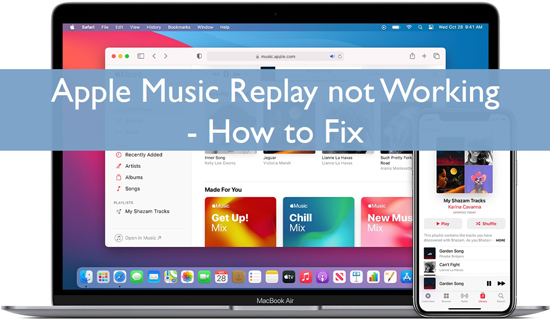 Part 1. Apple Music Replay - What Should You Know
Apple Music Replay focuses on your music listening habits, listing your favorite songs/music. Before providing formal approach to Apple Music Replay not loading, you need to understand how to find personalized Apple Replay. Here are the conditions you must meet.
Requirement to Access Apple Music Replay
✔️ Available Apple Music subscription
✔️ You've used the Apple Music platform to listen to songs, artists, and albums
✔️ Allow Apple Music to access your listening history
How to See Apple Music Replay
Step 1: Open the Apple Music application on your Apple device.
Step 2: You'll see a list of options on the left side. Tap on the 'Listen Now' tab.
Step 3: Scroll down and you'll see the available Replays with the name 'Replay: Your Top Songs by Year'.
Step 4: Select and click on a Replay. The most-listened-to songs and artists list will appear on the screen. You can now listen to your repeated songs of the last few years on your Mac device.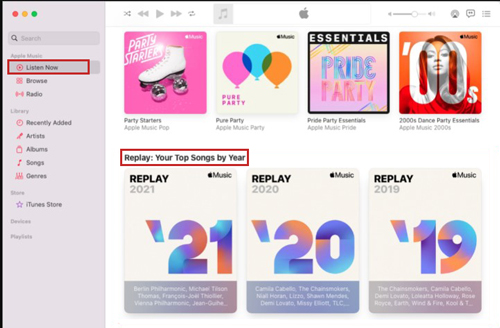 Part 2. Why Is Apple Music Replay Not Updating
Apple Music Replay is a great feature to see your top songs every year. However, some users have reported Apple Music Replay not eligible issue from time to time. For this reason, we have compiled a list of possible reasons why Apple Replay is not working properly as follows.
✔️ Inactive Apple Music subscriptions
✔️ Incorrect or invalid Apple ID
✔️ Decreased number of Apple Music
✔️ Disabling the "Use of listening history" feature
✔️ Slow Internet speeds
Part 3. How to Fix Apple Music Replay Not Working
If you have trouble with 'why is Apple Music Replay not loading?' Here are some helpful fixes.
Fix 1. Confirm Your Active Apple Music Subscription
You must make sure your Apple Music subscription is still active. Make a new subscription and enjoy your Apple Music Replay if it's not.
For iPhone
Step 1. On your iPhone device, launch the Settings app.
Step 2. Tap your Username and Subscription options.
Step 3. Check if your subscription is active. If it is, you will find the "Cancel Subscription" button.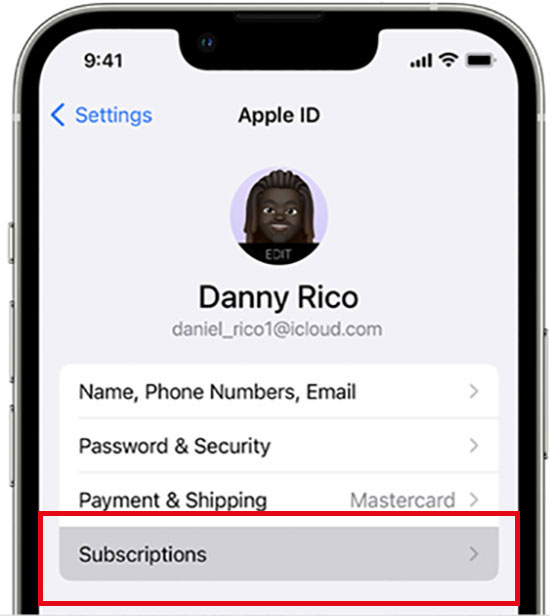 For Android
Step 1. Launch the Apple Music app.
Step 2. Tap the "More" button in the upper right corner, then select the Account option.
Step 3. Scroll down to the Subscriptions section and select Manage Subscriptions to confirm the availability of your Apple Music subscription.
For Windows/Mac
Step 1. On your computer, open the iTunes application.
Step 2. Click the Account and View My Account button in the menu.
Step 3. Click the Settings and Subscriptions button. If the subscriptions center shows "1", it means your subscription is active. You can also click the Manage button to activate Apple Music subscriptions.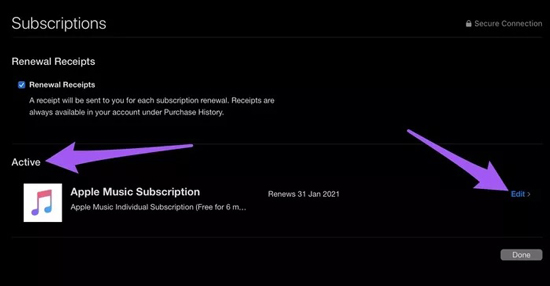 Fix 2. Confirm the Correct Apple ID
You may also find Apple Music Replay albums not showing if you have entered an incorrect or invalid Apple ID. You need to make sure that the Apple ID you use when listening to your favorite music is the same as the ID you use when viewing Apple Replay data.
Fix 3. Listen More to Apple Music
If you are new to Apple Music or you are not an active music listener, the system will not create Music Replay data for you. The most straightforward solution is to start listening to Apple Music more often. After that it will have enough song data to list your personalized Apple Music Replay.
Fix 4. Turn on the "Use Listening History" Feature
If Apple Music Replay not showing albums, enable the "Use listening history" feature from your device settings. After turning it on, you'll be able to create and have Apple Music Replay. Here are the detailed steps.
Step 1. Launch the Settings app on your iPhone.
Step 2. Scroll down to the Music section and tap it.
Step 3. Find the "Use listening history" section and enable the feature.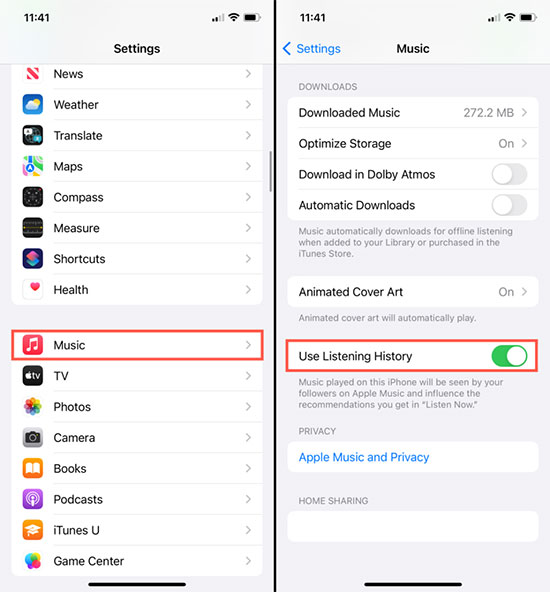 Fix 5. Check Your Internet Connection and Regular Updates
To fix the problem of Apple Music Replay not refreshing, you have to make sure that your internet connection is stable and your Apple Music app is updated to the latest version. You can try the following tutorial to enable software updates.
Step 1. Enable the Settings application and select the General button.
Step 2. Scroll to Software Update and click Download and Install to update your device.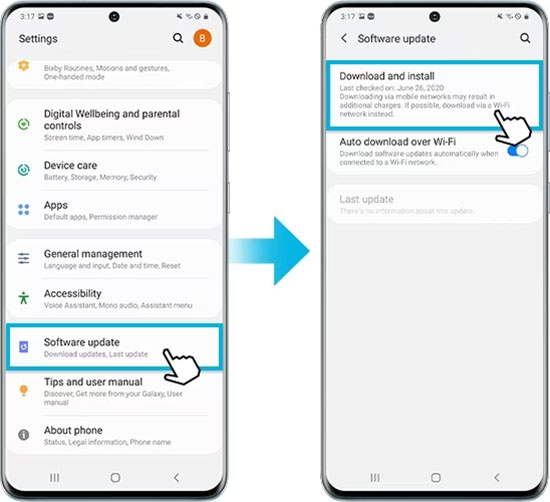 Part 4. How to Solve Apple Music Replay Not Accurate
Apple Music Replay gives you an overview of the songs, albums, and artists you've listened to often before. Moreover, it enables you to make and share your collection list from the replay. However, Apple Music Replay not accurate issue does not facilitate you to access these replayed songs and albums on your Apple devices. For that, you can refer to the following solutions.
💡 Make sure Apple Music listening history is turned on. Apple Music keeps track of the music you listen to based on your music listening history. So, when you find that Apple Music Replay not showing artists, check if music listening history is turned off on your device.
💡 Listen to the full Apple song. If you don't finish listening to an Apple Music song in its entirety, the system will not record it as Apple Music Replay. Also, you need to listen to your favorite songs repeatedly for a period of time in case the Apple Replay not updating problem occurs.
💡 Use Apple Music often. Apple Music Replay is mainly used to organize the songs you play often, which requires enough data. Therefore, you'd better use the Apple Music platform to listen to songs frequently.
Part 5. Bonus Time. How to Download Apple Music Replay Songs
As for downloading those favorite songs, albums, playlists, etc. on Apple Music Replay, you can use the official method to download Apple Music. But you are only allowed to access those downloaded songs for the duration of your subscription. In order to get Apple Music Replay songs forever, you need to remove the digital rights management protection from Apple songs first.
Here, we will introduce a powerful tool, namely AudFree Apple Music Converter, which is able to convert all songs, playlists and albums from Apple Music to common audio formats such as MP3, FLAC, WAV, AAC, etc. Besides, you can also customize the output parameters of replay songs, such as bit rate, sample rate, channels, codecs. In this way, you can keep the Apple Music that matches your heart's desire for a long time as well as play it offline on any device.
How to Download Apple Music Replay Songs
Step 1: Install and launch AudFree Audio Converter on your device, it will automatically launch iTunes application. Click the first "Add" to load Apple Music Replay songs or drag and drop Apple files into the software directly.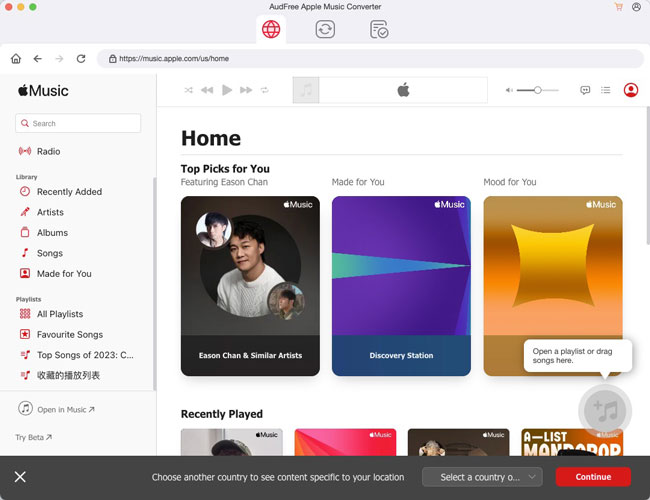 Step 2: Click the Format panel in the bottom right corner to set output preferences such as audio format, channel and sample rate. It is recommended that you choose Apple Music's output format as MP3, as it is compatible with most players or devices.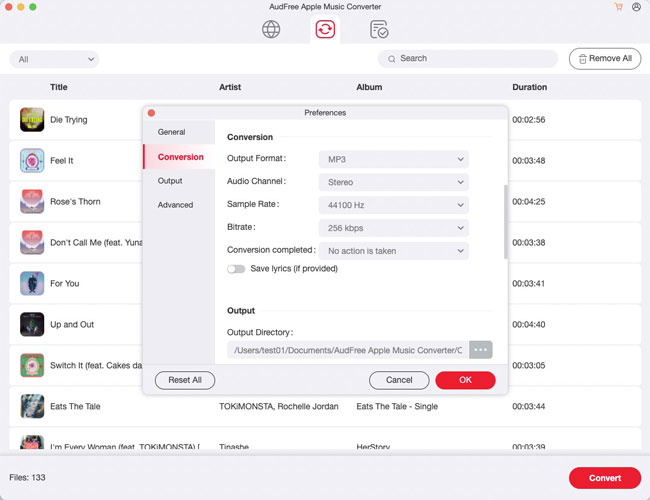 Step 4: Click the "Convert" button to start downloading Apple Music to normal format. The software will convert your selected replay files with the settings you made before. After that, even if you cancel your Apple Music membership, you can still listen and enjoy Apple Music Replay songs offline anytime and anywhere.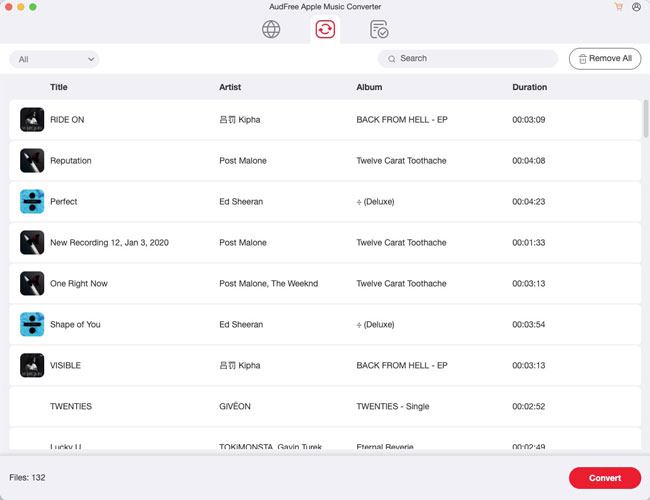 Part 6. FAQs about Apple Music Replay
Some frequently asked questions about Apple Music Replay are as follow:
Q1: How Often Are Apple Music Replays Updated?
Apple Music Replay follows a schedule of weekly basis updates. Don't worry about the new updates, it will update automatically once a week.
Q2: Is Apple Music Replay 2023 Available Now?
Of course. Apple has introduced the 'Replay 2023' feature for Apple subscribers. You can have this feature on Apple Music on your phone or on the Apple Music Replay website.
Q3: Is Apple Music Replay Accurate Enough?
It's hard to say how accurate Apple Music Replay is at this point, as some users have reported that the song play counts listed in the Apple Music desktop app doesn't always match Apple Music Replay.
Part 7. Final Words
Apple Music Replay feature takes you to the world of your most listened songs. However, it is unpleasant to experience the problem about Apple Music Replay not working. Here, we provide effective solution to fix Apple Music Replay not updating issue. Just try the above ways and fixes to have answers to your queries.