Apple Podcasts has been playable with Alexa on Amazon Echo, Amazon Fire TV, and other Alexa-installed devices since Dec 13, 2019. To play your favorite episodes from Apple Podcasts on Amazon Echo, just use a command like "Alexa, play (the name of the program) on Apple Podcasts".
This cooperation of Apple Podcasts and Amazon Echo surprises many people. Now Amazon Echo is the first and only third-party hardware that supports Apple Podcasts. It seems that Apple chooses to cater to a larger market of podcasts, focusing less on promoting its HomePod, which Apple Podcast is exclusive to it before.
In the next paragraphs, you will get a detailed tutorial on how to set and listen to Apple Podcasts with Alexa on Amazon Echo, wherever you are.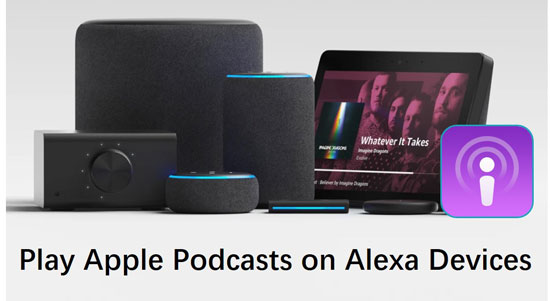 Part 1. Listen to Apple Podcasts with Alexa in the United States
Before you start to set up the Alexa for Apple Podcasts, please make sure that you have updated to the latest iOS, Apple Podcasts app, and Amazon Alexa app on your device. Then let's see how to set it up.
Step 1.Open the Amazon Alexa app.
Step 2. Hit the menu icon from the upper-left corner. Open "Skills & Games" to search for the Apple Podcasts skill.
Step 3. Click "Enable to Use".
Now you can ask Alexa to play the program from Apple Podcasts via a voice command.
To make the command simpler, you can set Apple Podcasts as the default one. Then your voice command can even omit the "Apple Podcast", just say the name of your loved episode. Also, you can connect your Apple account to the Alexa app. This step will help you restart playing from where you left off in Apple Podcasts. Just 2 simple steps as below.
Step 1. Open the Amazon Alexa app.
Step 2. Open "Settings" > "Music & Podcasts" > "Link/Manage New Services".
Part 2. Ask Alexa to Play Apple Podcasts in Other Countries and Regions
Currently, the Apple Podcasts playable with Alexa is only available to the users in the United States. People in other countries who want to get Apple Podcasts with Alexa need the help of a third-party tool, which can sync Apple Podcasts to Amazon Echo or other Alexa-enabled devices.
This tool is named AudFree Apple Podcast Converter. Specially designed for Apple audio app, this software is available to every type of tracks from Apple Podcast, Apple Music, iTunes Music, and Apple Books, intelligently converting Apple audios to MP3, FLAC, WAV, AAC, M4A, M4B, in the meantime, unlocking the formats' protection without any quality loss.
Furthermore, the intelligent identification skill saves full ID3 tags in the converted podcast files, including Title, Album, Artist, Disc Number, Year, Genre, and so on. You can also use the built-in edit function to change them as you like. With the help of this smart, clean, and safe software, you can download any podcasts episode as local files for forever collection, then add it to Amazon devices to use Alexa controls.
Step 1

Import Apple podcasts to AudFree

Download and launch AudFree Apple Podcasts Converter on the computer. On the Windows, the iTunes app will automatically open, while on the Mac, the Apple Music app will automatically open. For Mac users, please close the Apple Music app and open the Apple Podcast app. Find and download your favorite podcasts programs on the computer. Then turn to AudFree and add the second "Load Library" button from the left corner. Pick up what you need to convert and add them to AudFree.
Tips: Currently, AudFree only supports Apple Podcasts in M4A, MP3 formats.
Step 2

Edit output settings for Apple Podcasts

On the Mac, please open Mac's menu bar > "AudFree Audio Converter". On the Windows, please click to the left "Format" icon next to the big "Convert" button. The "Settings" will show up for you to reset the output format and quality.
Tips: To get the best listening experience, you can choose the output format as WAV or FLAC, sample rate to 48000 Hz, bit rate to 512 kbps.
Step 3

Convert podcasts downloads from Apple Podcasts

Now just click to the big "Convert" icon to start conversion. The converting duration depends on how many tracks on the list. When the task is accomplished, please follow the red spot to go to the "Converted" folder. You can double-check if all selected podcasts are there.
Step 4

Stream Apple podcasts to Amazon Echo for Alexa controls

Now you can transfer Apple Podcasts episodes to Amazon Music. In this way, you can get those converted podcasts files on any Amazon device to use Alexa. Just open Amazon Cloud and find the "Actions" > "Upload". Then choose the converted Apple Podcasts tracks to upload. After that, you can open your Amazon Echo, Amazon Fire TV or other Amazon device to listen to Apple Podcasts through Alexa.