More and more people are deciding to do some activity at home via a treadmill or other health hardware as opposed to going out to exercise. As a fitness and exercise brand, Peloton specializes in providing bikes and treadmills to improve the at-home workout experience. And Peloton bike or Peloton tread are usually equipped with a huge touch screen show and underlying speaker.
It is a comfortable experience to listen to your favorite music while exercising. However, it is difficult for you to play hot streaming music on Peloton directly, such as Apple Music. To solve this dilemma, this article finds an ultimate tool to play Apple Music on Peloton. Keep reading to learn more about the tips to connect Apple Music to peloton.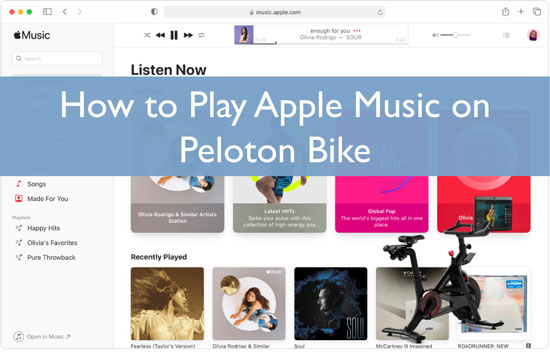 Part 1. How to Play Apple Music on Peloton - Tool Required
In fact, there is no official way to listen to Apple Music on Peloton. But it does allow you to add your own music to Peloton bike or tread. To upload Apple songs to Peloton, you need to remove the lock on Apple tracks first. This is mainly because Apple Music are protected by digital rights management and cannot be applied elsewhere, except in authorized apps by Apple.
Fortunately, AudFree Apple Music Converter can help you solve this problem very well. It will remove the limitations of Apple Music and convert it to MP3, FLAC, AAC, WAV or other common audio formats. Then you can stream Apple Music to Peloton or other devices for offline use. What's more, you can enjoy the original Apple tracks when in motion on Peloton as the sound quality and ID3 tags are fully preserved.
AudFree Apple Music Converter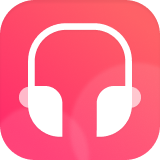 Download Apple Music songs losslessly for Peloton
Convert Apple Music to MP3, WAV, FLAC, AAC, etc.
Easy to use and with intuitive user interface
Work at up to 30X fast speed while keeping ID3 tags
Part 2. How to Download and Convert Apple Music for Peloton
As a professional but easy-to-use tool, AudFree Apple Music Converter enables you to download Apple Music at 30X speed. Just follow the steps below to figure out how to utilize AudFree Audio Converter to convert Apple Music to MP3 or other common audio files for playback on Peloton.
Step 1

Run & register AudFree Audio Converter

Install the brilliant AudFree Apple Music Converter and fire up it from your PC work area. Then, click the 'three lines' symbol from the upper right corner to pick the 'Register', it will spring up an enlistment window. Fill in your authorized email and enlistment code to move up to the full form.
Step 2

Add Apple Music files to AudFree Auditior

Click the first "Add" button in the bottom left corner. Then you can continue to find and import downloaded Apple Music songs from your iTunes library to the converter. Or just drag and drop the Apple tracks you want to play in Peloton to the main window.
Step 3

Adjust Apple Music output format for Peloton

To set the output format for Apple Music on Peloton tread, you can go to the "Format" icon. Then you can start characterizing the resulting design as MP3, FLAC, WAV, AAC, M4A or M4B, and redo other sound boundaries for Apple Music downloads. In addition, it is ready to set the output Apple Music tracks by artist or album.
Step 4

Convert Apple Music for Peloton

Touch the "Convert" button, and then AudFree Auditior will start converting Apple Music to your computer as local files. When the conversion is complete, you can go to the "Converted" icon to view the unprotected Apple Music files for free use on Peloton.
Part 3. How to Use Apple Music on Peloton
Congratulations, Apple Music is now a normal local file on your computer. You can import it to Peloton tread or bike directly for listening anytime. Here we will show you two ways about how to set up Apple Music on Peloton. Let's have a look now.
How to Link Apple Music to Peloton via Bluetooth
Step 1. Sync your Apple Music files from your computer to your phone.
Step 2. Activate the Bluetooth feature on your mobile device.
Step 3. Access the settings menu on your Peloton bike to enable Bluetooth.
Step 4. Find an available Bluetooth device nearby and connect your Peloton bike to your cell phone music player.
Step 5. Make sure your mobile device is connected to Peloton. Play Apple Music on your Android or iPhone and it will automatically stream to Peloton.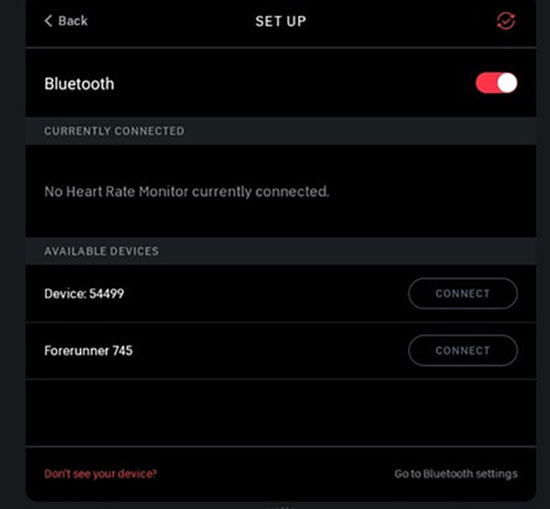 How to Play Apple Music on Peloton Tread via Uploading
Step 1. Launch the Peloton app on your mobile device and log in to your account.
Step 2. Tap the "My Profile" and "Settings" buttons.
Step 3. On this page, tap the Add Music button and select Apple music files from your local storage.
Step 4. Once the transfer is complete, you will be able to listen to your favorite Apple music collections within Peloton.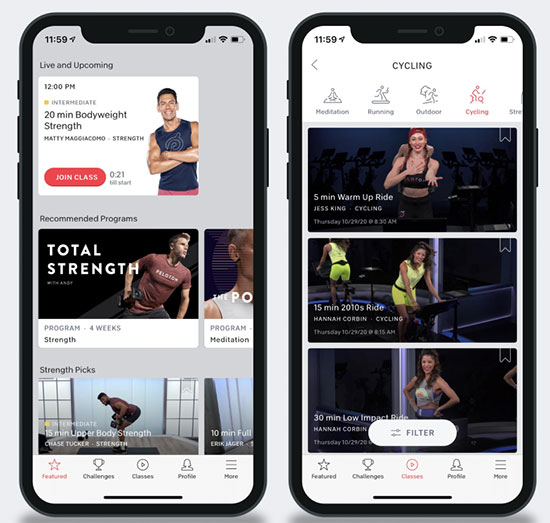 📝 Tips: Apple Music uploaded to the Peloton app must be MP3 file of no more than 100MB. So you'd better use AudFree Apple Music Converter to convert Apple tracks to MP3 format.
Part 4. More Tips: Getting Peloton Playlist on Apple Music
Peloton has dispatched a new feature called Track Love. This component will allow you to save any melodies you hear during your lessons so you can add them to your own playlists for listening anyplace. Another music section has been added to your profile page, where you can see all the tracks you have saved. In turn, you can easily sync Peloton music to music services like Spotify or Apple Music.
Connect Peloton to Apple Music
To sync Peloton to Apple Music with the Track Love highlight, you can follow the straightforward aide underneath.
Step 1. Select the Music button on the Peloton screen and you will see a heart symbol near the melody.
Step 2. Click on the Heart symbol close to your favorite tune and it will be saved to your own playlist. To review it, you can visit the profile page on Peloton, after which go to Music > My Peloton Music by [your username].
Step 3. Click on your username in the bottom left corner of the Peloton screen and select Music.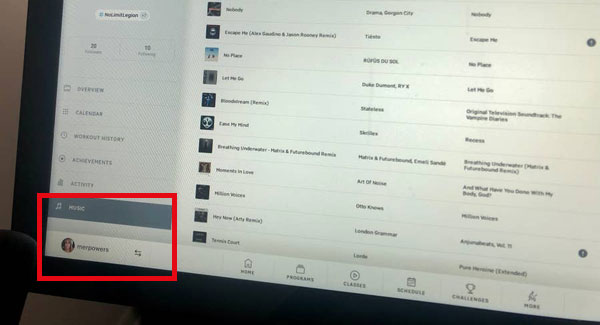 Step 4. Select the Connect button, and from the pop-up page, click Connect next to Apple Music.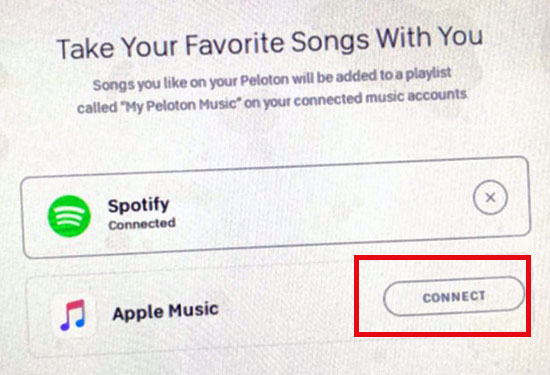 Step 5. Sign in your Apple ID to link Peloton to Apple Music.
Step 6. Launch the Apple Music app and click on the Library tab.
Step 7. Select Playlists and scroll down to find My Peloton Music.
📝 Note:
● Eliminating melodies from your own Apple recordings will not affect Peloton playlists.
● If you share a Peloton playlist with others, they will get a duplicate of this playlist.
💡 Fix Peloton Music Not Syncing with Apple Music
If you are having problems accessing My Peloton Music playlists in Apple Music library, you can try the following simple workaround.
* Make sure your Apple Music account is successfully connected to Peloton.
* Make sure the Apple Music account you are logged in to is the same as the one connected to Peloton.
* Restart the Apple Music app to refresh the library as it may take a few minutes for a Peloton song to appear.
* If a favorite Peloton song is currently unavailable in the Apple Music catalog, it will appear grayed out.
Part 5. FAQs about Peloton and Apple Music
Q1: How Does Peloton and Apple Music Work?
You can add favorite songs to your Peloton playlists through the Track Love feature. In turn, once Peloton profile is connected to an account, Peloton playlists will sync with Apple Music or Spotify.
Q2: Can I Play Apple Music through Peloton Bluetooth?
You need to convert Apple Music to common format using AudFree Apple Music Converter first. Then it's easy to pair Peloton and your audio device via Bluetooth for Apple song playback.
Q3: What Kind of Music Is on Peloton?
The Peloton on-demand library has a large selection of music genres, from pop and rock to hip-hop and dance for users to play while working out.
Part 6. In Conclusion
Suppose you are thinking about how to use Apple Music on Peloton, you should know at this point. You can utilize AudFree Apple Music Converter to convert the whole Apple Music tunes to Peloton feasible organization. Further, try to play workout playlist from Apple Music on Peloton bike or tread with abandon.