Spotify enables us to get songs of diversified styles on it. It's a nice experience to listen to Spotify songs when studying, walking or exercising. If you get used to riding the Peloton bike at home, playing Spotify on Peloton can give you extra energy. It will empower you to finish your task easier.
As you know, you are able to save the songs on Peloton to a playlist via its new feature, Track love. And then, it's able to listen to Peloton Music on Spotify without limits. But you can not add Spotify music to Peloton bike directly. This may bring some trouble. So how to play Spotify on Peloton? Here you can get the answers in this post.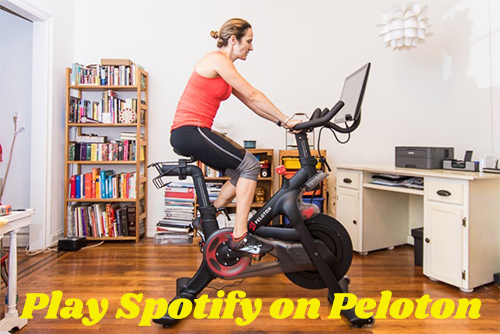 Part 1. How to Play Spotify on Peloton - Tool Required
It's well known that Spotify playlists can be accessed in the Spotify app. If you have a premium account, you can download and play Spotify music without a network on your devices with the app. But you have no way to send the Spotify downloaded files to Peloton for playing. The reason is that Spotify playlists are cache files. It means that you couldn't locate them, no mention to play Spotify music on Peloton.
So, how to listen to Spotify on Peloton bike? Spotify music is encoded in unique Ogg Vorbis format. If you can convert the Spotify tracks to common audio files, then you can import your own music to Peloton.
AudFree Spotify Music Converter is well-designed to convert Spotify songs to files of MP3, AAC, FLAC, WAV, M4A, and M4B. After you implement the format conversion, you can upload and play your own Spotify music on Peloton.
Besides, this smart tool works well to save the songs with no quality loss. The ID3 tags of the Spotify tracks are kept at the same time in the process. You are able to make different music groups when you get the converted Spotify files. What's more, you can send the songs to any other music players for playback.
AudFree Spotify Music Converter
Part 2. How to Listen to Spotify on Peloton Bike
Now we will elaborate on the detailed steps on how to listen to Spotify on Peloton bike. It will be divided into two parts. One is to use AudFree Spotify Music Converter to download Spotify songs to the computer for using Spotify on Peloton. The other is to add Spotify to Peloton via 2 ways for playback.
How to Convert Spotify for Use on Peloton
Please download the AudFree Spotify Music Converter at first. The AudFree software can work on both Windows and Mac computers.
Step 1

Load Spotify tracks to AudFree program

Open the AudFree Spotify Music Converter. When you see the new window of the Spotify, pick the songs to play on Peloton and drag them to the AudFree window. Or you can copy the URL of the Spotify playlist and paste it to the search bar. Then hit the "+" button to add Spotify songs to the main interface.
Step 2

Set output parameters for Peloton bike

Before you convert the Spotify songs, you are inspired to reset the output format for Peloton. Find the icon "Preference" on the upper right of the top. You can pick the output format you like. Also, change the channel, bit rate, and sample rate for better quality. If you need to change the folder for output files, please click the button named "Converted" on the bottom.
Step 3

Convert Spotify music for playing on Peloton

Tap on the "Convert" icon to start the conversion between Peloton and Spotify. The information of the Spotify songs including title, genre, year, album cover, etc. is preserved well. The converted music files can be located in the output folder you set.
How to Play Spotify on Peloton
All local own Spotify songs are available to access on Peloton. Here are 2 methods to link Peloton to Spotify. Now you can make Peloton play Spotify with the following steps done.
Method 1

Use Spotify on Peloton via YouTube Music

Step 1. Reach the YouTube website and sign in to your Google account.

Step 2. Press on the 'Upload Music' option, and it will browse your local folder.

Step 3. Find the 'Converted' folder that saving converted Spotify music files and choose it to upload Spotify playlist to YouTube Music.

Step 4. Find the WebView Browser on Peloton and open the YouTube website to use uploaded Spotify playlist on Peloton.
Method 2

Play Spotify on Peloton via Google Drive

Step 1. Go to Google Drive and log in to your Google account details.

Step 2. Click the 'Create' > 'Folder' button. Create a folder for the Spotify playlist.

Step 3. Tap on the 'Upload' > 'Files' option. Find the 'Converted' folder and add Spotify playlists to Google Drive.

Step 4. Open the WebView Browser on Peloton and visit Google Drive to listen to Spotify on Peloton.
Part 3. How to Connect Peloton to Spotify Account
One of the highlight features of Peloton is its Track Love, which is a fun way to discover new songs that you like. During your Peloton workouts, you can tap on a heart icon while playing a favorite song. It will save to the Peloton Music playlist. You can view your full lineup within your Peloton profile or in the brand-new "music" section on the left-hand side.
Now, you are also able to access Peloton playlists in the Spotify app only if you have connected to your Spotify account. Have curated your favorite workout playlists on Peloton? How to link them to your Spotify account? Let's move on!
Step 1. Please open the Peloton profile on your Peloton bike by tapping on your image.
Step 2. Here is a 'Music' option at the left column, please hit on it and then click the 'Connect' button.
Step 3. In the pop-up window, please choose Spotify as the target music platform.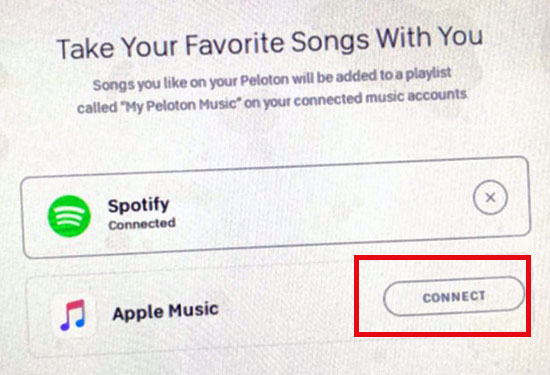 Step 4. It will require your Spotify username and passwords, please enter. And then, you can open the Spotify app and find Peloton Music playlists under the 'Your Library' section.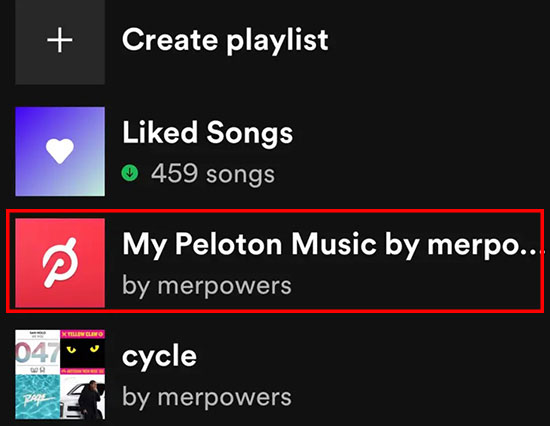 Now, you can start to play a playlist titled "My Peloton Music by (username)" on the Spotify app.
Bonus: Powerful Spotify Playlists for Peloton
Now you can play Spotify playlist on Peloton. Some amazing workout playlists from Spotify are recommended to you. It may help you emit energy better.
# Cardio
There are high-tempo songs on the playlist. It helps you focus on your goal and keep you going for longer. Moreover, the Spotify playlist is also perfect for jogging or walking with high-tempo tunes. You may get excited and happy while you are on your plan.
# Beast Mode
Well-balanced songs comprising rap tracks, Trap songs, and EDM tunes are for you in this playlist. You can get some songs by Kendrick Lamar, Mineo, Linkin Park, Mineo, and others. You will feel energetic and powerful with the playlist.
# HIIT-Hop
Rap songs are here for you. You will surely become motivated and keep working when you play this playlist. These songs have great tempo and amazing relics. You can get great tracks from Kendrick Lamar, Future, Nick Minaj, and Sremmurd.
# Gold School
This playlist is made up of amazing hip-hop tunes, which keep you focused when you are exercising. You will have songs from Eminem, DMX and Ludacris. The high tempo fit for riding and amazing lyrics for your soul will make you enjoy the process.