Audacity is one of the most well-known and popular audio recording and editing software. Its best benefit is total free and open-source tool, which is an attractive feature for the beginner to explore digital audio making world. As a cross-platform audio solution, Audacity is available for a wide variety of operating systems, such as Windows, OSX, Linux, etc.
However, free tools always come with some incomplete functions. So does Audacity. For example, when you need to create MP3 files, it requires you to download LAME, extra software and Audacity has restricted file formats, no matter to import or export and an optional FFmpeg library is required. As result, in this article, we will introduce top 5 best Audacity alternative for you to make your exclusive audio recordings.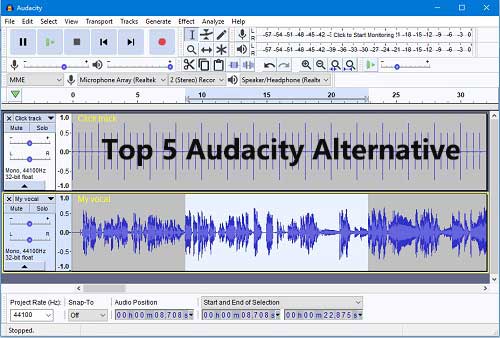 Top 1. AudFree Audio Capture (Windows/Mac)
There are so many free and paid Audacity alternative programs in the market. Here, we will put AudFree Audio Capture in the No.1 place, which is one of the commercial audio editors and recorders. With advanced and innovative audio recording and editing technology, AudFree Audio Capture is designed to record any sound from any source on your Mac and Windows PC, such as streaming music services, video sharing websites, local media players, online radio stations, etc.
This Audacity alternative is able to record audio tracks without touching original files and save audio records to several plain audio formats, including MP3, FLAC, WAV, AAC, M4A and M4B. Plus, it supports users to split large audio tracks into small segments, merge different audios to the new audio file with one click, customize ID3 tags and edit the title of recorded audios according to your need.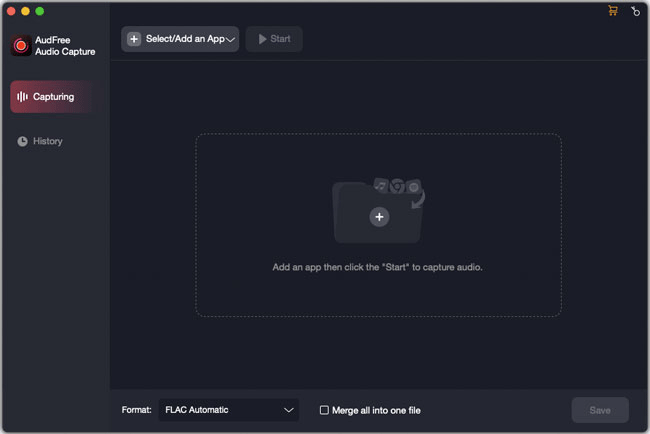 Pros:
*All-in-one audio recorder, editor and manager;
*Support multiple input and output file formats.
Cons:
*It's not free but cheaper than similar programs.
Top 2. Ardour (Mac/Windows/Linux)
If you just need a similar alternative to Audacity, Ardour can meet your needs with all necessary features. Ardour is also a free software available for running on lots of platforms, like Mac, Windows and Linux. As a great hard disk recorder and digital audio workstation application, Ardour is designed to record, edit and mix audio tracks.
It allows users to import audio or MIDI from hard drive or the Freesound database. With powerful built-in audio editor, it could be easier to cut, move, copy, paste, delete, crossfade, rename, snapshot, zoom, transpose, drag, and drop audio and music videos and you can do undo and redo without limitation times. To be more professional, it always comes with flexible mixer architecture with hundreds of plugins.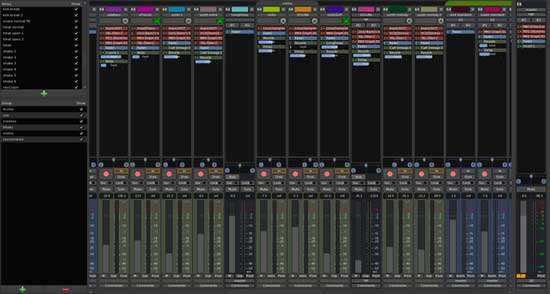 Pros:
*All with unlimited undo/redo;
*Wonder audio editing and recording features.
Cons:
*Can't use it to save AudioUnit plug-in settings for Mac users;
*Don't have customer support for Linux users.
Top 3. Apowersoft Free Online Audio Recorder
As the name suggestion, Apowersoft Free Online Audio Recorder is a free and online audacity alternative, with which you don't need to download big software on your computer but record all audio streams online based on your browser. Without subscription and register required, you just need to install a light launcher if it's your first time to use this software.
It endues you the ability to record any sound from both System Sound and Microphone. The input sources include streaming music sites, radio stations, in-game sound, voice chat, etc. while it supports the following output formats, like MP3, WMA, AAC, FLAC, WAV, M4A and OGG. But the disadvantage of this software is that it could be the only audio recorder as it doesn't have abundant editing features.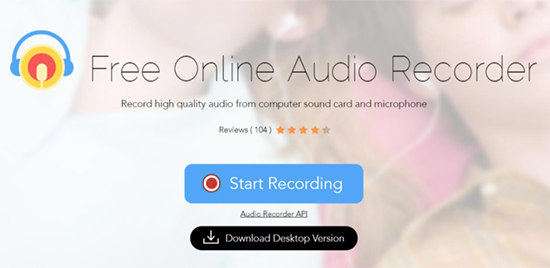 Pros:
*No need to install extra software;
*Total free.
Cons:
*Without abundant editing functions.
Top 4. Free Audio Editor (Mac/Windows)
If you just need a similar alternative to Audacity, Free Audio Editor seems an excellent choice. With over 10 years of experience in audio editor, Free Audio Editor has earned millions of users because of totally free and high output audio quality. For using this amazing audio editor and record, you just need to install it on your Mac or Windows computer.
It can record all audio tracks playing through sound card, external devices or coming from Mic. It also allows you to cut, copy, paste and delete audio recordings or added audio files with traditional Waveform View or the frequency-based Spectral Display. To make audio tracks more attractive, you can add audio effects, like chorus, time stretching, etc. It's worth mentioning that it supports the most input and output formats.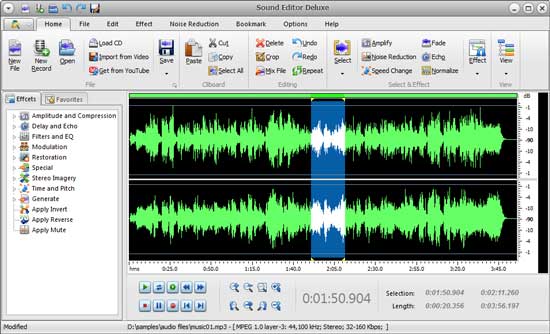 Pros:
*Absolutely free and give high quality;
*Support a wide range of file formats.
Cons:
*N/A.
Top 5. iMusic (Mac & Windows)
Apart from traditional recording and editing features, iMusic also allows users to discover and transfer music tracks without effort. This Audacity alternative Mac/Windows has its own music library, in which you can discover new music favorites by using search function by genre, artist, top lists, etc. Once found out, you can directly download them for offline listening.
More care about audio recording feature? no problem! With iMusic, you can record any song and save recorded audios as MP3 and M4A format with zero quality loss. When you play the song, iMusic will start to record it automatically. Although it doesn't come perfect editor, it is still the best music manager and downloader.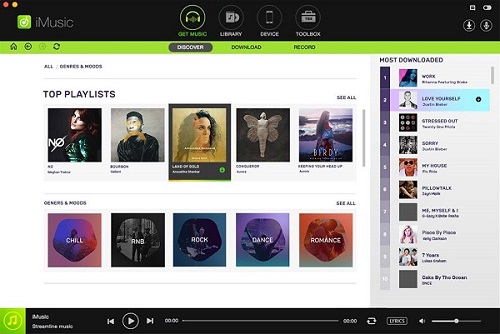 Pros:
*Well-designed music recorder, manager and downloader;
*Download and record songs from over 300 music sites.
Cons:
*It's a little expensive;
*Less editing function and output formats.
Final Verdict: Best Audacity Alternative to Choose
As a matter of fact, besides the five best Audacity alternatives as above, there are still some great audio recording and editing software you can have a try, like Wavosaur and Nero Wave Editor. If you don't like to try them one by one, let's make a short conclusion.
If you would like the online audio recorder, Apowersoft could be the only one you can choose. If you more care about the music sharing and downloading to make a large music collection, iMusic seem better. Free Audio Editor and Ardour is available for people who need an Audacity alternative, which is similar with Audacity but being more professional. As for better listening experience, AudFree Audio Capture could be the best alternative Audacity with high quality preserved.
Overall, which Audacity alternative to choose finally depends on your situation and special needs. Do you have other great recommendation on audio recorder, which can replace Audacity? Please be free to leave them in the comment area.