Q: "How to get podcast on google play?" From this question, we can see that many people are still not familiar with Google Play Podcast, since the podcast is a commonly-added feature in most of the streaming music services, like Spotify, Apple Music and so forth.
As a new function that has added to Google Play Music this year, Google Play Podcast is definitely far from the best. It has lacked the basic function of downloading until it adds this function to the Google Play Music app, which is used on mobile devices.
However, people who used to listen to podcasts on the computer still can't make dream come true, for there is no download button on neither the desktop app nor web player of Google Play Music.
Life is full of surprises. In this article, we are going to introduce a useful and efficient way to download Google Play Podcast on the computer. Also, we will attach the method to directly download Google Play Podcast on mobile devices. Just read to see what we find.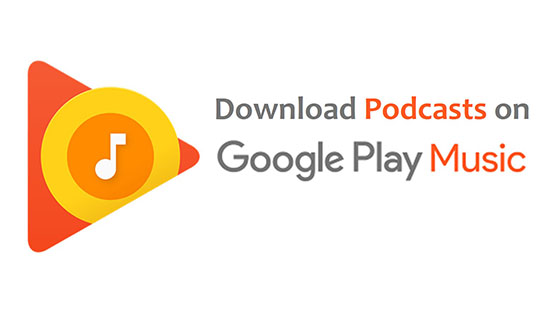 Part 1. Download Google Play Music Podcast on Computer for Offiline Playback
Before we download Google Play podcast, first we need to find where Google Play Podcast portal is. Currently, it is only available for the US and Canada users, and more ironically, you can't access podcasts on Google Play Music app when you are using an iPhone or iPad. Intense commercial competition, right? So the following contents are as a reference for those who live in the US and Canada at present.
It is required to use an all-in-one third-party tool to download the podcast from Google Play. Beyond all questions, AudFree Google Play Music Recorder is the best selection for everyone, which is good at recording not only podcast but also different kinds of tracks from Google Play Music and save them into the local music library.
The in-built features of this smart tool are various and useful. It is available to record audios from different sound sources simultaneously but separately, and to automatically split when a new track begins or repeats. You can also manually split, trim, or merge every piece of recordings before saving them into any common formats like MP3, FALC, WAV, AAC, M4A, M4B, and etc. By using this handy software, you can record, download, and edit whatever you want (podcast, radio, music, etc.) from Google Play Music on desktop.
With the precise interface and simple steps, it is very easy for you to manipulate and control this program. Please check the detailed tutorials as below.
Step 1

Add Google Play Music to AudFree

Open AudFree Google Play Music Recorder on your desktop. On the main page of AudFree, you will see a series of icons about media players and web browsers, which are already installed on your computer. Then hit on Google Play Music Desktop Player, or Chrome, or any browser that is often-used. If the target icon doesn't show on the home page, please click the dashed gray '+' icon to load it manually. As a reminder, Chrome can offer a better recording environment that is stable to record at a high speed.
Step 2

Modify output parameters for offline playback

Before we begin to record podcasts from Google Play Music, we need to redefine the output settings first. Please tap on the "audio" icon on the lower right corner of the main page. Then a new prompt titled "Format" will show up. Here, you are available to adjust output parameters such as format, codec, channel, sample rate, bit rate as you like. Or just click the pull-down bottom of "Preset" to choose the auto mode. In order to keep a better music quality, we recommend you to define the sample rate to 48000Hz, bit rate to 320 kbps, or simply select the "High Quality" from "Preset".
Step 3

Record, download, and edit Google Play podcast

Now you can choose Google Play Music Desktop Player or visit Google Play Music via Chrome from AudFree. Then play your favorite podcast or any episode. From the begging of the recording, the program will automatically record sounds from Google Play Music and store them into the preset output settings. After you press "Stop" to end the recording, move your cursor to the part of the recorded file, and two "edit" icons will appear. The left one is for you to rename the title. The right one is used to trim the clip and modify ID3 tags. After that, don't forget to press "Save" and locate the target local folder by following the on-screen prompts.
Part 2. Listen to Google Play Podcast from Phone/Tablet Offiline
For those who don't use an iPhone or iPad, it is supported to download podcasts from the Google Play Music app directly. Let's see the brief steps.
Step 1. Turn on the Google Play Music app.
Step 2. Besides the track that you try to download, tap the "info" icon.
Step 3. On the next window, click the "Download" icon.
The download may be automatically cleared once you've listened to the whole episode. Also, you can manually delete the downloaded episode.
Tips: How to Submit Podcast to Google Play
Just click here to finish Google Play Podcast submission by following the on-screen instructions.