Q: "Can I keep downloaded songs from Wynk for offline listening on my phone?" The good news is yes. It is available to listen to the downloaded Wynk songs offline, but the requirement is: You can only listen to those tracks on the Wynk app. That is to say, it is not supported for you to transfer your favorite Hindi songs from Wynk to other players or devices, which is not compatible with a self-added app.
But take it easy, in this article, I am going to introduce the best Wynk Music downloader and recorder to help you get Wynk Music free for playing without Wynk App.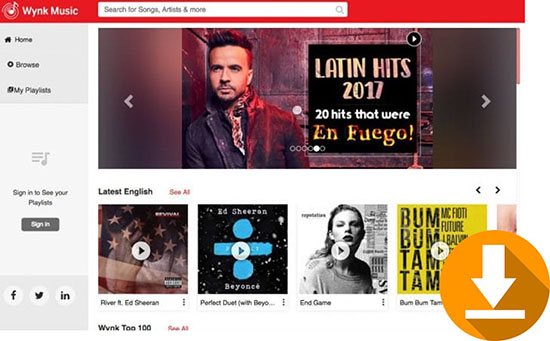 Part 1. Best Wynk Music Downloader: AudFree Audio Capture for Wynk Music
Although there are many alternatives, such as download Wynk Music Apk or use Wynk Music plugin for downloads, it is better to consider if they are safe for your Wynk account and computer. As far as I know, many streaming music companies are taking action to ban illegal usage since this year. For example, Spotify started sending warning messages to those who use Spotify Premium Apk. Their accounts may be disabled or terminated if they are detected a repeated illegal usage.
Adopting the newest technology, AudFree Audio Capture for Wynk Music can automatically identify metadata in Wynk tracks, such as title, artist, album, etc. during the recording process. In addition, songs on an album or playlist will be intelligently split and stored as individual files. This all-in-one tool is also a music editor. In case that you would like to cut a fragment from one song for making ringtone, this powerful software allows you to manually split and trim recordings into small clips. Or if you want to create a unique sound mixing, it is also available to merge those small segments into one audio file.
What may surprise you most is that AudFree Audio Capture can not only catch music from the Wynk app, but also capture most streaming music in the market, such as Spotify, Amazon Music, Google Play Music, etc. In a word, with the support of this incredible program, you can record, download, edit any piece of audio on the computer if you like.
Part 2. How to Download Songs from Wynk Music App
Before I start to show you the details of the operation, here are 3 tips that you have to read and prepare.
Tip 1. Please check if your Wynk account is still valid to play music.
Tip 2. Please make sure that you have connected to the internet, for the recording needs a stable internet condition.
Tip 3. Remember to confirm that an audio output device such as a headphone or a speaker is connected to your computer and connection is OK, if you use the Windows computer.
Tip 4. Please download AudFree Audio Capture for Wynk Music from the download link above. To get a full experience, you have to buy the full version, or you can only get 1 min conversion for each song in the free trial.
Step 1

Load Music from Wynk and stream to AudFree

Open AudFree Audio Capture for Wynk Music on your PC. On the main window of AudFree, you will see a series of icons of music players and web browsers. Those are installed programs on your desktop. If the Chrome or Wynk Music app download for pc don't list in there, please hit the dashed grey '+' icon to add them manually. Then tap on Chrome, Wynk desktop app to navigate to Wynk' s website. As a suggestion, Chrome is the best choice, which can keep AudFree working in a stable and high-speed condition.
Step 2

Reset output settings for Wynk offline playback

Please check to the first icon of 'audio' on the bottom right corner of the main page. Then a new window called "Format" will open. The options such as format, codec, channel, sample rate, the bit rate can be redefined as you like. For purpose of holding the best quality, you'd better swift the format to 'FLAC' or 'WAV', the sample rate to '96000Hz', and bit depth to '32 bit'. Or you can choose the auto mode by clicking 'Preset' > 'High Quality'.
Step 3

Record, download, and trim Wynk music

Now you can visit Wynk Web Player via Chrome from AudFree. Then discover your favorite song. Once you press the play button in Wynk, AudFree will start to record music from Wynk. During the recording, please don't open any other website or media player. It is required to click the 'Stop' bar on AudFree to end the recording. Then move your cursor to the finished file, and two "edit" icons will appear. One is to rewrite the song. The other one is to trim clips and rename ID3 tags. Don't forget to press 'Save' to preserve your recordings. Finally, follow the on-screen prompts to locate the target folder.