Q: Can I use Deezer with Google Home? Using Google Home, I can control my entire smart home with voice commands, such as lights, thermostats, etc., which brings great convenience to my life. Also, its streaming music feature gives us the option to play our favorite music whenever we want. So I wonder if Deezer Google Home is possible?
In fact, Google Home works with Deezer, Spotify, YouTube Music, Apple Music and more. You can simply say "Hey Google, play music" to listen to a tune that suits your taste. To meet your needs, this article will show you two perfect solutions to play Deezer on Google Home for free music enjoyment.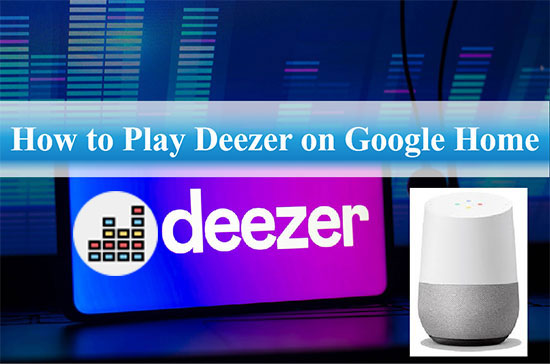 Part 1. How to Link Deezer to Google Home Officially
There's nothing better than asking Google to play your favorite Deezer Music. Here's how to set your Deezer account as the default for Google Home, and in turn you can ask Google Home to play the right Deezer Music for any moment or mood.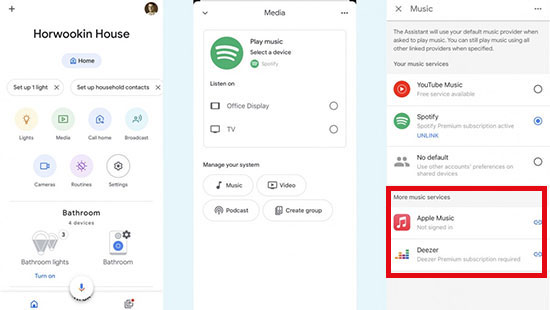 How to Add Deezer to Google Home
Step 1: Launch the Google Home app on your phone or tablet and go to the Home tab.
Step 2: Tap the Add icon in the middle of the app's home screen, then select the Music and Audio option located under the Manage Services section.
Step 3: Under "More Music Services", select Deezer by selecting the link icon. Click on the "Link Account" option and enter your login details to sign in to your Deezer account.
Step 4: Once you have finished, click the Done button. After that, just say ''Google, play some music on Deezer'' to make Google Home Deezer a reality.
How to Set Deezer as Default Music on Google Home
Step 1: Once you have logged in and linked your Deezer account, you will need to open the Google Home app again.
Step 2: Tap the Settings button, then press the Music option. At this point, you will see all the accounts linked to Google Home.
Step 3: Tap the circle icon next to Deezer in your list of music services to make it your default music service.
Part 2. How to Play Deezer on Google Home Offline for Free
While both Deezer Free and Deezer Premium users can connect Deezer to Google Home, paid users will undoubtedly enjoy more unique features such as ad-free playback, unlimited skipping, offline listening and more. What if a free user wants to use Deezer on Google Home offline? Don't worry, there's a foolproof solution for you, whether you have a free or Premium account.
All you need is the assistance of the professional AudFree Deezer Music Downloader, which is carefully designed to decrypt Deezer tracks and download Deezer Music as local files on your computer. What's more, it can convert Deezer Music to MP3, FLAC, WAV, AAC and other popular formats with all ID3 tags retained. It is so intelligent that you have the freedom to transfer Deezer Music to Google Home for offline use without Premium.
How to Play Deezer on Google Home Offline for Free
Step 1

Adjust Deezer Music Output Format for Google Home

Run AudFree Deezable on your computer and click on the menu icon, then select the 'Preferences' and 'Convert' options. In the settings window, you can start setting the Deezer Music output format to MP3, AAC, FLAC etc. Afterwards, depending on your needs, you are allowed to reset other Deezer parameters such as sample rate, bit rate, audio channels, etc.
Step 2

Add Deezer Music to AudFree Deezable

Select your preferred Deezer Music in the Deezer Music app. Copy and paste the Deezer track link into the search bar at the top of AudFree Deezable. Don't forget to click the "+" icon next to it to finish loading it.
Step 3

Download Deezer Music for Google Home

Now, click on the big "Convert" button to start converting and downloading Deezer Music to your computer. When you're done, hit on the "Converted" icon to see all your Deezer Music downloads. After that, you're ready to transfer and listen to Deezer offline for free on Google Home without any restrictions.
Step 4

Play Deezer on Google Home Offline for Free

1. Access YouTube Music in your browser and simply upload the Deezer Music folder to your YouTube Music library.
2. Keep your mobile device and Google Home connected to the same Wi-Fi network. Open the Google Home app and select the YouTube Music account to link with Google Home.
3. Now you can ask Google Home to play Deezer Music from the YouTube Music library via voice command.
Part 3. FAQs of Deezer Google Home
Q: Which Music Streaming Services Are Available for Google Home?
Google Home supports several popular music services, including Deezer, Spotify, Pandora, YouTube Music and Apple Music, and you can play specific songs, albums or playlists with voice commands to the Google Assistant.
Q: Is Deezer Free on Google Home?
Nowadays, Deezer free users are allowed to play Deezer on Google Home, but there are always limitations such as ads, shuffle play, and the inability to download offline.
Q: How to Use Deezer with Google Home?
As mentioned above, you can play Deezer on Google Home in effective methods. It is recommended that you make use of the AudFree Deezer Music Converter to make Google Home Deezer available to all users without limits.
Q: How to Fix Deezer Not Working on Google Home?
Restart or reset Google Home.
Make sure the Deezer Music is kept at a reasonable volume.
Re-link your Deezer account to Google Home.
Change to a different voice command.
Clear the cache of the Deezer Music app.
Contact Google's support team.
Part 4. In Conclusion
After reading the full article, you'll be surprised to find that playing Deezer Music on Google Home is not as difficult as you might think. Then follow the tutorial here to link Deezer to Google Home with ease. Come along and say "Hey Google, play my Deezer Music" to enjoy the Deezer Music journey to its fullest.