As we all know, Deezer offers free and subscription services, and only Deezer Premium and Deezer HiFi users can unlock full specific features, such as Deezer offline mode, in other words, downloading Deezer music for offline listening. However, users who enjoy Deezer offline listening will struggle with the expensive monthly subscription fees.
So here's the question, can you listen to Deezer offline for free? This is probably what most Deezer fans have been very curious about. Then you've come to the right place, this article focuses on effective ways to use Deezer offline for free. Moreover, we will spare no effort to help you listen to Deezer offline for free forever. Without further ado, keep reading to discover the answer.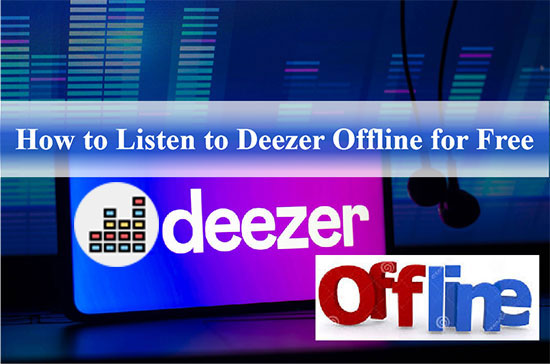 Part 1. How to Listen to Deezer Offline for Free Forever
First and foremost, listening to Deezer offline for free forever does sound nebulous and hard to achieve, but surprisingly you can make it a reality with the aid of AudFree Deezer Music Downloader. This professional Deezer downloader is designed to download Deezer music to your computer locally for offline listening on all devices forever.
What's more, this reliable tool is available for Deezer members with different plans, including Deezer Free, Deezer Premium and Deezer HiFi, which perfectly solves the burden of Deezer subscription fees. In addition, it is able to download and convert Deezer Music to MP3, FLAC, etc. at 5X faster speed, making it really convenient and fast. You may wonder if it has any limitation in terms of Deezer downloads, what makes it delightful is that AudFree Deezable allows you download Deezer Music offline without any limitation.
AudFree Deezer Music Downloader
How to Listen to Deezer Offline for Free Forever
Step 1

Set Deezer Music Output Format and Parameters

Download AudFree Deezer Music Converter from the official website. Run it and click the menu icon on the top right corner to select the Preferences > Convert option. At this point, you are allowed to adjust the output format to MP3 or other common formats. If you need to change other audio parameters, just set them directly in this window. Afterwards, you can also sort Deezer Music by album and artist by clicking on the "Archive output tracks" button.
Step 2

Import Deezer Music to AudFree Deezable

First confirm your preferred music or playlist in the Deezer app. Click on the 'three dots' icon of the track or playlist, then select the 'Share' > 'Copy' button in order to copy the URL of the Deezer track. After that, put the copied link address into the search bar at the top of AudFree Deezable and press the '+' icon next to it to finish loading the song.
Step 3

Listen to Deezer Offline for Free Forever

Click the "Convert" button at the bottom right corner and AudFree Deezable will start converting and downloading Deezer Music as you want. After the conversion process is finished, click the "Converted" icon on the bottom bar to view all the converted songs. Furthermore, you are free to use Deezer offline whenever and wherever possible.
Part 2. How to Use Deezer Offline for Free via Free Trial
As mentioned earlier, Deezer offline mode is only available for Deezer Premium and Deezer HiFi accounts, which means that free users cannot use Deezer offline directly. Fortunately, there is an official 3-month free trial of Deezer Premium and Deezer HiFi so that you can get access to the full features such as ad-free playback, downloads and offline listening. In this way, you can get Deezer offline mode via free trial.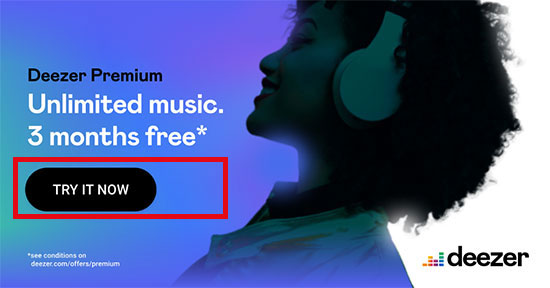 How to Get Deezer Offline Mode for Free
Step 1. Find the 3-month free trial campaign page on the official Deezer website and click the "Try For Free" button to upgrade to Deezer Premium or Deezer HiFi account smoothly.
Step 2. Open the Deezer app on your device and enter your personal information to log in to your Deezer account.
Step 3. Click on the menu button with 3 vertical dots in the top right corner of the screen and click on the "Settings" option. Then click on the slider next to the Offline Mode option. You have successfully enabled Deezer offline mode, then it's possible to browse all your downloaded Deezer songs and play them offline with freedom.
Part 3. How to Play Deezer Offline Free via Deezloader Remix
If you want to download Deezer songs for free and listen to music offline on Deezer, then Deezloader Remix will undoubtedly meet your needs. It is dedicated to download Deezer Music from Deezer's web server and save it in MP3 or FLAC format. You just need to search for the song or even the artist you want in the application directly and then it will show you all the available results.
What's more, it allows users to download an artist's entire library with one click on the Download Library tab. And you don't need to worry about song versions, it is able to find the right song using the URL of the Deezer Music. It's worth mentioning that this is an open source project that is 100% free to use without any hidden fees or subscriptions.

How to Play Deezer Offline Free
Step 1. Open Google Chrome or Firefox on your computer and navigate to the Deezer.com website. Sign in with an existing account or Facebook and Gmail account.
Step 2. Now click on the F12 key on the home page to open the developer mode. From here, click on the Applications tab or the Storage tab.
Step 3. After this, scroll down from the left side until you see Cookies and click on the arrow button. Next, click on the Deezer.com domain and search for "arl" in the filters section, after which simply copy all the codes in the value section.
Step 4. Open Deezloader Remix, paste that token there, and click the Login button to sign in. Search directly by entering the URL of your favorite Deezer song. After that, click on the download button to get your favorite Deezer Music for offline playback with ease.
Part 4. FAQs about Listening to Deezer Offline for Free
Q1: Is Deezer Free Offline?
Obviously not. If you want to play Deezer free offline, you can try the above mentioned Deezer Premium 3-months free trial. Also, in the long run, using AudFree Deezer Music Downloader to enjoy Deezer Music offline is the optimal solution.
Q2: What're the Limitations of Deezer Offline Mode?
To tell you the truth, only Deezer subscription accounts can access Deezer offline mode, which implies that free users cannot access this feature on their devices. In the meantime, downloaded Deezer Music can only be played offline on officially licensed device, which poses some limitations.
Q3: Where're Deezer Offline Songs Stored?
As a matter of fact, Deezer offline songs downloaded through the official way only exist in the Deezer app, not as local files on your computer. It also suggests that you don't have the right to play these offline songs on other devices.
Part 5. In Conclusion
This article describes some effective ways to listen to Deezer offline for free. Beyond question, enjoying music offline can greatly enhance musical happiness, so it's time to enjoy Deezer offline to your heart's content.