Q: Does Tidal work with Google Home? Put it another way, is Tidal compatible with Google Home? If not, is there any news about 'Google Home Tidal integration' or something like that? Or, is there any possible way to link Tidal to Google Home?
Based on online research, there is only positive news about Google Home Tidal support and it would be unwise to expect Tidal Google Home integration to arrive soon. Would you give up other opportunities to add Tidal to Google Home? If not, then come on over here, as this article will show the best workarounds to play Tidal on Google Home/Home Mini/Max/Hub with ease.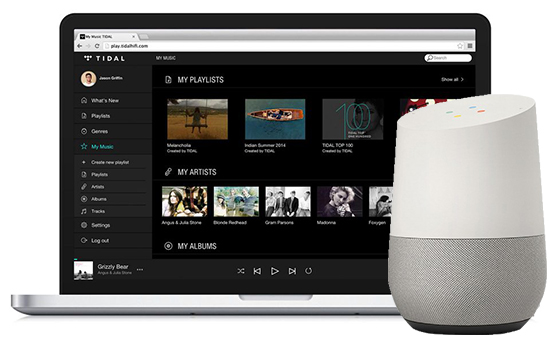 Part 1. How to Make Tidal Google Home Connect - Best Tool for You
In reality, before 2021, Google Play Music is the default streaming music service for Google Home. But now, it's not as it no longer exists and YouTube Music replaces it. So why not try uploading Tidal Music to YouTube Music, after that you can hook up your Tidal Music service with Google Home as the default one.
However, a tricky issue now arises: the Tidal Music downloads officially are encrypted and cannot be played on other devices and players, except for specific devices licensed by Tidal. In this case, installing a professional Tidal downloader tool is essential and AudFree Tidal Music Downloader is certainly the perfect option.
Whether you subscribe to Tidal or not, AudFree Tidable caters for all Tidal users who want to download songs and playlists from Tidal as local files, in turn, it's possible to play Tidal Music straightforward from Google Home. Besides, it can convert Tidal Music to MP3, FLAC, WAV, AAC, etc. so that you can still link Tidal to Google assistant for offline playback. Now let's see how this best tool actually works to download Tidal Music as Google Home supported files.
How to Convert Tidal Music for Google Home
Step 1

Load Tidal Music to AudFree Tidal Converter

Simply click the 'AudFree Tidal Music Converter' icon on your computer to launch this smart Tidal tool. At the same time, you will see the Tidal app pops up, which aims to make it easier to add Tidal songs. Please start to find the Tidal songs that you'd like to play on Google Home. Copy and paste the URL of Tidal Music to the search box. Then click the '+' button to load them automatically.
Step 2

Customize Tidal Output Format for Google Home

To make Google Home play Tidal, please go to the top menu bar and select the "Preferences" > "Convert" section, then you can define the output format to MP3 or other common audio formats supported by Google Home. To get high Tidal quality, you are highly recommended to adjust the bit rate as 320 kbps and sample rate as 48,000 Hz, etc.
Step 3

Download and Convert Tidal for Google Home

After you have done all the settings, click on the big 'Convert' button at the bottom-right corner of the main interface. You will see this perfect Tidal downloader starts to download Tidal MQA Music to target audio files you set before. After conversion, you can hit on the 'history' icon to locate all Tidal files.
Part 2. How to Link Tidal to Google Home Offline
Can you link Tidal to Google Home now? Of course! Now that you've downloaded Tidal Music to your computer locally, it's time to follow these two simple instructions to use Tidal on Google Home with freedom.
How to Play Tidal on Google Home via Bluetooth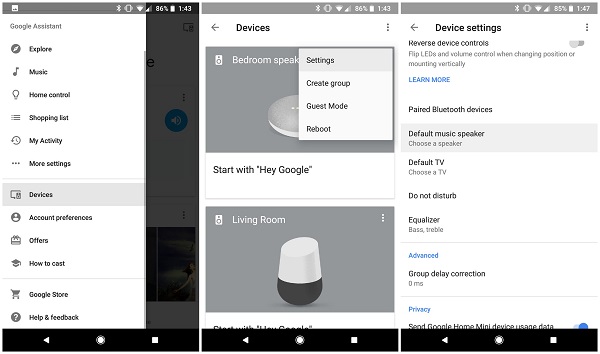 Step 1. Start by using the USB cable to transfer your local Tidal Music from your computer to your mobile device.
Step 2. Go to "Google Home Settings" and enable "Google Home Bluetooth Pairing". Next, on your iPhone, click on "Settings" > "Bluetooth" > "Turn on" option.
Step 3. Tap on the "Enable Pairing Mode" option on Google Home to pair Google Home with your Android phone or iPhone via Bluetooth.
Step 4. Once paired successfully, you can play Tidal on Google Home from your mobile device without difficulty.
Tips: If you prefer, you can also pair your computer with Google Home and listen to Tidal on Google Home easily via the Bluetooth function.
How to Add Tidal to Google Home from YouTube Music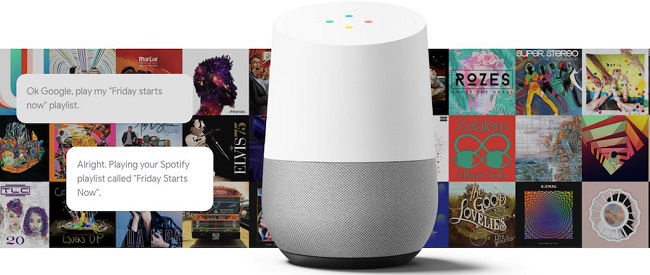 Step 1. Add Tidal to YouTube Music account. Open your YouTube Music on your computer and then log in to your account details. Then go to the 'Upload Music' option to locate the music folder including Tidal songs and upload them to YouTube Music.
Step 2. Set up Google Home. Launch the Google Home app on your device and tap the 'Account' to log in to your Google account. Next, you can click the 'Settings' > 'Services' > 'Music' button to set YouTube Music as the default service.
Step 3. Play Tidal on Google Home/Home Mini. Now, you can ask Google Home or Google Home Mini to play Tidal songs that you have uploaded to the YouTube Music account via voice commands. Besides, you can say 'Play a specific song (song name)' to listen to favourite Tidal songs on Google Home.
Part 3. How to Connect Tidal to Google Home via Google Cast
As we all know, Google Home comes with Chromecast built-in, which endows users the ability to play audios from their smartphone on Google Home speaker. Fortunately, Tidal is included in the list of apps that support Google Cast and on this condition, users are allowed to link Tidal to Google Assistant via the built-in Chromecast feature.
While there is no search function that allows you to play specific songs, you can use voice commands as normal to control Tidal playback on Home speakers. After you have connected Tidal to Google Home, the Tidal Google Assistant is available and you can try to operate some basic voice commands such as skip, go back, increase or decrease volume. Here's a simple tutorial on how to connect Tidal to Google Home.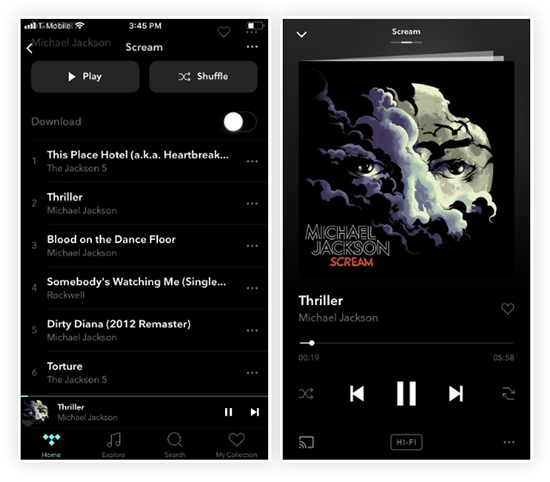 Step 1. Please make sure your mobile device is under the same Wi-Fi network as Google Home. And then launch the Tidal app on your Android or iPhone device.
Step 2. Next, you can start to select and play the Tidal Music that you'd like to listen to. At the same time, there will pop up the basic media controls at the bottom of the main screen.
Step 3. Choose this bar to display an extended version of the 'Now Playing' screen. Then you can see there is an icon that looks like a tiny speaker at the bottom-left corner, please hit on it.
Step 4. Here, you can see the 'Google Cast' sub-menu, and all Google Cast devices that are connected to the same Wi-Fi as your phone will show up. You can choose Google Home as the target device to stream Tidal Music.
Step 5. Your smartphone connects to Google Home for a while, and then Tidal Music will play out of the Google Home. You can take full control of the Tidal Music playback using Google assistant on Google Home. Or simply use your phone as a remote control. Now, Google Home does work with Tidal well and it makes Tidal Google assistant integration perfect.
Part 4. FAQs about Tidal Google Home
Q: What Music Streaming Services Does Google Home Support?
A: To be honest, Google Home serves several popular music services such as Spotify, Pandora, Deezer and of course the familiar YouTube music.
Q: Is Tidal Available on Google Home?
A: Unfortunately, Google Home Tidal integration is not yet a reality, so if you're keen to connect Tidal to Google Home, try the AudFree Tidal Music Converter described above to download Tidal Music locally so that you can listen to Tidal on Google Home offline without a subscription.
Q: How to Play Tidal Music on Google Home?
A: If you are a Tidal HiFi or Premium user, this suggestion is better for you, i.e. use Google Cast to connect your mobile device to Google Home so that it's simple to play the Tidal content you want on Google Home.
Part 5. To Sum Up
Will Tidal work on Google Home? From what we mentioned above, despite there is no Tidal and Google Home integration, you can still use the valid alternatives to connect Tidal to Google Home during the waiting time. As to which method you choose, whether it's the professional AudFree Tidal Music Converter, or Google Cast, it depends on your real situation.
To be fair, the first method is beyond doubt suitable for all users, as it not only enables Tidal lovers to add Tidal to Google Home, but also to play Tidal on Homepod and other smart speakers. Magic feature, right?