It's well known that Apple Music is a premium streaming music service, offering over ad-free 50 million songs that you can stream, download and play offline. But Apple also offers a three-month free trial for all music lovers to enjoy listening experience of Apple Music before subscribing.
Even more fortunate,the music giant Apple Music starts to encourages subscribers to give friends an extra 1-month free pass via push notifications. As a matter of fact, with the purpose to gain as many paid subscribers to Apple Music service as it can, Apple has already sent some push notifications to previous subscribers who have cancelled it and gives them an additional free 3-month trail.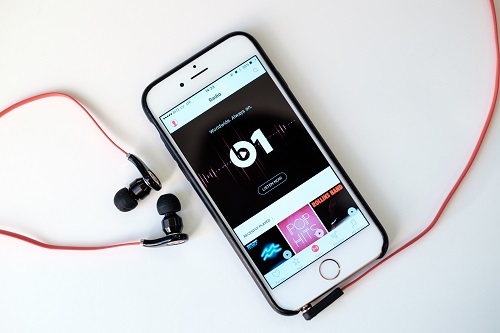 Who Can Enjoy Free One-month Pass for Apple Music
This promotional offer is eligible for all persons who is not one of the Apple Music subscribers currently.
It doesn't matter even if you are an Apple Music lover who have used the free 3-month trail, you can still get a total of extra one month of Apple Music with no cost. If you are the total newbie to Apple Music or just in the midst of the 3-month trial, you can get a 4-month trail for free.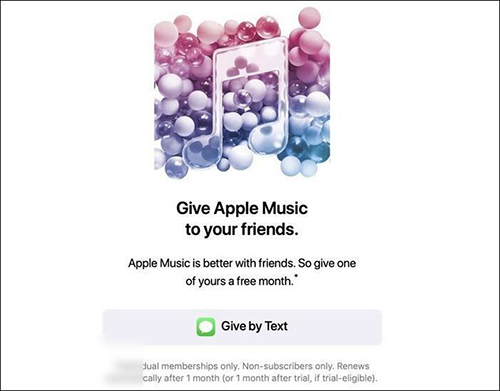 But it's also important to note that this extra one-month free trial is available for individual subscribers only. There is no soup for Apple Music family plan.
How to Send Out/Redeem the Apple Music Free Giveaway
The notification always appears in iOS devices subscribing Apple Music subscription, like iPhone, iPod Touch, iPad, etc.
This is an actionable notification saying 'Tap to give a friend a free month of Apple Music'. You just need to simply touch it and will be taken to a page that you can send to a non-Apple Music user via text, which comes with a big slogan saying 'Give Apple Music to your friends' and a detailed explanation that 'Apple Music is better with friends. So give one of yours a free month'.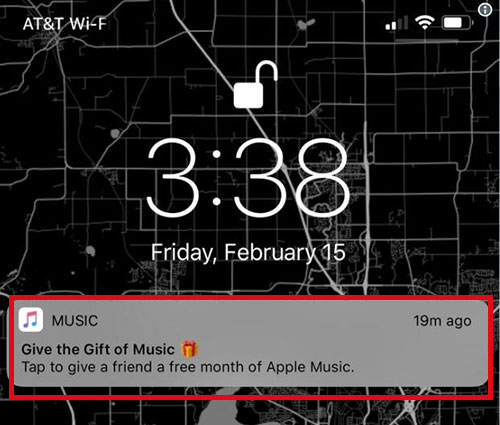 Once your friends or just you as the receiver are received this message, it will be required to fill with the credit card info to activate the free offer. To avoid being charged automatically, please cancel it before it's expired.

What If You Don't Get Free Apple Music Subscription
Apple only sent a wave of Apple Music notification to current subscribers and allows them to gift a free month of the service to their friends. If you don't receive such notification from Apple or your friends, what should you do?
Just keep your eyes on Apple's official website and wait for the coming of new promotions? Not really! You can achieve this by yourself with the help of AudFree Apple Music Converter, which is designed to remove DRM protection from Apple Music and convert all protected M4P streaming files to MP3, FLAC, WAV, AAC, M4A and M4B with zero quality loss.
As consequence, you can get Apple Music subscription for free forever instead of extra one-month or total 4-month free trial only.
How to Disable Apple Music Notifications
Apple Music subscribers has firstly surpassed Spotify's in the United State in the June of 2018. According to Statista, Apple Music has gained over 56 million subscribers by the end of the November 2018. Everyone can guess that if 5 percent of paid subscribers use this free offer, Apple will acquire more 2.8 million users in this promotion.
There is no doubt that this is an ideal promotion method to get new subscribers of Apple Music service with lowest costs and high-speed return.
However, this method sending notification caused some subscribers' dissatisfaction. Besides, according to the guideline of App Store, it prohibits developers from using Apple services for advertising but Apple does it.
Some of them focus on how to disable future app notifications. So here, let's see how it works.
Step 1. Open the 'Settings' function on your iOS device.
Step 2. Select the 'Notifications' section.
Step 3. Scroll down to fine the 'Music' app on the long list.
Step 4. Switch the 'Allow Notification' toggle off.
Here all are about new free giveaway of Apple Music service we know currently. Do you have some other important notes to add in this article? If yes, please be free to leave them on the comment area.
Feb 25, 2019 3:10 PM
Updated by Alex Wilson to News