As we all known that Audible app is available for iPhone and iPad, which makes it convenient to listen to audiobooks from Audible on iOS. Although Audible brings its audiobook library to almost all iOS devices, as a huge fan of audiobooks, we also would like to know whether and when Audible will get support for Apple Watch so that we can play Audible audiobooks on Apple Watch without carrying iPhone when running outside. Now, the good news is coming that Audible arrives on Apple Watch. Let's see the details.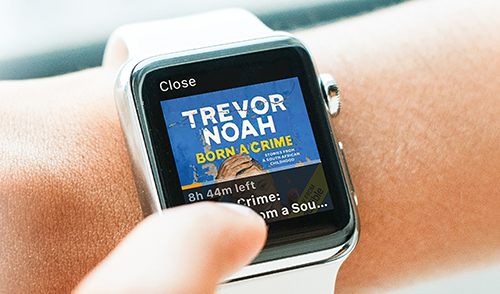 Audible Is Available for Apple Watch Now
As a matter of fact, a few months ago, Apple has announced that watchOS 5 will add more powerful and awesome features to Apple Watch according to Apple Newsroom, including Audible audiobooks. The post was saying that 'A new feature for developers allows music, audiobooks and meditation sessions from apps such as Pandora, Audible and 10% Happier to be synced to Apple Watch for playback offline without the user's iPhone nearby.' Let's focus on the key point of Audible. Put it another way, Audible will be compatible with Apple Watch soon.
Unexpectedly, on September 20, 2018, Audible has released an update saying that Audible app can support for Apple Watch Series 4, which was been launched by Apple at the same day. It's still really the amazing news in terms of audiobook fans and Apple Watch users. Now, users will be able to sync audiobooks from Audible to the new Apple's smartwatch from your iPhone and then play Audible titles from the wrist without your iPhone nearby.
Of course, it's important to note that Apple allows Audible to play background audio from the Apple Watch but just like other third-party watchOS apps, you can only sync audiobooks to the watch but not stream books before heading out as there is no API for that yet currently. Once synced, you can freely control playback, since Audible app for Apple Watch allows users to pause, rewind or set a sleep timer for your watch.
How to Play Audioboks from Audible on Apple Watch
There is no gainsaying that it's more convenient and easier to listen to Audible books on Apple Watch at the gym or during a run outside while leaving your phone at home. So, how to use the Audible app on your Apple Watch? Before get started to follow the detailed tutorial to sync Audible titles to the watch for playback, you need to download the app to your Apple Watch and prepared the following tools well, including Audible for iOS app version 3.0 or higher, Apple Watch OS5 or higher as well as iOS version 12 or higher on your iPhone or iPod Touch.

Add Audible Books to Apple Watch
Step 1. Please make sure you have downloaded Audible app on your watch. And then please launch Audible app on your iOS device (iPhone or iPod Touch).
Step 2. Navigate to the Library tab in the opening Audible app and discover the audiobook that you'd like to sync.
Step 3. When you have found it out, please simply hit on the ellipsis icon (three dots) and tap Sync to Apple Watch option.
Step 4. Now, the target audiobook will start uploading to your Apple Watch automatically. During the syncing process, please put your Apple Watch on the charger and make Audible app opening.
Listen to Audible on Apple Watch
Step 1. Please pair your headphones with your Apple Watch including added audiobooks via Bluetooth.
Step 2. Press the Audible icon on the watch screen or say 'Siri, open the Audible app' to launch the Audible app.
Step 3. Click on the Play button, you will start to listening to the most recent listened to audiobook.
In Conclusion
In short, no matter for Apple Watch users or Audible fans, it's an extraordinary update of Audible available for Apple's smartwatch. As the world's largest audiobook selection, Audible can offer a wide variety of books for Apple users to enjoy audiobooks on Apple Watch without the iPhone nearby.
Of course, if you think this way is a little complicate to you, you can use other third-party Audible solutions, such as AudFree Audible Audiobook Converter to help you convert Audible files to Apple Watch for playback. For the detailed tutorial, you can refer to the source page: How to Play Audible Book on Apple Watch, in which you can get a totally different way to listen to Audible on Apple Watch.