Spotify is the world's largest music streaming service, while Apple Music is the hottest streaming site in the world. However, according to an unnamed music distributor who spoke to Digital Music News, Apple Music has more paying subscribers than Spotify in the United States, the biggest market for streaming music all over the world. Put it another, Apple Music now is the 'a hair ahead' on-demand streaming site in the US.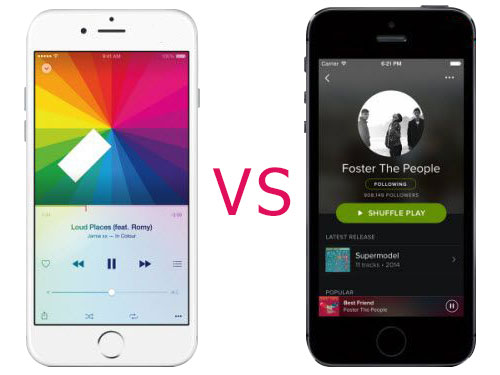 Overview of the Apple Music vs Spotify
From the anonymous source, Digital Music News, it made a clear report with the detailed subscriber count of the most popular streaming music services, such as Apple Music, Spotify, Tidal and others. But the exact numbers didn't exposure for protecting the confidentiality. What we can clearly know is that both Apple Music and Spotify have over 20 million subscribers in the United States.
Early this year, Spotify claimed that the paying subscribers on Spotify were about 70 million, which reiterates its No.1 place in the field of streaming music industry. In contrast, Apple Music hold a distant second spot with 30 million as of September last year. However, in April, Tim Cook as the CEO from Apple said that Apple Music surpassed 45 million total subscribers worldwide on both free and premium subscription.
There is no doubt that Apple Music still trails Spotify in the global numbers, since Spotify owns over 95 million free subscribers using the free and ad-supported accounts. But in a new report in The Wall Street Journal, it's said that Apple was gaining U.S. subscriber count at a higher rate than Spotify – the subscriber growth rate of Apple Music was reported to be 5 percent per month compared to Spotify's 2 percent a month in the United States. Based on those figure, Apple Music could be becoming the serious challenger to Spotify.
Why is the subscriber growth of Apple Music so fast? It was believed to have something effecting this tendency. One is the popularity of the iPhone, which contributes to attracting more new Apple Music members. The other would be the newly release of HomePod speaker with built-in Apple Music, which can provide customers a better listening experience of Apple Music.
If you'd like to get more detailed comparison between Apple Music and Spotify, please visit this source page: Apple Music vs Spotify.
Apple Music vs Spotify: Which One to Choose
Apple Music might have just taken the top spot in on all-important streaming music market: the US, but is it better than Spotify? Let's have a simple introduction of Apple Music and Spotify streaming service.
Apple Music is the premium streaming service, which allows users to access to Apple Music library of 'over 45 million songs' with a paying plan for $9.99 per month. The best advantage of Apple Music is that it has the high compatibility with Apple's ecosystem.
Spotify offers users to listen to Spotify songs, playlists or album online freely. If you would like to play Spotify tracks offline, you can subscriber Spotify Premium for $9.99 a month, which is the same as Apple Music. Although Spotify doesn't come to HomePod, you can listen to music from Spotify on Amazon Echo or Google Home with ease.
In fact, both Apple Music and Spotify have its advantage and disadvantage. No matter which streaming service you choose, you will meet some obstacles when listening to music streams on favorite devices due to DRM technology built-in both streaming music sites. But you can get help from AudFree Spotify Music Converter and AudFree Apple Music Converter, which can make it possible to play Spotify tracks and Apple Music on any device.