How many times have you desired to record whatever your computer is playing but couldn't do it right?
Taking absolute control over your audio listening experience can be hard.
It gets even tougher when you're looking for an MP3 recorder and aren't sure which one works.
Fortunate enough, we're living the best time of our lives—we have the free world of the internet. You can find hundreds of free mp3 recorders that can help you reach your listening desire.
And to make your work easier, we've delved deep into the Audio Capture world, explored every corner of it, and came out with the best five you can ever find.
You won't need all the five MP3 voices recorders, only find one perfect fit, and get started with it.
Let's go all the way in.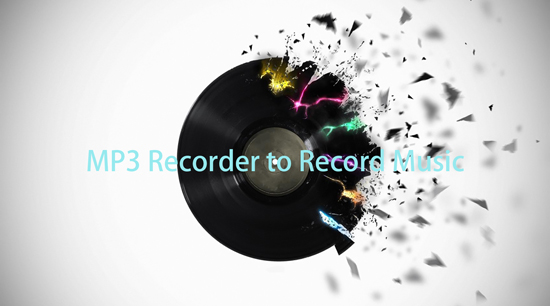 Top 1. AudFree Audio Capture
Audfree Audio Capture has consistently received praise from music listeners since its inception. This makes it one of the best fit when in search of an online MP3 recorder.
The tool captures any music track playing on Windows and Mac computer while retaining 100% of its original quality.
It employs sophisticated tech that grabs audios from nearly all PC applications like Chrome, Firefox Mozilla, Apple Music, Pandora, Spotify, Deezer, Live courses, Video meetings, and even games, then converts them to plain audio format—with no quality loss.
Audios from different sources are encoded in various formats, which might have poor compatibility for playback.
But AudFree Audio Capture is non-oppressing. It records audio track of any format and saves them to accessible audio formats like FLAC, WAV, MP3, AAC, M4A, and many more, for improved listening.
This means that even the DRM-ed music, from a popular music streaming services like Apple Music and Spotify, that only plays on authorized devices are convertible to other audio formats so that you can listen protected streaming audio on any device player.
It is an apt all-in-one audio recorder for any sound that comes from your computer. It presents all this power in a clutter-free user interface to navigate through its powerful utilities.
AudFree Audio Capture's utilities exceed the function of an MP3 recorder. It gives you the powers to split, strim, and merge the audios you've recorded to reach the desired outcome you wish for. Using the mixing function, you can combine multiple sounds into a whole new track.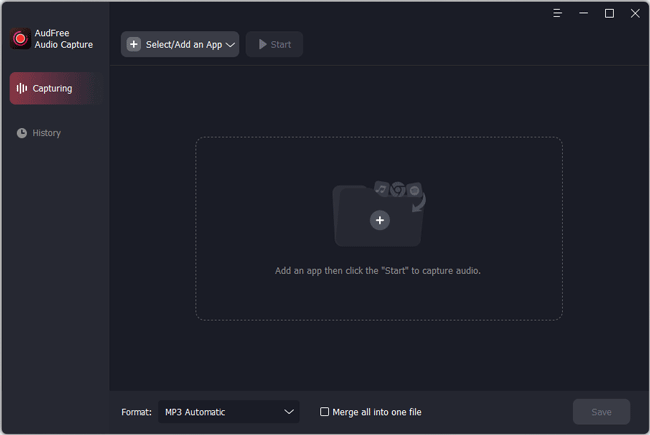 Top 2. MP3 Skype Recorder
Most MP3 recorder software offers general audio capture solutions. But when it comes to added features, MP3 Skype Recorder is different.
This nifty free MP3 recorder is specifically for recording all Skype conversations automatically. This makes it perfect for recording online meeting events over Skype.
And it converts all the recording to MP3 format and stores them in the local Drive. This again can be shared among numerous individuals. Just add them to your 'shared document' in Drive and let the invited members view content via Drive. You can also make necessary adjustments, which will be uniform across the board.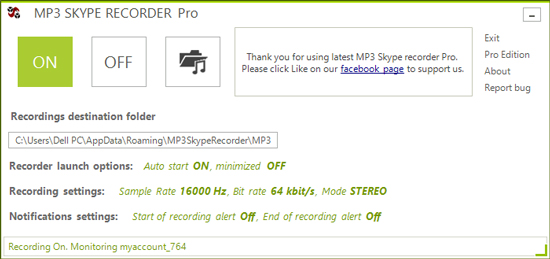 Best Feature: Monitors Skype Call waiting for Automated Recording
• You'd be surprised at how many recordings you can miss with manual skype recordings.
• MP3 Skype recorder sits in the system tray, monitoring—waiting for you to start a Skype call to initiate an automated recording.
• You can record P2P Skype calls, SkypeOut calls as well as Skype Online number. And it is smart enough and can record several calls at the same time, saving every call separately for you.
Top 3. Aktiv MP3 Recorder
Of all the audio capture above, Aktive MP3 Recorder is the simplest-simple but handy in capturing audio playing on your PC and save them in most popular formats like WAV, MP3, OGG, VOX, or AU—all at no cost.
The tool is non-selective of the source of sound on your PC; it captures it all. And it doesn't stop there, the MP3 recorder goes ahead and allows you to specify if you want the audio in mono or stereo.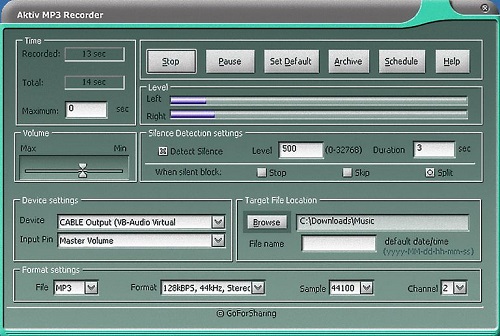 The Unique Feature: Automatic Sound Record Scheduling Utility
• Most MP3 sound recorders require manual initiation; you can't schedule recording.
• What's cool about Aktiv MP3 Recorder is the utility that allows you to schedule sound recordings—you can readily record online interviews, conferences, and tv shows. Good enough, you let your team move along together in online discussions and participation.
Top 4. Audacity - Free MP3 Recorder
Audacity is a free, open-source, cross-platform MP3 sound recorder that is available to nearly all operating systems. And it comes with a load of features:
I. Recording
The tool records live audio through a microphone, mixer, or digitize recording from other media. This isn't all; with some sound cards, with recent Windows, Audacity can capture streaming audio too.
II. Infinitely—Seamless Sound Quality
The tool supports 16-bit, 24-bit, and 32-bit samples. The 32-bit preserves audio quality above the full scale. Then the sample rate is converted using high-quality resampling and dithering. Even the tracks with different sample rates or formats are converted automatically in real-time.
It comes with even more utility to complement the recording session like the Effect, Editing, Analysis, and even more.
III. Compatibility
This software is on point when it comes to supporting various operating systems. Use it on your Windows, Mac, Android, and iOS devices.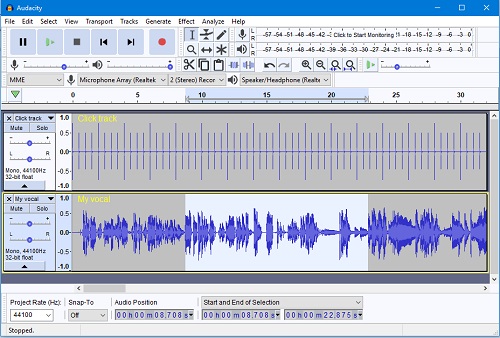 View Also: Audacity Alternatives
Top 5. iMusic - MP3 Audio Recorder
This is more than just an audio recorder software—it is an all in one audio management tool. It readily manages, records, transfer, and download audios on any device of choice.
The record function is purposefully mean to remedy cases when audio is not downloadable. To use the feature, navigate through the Record utility, and initiate recording. If it is a song, the software will add to its ID3 tags automatically. This comes handy when listening to radios.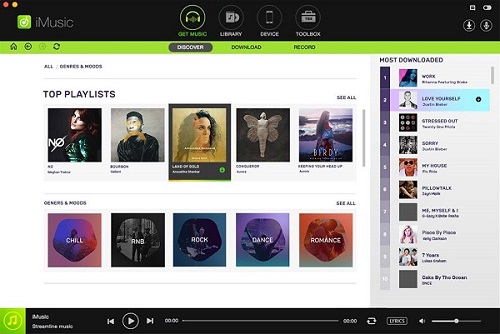 In Conclusion
When it comes to choosing the best MP3 recorder that suits you finally, the decision stems down to the concept of which audio capture provides the most effective quality-driven recording capabilities. On top of that, the added audio management utilities, ease of accessing the software, and the diversity of its functions.