Snapchat has become one of the most popular social communication platforms for creating and sharing video snaps and stories with friends. What is impressive is its music sticker feature, which allows users to add music to snaps they create. Now, with the integration of Snapchat and Spotify, you can add Spotify music to Snapchat as background music to make your Snaps more engaging and entertaining.
If you haven't unlocked this Snapchat feature yet, then here is the right place to do so. This article describes two effective ways to link Spotify to Snapchat to spice up your Snaps. Afterwards, it's easy to share your personality with friends via Snapchat stories and videos.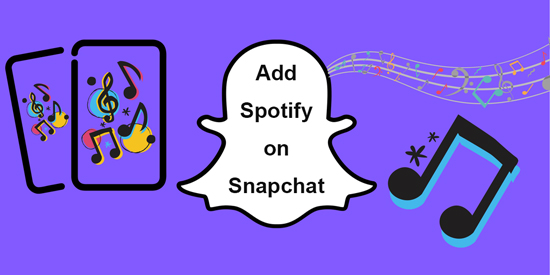 Part 1. How to Add Music to Snapchat from Spotify - Best Way
As Snapchat allows users to add music via the phone's native music app, you just need to download Spotify music as local files and transfer them to smartphone for playing in native music app. Put it another way, you can add Spotify songs to Snapchat simply without the Spotify app.
To get Spotify music locally, we'll turn to a professional Spotify music downloading tool, namely AudFree Spotify Music Downloader. It can download all Spotify content to your computer locally, such as songs, albums, podcasts, playlists and more. Moreover, it can convert Spotify to MP3, FLAC, WAV, etc. for offline listening. This way, you can sync Spotify music to your phone and attach Spotify to Snapchat with ease.
How to Get Spotify Song on Snapchat
Step 1

Add Spotify Music to AudFree SpoDable

Please launch AudFree Spotify Downloader on your computer and the Spotify app will be launched automatically. There are two ways to load the Spotify playlist you want to play on Snapchat. You can drag and drop Spotify music onto the home screen, or copy and paste the Spotify link into the search box and click the "+" button.
Step 2

Set Spotify Output Format for Snapchat

Simply click on the Menu bar in the top right corner and select the Preferences > Convert section to launch the settings window. You can select the output format for Spotify music as MP3, FLAC, WAV, AAC, etc. In addition, you have the right to set other audio parameters such as sample rate, bit rate, audio channels, etc. for your Spotify files.
Step 3

Convert Spotify Playlists for Snapchat

When all the settings are ready, it's time to convert Spotify music and playlists to Snapchat-compatible audio files. Simply click the big "Convert" button in the bottom right corner and it will download the Spotify songs at 5X speed. After that, you will get Spotify songs downloaded on your computer locally without any problems.
Step 4

Add Spotify Music to Video on Snapchat

1. Pair your phone with your computer via USB cable and transfer the converted Spotify music tracks to your phone.
2. Open the Snapchat app on your phone and create your Snapchat video or story. Then tap on the 'Music' and 'My Sounds' options on the right.
3. Tap the 'Create Sound' button to record your Spotify music, then hit on the 'Save Sound' button to save it. Click the "My Sounds" section to add Spotify to Snapchat video smoothly.
Part 2. How to Connect Spotify to Snapchat Officially
In fact, Snapchat has the ability to record music from almost all popular streaming apps such as Spotify, YouTube, Pandora and more. All you need is to play Spotify music and playlist in the background and Snapchat will then record playing audio. Before you start to play Spotify on Snapchat, make sure you have downloaded the Snapchat and Spotify apps on your phone. Here are the detailed steps to connect Spotify to Snapchat for adding music.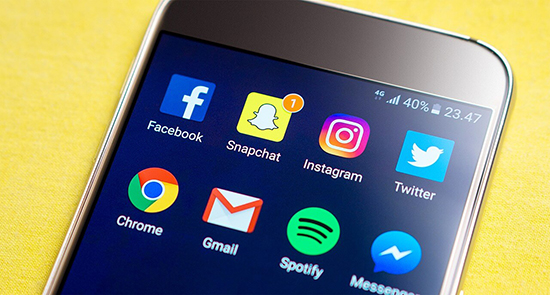 Step 1. Open the Spotify app on your phone and select a song you want to use as background music for your Snapchat video.
Step 2. Play the target music and use the 'Time Bar' to pick the part of the song and pause it.
Step 3. It's time to launch the Snapchat app, swipe up from the bottom of the main screen and select Control Centre on iPhone or Notification Centre on Android.
Step 4. Now press the Play button to play the Spotify song you want to use on Snapchat, then close Control Centre or Notification Centre.
Step 5. Simply click the 'Record' button and Snapchat will start recording the Spotify audio. When you lift your finger from the 'Record' option, it will stop recording.
Step 6. Now, Spotify music has been successfully integrated into Snapchat videos. You can tap the 'Send' icon in the bottom right corner and select a friend from your contacts to share the Snapchat video.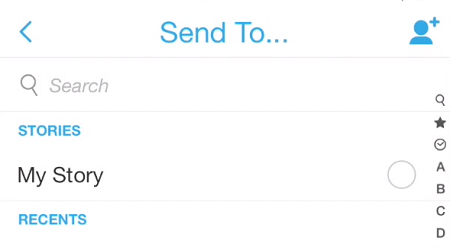 Part 3. How to Share Spotify Song on Snapchat
Thanks to the Spotify Snapchat integration, Snapchat appears in the sharing options of the Spotify app. In other words, Spotify users are able to share Spotify music and podcasts to Snapchat directly via the Share menu.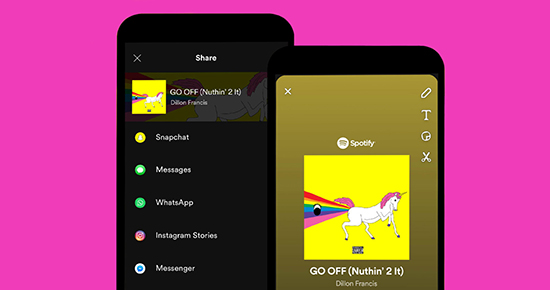 Step 1. Open the Spotify app on your phone, browse and discover the Spotify music you want to share to Snapchat.
Step 2. Once you have selected your target music, tap the 'Three Dots' icon directly on the top right to select the 'Share' option in the list.
Step 3. Now select 'Snapchat' and sign in to your Snapchat account, after which you can share Spotify music you are listening to in Snapchat story.
Part 4. FAQs About Snapchat Spotify
Q: Can You Use Spotify on Snapchat?
Fortunately, Snapchat has recently added the creative feature of linking Spotify in your snaps and sharing your favorite Spotify music with your friends. In this case, you are able to use Spotify on Snapchat with ease.
Q: Can I Use My Own Music on Snapchat?
While Snapchat has a library of songs to choose from, it also allows you to upload your own audio from your device in order to create creative Snapchat videos and stories.
Q: How to Put Spotify Song on Snapchat?
Here are two ways to connect Spotify to Snapchat for you to choose from. Alternatively, you can use AudFree Spotify Music Downloader to download Spotify music locally. Then it couldn't be easier to add music to Snapchat from Spotify without Spotify app.
Part 5. In Conclusion
Now, you'll be surprised to find that it's quite funny to add Spotify songs to Snapchat videos. It's time to get Snapchat Spotify working and make your video or story more creative. Take action and use your ingenuity to create cool snaps with Spotify.