As a good choice of health gadget, the Xiaomi Mi Band such as the latest Mi Band 6 or 7 helps users to record their activity and sleep condition, mainly focusing on tracking their fitness condition when cycling, running, swimming, power walking, and so forth.
What is better than enjoying your favorite playlist when working out? Mi Band also takes this function into consideration, be it the previous Mi Smart Band 4 or the later Mi Band 6/7. Since the new version of Band 4, Xiaomi Mi Bands provides the option to connect to Spotify Music, without needing to subscribe to Spotify Premium and use the Spotify Connect feature. Other than allowing users to view the name of the current playing song on the Band's interface, users can directly switch songs by using the music control feature on Mi Band.
If you are unsure what you will do, follow the instructions below, which introduce a detailed tutorial on how to connect Mi Band 4/5/6/7 to Spotify.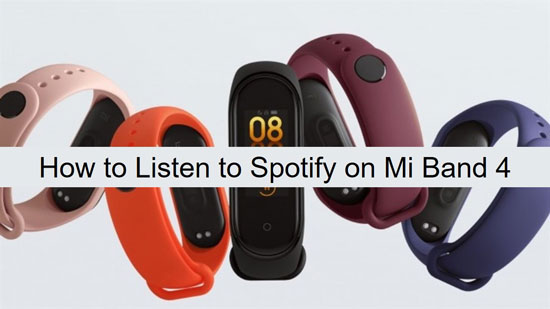 Part 1. How to Set Up Mi Band 4/5/6/7 Music Control for Spotify (Official Way)
First of all, please set up the music control function for Spotify Music on Mi Band 4 via Mi Fit and Zepp Life. Here are the complete steps.
For Mi Fitness Users
Step 1. On your smartphone, install and open the 'Mi-Fit' app and the Bluetooth of the phone.
Step 2. Find 'My' and choose your Mi Smart Band 4 or other Xiaomi Bands such as Mi Band 5/6/7 to build a connection.
Step 3. Tick the options for the APP notification reminder.
Step 4. 'Mi-Fit' app will ask to access 'notification'. A related tip will show up, please hit 'Allow'.
Step 5. Then you will be prompted to open the notification read permissions of the 'Mi-Fit' app, please hit 'OK'.
Step 6. Go to the current interface, and enable the switch behind the 'Mi-Fit' app.
Step 7. A tip to ask for confirmation will show at the bottom, please choose 'Allow'.
For Zepp Life Users
Step 1. Open Zepp Life and click on 'Notifications & reminders' > 'App alerts'.
Step 2. Then turn on permissions for Zepp Life to access 'notifications' and switch on the 'App alerts' button.
Step 3. Next, allow the background activity of Zepp Life and then proceed with the description of prompts on your mobile.
Afterward, you can come to sync Spotify music to the Mi Band and play the music on Mi Band 4 or other Spotify-supported Xiaomi Bands: Mi Band 5/6/7. But due to the copyright protection of Spotify, it requires a Spotify Premium account to make it. Fortunately, we have also prepared a FREE way to download Spotify music on the computer and make Spotify Mi Band 4 integration. Have a Look!
Part 2. How to Connect Spotify to Mi Band 4/5/6/7
To get a stable playing process, here I suggest downloading Spotify music for offline playback. If you have Spotify Premium, just use the offline playing mode in the Spotify app. If you are a Spotify Free user, please download AudFree Spotify Music Downloader as an assistive tool on your computer.
This powerful software can help to download Spotify music without Spotify Premium. The downloaded Spotify songs are normal audio files saved on your computer. Besides, you can customize the output settings of your Spotify songs for playing them on Mi Smart Band 6 or other Xiaomi Bands. There are 6 main output formats for choice, including MP3, AAC, M4A, M4B, FLAC, and WAV. You can also change the output quality by resetting the bitrate, sample rate, channel, and so on for better sound quality of Spotify on Mi Bands.
In a word, with the help of AudFree Spotify Music Downloader, the downloaded Spotify music are available to play offline for free forever. And you can transfer and play Spotify on the latest Xiaomi Mi Smart Band 6 and 7 or other Bands.
Now please download and install AudFree Spotify Music Converter on your computer. The demo version provides 1 min conversion for each Spotify track, while the full version allows downloading over 1000 Spotify songs at once-conversion.
To unlock the full version, please tap the menu icon > 'Buy Now' from AudFree Spotify Music Converter's interface. When you received the license code, just open the menu icon > 'Register'. Then type in the code.
The following steps also take the full version as an example and show you how to download Spotify music to Mi Band 6 and 7.
Step 1

Import music from Spotify to AudFree Spotify Music Converter

Launch AudFree Spotify Music Converter on the computer. The Spotify app will automatically open. In the Spotify app, select which playlist you want to download and listen to on Mi Band 6 or others Xiaomi devices later. After that, copy and paste the URL of it to the search box in AudFree. Then press the '+' button.
Step 2

Reset output settings compatible with Mi Band 6 for Spotify

On AudFree's main window, select menu > 'Preferences' > 'Convert' in turn. To keep the best output quality, please refer to these settings: MP3, 320 kbps, and 48000 Hz. If you have other ideas, just modify the output format, bitrate, and sample rate as you like for Spotify Mi Band 6 smooth integration.
Step 3

Download Spotify playlists for Mi Band 6

Tap the 'Convert' button from the bottom right side. The downloading process will automatically stop when it accomplishes. At that time, you can click the folder icon from the bottom line to locate the output folder. All downloaded Spotify audio files are in there. Then you can get ready to sync Spotify to Mi Band 6 or other devices.
Part 3. How to Play Spotify Music on Mi Band 4/5/6/7 without Spotify Premium
Here we come to the final parts. Please sync the local Spotify music files to your phone for playing Spotify music on Mi Bands. Then check the steps below to see how to make Mi Band 6 Spotify connection or connect Spotify to other Xiaomi Bands. Different from the official method, without Spotify Premium, you can still make it.
Step 1. Launch the Music Player on the phone.
Step 2. Start to play the local Spotify tracks on your phone.
Step 3. Turn to Mi Band 6 or others. Slide to the lists of menus to find the 'More' option. Open it.
Step 4. Choose 'Music' from the series of options.
Step 5. A music player will show up. And it will display the name of the current playing song.
Part 4. More FAQs About Mi Band Spotify Integration
Q1. Can't get the song name of Spotify in Band 6. How to fix it?
All you need is to adjust the settings of Mi Fit on your phone. The process is similar to the steps of setting up Mi Band Spotify control. Here is a detailed instruction to get the Spotify song name on Mi Band 6 or other Bands. We will take iPhone as an example.
Step 1. On your iPhone, tap on 'Setting' > 'Apps' > 'Mi Fit' > 'Permissions'.
Step 2. Then turn on all permissions of Mi Fit.
Step 3. On the settings menu, tap on the 'Notifications' option and select 'Notification access'. Or type 'Notification' directly in the search box to find the option.
Step 4. Then toggle off the right button of Mi Fit. And play Spotify music on your iPhone again, you will be surprised to find that, on Mi Band 6, the song's name appears again.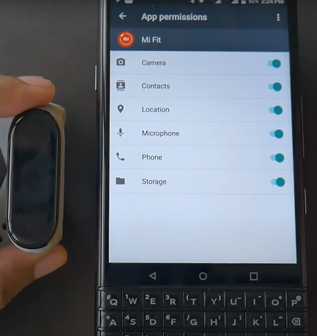 Q2. Why is my Mi Band not connecting to the Mi Fit app?
The main factors behind this problem may come from the battery charge situation and Bluetooth connection. Please make sure that you have to get your Mi Band charged while pairing Mi Band with the Mi Fit app and syncing Spotify music to Mi Band. Besides, please reset the Bluetooth radio on your mobile provided that your failure to see your Mi Band on the Mi Fit app.

Part 5. In Conclusion
In this article, we have provided an official way that needs Spotify Premium and a free way to make Spotify Mi Band 4 or other Mi Bands connection. To avoid sophisticated settings and the issue you can't get the song name of Spotify on Xiaomi Mi Band and it is complicated and waste-time to set all permissions for Mi Fit or Mi Band Spotify control. So we recommend you use AudFree Spotify Music Converter. With it, you can download Spotify music to Mi Band-supported formats and play Spotify music on Xiaomi Smart Mi Bands or other devices such as Huawei Band for free. Give it a shot!