TikTok, a currently modish video-sharing application, is figuratively described as the destination for short-form mobile videos. With it, everyone can make the daily life into a creative video and share it with others to get likes. Also, you manage to enjoy fascinating videos posted by other people.
Sometimes, you might be enlightened by certain TikTok videos, thereby wanting to add music from Spotify as background music to enrich your own TikTok video. But unfortunately, Spotify music can only be used with Spotify app even you have paid for its premium service. Under this circumstance, how to add music to TikTok from Spotify? Read on the following to learn the tried-and-true solution.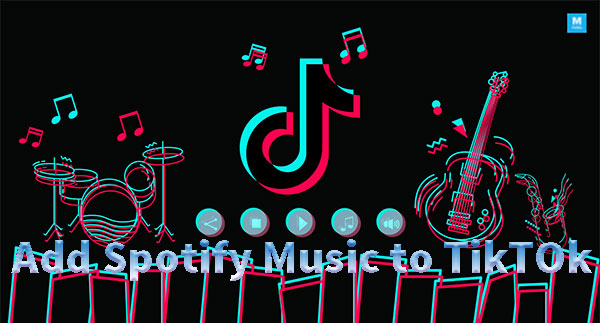 Part 1. How to Add Music to TikTok from Spotify without Limits
As has already been pointed out, Spotify can but allow offline listening on Spotify app with premium subscrption, instead of offline use on other devices, let alone other apps, like TikTok. To break the limit and lead the realization of using Spotify song as the background music of TikTok video, here, we introduce AudFree Spotify Music Converter.
This is an easy-to-handle and well-received Spotify music converter and downloader, being about the same for both Windows and Mac operating systems. Neither beginners nor professionals have difficulty in using it to convert any Spotify track to MP3, AAC, M4A, FLAC, etc. and locally save it as the background music of TikTok video.
It uses loss-free conversion technology, which ensures that there is no quality compromising during the conversion process. Further, AudFree is provided with a user-defined option - format customization. According to different offline purposes of Spotify music, you can be free to adjust output format, and output quality by modifying channel, sample rate, bit rate, etc. After conversion, you can use Spotify on multiple devices and players without any hindrance.
Steps to Download Spotify Music for TikTok
Step 1

Drag Spotify songs to AudFree

Once downloaded and installed AudFree Spotify Music Converter, double-click to start it. AudFree software is integrated with the Spotify app, so opening AudFree will launch the Spotify app automatically. Go to Spotify to find the Spotify song that you wish to use in TikTok. Copy and paste the link of your required Spotify music to the search bar of AudFree, click the "+" button to load up. Or, drag and drop Spotify track to the main window instead.
Step 2

Adjust output settings for TikTok

It is now time for the settings of output formats. Please choose "Preferences" from the top menu option and then extend the "Convert" panel. Based on your actual needs, specify the proper output format and proceed to adjust sample rate, bit rate, channel, conversion speed, etc. to achieve the optimal sound quality for TikTok.
Step 3

Convert Spotify to use in TikTok

Once the format is configured, quit the format window and return to the main window. Touch the lower-right button known as "Convert" to activate the conversion process. Wait until all conversion progress bars end. Head to the destination folder to locate the downloaded Spotify music files. Then, you can use Spotify songs on any app and device.
Part 2. How to Use a Song from Spotify in TikTok
After the above practice, your Spotify music tracks must have been got ready on your local system. Next, you just need to transfer them from your computer to your phone, and then with the help of a video editing app to add Spotify music to TikTok. Simple guides below will show you how to add music to TikTok from Spotify on iPhone and Android.
How to Put Spotify Music on TikTok on iPhone - iMovie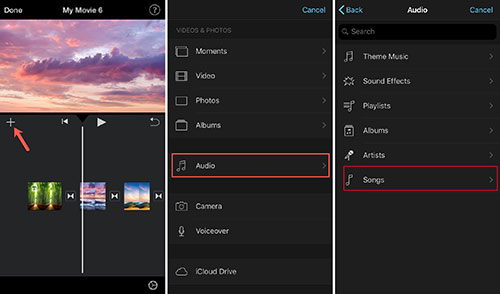 Step 1. Locally save the TikTok video on which you wish to use Spotify music;
Step 2. Open iMovie app. From the first screen, select "Projects" > "New Project" > "Movie" to add your TikTok video;
Step 3. When the video has been loaded, touch "+" icon to bring out iMovie's "Audio" tool;
Step 4. You should work with "Songs" to add the converted Spotify song to TikTok video;
Step 5. Upon completion, don't forget to press an upload icon at the bottom of screen and followed by "Save Video" to export it to your Photo Library;
Step 6. Then, open the TikTok app and upload it to TikTok. As thus, the Spotify music will be added to TikTok. Or, you can try click "More" icon other than "Save Video" to check if there is a "TikTok" option. If any, directly upload it to TikTok.
How to Use Spotify Music in TikTok on Android - InShot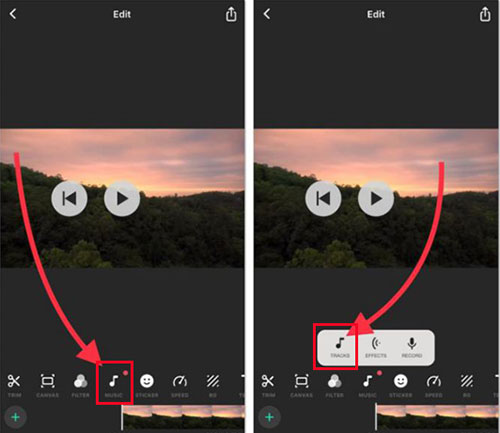 Step 1. Go to Google Play store to install InShot Video Editor on your Android app;
Step 2. From the home screen, click "Video" to open your local Photos app and select the video downloaded from TikTok;
Step 3. When the video has been loaded up in InShot app, select the "Music" icon from the editing tools displaying on the screen;
Step 4. Whereafter, use the "Tracks" option to import the downloaded Spotify music track from your Android phone;
Step 5. Once done, click the icon at the top right > "Other" > "TikTok" to share it to TikTok. In this way, you use Spotify music on TikTok.