TikTok, a currently modish video-sharing application, is figuratively described as the destination for short-form mobile videos. With it, everyone can make the daily life into a creative video and share it with others to get likes. Also, you can enjoy fascinating videos posted by other people.
Sometimes, you might be enlightened by certain TikTok videos, thereby wanting to add music from Spotify as background music to enrich your own TikTok video. But unfortunately, Spotify music can only be used within the Spotify app even if you have paid for its premium service. Under this circumstance, how to add music to TikTok from Spotify? Read on the following to learn the tried-and-true solution.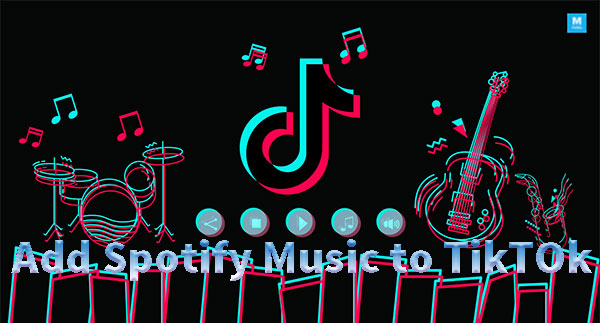 Part 1. FAQs about Spotify TikTok
Q1: How to Put Spotify Link in TikTok Bio?
Your profile link is the only clickable link in your social profile on TikTok. To add a Spotify link to TikTok bio, simply open the TikTok app, click on Edit Profile and select Add your website option to add any Spotify link.
Q2: How Do TikTokers Use Copyrighted Music?
According to the TikTok copyright policy, it is illegal for creators to use copyrighted content on TikTok platform. If you use a musician's original song in a TikTok video, you must obtain proper permission.
Q3: Can I Add Spotify Music to TikTok?
If the Spotify music you want is in the TikTok library, you can easily add it to your video. If not, you can't put Spotify songs on TikTok directly because they are protected by digital rights management.
Q4: How to Listen to Spotify While on TikTok?
Go to Settings on your phone, click Apps and Manage Apps. Select Battery saver/Background data and reset the background settings to No Restrictions. Then when you launch TikTok, Spotify will run in the background to play music.
Part 2. How to Upload a Song to TikTok from Spotify - Preparation
As already pointed out, you can't use Spotify songs that can't be found in the TikTok library. In general, all songs from Spotify are protected and you have no right to add them to other devices, let alone the TikTok app. In order to implement the Spotify TikTok feature, you need to remove the protection of Spotify songs first.
Here, AudFree Spotify Music Converter is the best tool necessary. Beginners and professionals alike can use it to download all Spotify content, like songs, albums, playlists, podcasts, etc. as you prefer. It can also convert any Spotify tracks to MP3, AAC, M4A, FLAC and more locally. It uses lossless conversion technology to ensure no quality damage during the conversion process.
Depending on the different offline purposes of Spotify music, you can freely adjust the output format and output quality by modifying the channel, sample rate, bit rate, etc. After conversion, you can keep the unprotected Spotify songs forever and set them as background music for TikTok videos without any obstacles.
How to Convert Spotify to Non-copyrighted Music for TikTok
Step 1

Drag Spotify songs to AudFree SpoDable

Once downloaded and installed AudFree Spotify Music Converter, double-click to start it. Go to Spotify app to find the Spotify song that you wish to use in TikTok. Copy and paste the link of your required Spotify music to the search bar, click the "+" button to load up. Or, drag and drop Spotify track to the main window instead.
Step 2

Adjust Spotify output settings for TikTok

Now it's time to set the output format. Please choose "Preferences" from the top menu option and then extend the "Convert" panel. Based on your actual needs, specify the proper output format and proceed to adjust sample rate, bit rate, channel, conversion speed, etc. to achieve the optimal sound quality for TikTok video.
Step 3

Convert Spotify to Non-copyrighted Music for TikTok

Once the format is configured, quit the format window and return to the main window. Touch the lower-right button known as "Convert" to activate the conversion process. Wait until all conversion progress bars end. Head to the destination folder to locate the downloaded Spotify music files. Then you can use Spotify on TikTok or other devices with freedom.
Part 3. How to Make a TikTok Sound from Spotify
After the above practice, your copyright-free Spotify music tracks must have been got ready on your local system. Next, you just need to link Spotify to TikTok with the help of a video editing app. Simple guides below will show you how to add a song to TikTok from Spotify on computer and mobile devices.
How to Add Spotify Song to TikTok on PC - iMovie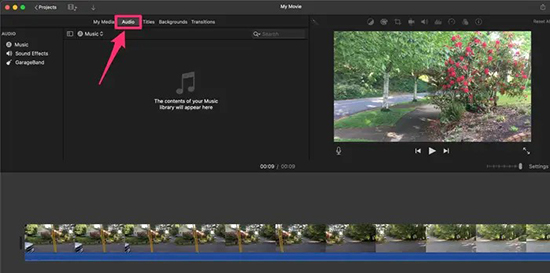 Step 1. Save the TikTok video you want to use with Spotify music locally.
Step 2. Open the iMovie app on your computer. From the first screen, select "Projects" > "New Project" > "Movie" to add your TikTok video.
Step 3. When the video is loaded, tap the "Add Media" button.
Step 4. Hit on "Audio" > "My Music" to add the converted Spotify song to TikTok video.
Step 5. When you're done, don't forget to press "Upload" icon at the bottom of the screen and then hit "Save Video" to export it to your photo library.
Step 6. Then, open the TikTok app and upload it to TikTok. As thus, Spotify music will be added to TikTok.
Step 7. You can try clicking "More" icon other than "Save Video" to check if there is a "TikTok" option. If any, directly upload it to TikTok.
How to Use Spotify Playlist on TikTok on Mobile - InShot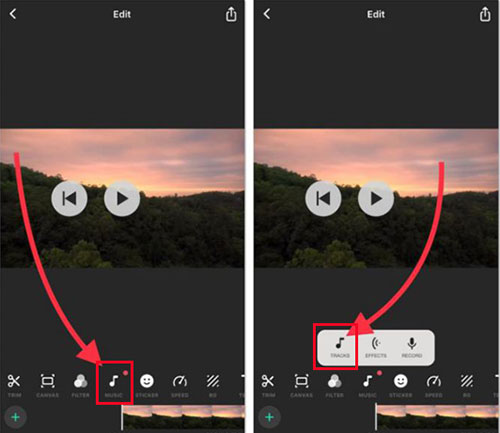 Step 1. Transfer Spotify music to Android or iPhone from your computer.
Step 2. Install InShot Video Editor on your phone and launch it.
Step 3. From the home screen, click "Video" to open your local Photos app and select the video downloaded from TikTok.
Step 4. When the video has been loaded up in InShot app, select the "Music" icon from the editing tools displaying on the screen.
Step 5. Whereafter, use the "Tracks" option to import the downloaded Spotify playlist track from your phone.
Step 6. Once done, click the "Other" > "TikTok" icon at the top right to share it to TikTok. In this way, you use Spotify music on TikTok.
Part 4. How to Add Music to TikTok Video from TikTok Library
TikTok provides you with a growing library of royalty-free music songs that can be used in your TikTok videos. Alternatively, if you find the same Spotify music song on the TikTok library, you can add it to your video for free. Here is the detailed tutorial.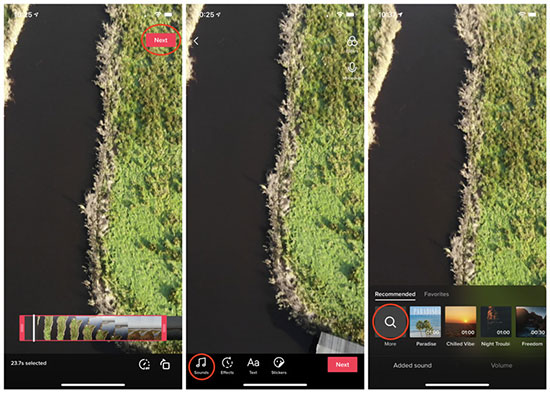 Step 1. Run the TikTok app and click the "+" icon at the bottom to create a video.
Step 2. Trim the video to your needs and click the "Next" button in the upper right corner.
Step 3. Select the "Sounds" and "More" buttons in the bottom left corner to browse all the sounds on TikTok.
Step 4. Once you have selected the music that matches the video's vibe, add it to the TikTok video.
Part 5. Summary
Background music is undoubtedly an important part of TikTok videos. To enhance the appeal of your videos, you can follow the tutorial in this article to connect Spotify to TikTok using AudFree Spotify Music Converter. Just take action to add matching Spotify music to make your TikTok videos more inspiring.