The world has changed so fast in the past decade than it did in the last century. This is especially true when considering smart watches for runners. Today there are quite a wide variety of smart watches in the market for runners that do more than one could imagine a decade or so ago.
The smart watch measures your heart rate, provides you with maps for running, gives you information on nutrition, tells the time and most importantly allows you to stream music so that you can listen to your favorite songs as you jog.
To get the most of your running smart watch, it is therefore important that you get the best model that you can find. Here are the top three smart watches you should try out.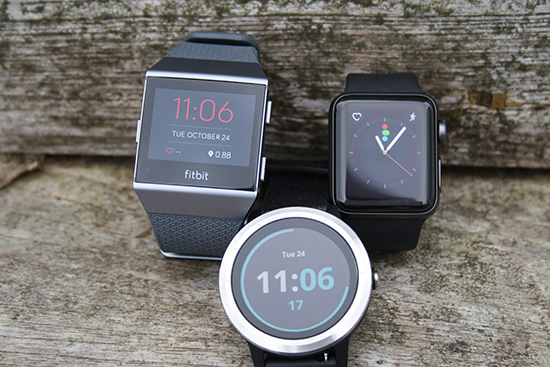 Apple Watch Series 4: Best for Apple Fans
Apple fans will tell you that the best smart watch you can have on any day is the Apple Watch Series 4 and they are right. This is one of the best smart watches in the world at this moment. It has a faster central processing unit, a sharp heart rate sensor, can process an ECG for heart health checking, and has a sharp display.
It is compatible with lots of third-party gadgets and systems which greatly enhances its functionality giving users something legendary. The cost of $399 is a bit high for a smart watch but it is worth every penny.
Fitbit Versa: Best Smart Watch for Women
The Fitbit Versa is perhaps the best fitness smart watch for women in the market right now. It is sleek, stylish and comes full of great features to ensure that you can track your fitness journey at all times. It has a longer battery life and is compatible with android devices, iOS devices, and windows. The price of $199.95 makes it quite affordable.
Best Music GPS Fitness Watch for Runner
The Garmin Forerunner 645 music is one of the best music GPS fitness smart watches that every runner should have. The watch is designed to track finer details of your exercise such as stride length.
In addition, a GPS feature for pinpointing locations and capability for monitoring the heart rate. It is also designed for playing music while you jog or walk and can store up to 500 songs for you to listen to via Bluetooth headphones. It goes for $399.99.
Side by Side Comparison: Apple Watch vs Fitbit Versa vs Garmin 654 Music
To make the right decision regarding best smart watch to buy, let's compare these three top smart watches in terms of their features.
The Design
Fitbit Versa and the Apple Watch have relatively the same design with a few minor differences in several places.
The main difference is that Fitbit Versa is quite small and much lighter in weight and this is perhaps why it is very popular with girls and women.
The Apple Watch on the other hand is made up of an aluminum finish and a rubber band to make it more durable.
The Garmin Forerunner 645 Music on its part is made up of a circular body to give it the classic sporty looks. Nevertheless, is equally made of durable materials to last the longest.
The Fitness Feature
Fitbit Versa is a fully fitness watch having features for monitoring different forms of workout such as swimming, biking, running, weight lifting, and treadmill works. It also has other features such as interval time, heart rate monitor, fat burning calculator, and cardio monitor. It also provides a summary of the monitored parameters after every fitness session.
Apple Watch is built with trackers to tracking distance covered when running, steps taken, and the monitor for the heart rate. In addition, it comes with a dedicated application accessible via an iPhone that provides all the important health related details for you to keep in shape.
Garmin Forerunner 645 Music has advanced fitness features that puts it a head of both Apple Watch and the Fitbit Versa. It addition to all the tracking parameters the other two watches have, the Garmin Forerunner 645 Music also tracks the stride length, ground contact time and vertical ratio among other parameters.
The Music Streaming Feature
Music streaming is one of the key features of these three smart watches. They all offer you the capacity to listen to music during your fitness routine with limited variations in how they are used.
The Garmin Forerunner 645 Music lets you transfer songs from your computer to your smart watch so that you can listen to them as you jog. In addition, you can stream and save your favorite songs from select streaming services that include Spotify, iHeartRadio and Deezer. The maximum number of songs you can save on the phone is 500 songs.
View Also: How to Play Spotify Music on Germin Forerunner 645 Music
Apple Watch Series 4 allows you to stream and save your favorite songs directly from Apple Music and Spotify on Apple Watch 4. Fitbit Versa allows you to stream music directly to your device although the service has lots of problems depending on where you are. Those in the United States can use Pandora while those in Europe have to use Deezer.
View Also: How to Sync Spotify Muisc to Fitbit Versa
However, if you use a different music streaming service then you will have to transfer song directly to the phone from your computer for you to be able to play them. Fortunately, no matter which smart watch you choose to listen to streaming music from Spotify, you can use the third-party Spotify solution, called AudFree Spotify Music Donwloader for Windows to transfer them to the target smartwatch even without having to install Spotify app on that wearable device.
Battery Life
The Fitbit Versa battery lasts up to four days. The battery for the Apple Watch is meant to last for at least a day although high usage usually depletes it much faster. The Garmin Forerunner 645 Music battery lasts for about 5 hours with full usage. However, if you only use it in the smart watch mode then the battery will last for up to 7 days.
Smart Watch Features
Apple Watch Series 4 is a leader in this category. It lets answer phone calls, receive and send SMS, access Siri and do many more things without your iPhone. The only problem is that the Apple Watch is not available for android.
The Forerunner 645 Music on the other hand will let you download apps, use Garmin pay, and receive notifications. However, this feature is not advanced, as is the case for the apple watch.
Fitbit Verse on other hand is less responsive and does not work with most third-party applications. This makes the use of the smart watch feature very limited.
Final Verdict: Best Buy Smart Watch
These three smart watches are very good. Each watch is unique in a way and this may be seen in how it works. Choosing the best watch amongst this three should therefore depend on your needs.
For example, if you need a smart watch that will provide you will a lot of features when out exercising but keeping you connected and allowing you to communicate with others even when you don't have your iPhone then Apple Watch Series 4 is your best bet.
If you are an outdoor person and you want a smart watch with the most advanced fitness features and are willing to be cut off during your sessions outdoors then the Garmin Forerunner 645 music is the best watch for you.
However, if all you want is a light and in expensive fitness watch with all the important fitness monitors for indoor workouts then you should consider Fitbit Versa.