Previously, when it comes to 'Spotify on Fitbit', there are a lot of Spotify lovers having the same confusing problems. For example, does Spotify work on Fitbit Versa or Ionic? Can I control Spotify with Fitbit Versa? When is Spotify coming to Fitbit Ionic?
But now, with Spotify making its way into the list of supported streaming music services by Fitbit, Fitbit Spotify turns out to be a perfect reality. Are you interested in this topic? If so, then you've come to the right place, since this article will introduce online and offline ways to connect Spotify to Fitbit at ease.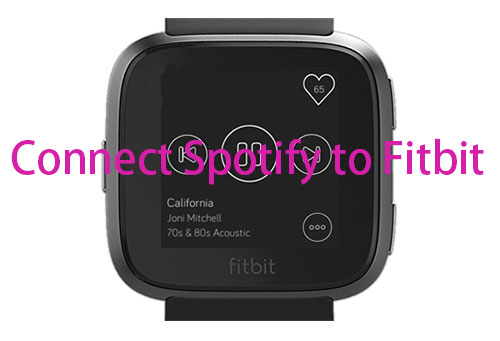 Part 1. How to Connect Spotify to Fitbit Online
Which Fitbit Devices Are Compatible with Spotify
First and foremost, you need to be clear about which Fitbit watches support Spotify. In fact, as long as you own a higher-ender Fitbit smartwatch, including the Versa, Versa 2, Versa 3, Ionic and Versa Lite, it's able to control Spotify Music playback.
How to Control Spotify with Fitbit Versa/Ionic
To download Spotify on Fitbit Versa and Ionic, you will need a Spotify Premium account, as only Spotify subscribers have the privilege to stream music on Fitbit. With your compatible Fitbit watch and Spotify subscription, you can follow the below steps to connect Spotify to Fitbit online.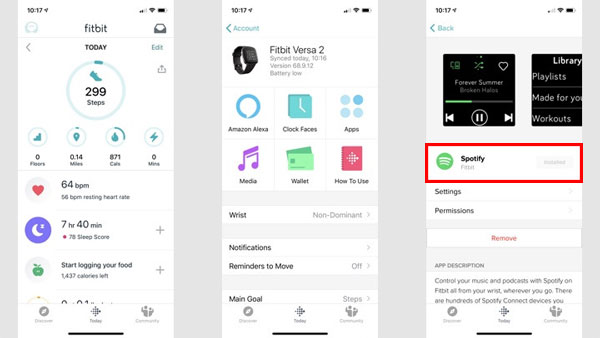 Step 1. Launch the Fitbit app on your mobile device. Tap the 'Profile' icon at the top-right corner to your profile section.
Step 2. Choose your Fitbit smartwatch and click the 'Apps'.
Step 3. To download the Spotify app, please search for 'Spotify' under the 'All Apps' section.
Step 4. Once you get the 'Spotify' icon, please click 'Install' to install it.
Step 5. Log into Spotify from Fitbit app to connect Spotify to Fitbit Versa. After that it's easy to listen to Spotify on your Fitbit device.
Tips: Please authorize Fitbit to run the Spotify app in the background. Make sure your Fitbit Versa and Ionic are under the WiFi network and keep your phone nearby. Remember that Fitbit doesn't have speakers, you need to connect an external speaker, like Bluetooth headphones.
Part 2. How to Add Spotify to Fitbit Versa /Ionic Offline
There are undoubtedly some limitations to using the Spotify Fitbit app online, such as a stable internet connection and a Spotify Premium subscription. So is there a better way to set up Spotify on Fitbit Versa /Ionic? To tell you the truth, it could be much better to listen to Spotify on Fitbit offline.
Fortunately, the all-in-one Spotify to Fitbit converter, known as AudFree Spotify Music Converter, is able to download Spotify Music to your computer locally for offline use on Fitbit. Since it is designed to download and convert Spotify to MP3, FLAC, WAV, AAC, M4A and M4B, in this case, users can transfer and store Spotify Music on Fitbit Versa or Fitbit Ionic for offline playback.
What's more, this smart tool can maintain 100% original Spotify Music quality including ID3 tags while converting at 5X faster speed. As a result, it will unlock all the restrictions between Fitbit and Spotify.
How to Download Spotify on Fitbit Versa/Ionic
In the following tutorial, you can learn how to download Spotify songs to MP3 with the help of AudFree Spotify Music Converter. Then you're free to sync and get Spotify on Fitbit Versa 2 or other Fitbit devices for playback. Please make sure you have downloaded AudFree SpoDable and Spotify app on your Mac or Windows OS firstly.
Step 1

Add Spotify songs and playlists to AudFree SpoDable

After a good installation, please click the shortcut icon to launch AudFree SpoDable from the computer desktop. And then you can import wanted Spotify Music that you'd like to play on Fitbit Ionic. By copying and pasting the URL of Spotify tracks or dragging the Spotify Music directly, you can import Spotify Music to the converter.
Step 2

Set Output Format as MP3 for Ionic/Versa

To open the setting window, please enter to the Preference > Convert option. Now, you can adjust output audio settings by defining output format as MP3 or other plain audio formats supported by Fitbit. Also, in this window, you can changing bit rate, sample rate, audio channel, codec, etc.
Step 3

Download Spotify on Fitbit Versa/Ionic

Before get started, you can also set the destination folder as you need. When all customization done, you can start conversion process by clicking 'Convert' button. AudFree Spotify Music Converter will download and convert songs and playlists from Spotify according to your settings.
How to Sync Spotify to Fitbit Versa 2/3 Offline
To get Spotify on Fitbit Versa and Ionic, you need to install the Fitbit desktop app on your computer. And then refer to the detailed steps as below: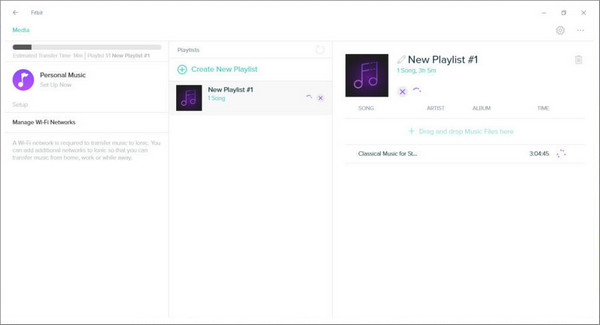 Step 1. Please use the iTunes app or Windows Media Player to create a new Spotify playlist. For iTunes users, you need to authorize iTunes to share iTunes Library XML with your Fitbit watch.
Step 2. Open Fitbit connect app and log in to your Fitbit account details. Then hit on the Account icon > Ionic/Versa title > Media > Personal Music option to import Spotify playlists to Fitbit Ionic.
Step 3. Connect your Ionic or Versa and your computer with the same Wi-Fi network. And launch the Music app on your watch. Scroll down to select 'Transfer Music' to confirm using Fitbit desktop app to transfer music.
Step 4. 4.Wait for the end of the downloading process. Now, you can start to listen to Spotify offline without Premium on Fitbit Ionic and Versa via the Music app.
Part 3. Comparasion of Online and Offline Solution
Spotify on Fitbit Online - What You Can Do
1. It's able to browse and play playlists, shuffle songs, pause music, and skip forward and back.
2. When you mirror Spotify Music to other devices, you can still control the music playback via the Spotify Fitbit app.
3.You can add music to your Spotify library by clicking the heart icon meanwhile playing them.
Spotify on Fitbit Online - What You Can't Do
1. You can't listen to Spotify Music on Fitbit Versa outside without carrying a phone.
2. There is no 'search' function for artists, songs and albums on the Spotify for Fitbit app itself.
3. No option to download Spotify songs for offline listening, even if you're using a premium account.
Spotify on Fitbit Offline - What You Can Do Additionally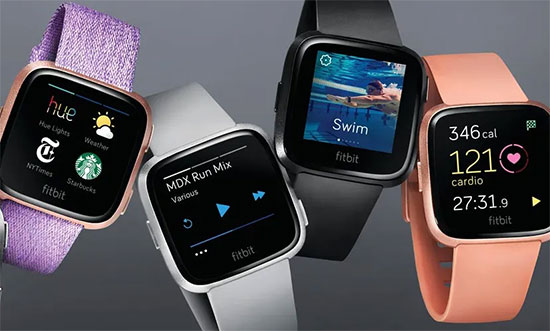 1. Control Spotify with Fitbit Offline
Apparently, AudFree Spotify Music Converter can help you download Spotify Music on your Fitbit device for offline use. Then you can easily play Spotify Music on Fitbit, even if you're not connected to the Internet.
2. Play Spotify Music on Fitbit without Your Phone
When you store Spotify Music on Fitbit Versa smoothly, you'll be free to listen to Spotify Music on your Fitbit smartwatch without the restrictions of your phone.
3. Use Spotify on Fitbit without Spotify Premium
With the aid of AudFree Spotify Music Converter, you can enjoy Spotify Music on Fitbit with freedom whether you are Spotify Premium or Spotify Free users.
Part 4. FAQs about Spotify on Fitbit
Q: Can you play Spotify on Fitbit?
A: At present, with the integration of Fitbit and Spotify, you can control your Spotify Music and podcasts from your wrist. Also, Spotify is available for watches like the Fitbit Versa 2/3, Fitbit Ionic and more.
Q: Can Spotify Free users play music on Fitbit?
A: Unfortunately, only Spotify Premium subscribers can play music from your account on the Fitbit Versa, while Spotify free users cannot take advantage of this Spotify Fitbit integration.
Q: Can you listen to Spotify on Fitbit without phone?
A: While you can't control Spotify on Fitbit without a phone through the official program, thanks to the AudFree Spotify Music Converter, it's possible to enjoy the offline feature on Fitbit devices.
More Tips: Complete Introduction to Fitbit Versa & Fitbit Ionic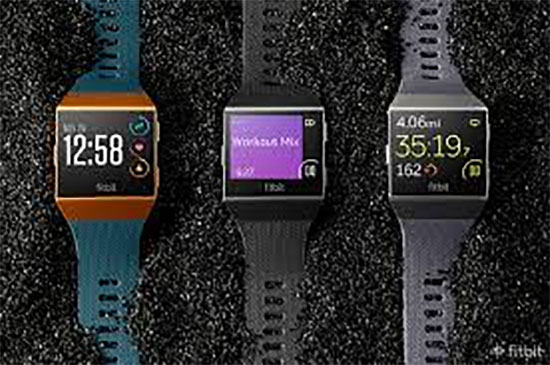 Fitbit Ionic: It is the successor to both the Blaze and the Surge, which are discontinued to offer by Fitbit. Ionic comes with built-in GPS aiming to tap into global satellites. And it provides better accuracy when recording exercises via GLONASS. In the Fitbit app on Ionic, it supports SmartTrack function to recognize user activity automatically. It also has other great features, such as interchangeable bands, water-resistant, new tactile buttons, etc.
Fitbit Versa: The first impression made by Fitbit Versa is that this smartwatch looks strikingly similar to the Apple Watch 3 and Pebble watches. They all feature square design and round edges. Retaining most of Ionic's performance, but its price is lower $100 than Ionic. Of course, it is a lack of built-in GPS and needs to use connected GPS via smartphone. It's worth mentioning that Fitbit Versa will be able to track women's menstrual cycles.
Conclusion
Quite evidently, you can listen to Spotify Music on a variety of Fitbit watches, such as Fitbit Versa and Ionic. No matter which Fitbit watch you have, there are online and offline options you can follow to use and stream Spotify Music. Have fun using Spotify with Fitbit Versa and Ionic.