Huawei GT Watch is one of the most popular smartwatches on the market today, such as the hot GT 2, GT 3, GT 2 pro, GT 3 and more. They surpass all other similar watches in terms of looks and performance, making them ideal devices. Moreover, the combination of Huawei Watch with music facilitates users to access and play favorite tunes anytime, anywhere.
So, this brings us to the question, can we get Spotify on Huawei GT Watch? Well, keep reading this article to find the answer. Here are two effective ways to play Spotify on Huawei Watch GT 2/3 with or without phone.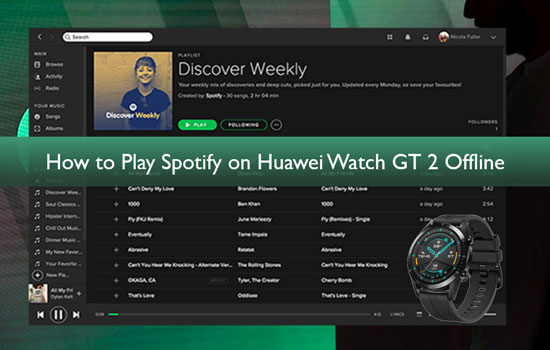 Part 1. Play Spotify on Huawei Watch GT 2/3 with Phone
Is there Huawei Watch GT 3 Spotify integration? Unfortunately, Spotify does not support Huawei GT Watch right now, and is only compatible with wearable devices such as Apple Watch, Garmin Watch, and Fitbit Watch. To control Spotify on Huawei Watch GT 2/3, you'll need to use your phone to do so. This method requires you to have your phone with you, so if you don't mind, follow the tutorial below and try it out.
Step 1. Make sure that your Huawei GT Watch is connected to your phone via Bluetooth.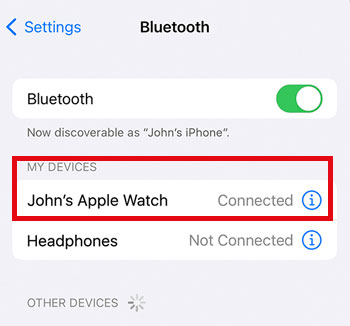 Step 2. Open the Huawei Health app on your phone, tap on the Device and select your GT watch.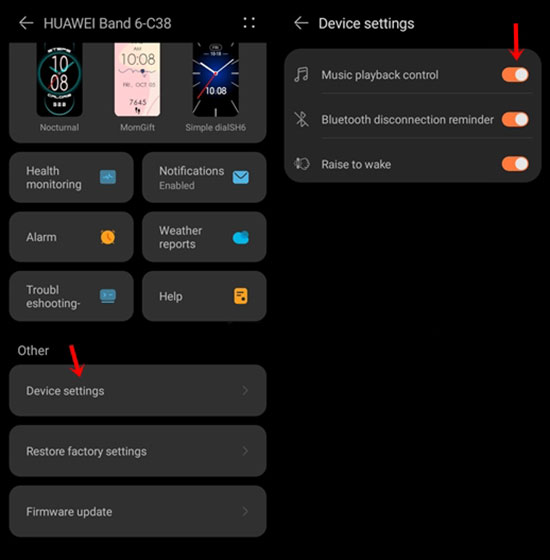 Step 3. Select Music tab and turn Control Phone Music icon on.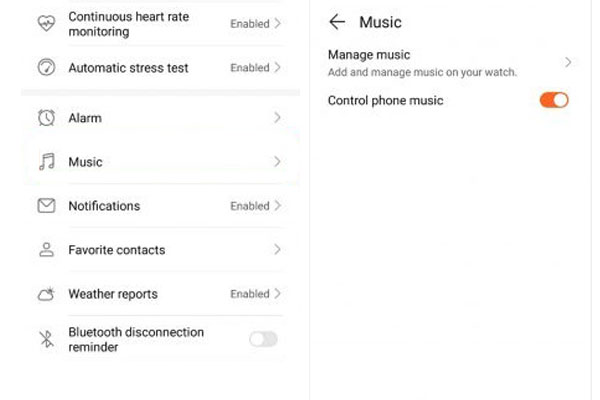 Step 4. Open the Spotify app and select the song or playlist that you want to play.
Step 5. Tap on the music controls icon to see the music player on your watch.
Step 6. Select Phone as the destination and the Spotify app will now start playing the selected song or playlist on your Huawei Watch.
Step 7. You can use the Spotify app on your phone to control playback, skip tracks, adjust volume, and more.
Part 2. Stream Spotify on Huawei Watch GT 2/3 Offline - Tool Required
As mentioned before, Huawei GT 2 can't play Spotify songs directly, it needs the assistance of the phone, which brings inconvenience. Is it possible to control Spotify Huawei Watch GT 2 without a phone? Of course, you can simply download Spotify songs locally and then transfer them to the GT watch for offline listening.
In this process, you need to make use of the best AudFree Spotify Music Converter. It is specially designed to download and convert Spotify songs to MP3, M4B, WAV, etc. Besides, it retains the original audio quality of Spotify tracks and allows you to customize the bit rate, sample rate and other parameters to meet your needs. Since Huawei GT Watch comes with a built-in music player, you can add Spotify songs to GT watch for offline playback without using your phone.
How to Download Spotify Music for Huawei Watch GT 3/2
Please click the Download button above to download and install AudFree Spotify Music Converter first. Then follow the tutorial below to download Spotify songs to make Huawei Watch GT 2 Spotify play offline.
Step 1

Upload Spotify songs to AudFree Spotify Music Converter

Once you have downloaded and installed AudFree Spotify Music Converter, please launch it. Then, enter the opened Spotify application and browse through the songs that you want to convert and download. Once you find them, copy the URL of the Spotify song and paste it on the search bar of AudFree Spotify Music Converter. After that, click the Plus icon.
Step 2

Adjust audio parameter of Spotify for Huawei GT 2

Now that the Spotify songs are added, click on the Menu bar. And then hit the Preferences and Convert tab. Here, you need to pick the Spotify audio format to MP3, M4B, WAV, M4A, AAC, and FLAC. Then, change other output audio parameters. For example, you can reset the audio channel, sample rate, etc.
Step 3

Convert Spotify songs for Huawei GT Smart Watch

After fixing the setting, it's time to click on the Convert button to start to convert and download Spotify music to computer. The songs from Spotify will begin to get converted at 5X speed. Once the songs are converted successfully, they will be saved in the local folder of your computer.
Part 3. Listen to Spotify on Huawei Watch GT 2 without Phone
Now, the converted Spotify songs will work well with Huawei GT Watch. Please note that you need to transfer Spotify songs from your computer to your phone in advance using a USB cable. Once done, follow the steps below to get Huawei GT 2 Spotify offline without using your phone.
Transfer Spotify to Huawei Watch GT 3/2 via Huawei Health App
Step 1. Open the Huawei Health app on your phone and make sure your Huawei Watch is connected and paired with your phone.
Step 2. Tap on the "Device" tab at the bottom of the screen and select your Huawei GT Watch.
Step 3. Scroll down to the "Music" section under "Featured" and tap on it.
Step 4. Select the "Manage Music" tab and tap on "Add songs".
Step 5. Click on the "Device" icon to select the Spotify song files you want to transfer to your watch.
Step 6. Once you have selected the music files, tap on "OK" to start the transfer process.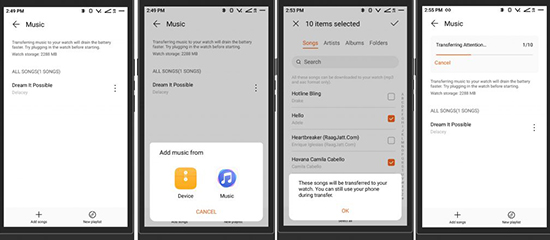 Play Spotify on Huawei GT 2/3 Offline without Phone
After the transfer is complete, you can listen to Spotify music offline on your Huawei GT Watch directly via the Music app on your watch. Here are the simple steps you can follow.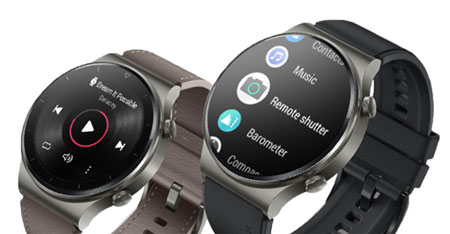 Step 1. Turn on the GT watch and go to the Home page.
Step 2. Once you are on the Home page, click on the "Music" option.
Step 3. Click on the song you have recently added to the watch and click on the "Play" icon to start playing the songs.
Part 4. Recommended Huawei Watch for Playing Spotify Music
If you are looking for a Huawei Watch that is ideal for playing Spotify music, there are several options available that can enhance your listening experience. Each of these Huawei Watches offers unique features that cater to different needs and preferences. Whether you're looking for a premium smartwatch with top-of-the-line features or a budget-friendly option that still delivers great performance, there's a Huawei Watch for you.
Huawei Watch GT 2 Pro
This premium smartwatch boasts a 1.39-inch AMOLED display, up to two weeks of battery life, and 4GB of storage for music. It also has a built-in speaker and microphone, allowing you to take calls and listen to music without needing to connect to Bluetooth headphones.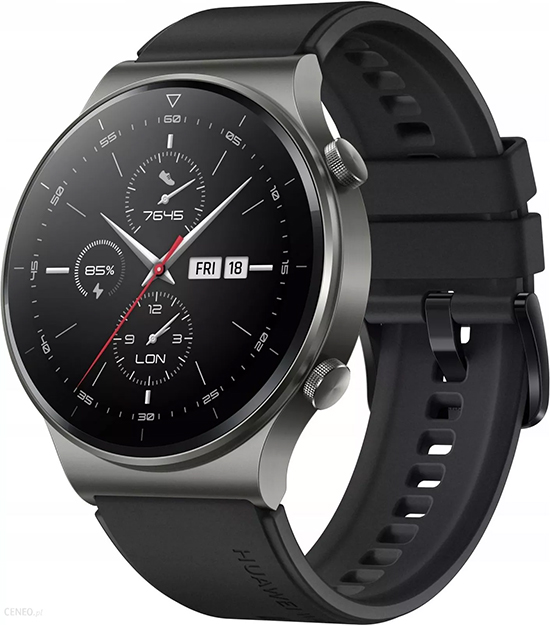 Huawei Watch GT 3
This watch is the latest version in the Huawei Watch GT series. It has a 1.43-inch AMOLED display and comes with 2GB of storage, which allows you to store up to 500 songs. The watch also has a built-in speaker and microphone, so you can take calls and control your music directly from your wrist.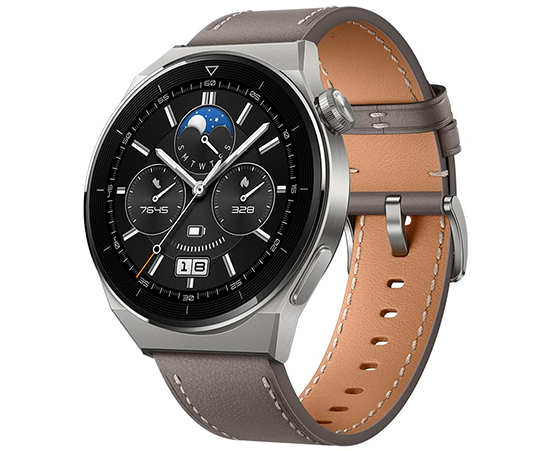 It has a large 1.47-inch AMOLED display that shows your workout stats, including heart rate, steps taken, calories burned, and more. The watch has 4GB of storage, which is enough to store hundreds of songs. It also has a high-quality speaker that delivers clear and loud sound, so you can enjoy your music without needing to connect to external speakers or headphones.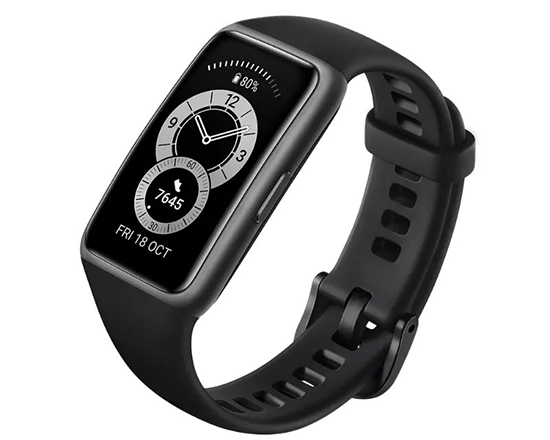 Part 5. Conclusion
Playing Spotify on Huawei Watch GT 2/3 is easy and convenient, whether you want to listen to music with or without your phone. Plus, with AudFree Spotify Music Converter, you can enjoy your favorite Spotify tunes on any smartwatch and device anytime, anywhere. We hope this article has been helpful in guiding you on how to use Spotify on Huawei GT 3/2 and enjoy your music on the go.