If you're a fan of audiobooks, you'll be happy to know that Spotify has a growing number of audiobooks that you can purchase and listen to at your convenience. However, buying audiobooks on Spotify isn't as easy as listening to music. Once you've found the best audiobook on Spotify, you'll need to know some basic information to purchase it.
Now, this article summarizes some of the things you must know before buying Spotify audiobooks. More importantly, you can find detailed steps about how to buy audiobooks on Spotify for mobile and desktop. Keep reading to make sure you're getting your money's worth with Spotify audiobooks.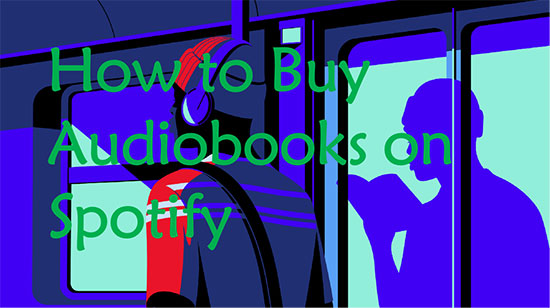 Part 1. Buy Spotify Audiobooks - What You Should Know
Before purchasing audiobooks on Spotify, it's important to keep in mind the following details:
✔️ Spotify audiobooks are currently available in the US, UK, CA, NZ, IE, and AU.
✔️ You cannot buy audiobooks within the app, but through the Spotify Web Player.
✔️ Audiobooks are not included in the Spotify Premium membership and must be purchased separately.
✔️ Once purchased, audiobooks are stored in your personal library and cannot be shared with others.
✔️ Prices may vary for different audiobooks and are one-time purchases, not subscriptions.
Part 2. How to Buy Audiobooks on Spotify for Mobile
Thanks to the huge Spotify audiobooks library, you can easily find your favorite audiobooks such as novels, biographies, self-help and business. As for where to buy Spotify audiobooks , you can only do it in Spotify Web Player. Here's a guide on how to buy Spotify audiobooks on mobile device.
Step 1. Open the Spotify Web Player on your phone and click the Search tab.
Step 2. Click on the Audiobooks section under Browse All to browse the various audiobooks.
Step 3. Select the title you want to buy and click the green Play arrow.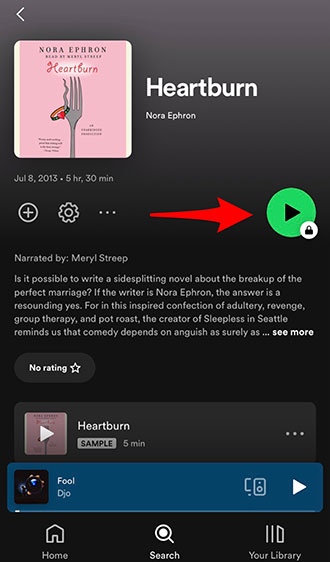 Step 4. Select Get Email to open an email from Spotify with a link to buy the audiobook.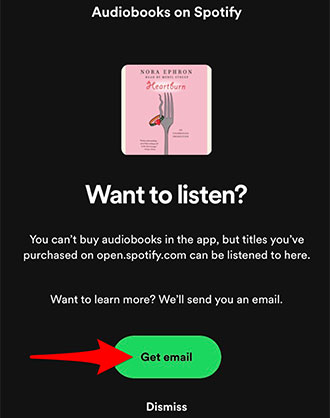 Step 5. Click on Buy Audiobook and then hit on the Buy button.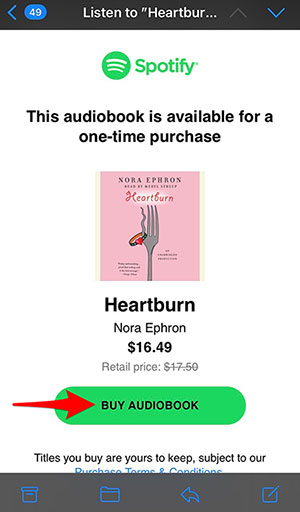 Step 6. Enter your payment information to complete your purchase.
📝 Tips: Once purchased, the audiobook will be unlocked in your Spotify library and you can start listening immediately. Please remember that audiobooks cannot be shared with others, but are stored in your personal library.
Part 3. How to Purchase Audiobooks on Spotify for Desktop
Buying audiobooks on Spotify for desktop is similar to buying them on mobile. Here are the steps:
Step 1. Log in to the Spotify Web Player with your account.
Step 2. Tap on the Search tab on the left side of the screen and select the Audiobooks tile.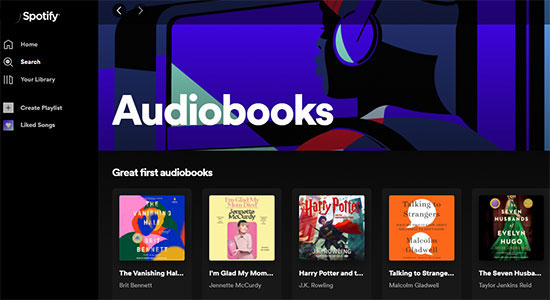 Step 3. Browse through the available audiobooks or search for a specific title.
Step 4. Click on the title of the audiobook you want to buy and select Buy.

Step 5. Follow the prompts to complete the payment transaction by filling in the relevant information.
Step 6. After your purchase is complete, you can listen to Spotify audiobooks in the Spotify app.
Part 4. How to Get Audiobooks on Spotify for Free Use
While buying audiobooks on Spotify is a great way to access your favorite titles, there are limitations to where and how you can listen to them. The purchased audiobooks can only be played on Spotify and cannot be used on other devices, which can be inconvenient for users who prefer to listen to audiobooks on other devices offline.
This is where the AudFree Spotify Audiobook Converter comes in. It is a powerful tool that enables users to convert Spotify audiobooks to common audio formats like MP3, AAC, WAV, and FLAC. It also preserves the original quality of Spotify audiobooks, ensuring that you get the best possible listening experience. With it, you can easily enjoy your purchased audiobooks on any device, anywhere and anytime.
AudFree Spotify Audiobook Converter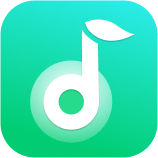 Download Spotify audiobooks, songs, albums, playlists, podcasts locally
Convert Spotify audiobooks to MP3 and other common formats
Play Spotify audiobooks on any device offline
Original quality and ID3 tags are well preserved for audiobooks
How to Get Audiobooks on Spotify for Free Use
Step 1. Open AudFree Spotify Audiobook Converter and the Spotify application will be launched automatically afterwards. Look for purchased audiobook from the Spotify music library. Copy its link and paste it into the search bar of the AudFree tool, then press the Add button to load the Spotify audiobook.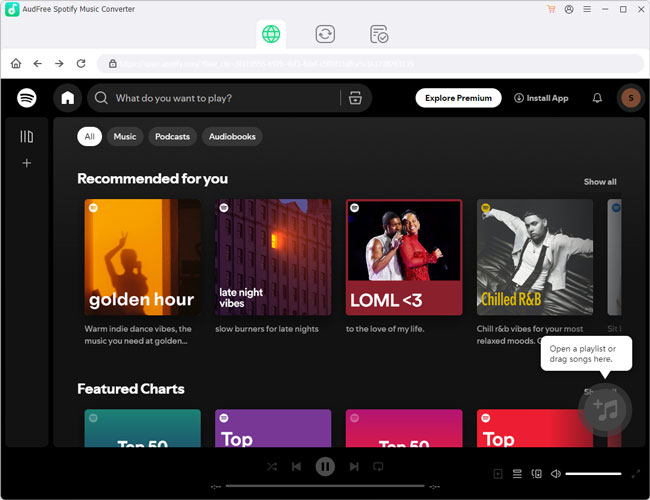 Step 2. Once all the Spotify audiobooks are fully added, just tap the top Menu bar and select Preferences and Convert options. Here, please choose the output format for the preferred audiobooks, like MP3, AAC, WAV, FLAC, etc. in order to play them on more devices. It is possible to set the output channel, sample rate, bit rate and other parameters for the output Spotify books.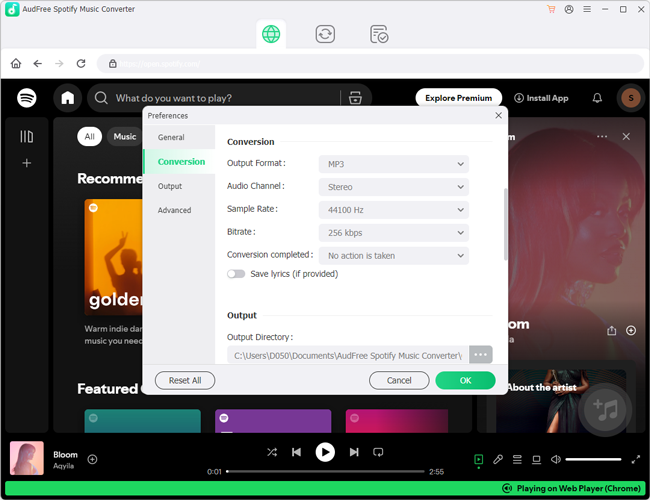 Step 3. Click the Convert button at the bottom, then it will start downloading Spotify audiobooks to MP3 or other common formats. After converting, you can select the Converted button to find local Spotify audiobooks files. In turn, you can listen to these audiobooks offline and play them on any device without any restrictions.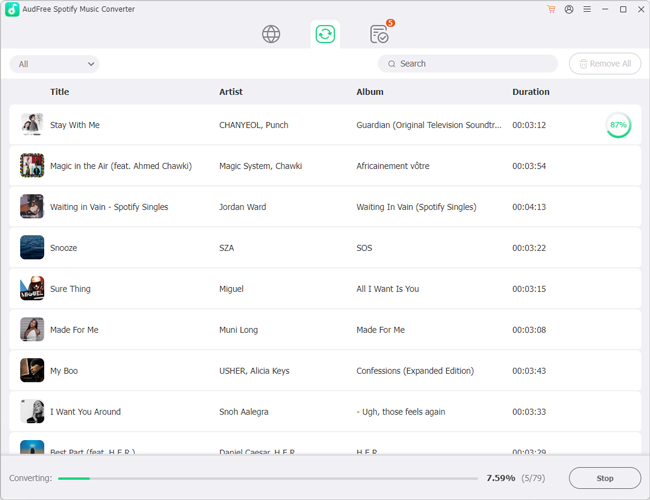 Part 5. FAQs about Buying Spotify Audiobooks
Q1: Are Spotify Audiobooks Free?
No, Spotify audiobooks are not free. You need to buy them to access them even if you are a premium subscriber.
Q2: How Much Are Audiobooks on Spotify?
It is difficult to state the exact Spotify audiobooks cost. The price of an audiobook varies depending on the title and the country you're in.
Q3: What Countries Is Spotify Audiobooks Available In?
Spotify audiobooks are available in select countries, including the US, UK, CA, IE, AU, and NZ.
Part 6. In Conclusion
Just follow the tutorials in this article to buy audiobooks on Spotify to listen to your favorite books. As for accessing them on more devices, AudFree Spotify Audiobook Converter is necessary. With it, you can convert purchased Spotify audiobooks to MP3 files for free offline playback.