With more than 200,000 downloadable audiobooks, Audible is an ideal online digital store, in which readers can download and purchase favorite audio books no matter for the best seller or a new release.
There are two ways to listen to audiobooks from Audible, respectively subscribing Audible membership with $14.95 per month to get one book or purchasing the books you want separately (It usually takes you around $25 to buy each Audible book.
There is no doubt it's very convenient to get audiobooks for listening, but the price could be a little expensive for affordable. As consequence, some Audible lovers start turning to Audible alternatives that have cheaper audiobooks.
Why leave from the best Audible platform, but not download free Audible audiobooks to fix price issue? In this article, we will introduce two effective workarounds on how to get free audiobooks for Audible to get rid of the dilemma.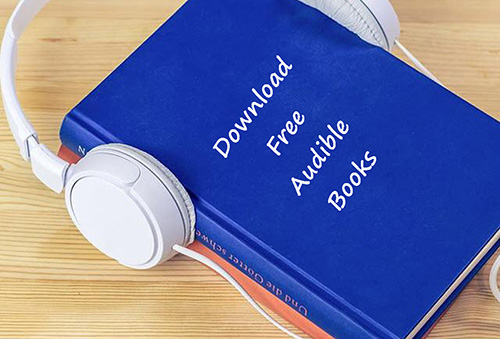 Method 1. Download Two Free Audiobooks from Audible with Free Trial
If you have never subscribed to Audible membership yet, it's happy to note that Audible offers the choice for all newbies to download free Audible books from the best-selling books to new releases. The only thing you're required to do is to sing up its 30-day free trail plan from Audible website.
What's Audible 30-day Free Trial
Just like other premium online digital stores, like Apple Music, etc. Audible also offers premium services for users to access to its audiobook library and it comes with a free 30-day trial allowing those who are interested in Audible books to experience its features before subscribing.
One of the most advantage of this Audible paid membership is that it allows you to download any two audiobooks with no cast. Even if you don't continue the Audible membership when it expired, you still can keep two downloaded audiobooks. Besides, you will get another 1 new audiobook for free no matter when you pay for the Audible membership fee.
How to Get Two Free Audible Audiobooks
The following tutorial will focus on how to join Audible 30-day free trial and how to download free audiobooks from Audible step by step.
Step 1

Sing up Amazon Audible account

Launch your web browser, like Google or Safari, navigate to Audible website, and then click the 'Sing In' button at to top right or 'Try Audible Free' button to open the register interface. Just type in your Amazon account and password. If you don't have one, please create your Amazon account firstly.
Step 2

Launch 30-day Free Trial Plan

There are two ways to start 30-day free trial subscription. One is to click the 'Account Details' button to select the right Audible membership plan ($14.95 for one book a month or $22.95 for two books a month). You will need to fill with your credit card and other detailed info and then click 'Star Free Trial' button to finish the process. Or you can enter to the shopping cart and choose '30-day Trial Membership' to get this order.
Step 3

Audible Audiobooks Free Download

Now, you can discover great audiobooks in Audible that you like to download. Once you have found out, please click the 'Add to Cart' button to get and download them offline. All downloaded audio books will be saved on your computer automatically. And you can download up to two audiobooks with this free 30-day trial service.
Note: Once you have downloaded two audiobooks for free, you can transfer them to other authorized devices and music players. But if you like to listen to them on incompatible MP3 players, you should read on the article about How to Play Audible Books on MP3 Player to make it possible.
Method 2. Download Free Audible Books with Audible Account
Apart from subscribing Audible membership to download Audible audiobooks for free or paid, Audible also provides free audiobooks that you can download for free. So, if you'd like to get some free audiobooks for playback, Audible is a nice platform.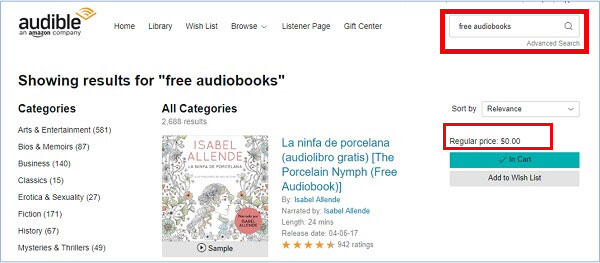 Just sing up your Amazon Audible account, you can type the 'free audiobooks' in the search box on Audible.com to locate tons of free audio books on Audible. After that, you can select the titles, add them to Cart as well as complete the order according to the instruction. Now, you can start to listen to and download audiobooks as you like.
More Tips: Get DRM-free Audible Books for Playback Anywhere
Audiobooks you downloaded from Audible, no matter for free or paying one, are encrypted by DRM technology and encoded in AA/AAX audio format that can be playable on selected devices and music players, even you have downloaded them on your computer. To avoid this hassle, you'd better to get a professional Audible to MP3 Converter to convert protected audiobooks to MP3 for better playback.
AudFree Audible Audiobook Converter is such a commercial DRM audio converter for Audible files. It can not only convert protected .aa and .aax audio books downloaded from Audible to MP3, FLAC, WAV, AAC, M4A and M4B but also split Audible files by chapters with zero quality loss. As for the detailed tutorial on how it works, you can visit this source page: How to Convert Audible Books to MP3.