As the world's largest seller of audiobooks, Audible has become the best place to listen to audiobooks. To download audiobooks from Audible, you need to purchase them first. You can subscribe to an Audible membership for $14.95 per month. Or, you can purchase the books you want individually for a fixed price, which can be a bit expensive for many people.
As a result, many people are looking for Audible alternatives. But why not read on and get some ways in this article to download Audible audiobooks for free? You will also learn how to convert these free Audible books to MP3 for listening offline anywhere at any time.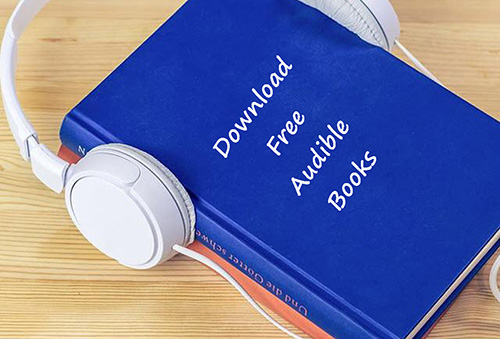 Part 1. How to Download Audible Books Free via Free Trial
Audible Plus allows you to listen to unlimited audiobooks while Audible Premium Plus enables you to download audiobooks. If you haven't already subscribed to an Audible membership, then you can benefit from its 30-day free trial of Premium Plus. With it, you can get one free Audible credit (2 credits if you have an Amazon Prime account) to redeem or purchase one Audible book and then download it for free, from the best sellers to new releases. All you need to do is sign up for the free trial.
What's Audible 30-day Free Trial
Audible offers a premium service that gives users access to its library of audiobooks. It also offers a 30-day free trial that allows new users to experience its features before subscribing. The free trial gives you 2 free credits with an Amazon Prime account while it offers you only one free credit without Amazon Prime. Each credit can be used to purchase and then download one audiobook at no cost. Even if you don't continue using Audible, you can still keep the downloaded audiobooks and listen to those Audible books offline forever.
How to Get Free Audible Audiobooks via Free Trial
The following tutorial will focus on how to join the Audible 30-day free trial and download Audible audiobooks for free.
Step 1

Sign up Amazon Audible account

Launch your web browser and navigate to Audible.com. Then click the 'Sign In' button or the 'Try Audible Free' button to open the register interface. Just type in your Amazon account and password. If you don't have one, please create your Amazon account first.
Step 2

Launch 30-day Free Trial Plan

There are two ways to start a 30-day free trial subscription. One is to hover over your Audible Profile and choose 'Account Details' from the dropdown list to select an Audible membership plan ($14.95 for one credit a month or $22.95 for two credits a month). Proceed to click on 'Start your free trial' and fill in your credit card & other detailed info. Then click the 'Try for $0.00' button to finish the process. Or you can navigate to your Audible shopping cart and choose '30-day Trial Membership' to get this order.
Step 3

Purchase Audible Books with Credits

Now, you can discover great audiobooks in Audible that you like to download. Once you have found out, please click the 'Add to Cart' button to get them. Afterward, go to your cart and select '1 Credit' under the 'Price' section. Later, click 'Proceed to Checkout' > 'Complete Purchase' to purchase the book with the credit you received before.
Step 4

Download Audible Books Free

Once purchased, select the 'Library' tab from the top navigation and click on 'Titles' > 'All' where you can find all audiobooks you bought. Simply hit the right 'Download' button to download it.
Note: Once you have downloaded audiobooks for free, you can transfer them to other authorized devices and music players. But if you prefer to listen to them on incompatible MP3 players, you can read the article about How to Download Audible Books to MP3 Player.
Part 2. How to Download Audible Books for Free via Free Listens
Apart from subscribing to Audible's free trial, you can also download free Audible books with Free Listens, which provides hundreds of free audiobooks that you can listen to for free, without an Audible trial or membership required.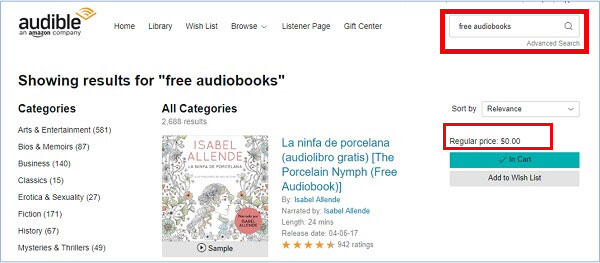 Just sign up for your Amazon Audible account. Then you can type 'free audiobooks' in the search box on Audible.com. After selecting the titles, please add them to the Cart and complete the order according to the instructions. Now, you can start to listen to and download audiobooks as you like.
Or, you can follow the steps below to download Audible audiobooks for free:
Step 1. Open a browser on your computer and navigate to Audible Free Listens.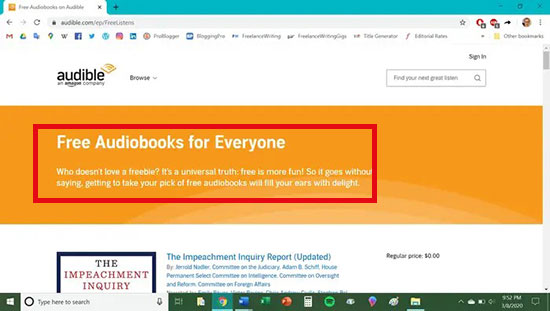 Step 2. Browse for the audiobook that you want to download and click on it.
Step 3. Click the 'Buy for $0.00' button and then 'Proceed to Checkout'.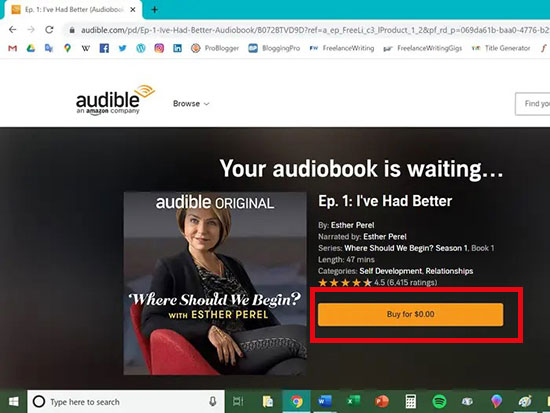 Step 4. Confirm your order information and then click 'Complete purchase'.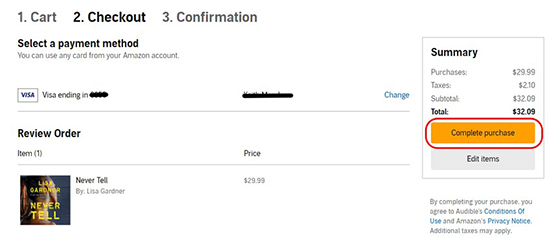 Step 5. Now you can go to your 'Library' and find the book. Then click the 'Download' button to download the free Audible audiobook.
Part 3. How to Free Get Audible Books with Amazon Prime
If you are an Amazon Prime member, you can also get access to free Audible books, numbering over 50. If you have a Kindle device, you can search directly for the book you want to listen to. Books with the Prime logo and Whispersync option are available as audiobooks. Or, you can get free Audible audiobooks directly from the Audible Channel of the Audible app.
Here is how you can get free Audible books via Amazon Prime:
Step 1. Search and navigate to the Amazon Prime Reading page on a browser and log in to your account.
Step 2. Find the book you want to listen to for free.
Step 3. Under the 'See all formats and editions' section, choose 'Audiobook' that is priced at '$0.00'.
Step 4. Click 'Read and Listen for Free'. Then you can borrow free Audible audiobooks and get it through Prime Reading.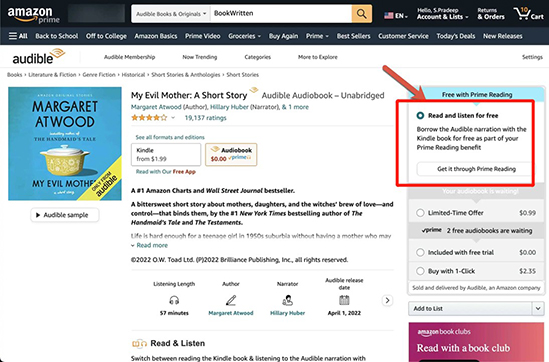 Part 4. How to Download Audible Audiobooks for Free via Audible Plus Catalog
If you have subscribed to Audible Plus or Audible Premium Plus, you'll be able to access the Audible Plus catalog. It contains thousands of free audiobooks without having to pay again. You can listen to them for free offline. However, please note that these free audiobooks are only valid for the duration of your paid membership.
You can refer to the steps below to download Audible Originals for free.
Step 1. Open the Audible mobile app and sign in with your Audible Plus or Premium Plus account.
Step 2. Tap 'Discover' from the bottom navigation bar and then choose 'Plus Catalog' to find the book you want to listen to.
Step 3. Tap on the title and then 'Add to Library'.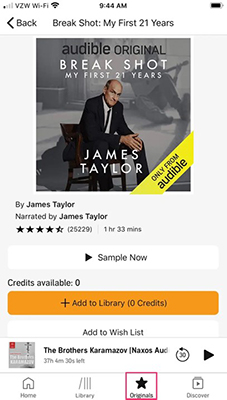 Step 4. Go to your library and tap the lower-right Download Arrow on the cover art to start downloading the free Audible books.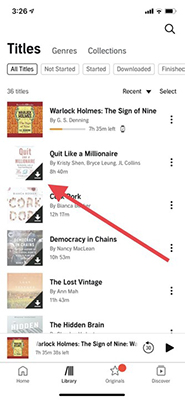 Note: There is no download option for Audible Originals on the desktop app.
Part 5. How to Download Free Audible Books to MP3
All the audiobooks you downloaded from Audible are encoded in AA/AAX format, only playable on selected devices and music players. This will prevent you from listening to those downloaded Audible books on more devices. So, you'd better use AudFree Audible Audiobook Converter to remove this restriction.
AudFree Auditior is a professional converter to export protected audiobooks to local files in various audio formats. It supports batch converting any audiobook from Audible to MP3, FLAC, AAC, WAV, and more. Its advanced decode technology ensures original audio quality and full metadata info such as ID3 tags after converting. With it, you can get lossless audiobook files from Audible for keeping forever.
Plus, it entitles you to split large Audible audiobooks into small-size segments by chapters and customize ID3 tags like title, cover art, etc. This great tool empowers you to enjoy Audible audiobooks in a more convenient and personalized way.
AudFree Audible Converter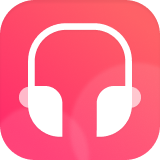 Convert Audible AAX to MP3, FLAC, WAV, AAC, M4A, M4B, etc.
Remove protection from Audible audiobooks for better playback
Split Audible audiobooks into segments without limitations
Listen to Audible audiobooks on any MP3 player or device
How to Convert Audible to MP3 for Offline Forever on More Devices
There is a user guide for you to learn how to convert your Audible audiobooks to MP3, M4B, M4A, AAC, etc. Before converting, please take the following preparatory works done ahead:
Click on the above green download button to install it on your Windows or Mac directly.
Add your purchased or downloaded Audible books to the iTunes library.
Step 1

Add Audible Audiobooks to AudFree Auditior

Once you add your audiobooks to iTunes, please open this AudFree Audible Converter and import Audible audiobooks to it. On the one hand, it enables you to directly drag and drop audiobooks to it. Alternatively, you can click on its first Add icon named 'Load iTunes Library' at the bottom left to browse and add your Audible downloaded audiobooks.
Step 2

Reset Audible Output Format as MP3

Please click the lower-right Audio icon to open the Format Setting pane. You can choose MP3 or other format as the output format for Audible audiobooks. This converter also endows you with the ability to customize other output parameters including the bitrate, sample rate, channel, codec, and so on to get better audio. Note that you can also opt to select the bottom 'Keep lossless quality(AA,AAX)' directly, which can automatically convert AA files to MP3 and export AAX files to M4A with lossless quality.
Step 3

Convert Audible AA/AAX Books to MP3

If you hope to split audiobooks into chapters or change ID3 tags, please hover over an item and tap on the 'Edit' icon. Then hit the large 'Convert' button at the bottom right to launch the conversion process. It will batch convert and download your audiobooks to MP3 at a 30X speed. When it's done, go back to the main interface and click on the bottom File icon to find the MP3 Audible conversions.
Part 6. FAQs about Audible Books Free Download
Q1: Where can I download Audible books for free?
A: On Audible, you can download and even purchase Audible books for free as long as you get the free trial of Audible Plus or Premium Plus.
Q2: Is Audible free to download?
A: Nope. Audible is a subscription-based platform, which allows you to access and listen to its audiobooks with a regular Audible Plus account. Suppose you tend to download the Audible free, an Audible membership is requisite. But you can get an Audible free trial if you are a new user.
Q3: How many books can you download on Audible?
A: You can access and download unlimited audiobooks on Audible with Audible membership. However, with an Audible Premium Plus account, you can only download up to audiobooks for free per month.
Q4: How to listen to Audible books for free?
A: You can listen to Audible books free with Amazon Prime. Also, if you get a free trial of an Audible subscription, you are allowed to listen to audiobooks at no cost on the Audible app or website.
Part 7. Conclusion
If you are a new subscriber to Audible, then you can sign in for its free trial, getting and downloading free Audible books. If not, you can also download Audible audiobooks for free via Audible Free Listens, Amazon Prime, and Audible Plus Catalog.
To enjoy Audible audiobooks on all devices and players, please give AudFree Audible Converter a shot to convert your loved audiobooks before canceling your Audible membership. It allows you to convert Audible books to MP3 for playback on any device you want.