As audiobooks are rapidly gaining popularity in today's world, a new industry is growing up around the publication of audiobooks. There are already independent websites that specialize in offering audiobooks to listeners. Music streaming services such as Spotify and Apple Music are also doing their part.
Today, we will focus on the best audiobooks on Spotify as it provides types of audiobooks. You can find audiobooks about fiction, romance, classics, fantasy, crime, thriller and so forth on Spotify. If you're on Spotify, don't miss the 10 best Spotify audiobooks you should listen to in 2023.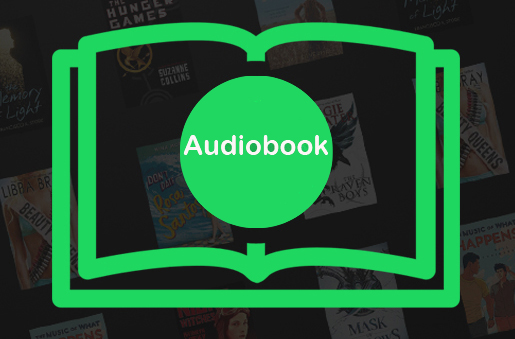 Part 1. Top 10 Best Audiobooks on Spotify
Listening to audiobooks sometimes proves to be more fun than reading the books themselves because the narrator's voice keeps you listening for hour after hour until the end of the book. Then enjoy reading the top 10 audiobooks on Spotify below.
Top 1. The Kiss Quotient
It is one of the best romance audiobooks on Spotify. If you love romantic stories, you will love this audiobook by Helen Hoang. This Spotify romance audiobook tells the story of an autistic lady who wants to improve her bedroom skills.
To get everything right, she procures the services of a male escort to help her in her quest. The narrator does a great job of bringing the characters in this story to life. It makes you want to listen to this romance novels on Spotify over and over again.
Top 2. Room to Dream
Room to Dream is also the best fiction audiobooks on Spotify you can't miss. The book explores the personal, professional, and creative lives of the author David Lynch from the perspective of his personal, family and close friends.
It is one of the best motivational books you will find on Spotify. The book talks about the drive that David Lynch has towards his dreams. There are many challenges he has to overcome. The book is a result of interviews with David Lynch's close family members, friends and even ex-wives.
Top 3. Drive: The Surprising Truth about What Motivates Us
If you are looking for audiobooks on Spotify list to understand motivation, then this is your best bet. The book draws on extensive research into human motivation. It covers over for decades to bring you great insights into what motivates us and what does not.
The Spotify audiobook seeks to demystify the myth about motivation. And it bridges the gap between the scientific proof of motivation and what is done in the world to motivate people. The book attempts to show that the modern man is motivated by three things.
The desire to be in charge of his own life, the urge to be better at what he does, and the desire to serve a great purpose in life. Understanding this will help us get better at motivating both ourselves and others.
Top 4. Grit: The Power of Passion and Perseverance
This is an amazing audiobook that cannot miss on the list of audiobooks on Spotify. Everyone is trying to get ahead in life. This is one audiobook that will give you a chance to find success in your endeavors.
The book is written by a pioneering psychologist Dr. Angela Duckworth. It focuses on how to help everyone achieve more. It shows that focused persistence is the key to finding success, not innate talent as most people think.
Dr. Angela draws from years of research to show that grit is the main reason why some people succeed while others fail. This good audiobooks on Spotify suggest that instead of focusing on the talent, we should engage in other equally important activities. For example, identifying our passions and remaining committed to our goals.
Top 5. The Pillars of the Earth
This is not just one of the fantasy audiobooks on Spotify, it is a historical masterpiece. The book is set in medieval England and tells the story of Philip, the abbot of Kingsbridge. The plot of this book explores important themes in medial Europe, such as the place of the church and state, politics, religion and honor.
Top 6. Reasons to Stay Alive
This audiobook on Spotify is about personal development. The book by Professor Newport explores the topic of deep work. It is divided into two sections. The first section explores deep work and how distractions such as social media affect our productivity. The next section provides rules that you can follow to change your mind so that you can avoid distractions and get better results.
In this age of social media, emails and mainstream media, there are too many distractions in the workplace that hinder us from achieving our full potential. Deep work is the process a person can use to stain focused on the tasks at hand so as to produce the desired results. This focus helps you get the job done better in less time.
Top 7. The Man in the High Castle
This is an awesome science fiction novel and spicy audiobooks on Spotify. The story takes place in the United States in 1962. After the defeat of the American army, the country was under the control of the Nazis and the Japanese. Slavery was legalized again. The Jews of this country had to survive by all means, including living under false names. The plot of the story is very good, with many cliffhangers and surprising twists.
Top 8. War and Peace
This audiobook presents a classic story that has been termed as one of the greatest stories about the Napoleonic wars. The book employs multiple characters to provide a profound philosophical study of wars in ancient Europe. And this great audiobook on Spotify tells the triumphant story of the Russian spirit. If you love classic stories about war, you will love the best love story audiobooks.
Top 9. The Great Gatsby
The Great Gatsby, F. Scott Fitzgerald's third book, has been acclaimed by generations of readers as his crowning work. You can learn the story of the eccentric millionaire and his lover in this classic novel of the Jazz Age.
Top 10. Harry Potter
Rowling's Harry Potter books are the best-selling series of all time. Now, Spotify has released an audiobook of Harry Potter. Unlike previous audiobooks, the new book features the voices of celebrities such as David Beckham and Daniel Radcliffe. The free audiobook on Spotify is primarily designed to entertain fans during the quarantine.
Part 2. How to Download Spotify Audiobooks to MP3 for Free Use
Does Spotify have audiobooks? The answer is obvious after we introduced the top 10 best audiobooks on Spotify. Also, Most of Spotify audiobooks need to be purchased, after which you can download the entire audiobook for offline playback. Luckily, with AudFree Spotify Audiobook Downloader, you can download any Spotify audiobooks without having to buy them.
In fact, this powerful tool can convert Spotify audiobooks to MP3, FLAC,WAV, AAC and more. What's more, it will download audiobooks with original sound quality and ID3 tags retention. This way, you can keep these Spotify audiobooks forever and play them offline on any device or media player.
AudFree Spotify Audiobook Converter
How to Download Spotify Audiobooks to MP3 for Free Use
Step 1

Add Spotify Audiobook to AudFree SpoDable

Start AudFree Spotify Audiobook Downloader first and the Spotify app will open automatically. Find an audiobook you like, copy its link and paste it into the search bar on the converter. Then click the + button next to it to add the audiobook to the conversion list.
Step 2

Set Spotify Audiobook Output Parameters

Click the Menu bar at the top, then select Preferences and Convert options. Set the audiobook output format according to your personal requirements, such as MP3, AAC, WAV, etc. Alternatively, you can customize other parameters such as bit rate, sample rate, and channel for audiobooks. Then click the OK button to save the above settings.
Step 3

Download and Convert Audiobooks on Spotify

Click the Convert button to begin downloading Spotify audiobooks as local files. When you're done, tap the "Converted" icon to view all the Spotify audiobooks you've downloaded in the history list. After that, you can play your favorite Spotify audiobooks anytime and anywhere with freedom.
Part 3. More about Audiobooks on Spotify
Q1: Are There Free Audiobooks on Spotify?
A: Sure, there are some free audiobooks on Spotify, and you can find them in the audiobook catalog. But most audiobooks on Spotify are locked. You'll need to buy them to unlock them, even if you're a Spotify Premium member.
Q2: How Much Are Audiobooks on Spotify?
Fees vary depending on the size and type of audiobook. For example, a small Spotify audiobook costs about $15 to $20, while Game of Thrones costs about $37. On average, audiobooks on Spotify range from $3 to a maximum of $40.
Q3: How Many Audiobooks Are on Spotify?
Currently, Spotify provides users with more than 300,000 audiobooks for reading and entertainment.
Q4: How Listen to Audiobooks on Spotify for Free?
If you want to listen to all audiobooks on Spotify for free, then AudFree Spotify Audiobook Downloader is your best helper. With it, you can convert Spotify audiobooks to MP3 without purchase. After that, it couldn't be easier to enjoy audiobooks offline for free.
Part 4. Summary
These are the 10 best Spotify audiobooks for you to choose from. If you want to download and keep your favorite Spotify audiobooks forever, AudFree Spotify Audiobook Downloader can also help you to achieve this goal very well. Just take action and enjoy the heartwarming audiobooks on Spotify.