In the digital age, digital technologies have completely revolutionized the way we lead our lives. It has happened on all fronts. For music lovers, too, the music industry has gone through some radical changes. There was a time when CDs and DVDs made way for music from the Internet, and it was the era of manually downloading music.
However, now is the time for live streaming music. You currently have the latest music apps, which make listening to music an effortless and personalized experience. And leading it all is Spotify. Of course, Apple Music and Tidal, SoundCloud, and Amazon are. But Spotify is unique in its ways.
If you, too, are a Spotify lover, now the good news is that you can now easily download Dojotech Spotify recorder and enjoy your kind of Spotify music at any time and any place.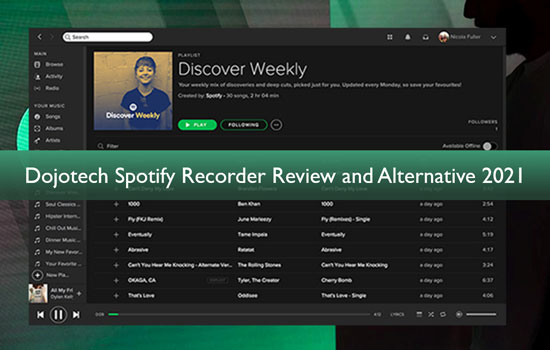 Part 1. Dojotech Spotify Recorder - Review & How to Use
It is a world where everyone is listening to music. And these are times when most people are looking for ways to capture their favorite songs. And if you use Spotify to listen to all your favorite music, you can't miss Dojotech Spotify recorder free, which can easily record music from Spotify.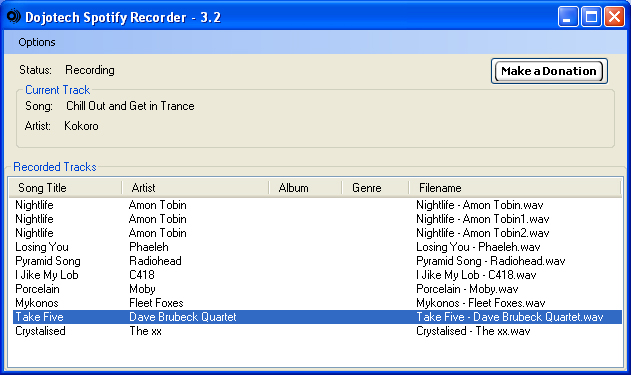 What to Expect with the Dojotech Spotify Recorder Download
The successful Dojotech Spotify recorder download will automatically detect your favorite music when you are playing Spotify in the background. It will save any song played onto an MP3 file with all of its tags updated afterward, too, if desired by you. Or even better yet, leave those up at first, so you will know what albums or artists were tagged right from the beginning.
It will do this without having to deal with tagging again afterward. Furthermore, this nifty little tool enables users to easily find, edit or delete what has been recorded later on if necessary! It also takes care not only about recording oneself listening but also broadcasting live sessions without being limited by time duration like other services.
Key Benefits Dojotech Spotify Recorder Offers
Dojotech Spotify recorder free is a very simple way to record your favorite songs from the streaming service. It can detect when one of these tunes is playing and save it as an MP3 file. Thus, you'll never miss out on those moments! You also get genre info, album tags, and other information about each downloaded song, in addition to being able to hear what's going down live right now during playback through Dojo records' UI (user interface).
Pros:
Dojotech is a free and easy way to record Spotify offline on Windows XP, Vista, or 7, and also works with Mac OS X 10.6 & up!
You need not be a tech expert, and neither do you require any special skills for using it.
All these combine to provide an excellent option for people who want something secure without having much technical knowledge at all.
Cons:
Some users might find it too simple as an interface.
It is not suitable for Windows 10, Mac, and Linux.
Despite some minor drawbacks, the Dojotech Spotify recorder free is still very popular and widely used amongst Spotify users.
At times it is possible that this recorder may not work as expected. In such cases, you need appropriate alternative is required. Let us know what the options that you have in this case are.
Part 2. Dojotech Spotify Recorder Not Working - Best Alternative
Spotify is on all fronts the leading on-demand streaming music service, where users can access over 70 million tracks. And as explained, the Dojotech Spotify recorder can be a great application to customize your listening. But at times, if you are looking for Dojotech Spotify not working, AudFree Spotify Music Converter can be the perfect solution for you.
The AudFree Spotify Music Converter: The Perfect Solution
With the AudFree Spotify Music Converter, downloading music offline is totally free and is extremely simple and easy. You just use this incredible application and it will automatically find your desired track or album for you to save on disk so that it can be played back even when there's no Internet connection available!
AudFree Spotify Music Converter can convert Spotify to MP3 and any other music format you desire to have. It does this at a much faster speed on a PC with its cutting-edge technology. Another option for speed is also available. It ensures that users have a much more stable - it will make your music sound better no matter which device you play them through!
How to Use AudFree Spotify Music Converter on Mac
Step 1: Download AudFree Spotify Music Converter freely on Mac.
Step 2: Open it. Then the Spotify app will show as well.
Step 3: Find and import Spotify songs you choose to AudFree Spotify Music Converter.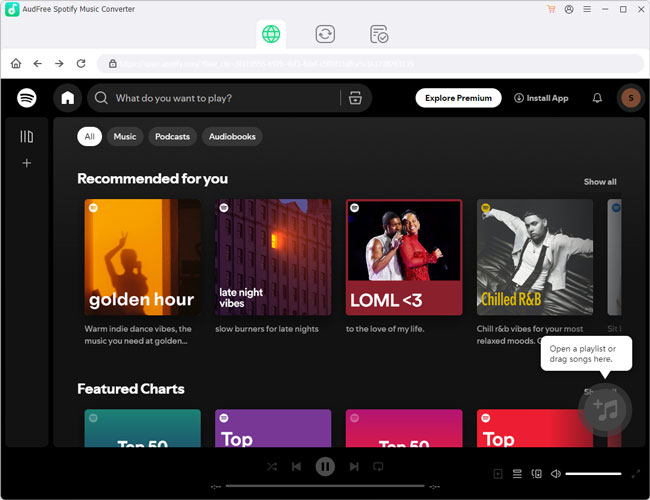 Step 4: Go to 'Preferences' to determine what output format you need the music file in. You also need the other settings as well in which the music file you need it in.
Listening to any type of music in stereo format can provide a very enhanced experience. You can have the file generated in Stereo form and set the Sample Rate and Bit Rate. All these combine to give the users of this application an enhanced listening experience.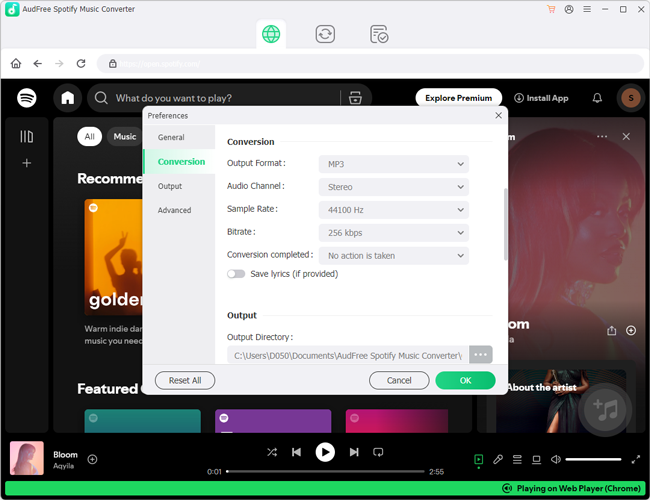 Step 5: Hit 'Convert' to download Spotify songs for offline listening.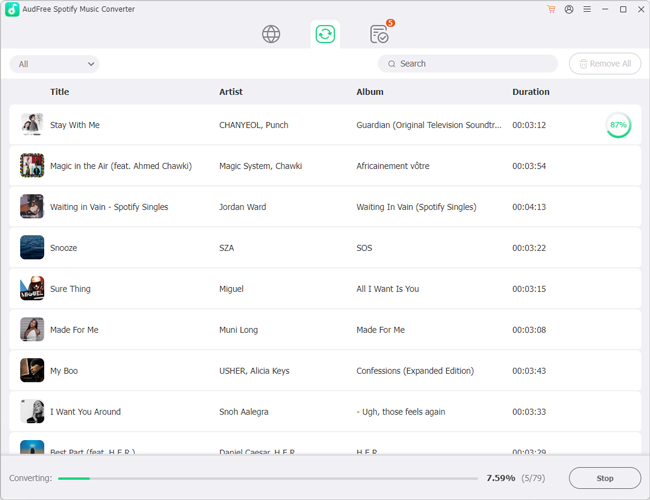 Step 6: Once the appropriate settings have been set, you need to wait for the conversions to be made.
Step 7: Once the files have been converted, you can save them in the desired location on your device.
Pros:
Download music from Spotify to plain audio files
Convert Spotify songs at a fast conversion speed
Keep lossless audio quality of Spotify music and full ID3 tags
Support to alter the bit rate, sample rate, channel and more audio parameters
Cons:
Part 3. Conclusion
To sum up, we can say that Dojotech Spotify Recorder is a popular music downloader for Spotify music. But it has some drawbacks. If it does not meet your listening requirements, then AudFree Spotify Music Converter can serve as the perfect alternative. It allows Spotify free and premium users to download songs from Spotify to plain audio files for offline use. So go for it.