Fedora has gradually become an exceedingly good operating system as a completely open source and free Linux distribution. Not only can you install it for free on as many computers as possible without any malware or virus problems, but you can also use Fedora on multiple devices such as phone, TV, refrigerator, and car.
In addition to all the benefits above, it also brings some major drawbacks. That is, despite being one of the powerful software operating systems, Fedora still does not support some applications, such as Spotify Music software. Meanwhile, many Spotify Music lovers often ponder the puzzling question: is it possible to play Spotify Music on Fedora?
Fortunately, this article will explore two effective ways to get Spotify on Fedora. One workaround is to install the Spotify client on Fedora in some feasible operations. Another option is to locally download and sync Spotify Music to Fedora. Please read the following for detailed steps.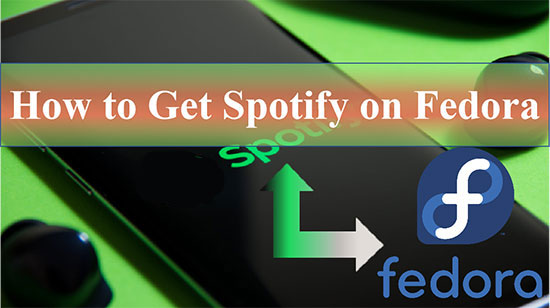 Part 1. How to Install Spotify on Fedora
Fedora recommends using free software and avoiding software that is bound by patents. Spotify, on the other hand, is a proprietary music streaming service that is not officially supported on Fedora. But through the exploration of Spotify engineers, you can still install Spotify client on Linux in the following manner.
Install Spotify Using the Fedora Snap Repository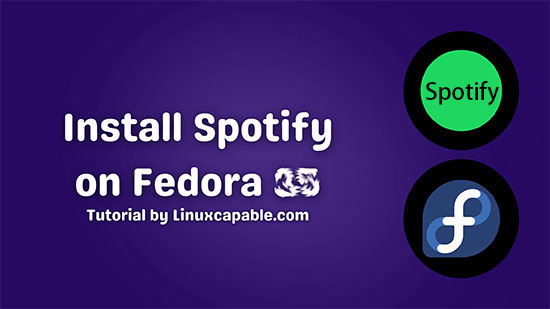 Step 1. Open a terminal by clicking the shortcut Ctrl+Alt+T. And issue the following command: sudo apt-get install snapd to install Snap on your Fedora system.
Step 2. Now that Snap is installed on your system, you can refer to the following command: sudo snap install spotify to install the Spotify Snap application on your Fedora.
Step 3. Now you can launch the Spotify for Fedora application from the Applications menu or directly from the terminal. Then enjoy the Spotify Music and playlists on Fedora.
Part 2. How to Play Spotify Music on Fedora - Perfect Tool
If you find it a bit complicated and difficult to install Spotify application on Fedora using the above method, take it easy, there is still another simple alternative solution waiting for you here. Just download Spotify Music as a local regular audio file and sync it to Fedora's local drive. Isn't this much simpler?
At the same time, AudFree Spotify Music Converter is definitely your best choice to make all the above possible. It can assist you in bypassing Spotify Music download limit as well as and converting Spotify Music to MP3, FLAC, M4B and other standard audio formats. What's more, the converted Spotify Music is lossless and the relevant information about the song, such as title, genre, composer, etc. is preserved. So what are you waiting for? Follow the instructions below to get Spotify on Fedora.
How to Download and Sync Spotify Music to Fedora
Step 1

Import Spotify Music to AudFree SpoDable

Please first make sure you have AudFree SpoDable and Spotify programs downloaded on your computer. Then you can simply drag your favorite Spotify Music to the conversion window of AudFree SpoDable. Or copy the URL of Spotify Music and paste it into the search box at the top of the converter interface, then click the Add button next to the search box to complete the import of Spotify Music.
Step 2

Customize Spotify Music Output Format for Fedora

Just go to the top menu bar and select the Preferences button, then click Convert option. Then you can customize Spotify Music output format and other audio parameters in the new settings window. For example, you are allowed to convert Spotify Music to MP3 and other standard formats. If you want to get higher audio quality, you'd better set the bit rate to 320 kbps.
Step 3

Download and Convert Spotify Music Locally

Once the above steps are ready, please simply press the Convert button at the bottom right corner of the window. Meanwhile, you can see the conversion process, AudFree SpoDable will automatically download and convert the added tracks to MP3 or other Fedora-supported audio files. Once the conversion is complete, you can upload your Spotify Music to Fedora for playback. In addition, you have the freedom to listen to Spotify Music offline without Premium on any device or player.
Step 4

Sync and Play Spotify Music on Fedora

Start by going to the target folder on your Mac or Windows computer and locating the converted Spotify Music files. Simply move those music files to a USB flash drive and sync them to your Fedora Linux computer. Once the syncing is done, you can use any music player to play Spotify Music on Fedora without any trouble.
Part 3. FAQs About Spotify and Fedora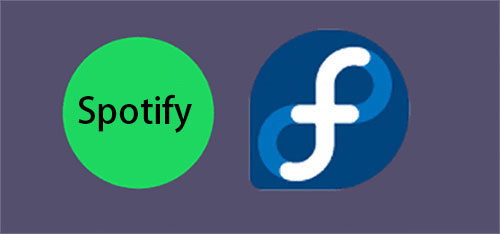 Q: What is Fedora used for?
A: Fedora is a Linux-based operating system, a rapidly evolving Linux distribution that stays innovative by developing and integrating the latest programs, software libraries and tools. This powerful, flexible operating system is actually made for computer users who like to learn and experience newer versions of software. It is considered to be an innovative, flexible platform for PC, laptops, and hardware and more.
Q: What makes Fedora stand out among Linux operating systems?
A: Fedora Linux has a range of strong advantages, including a solid foundation, huge software availability, fast release of new features, excellent Flatpak/Snap support, and reliable software updates. While other Linux operating systems have their own characteristics, Ubuntu Linux is as flashy and Linux Mint is as user-friendly. But that doesn't stop Linux enthusiasts from acknowledging Fedora as a viable operating system.
Q: Does Spotify support Fedora Linux?
A: Spotify has recently released a Snap package. This means that Spotify can now be easily installed on any Linux distribution that supports Snap, including Fedora. As mentioned in the first part, it is relatively easy to install the Spotify Snap application after you have installed the Snap package on Fedora.
Part 4. In Conclusion
This article describes two possible ways to get Spotify on Fedora. It's pretty obvious that the way to install Spotify on Fedora might be a bit laborious for you. You'd better make full use of AudFree Spotify Music Converter to simply download and sync Spotify Music to Fedora Linux. Let Fedora with Spotify Music grab your attention and fulfill your life with great music.