Spotify offers music lovers a noteworthy feature to quickly create and customize playlists based on user preferences. Sometimes, you have created your favorite Spotify playlist and want to back it up, or accidentally found a favorite playlist, it would be a good idea to try to duplicate that playlist.
Do you have any ideas about copying Spotify playlists? If you are also interested in this topic, you can learn tips on how to copy a Spotify playlist from this article. Also, this post will end with an effective way to backup Spotify playlist without Premium.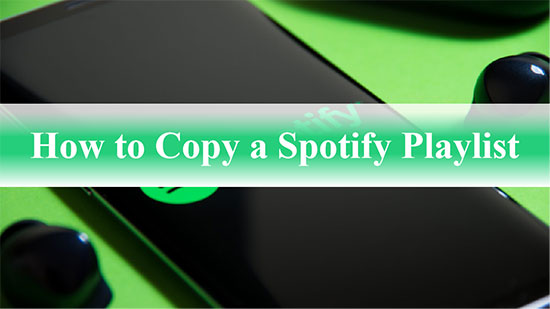 Part 1. How to Copy a Spotify Playlist
Once you have found some new playlists made by Spotify, you may follow these simple steps to copy Spotify curated playlists.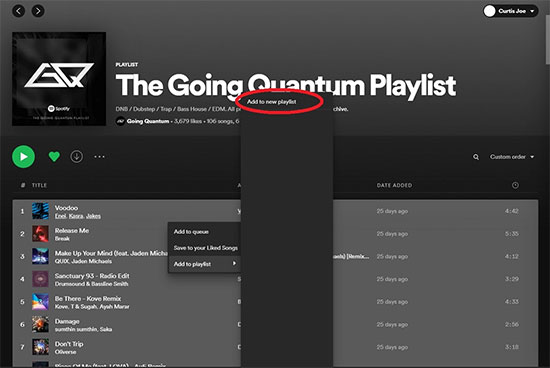 How to Copy Spotify Playlist for Computer
Step 1. Run the Spotify app on your computer desktop and find your favorite Spotify curated playlist.
Step 2. Right-click on that playlist and click on the "Create a similar playlist" option.
Step 3. Go to your favorite Spotify playlist and press Ctrl+A on your keyboard to select all the Spotify songs in the playlist.
Step 4. Now, drag the selection to your new created playlist so that you successfully get the Spotify copy playlist exactly similar to the original playlist.
Tips: The above method is only available for Spotify Premium users.
How to Copy a Playlist on Spotify for Mobile
Step 1. Open the Spotify app on your phone, select the "Your Library" tab, and tap the plus icon in the upper right corner.
Step 2. Name the new Spotify playlist and tap the "Create" option. Hit on the "Search" option to enter the name of the Spotify playlist you want to copy.
Step 3. Once you find the playlist of your choice, tap on the three dots next to each song to select the "Add to Playlist" option.
Step 4. You can repeat this process for the songs you copied, and once it's done, you can listen to the copied Spotify playlist in your library without any problem.
Part 2. How to Duplicate a Playlist on Spotify from Someone
At some point, you may accidentally find a Spotify playlist created by someone else that is just right for you, follow the instructions below to learn how to duplicate Spotify playlist from someone.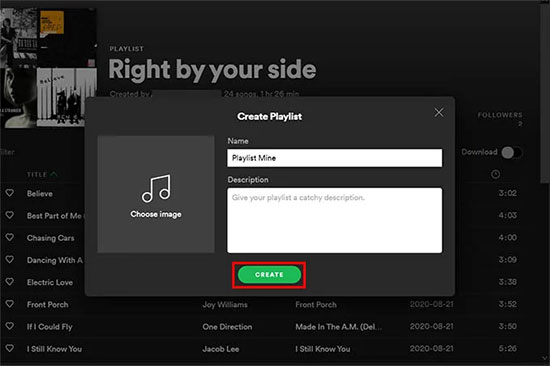 Step 1. Launch the Spotify app on your device and click the "New Playlist" button to create a new playlist.
Step 2. Name your playlist and click the 'Create' button afterwards to finish creating it. Go back to someone else's Spotify playlist and then select all songs from the playlist via keyboard shortcuts.
Step 3. Please drag and drop the selected songs into the newly created Spotify playlist directly, after that, you can enjoy the Spotify duplicate playlist whenever you like.
Part 3. How to Download Spotify Playlist without Premium
After you have copied your favorite Spotify playlist, you must prefer to keep the playlist for a long time. So, here is a permanent solution to backup Spotify playlists to meet your needs. In fact, you just need to make good use of the professional AudFree Spotify Playlist Downloader, a tool specially designed to download Spotify playlists.
With this powerful downloader, you can download and convert Spotify playlists to MP3, WAV, FLAC and other common formats effortlessly. Without subscribing to Spotify Premium plan, you have the ability to get Spotify songs downloaded on your computer locally. Also, it is worth mentioning that the original audio quality and metadata of Spotify playlists will not be lost in any way.
How to Download Spotify Playlist without Premium
Step 1

Import Spotify Playlists to AudFree SpoDable

First, install and run the AudFree Spotify Music Downloader and you will see that the Spotify app opens automatically as well. At this point, pick your favorite playlist directly from the Spotify software, then copy and paste its link into the search bar of the downloader. Then don't forget to press the Add icon nearby.
Step 2

Set the Music Parameters for Spotify Playlists

Press the menu icon in the top right corner to select the 'Preferences' option. Click the 'Convert' option in the opened settings window, and then you can start customizing the output format of your Spotify playlist as well as other audio parameters, including bit rate, channels, sample rate, etc., based on your actual needs.
Step 3

Backup Spotify Playlists without Premium

Please touch the "Convert" button to convert and download Spotify playlists. When you're done, you can click the "Converted" button to view the downloaded Spotify playlists. In this way, you are allowed to listen to Spotify playlists offline without Premium forever.
Part 4. In Conclusion
After reading the above, you will be surprised to find that copying Spotify playlists is not as hard as you think. Follow this article together to duplicate preferred Spotify playlists with ease. Besides, with AudFree Spotify Playlist Downloader, you have the privilege to download and backup Spotify playlists permanently.