Spotify is a great music streaming platform that provides music lovers with the latest hit tracks. Does Spotify have a download limit? Yes, Premium users can only download a maximum of 10,000 songs on five different devices and listen to Spotify Music on only one device at a time. This leads to a very annoying situation, when you want to download more new Spotify music, you have to delete some old files first.
Is there any way to solve this dilemma? Congratulation! It's available here. Today, this post will discuss Spotify download limit at length and present a professional tool to help you bypass Spotify download limit with ease.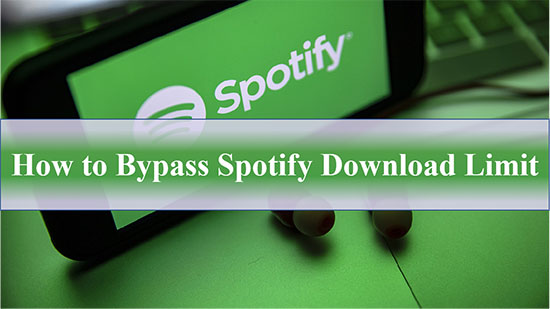 Part 1. Overview of Spotify Download Limit
What Is Spotify Download Limit?
The Spotify Premium download limits are as follows:
⚠️ Premium users can only download up to 10,000 songs on 5 different devices.
⚠️ You must log in to your account at least once every 30 days to continue saving your downloaded Spotify music.
⚠️ Once you cancel your Spotify premium subscription, you won't be able to enjoy downloaded Spotify music.
⚠️ Downloaded songs can only be played in the Spotify app and cannot be transferred to other devices or platforms.
Why Does Spotify Have a Download Limit?
Spotify has a download limit to prevent users from downloading too much music, which could lead to piracy or unauthorized distribution. In addition, Spotify maximum downloads limit helps manage the amount of storage space each user needs to download music, which in turn helps keep the app running smoothly for all users.
Part 2. How to Bypass Spotify Download Limit
As you already know, Spotify Premium has a download limit which has caused great inconvenience to users. By subscribing to Spotify Premium, you don't really own Spotify Music, but only have the right to listen to them on limited devices. Are you eager to bypass Spotify download maximum limit and listen to Spotify Music with freedom? No worries, everything you need is right here.
Here is a professional AudFree Spotify Music Downloader that is exactly what you are looking for. AudFree SpoDable is available for all Spotify users. With it, you can save as many as your favorite Spotify Music to your device without being affected by Spotify song download limit.
This omnipotent tool mainly works by downloading and converting Spotify Music to universal formats like MP3, M4A, etc. You can then keep these Spotify Music forever and upload them to any device like cell phones, tablets, sports watches, etc. The best part is that you can download and enjoy Spotify Music without Spotify download device limit .
How to Download Spotify Music without Download Limit
Step 1

Select Spotify Music to AudFree SpoDable

First download and run AudFree Spotify Music Converter on your computer. Then you will find that the Spotify software will load automatically, and you can directly select any Spotify Music you want to download. You can choose to drag and drop them onto the AudFree SpoDable interface. Or copy and paste the music links into the search box and click the Add button on the right to import Spotify Music.
Step 2

Customize Spotify Music Output Settings for Download

After adding Spotify Music to AudFree SpoDable, please click on the Menu bar in the upper right corner, then tap on the Preferences option. You need to switch to Convert bar this new window. Then you can convert Spotify Music to MP3, and of course, you can adjust the bitrate and channels to preserve the lossless quality of Spotify Music.
Step 3

Download Spotify Music in Freedom

Finally, click the Convert button in the bottom right corner of the software to start downloading Spotify Music without Premium automatically. Later, AudFree SpoDable will save the downloaded Spotify Music to your computer. This means that you have successfully bypassed Spotify download limit and you can then listen to Spotify Music offline for free.
Part 3. FAQs about Spotify Download Limit
Q1: How Many Songs Can You Download on Spotify?
In order to determine the Spotify download limit reached, you need to be aware of the amount of downloaded songs and the storage space available on your device.
Q2: Will I Lose the Downloaded Songs If I Cancel Spotify Premium?
Of course. Once you cancel Spotify Premium service, you won't be able to access downloaded songs offline anymore. But if you use this powerful tool AudFree SpoDable, you can not only download songs from Spotify for free, but you can keep Spotify music forever.
Q3: What Is Spotify Playlist Limit?
There is a limit to the number of songs that can be added to a Spotify playlist. Currently, the maximum number of songs that can be added is 10,000.
Q4: What Is Spotify Library Limit?
Spotify library limit is the maximum number of songs a user can keep in their library on the platform. Starting in 2022, the song limit is 10,000 songs for both free and paid users. This means that once users reach this limit, they will no longer be able to save additional songs to their library.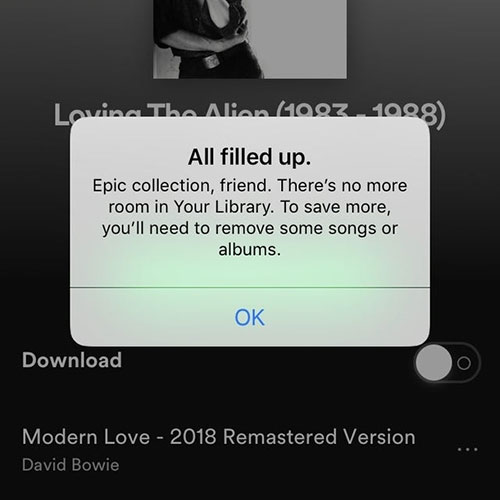 Q5: How to Solve Spotify Device Limit Reached?
Spotify has an offline track limit of 10,000 tracks per device. Once the Spotify device limit reached, you will need to delete some tracks before you can download more.
Part 4. In Conclusion
Although the annoying problem of Spotify premium download limit still exists, now with the assistance of AudFree Spotify Music Converter, you can remove Spotify download limit without any difficulty. From this point on, you can download any Spotify Music to computer and transfer them to your device for offline listening and keep your downloaded Spotify Music forever.