As the most popular streaming music service, Spotify attract 450 million music-lovers worldwide. With proximate 82 million songs, Spotify offers you the slew of public playlists made by itself and allows you to make Spotify Blend playlists just made by you. Both public playlists or private playlists can be added into your Spotify Library at will, so Spotify playlists will accumulate gradually as time goes on, which makes a clutter in your library if you don't organize Spotify playlists you added.
And potentially tired of some Spotify playlists you have streamed for many times, you want to delete the playlists from Spotify. If you happen to search for the methods to delete Spotify playlists, just read on this post in which you will learn all the details of how to delete a playlist on Spotify. Let's move on.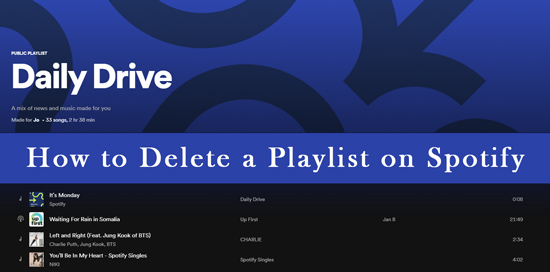 Part 1. How to Delete a Playlist on Spotify on Desktop?
If you download Spotify app on your desktop, methods of deleting Spotify playlists work the same on PC and Mac as below.
Step 1. Open Spotify app on your PC or Mac.
Step 2. Select the playlist on Spotify you want to delete from "Your Library" or the left penal if the playlist displayed on it.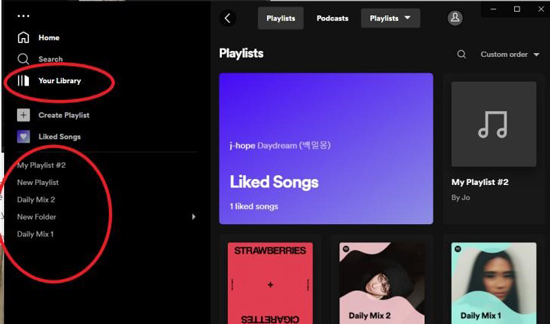 Step 3. There are two alternatives for you to delete a playlist on Spotify:
Right-clink directly the selected playlist without tapping into the playlist, and select "Delete" on the pop-up menu.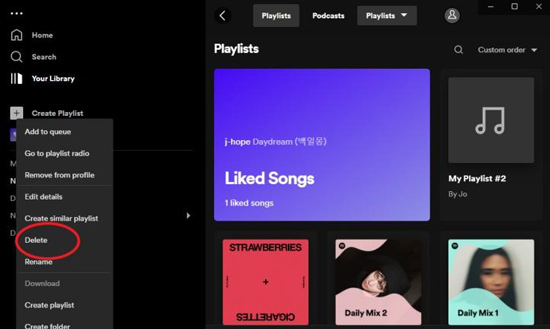 Tap into the playlist and clink 3-dot icon, then select "Delete" from the prompt list.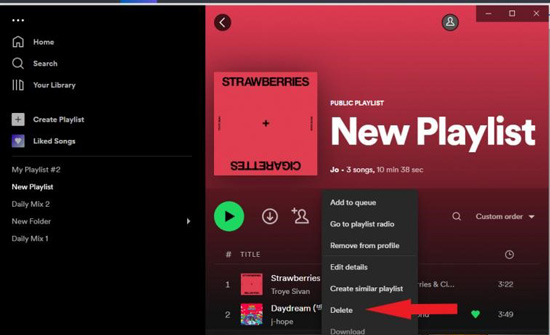 Step 4. A prompt message will appear to confirm if you really want to delete the playlist. Please clink "Delete" option.

Part 2. How to Delete Spotify Playlists on Mobile?
If you prefer to use Spotify on your android or iPhone, I also have detailed methods on how to delete Spotify playlists on mobile. Let's go!
Step 1. Launch Spotify app on your mobile.
Step 2. Tap into "Your Library" on the bottom right corner of the interface and select the playlist you will delete.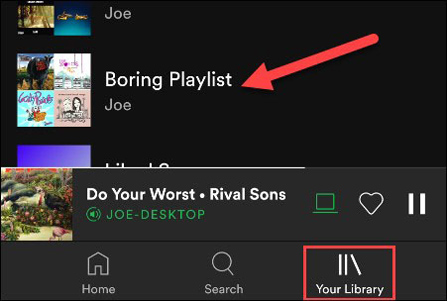 Step 3. Clink the 3-dot icon, then there will be a menu, you should select "Delete Playlist" from it.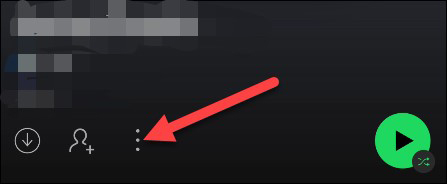 Step 4. A list may pop up to confirm if you decide to delete the playlist. You should select "Delete" from it. Then the playlist will be deleted from your Spotify at once.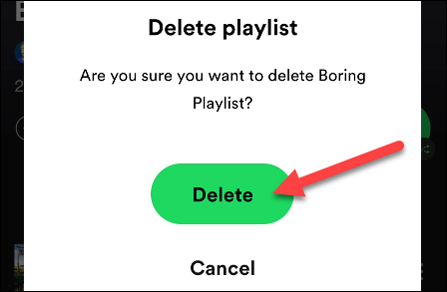 Notice:
Whether you delete Spotify playlists from desktop or mobile, you are only allowed to delete the playlist made by you. In other words, you are unable to delete Spotify playlists created by others or public playlists. You can choose to remove Spotify playlists via right-clink the playlists or clink 3-dot "…" icon Please select the "Remove from Your Library" on pop-up list.
Also, you delete a playlist on Spotify only from your Library. If someone subscribed or followed the deleted Spotify playlists, they remain able to listen to the playlists. You can either hide the playlist that will be deleted from subscribers and followers or delete all songs on the playlist to prevent them accessing your playlist.
Part 3. How to Delete Entire Playlists or Bulk of Playlists on Spotify?
Spotify allows you to delete playlists one by one with prompt message popping up each time. If you want to delete entire or bulk of playlists on Spotify, you can build a new playlist folder with right-clink. Then remove your entire or bulk of playlists into it and delete the playlist folder, which saves your much time.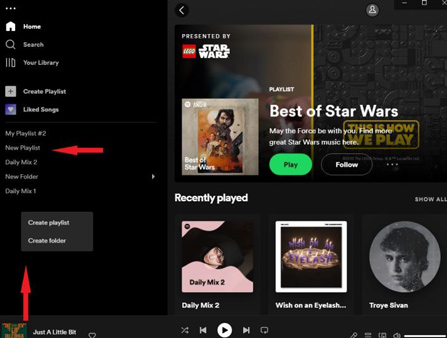 Part 4. How to Download Spotify Playlists to MP3?
Before you delete Spotify playlists, you can download the playlists to MP3 on your device. However, if you do not subscribe Spotify Premium, you are not allowed to download Spotify playlists. Don't worry. There is still a way out to download Spotify playlists without Premium.
All you need is a handy Spotify playlist downloader -- AudFree Spotify Music Downloader, specialized in converting and downloading Spotify playlists or Spotify songs in bulk with 5X faster converting speed and lossless songs quality for free. With full ID3 tags of Spotify playlists and personalized formats such as 320 kbps, the smart software is fairly suitable and easy for you to operate.
AudFree Spotify Music Downloader
Moreover, this Spotify converter also works for Spotify Premium plans if you want to playback Spotify playlists on other portable devices or players offline with personalized music quality at will, as it will facilitate you to download and output all the Spotify audios into more popular formats, such as MP3, FLAC, WAV, etc. with customizable parameters like bitrates, sample rates, channels, and so forth.
Here's how to download and convert spotify playlists to MP3 with Audfree Spotify Music Converter:
Step 1. Tap into one of your Spotify playlists.
Step 2. Select favorite songs from the playlist and transmit Spotify songs into AudFree SpoDable in two ways:
Copy the audio link from Spotify and paste it into AudFree SpoDable.
Drag the liked song or playlist and drop it into AudFree SpoDable, then press the symbol "+" to add files.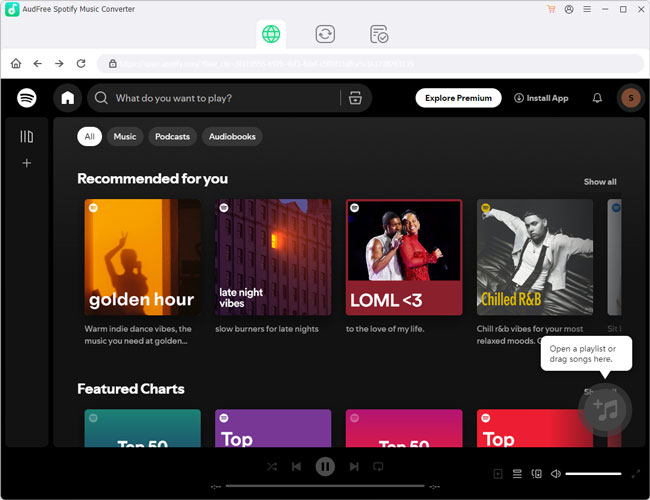 Step 3.Set conversion output format as MP3 or others, and customize other parameters.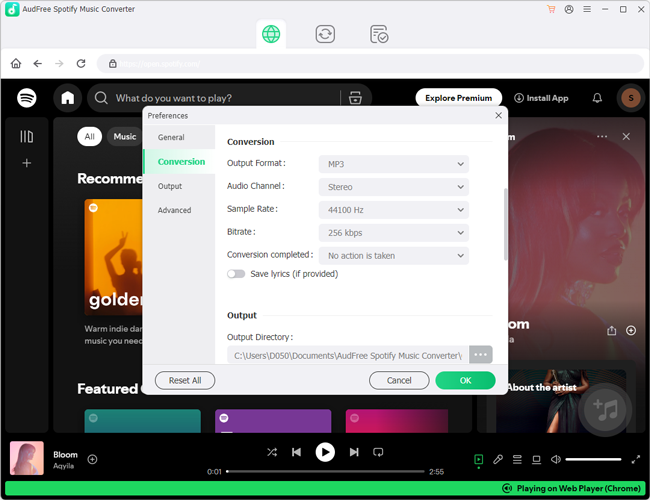 Step 4. Start to download and convert the Spotify playlist to MP3 with tapping the "Convert" button, then you can find the downloaded songs or playlists in the local file.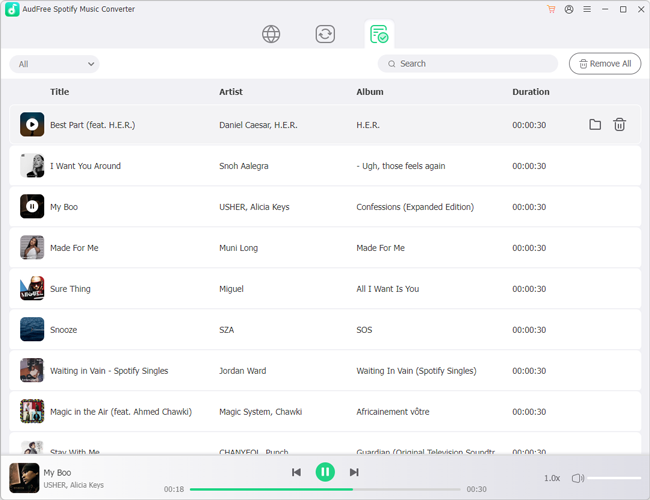 Part 5. More FAQs of Deleting Spotify Playlists
5.1 How to Follow a Playlist on Spotify?
The process is easy and available for all devices. Please open the playlist you want to follow and clink the great heart icon under the playlist cover. Alternative way is to right clink the playlist and select "Add to Your Library" or "Add to other playlist". After that, you can follow a playlist on Spotify.
5.2 How to Delete Songs from Spotify Playlist?
It just requires simple steps. Please right clink the songs you want to delete on a Spotify playlist and select "Remove from this playlist". And worth mentioning is that you can delete/remove songs from all of Spotify playlist whether they are created by you.
5.3 How to Recover Deleted Playlists on Spotify?
It is possible to recover the deleted playlist on Spotify if you deleted it in recent 90 days. Log in to your account, it will show Spotify official web page. Tap "Recover playlists" on the left menu, then clink "Recover" icon following the playlist you want to get back.
Part 6. In Conclusion
In this post, we have talked about a variety of solved methods on how to delete Spotify playlists on different devices including PC, Mac, Android or iPhone. On top of that, this post also provides you detailed solutions on how to delete entire playlists or bulk of playlists on Spotify and how to download Spotify playlists. If you have any doubt or other advice about that, welcome to leave a message on comment section.