I'm sure most of music-lovers have been using Spotify. But have you experienced Spotify Blend--a newest developed personalized feature on Spotify? Resembling MUS developed by NetEase Music, it discovers music friends and shares songs based on users' musical taste. Maybe you are curious about Spotify Blend and want to make further knowledge on it, so this post is written as a user guide to introduce details of Spotify Blend, including what is Spotify Blend, how to make a blend on Spotify and more info you want to know about Spotify Blend. Let's explore it now.

Part 1. What is Spotify Blend?
As the newest personalized function in the section of "Made for You" on Spotify for group listening, Spotify Blend, rolled out in August 2021 and updated in March 2022, serves to merge your musical tastes and preference with that of your friends or family members even your favorite artists into a shared playlist specially tailored for you, which drives users in a magic and awesome music journey. Compare with MUS designed by NetEase, Spotify Blend is superior to it, since Spotify Blend is designed with better blend plans and more professional algorithm. How Spotify Blend functions with these plans? Now let's step into the next part.
Part 2. How Spotify Blend Functions?
Music, at play in communication in a special form, is a bridge breaking down the Babel Tower gap among people in different languages and countries, bringing people together. Believing in that, Spotify developed its unique feature—Spotify Blend to connect you with friends, families and some of celebrated artists directly instead of share favorite songs one by one with much time. This post has concluded Spotify Blend's functions as follow:
2.1 Blend with Friends or Family Members
Spotify Blend can be regarded as a musical WhatsAPP. It integrated with Spotify's personalization algorithm and collaborative playlist functionality to launch a shared playlist. Spotify Blend is in the section of "Made For You", which means it is just for you. It allows you to invite any of your friends or family members who also have a Spotify account to join in your created Blend. Once they accept your invitation, Spotify Blend will automatically update your shared playlist with collecting the common songs in line with their musical tastes and that of yours right off the bat. Different from previous version that blend with only two users, as to today, the newest update version of Spotify Blend made strides in its functions, allowing up to 10 users to make a shared playlist if those users stay in the same group.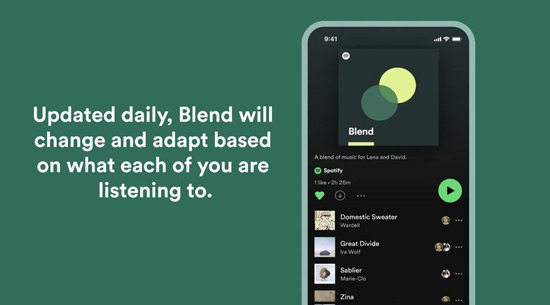 After Blend, you are even accessible to see which songs are collected for which people, who shares their music preference with you. Besides, Spotify Blend will show you a taste match score with a slideshow indicating the similarity or peculiarity of your music tastes and your preference after Blend as well as a couple sleek infographics resembling Spotify's Wrapped playlist that reviews this year's songs you have streamed. More importantly, Spotify Blend will update everyday synchronized with Blend members' streaming activity and habit. That is awesome just like a daily surprise, since everytime when you blend with your friends or listen to new songs, you will be presented with new songs and social recommendations. With that, you are able to discover new tracks, albums, genres, and artists that all of you enjoy and unique and shareable stories about every song, which arouses your curiosity and expectation.
As a multi-device and cross-platform application, Spotify Blend allows users to blend playlist on different devices such as Android, iPhone, or via the web and share with your playlist, sleek info-graphics and taste match score to various social media such as Facebook, Snapchat, Instagram or Twitter with offering a custom share card.
2.2 Blend with an Official Artist
In addition to Blend with friends or family members, Spotify provides opportunities for you to Blend with their official artists. Apart from the former, the later combines your musical preference with those of legendary artists and allows only you to enjoy the Blend playlist that tailored only for you.
As of today, Spotify has signed up with 20 artists involving BTS, Charli XCX, JO1, Kacey Musgraves, Megan Thee Stallion, BE: FIRST, Mimi Webb, Tai Verdes, Camilo, Diplo, Badshah, CRO, Bennett Coast, AB6IX, and more
After Blend with some of artists you love, you gain edges to compare and check your musical taste with others and know about creative influences of those artists and receive a share card to show your playlist on different platforms.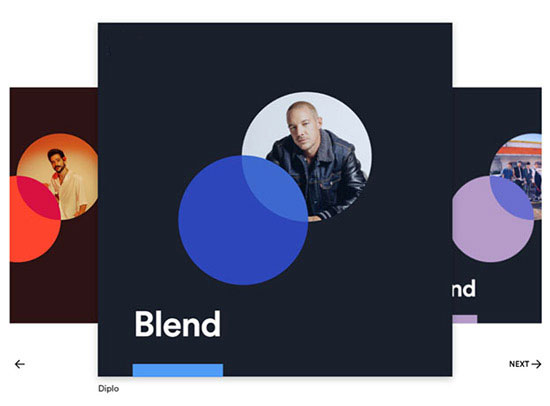 Part 3. How to Make a Spotify Blend?
After scanning the content above, maybe you are curious about how to create a Spotify Blend playlist, so let's explore now.
3.1 How to Make Spotify Blend with Friends or Family Members
The First Way:
Step 1. Open your Spotify and click the "Search" tab on the upper left.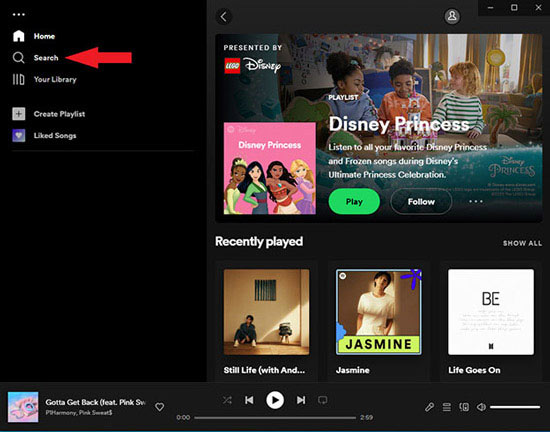 Step 2. Find out the section "Made For You", then click it into the Spotify Blend, or search "blend" if you have made a Spotify Blend.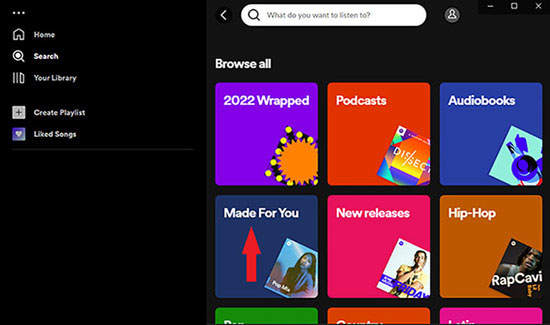 Step 3. Select "Create a Blend" and then pick up people (friends, family members or artists) you want to invite for joint creating the playlist.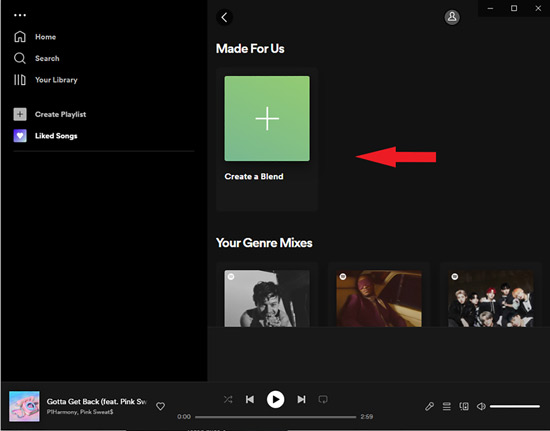 The Second Way:
In addition to create a Spotify blend and invite friends or family, you can also choose to invite collaborators from you own private playlists.
Step 1. Open any one of your private playlists.
Step 2. Tap "+" icon and start to invite collaborators to your playlist.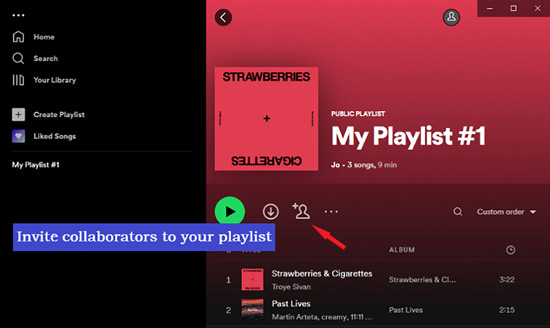 3.2 How to Do Spotify Blend with Artists
You are allowed to Blend with official artists teaming up with Spotify into one shared playlist to match your music taste with them.Here's the simple how-to.
Step 1. Search the artist's name, and tap into the artist's Spotify profile.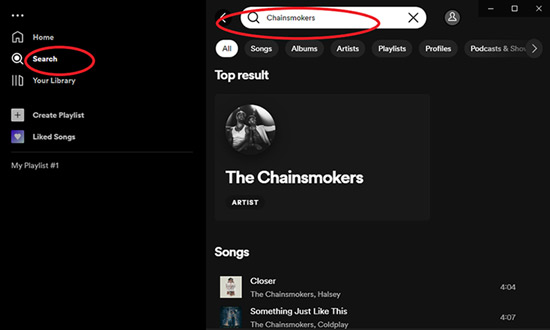 Step 2. Find out the "Pick Up" tab in the profile and get the invite link (or you can also get invite links of artists from their social medial account)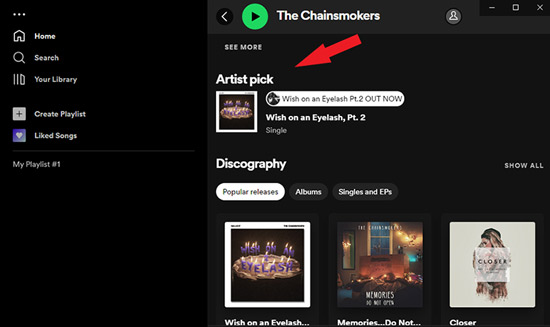 Step 3. Tap the invite link and opens it on the Spotify, then you can Blend with the artist
3.3 How to Make Spotify Blend on Mobile
You potentially prefer to listen to Spotify songs on your mobile, so let me describe how to make Spotify Blend on mobile, which is both the same and available for Android and iPhone.
Step 1. Launch Spotify on your Android or iPhone and find out "Search" bar on the bottom centre, then tap it.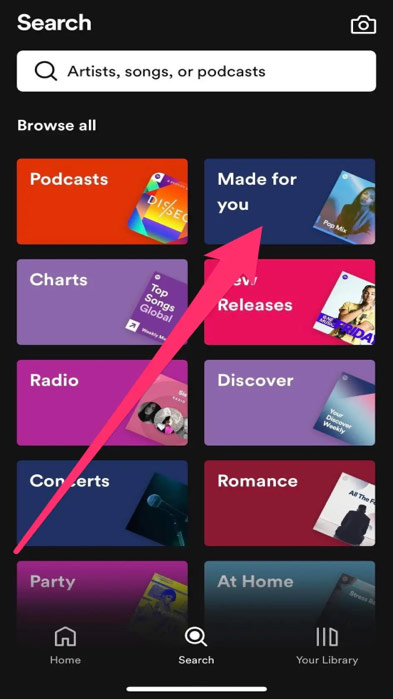 Step 2. Tap into the section "Made For You", and press "+" tab to create a Blend.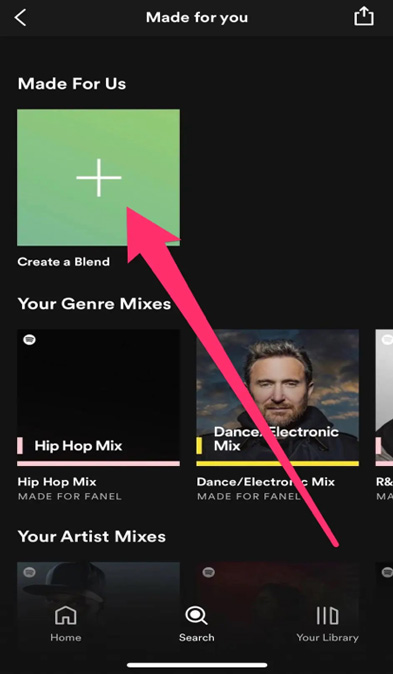 Step 3. Invite friends or family members to collaborate Blend playlist with you.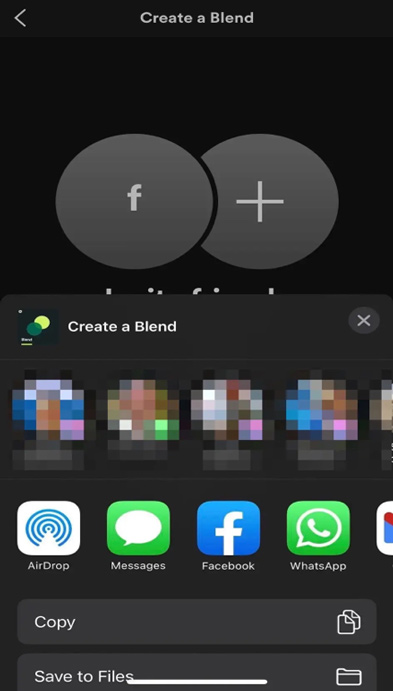 Part 4. How to Download Spotify Blend Playlist Offline?
Worth mentioning is that whether a Spotify Free user or a Premium subscriber, both of them get access to blend on Spotify. However, unlike Spotify Premium users who can access to all the services of Spotify, Spotify Free users lingers the slew of restrictions. To be specific, Free users are subject to the disturbing of annoying ads and unable to download Spotify tracks, including the Spotify Blend. However, if you are the free user of Spotify and prefer to call for offline listening Spotify Blend or any other songs or playlists on any device or player at anytime, there's still a way out to download Spotify music without Premium.
All you need is a convenient Spotify converter--AudFree Spotify Music Downloader, which adept in converting and downloading Spotify Blend playlist in batch with 5X faster speed and lossless songs quality for free. With preserved ID3 tags of Spotify songs and customizable formats such as 320 kbps, the smart software is exceptionally suitable and simple for you to use.
In addition, this Spotify converter also works for Spotify Premium plans if the users want to play Spotify songs on more portable devices with customized music quality, as it will help you to download and output all the Spotify audios into more popular formats, such as MP3, FLAC, WAV, etc. with customizable parameters like bitrates, sample rates, channels, and so forth.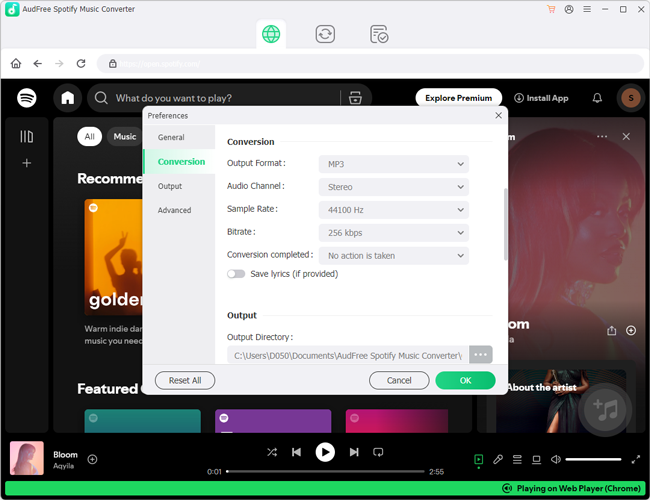 Here's how to download spotify blend with Audfree SpoDable.
Step 1. Tap into one of your blended playlists.
Step 2. Select favorite songs from your Spotify Blend playlist and transmit songs from Spotify Blend into AudFree SpoDable in two ways:
Copy the audio link with right click from Spotify and paste it into AudFree SpoDable.
Drag the selected song or playlist and drop it into AudFree SpoDable conversion window, then press the symbol "+" to add files.
Step 3. Set conversion output formats and other parameters.
Step 4. Start to download and convert with tap the "Convert" icon, then you can find the downloaded songs or playlists in the local file named "AudFree Spotify Music Converter".
Part 5. Frequently Asked Questions of Spotify Blend
5.1 How to leave a Spotify Blend?
Get into the section "Made For You" and select a Spotify Blend you have got. Then tap the 3-dots "…" tab on the upper right corner. After that, you will leave the Blend immediately.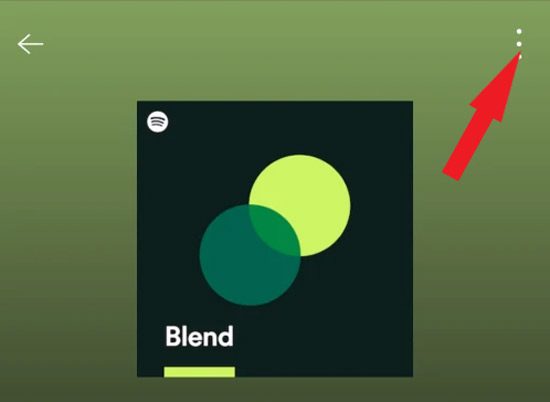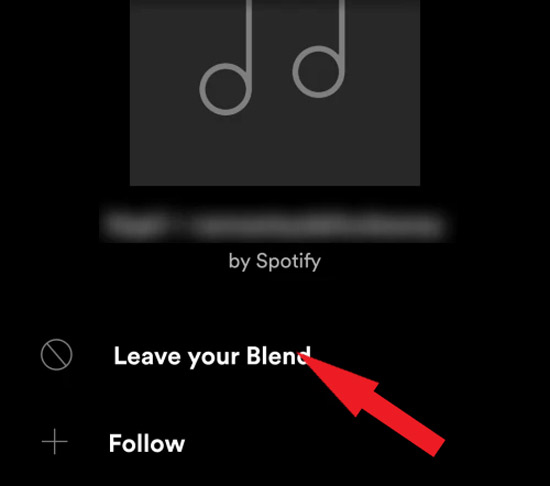 5.2 Can I blend with strange users on Spotify?
As to today, Spotify Blend allows you to mix only with your friends, family members and official artists, since it is designed to narrow the distance between you and your friends and family members.
5.3 Spotify Blend not working?
Maybe your Spotify Blend didn't work as expected. Specifically, your Blend playlists didn't update daily. There are two main reasons for it. The first reason is that during this time, there is no new songs released on Spotify, and you didn't listen to new songs except your Blended playlist. The second is that you and your collaborators had no streaming activity on Spotify. On account that Spotify Blend works well based on your musical taste and preference, so you and your collaborators should attempt to listen to new songs or new artists' music that will show your musical taste data to Spotify algorithm, then Spotify Blend will work.