Spotify is undeniable one of the most popular music streaming service, having two plan options, which are - Spotify Premium and Spotify Free. In general, both the plan users can listen to all the songs on the music library, which has around 40 million songs options to choose from. Nonetheless, here, we will find out certain other variances amid the two plans, and, whether it is wise for the users to upgrade their Spotify plan?
View Also: Top Ten Best Music Streaming Services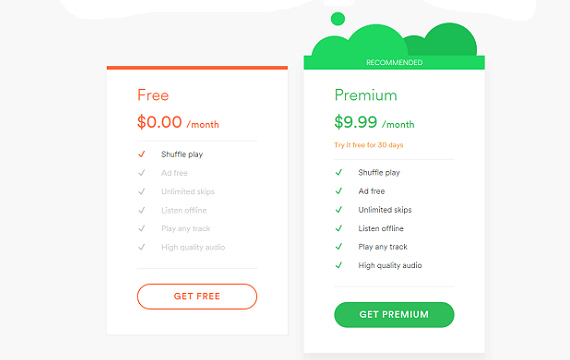 1. Affordability in terms of Price
When it comes to Spotify Free, users will be able to listen to albums, playlists or songs free of cost. Along with a web player, the Spotify app can be used on Mac, Windows, and Android or Apple devices. For this, you are required to log in through FaceBook, or, use your email to sign up to the Spotify account.
You can subscribe to Spotify Premium through various plans. The majority of the users go for $9.99/month individual plan. But, users can also avail a discount of $20 by choosing another plan of $99/year. Also, one can get a family premium plan, which allows six users to use the plan for $14.99/month. With this, there is one more plan for PlayStation gamer, which allows the user to use Spotify at $2 for two months, and this plan can be used by users with PS3 or PS4. Moreover, Spotify also offers a plan for the students, with which the students can get a Premium plan for $4.99/month, only if the students have a student ID.
In case, you think that you are satisfied with the Spotify free account, then you can just enjoy the free plan. Or else, you can make the right plan in accordance to your needs. Also, you can choose free Premium plan trial for 30-days before making the decision on whether you want to go for the Premium subscription or not. It's important to note that the subscription will cancel automatically after 30 days.
2. Spotify Free vs Premium Audio Quality
Spotify applied OGG Vorbis format in all kinds of its Spotify tracks, plus, for streaming Spotify music, there are 3 different quality settings. Over-all, the free users can listen to standard quality on web player, 160kbps on desktop and select Normal quality for 96kbps and High quality for 160kbps on mobile devices. After you become a Premium member, you will get Extreme quality for 320kbps on both mobile and desktop. One might want to go for the Premium Spotify account as it lets the user to experience high quality audio.
3. Listening Experience - Spotify Premium vs Free
Both the accounts – Spotify Free and Premium, let you simply listen to the Spotify music tracks on your Xbox, Apple or Android smartphone, Windows computer or Mac, PS3, PS4, paired devices or smart TVs. However, there are certain variances in the listening experience.
Free Spotify users cannot download music for offline listening, no matter what platform they are using. Also, while listening to the music from Spotify, the free users are always interfered with advertisements. In general, the Spotify Free has less restrictions on Mac and Windows computer, as the user can freely pick favorite songs, playlists, artists, or albums and make use of social features. But there are certain limitations when you use Spotify app on mobiles. You won't be able to control your tunes much. If you are using an Android or iPhone, you can only play Spotify tracks in Shuffle Mode. Also, you can't skip more than six songs in an hour.
Because of all these reasons, an upgrade seems like a good option. After subscribing Spotify Premium plan, you can listen to ad-free music and shuffle any album, song, or playlist without restrictions. This means that you listen to Spotify tracks on desktop and play any music at any time on your mobiles. Obviously, the biggest advantage of the Premium account is that you can get the access to download Spotify music to three diverse devices, so that you can listen to it when you are offline. In addition, the fashionable feature, which one can access only in the Spotify Premium is, 'Spotify Connect', which let you to regulate Spotify songs in different devices.
Spotify Free vs Spotify Premium – Which Should You Choose
Prior to making a final decision, let us go through the following table, comprising the variances amid Spotify Free as well as Premium service.
According to us, if you have Spotify Free and believe that you don't have any problem in allowing Spotify to regulate your music, plus you are okay with the quality of the music as well as listening experience, then there is no need to switch to the Spotify Premium. Actually, the biggest disadvantage of free account is that it allows you to listen to the Spotfiy music online only. Fortunately, there is a good workaround, which can turn the Spotify experience extremely pleasant, as this helps you download songs from Spotify. For this, go through the following source How to Download Spotify Music without Premium.
But, Spotify Premium is a perfect option for you if you are looking for a good listening experience, and, would like to have a complete control on the album and playlist, and don't want to see the ads, and have high quality requirements for music. If you think that the prices for the premium account are on the higher side, then you can make use of AudFree Music Converter for Spotify that can download and convert Spotify DRM songs to common audio formats with one click, which will help you to get the Spotify Premium membership for free, which will seem like you have spotify free premium account, and that's too lifelong.