Listening to music during exercise isn't just for entertainment, it can also make your workout much more efficient. That's because music can boost your endurance and keep your mood high. And there are many different playlists on Spotify for you to choose from while you exercise. Can you play Spotify music on your NordicTrack treadmill?
All NordicTrack treadmills allow you to play music through the built-in speakers. However, Spotify and NordicTrack treadmills are not integrated and you can't use the Spotify app directly. So if you're wondering how to play Spotify on NordicTrack treadmill, you'll find this article helpful.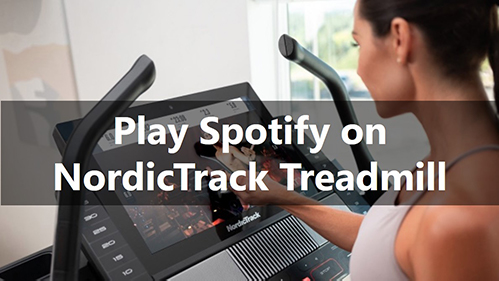 Part 1. Tool to Connect Spotify to NordicTrack Treadmill
The NordicTrack treadmill uses the iFit Smart Cardio app to download and play audio. It's easy to use, even for beginners. However, NordicTrack has not yet integrated the Spotify app into its app portfolio. Fortunately, NordicTrack enables you to connect your MP3 player, CD player or other personal audio player to the console so that you can play music.
However, since Spotify encrypts in the Vorbis OGG file format. This is not compatible with NordicTrack's music stereo system. So you need to use AudFree Spotify Music Downloader to download Spotify music as MP3. After converting Spotify music, you can play Spotify on NordicTrack treadmill and most other audio players and devices.
Why is AudFree Spotify Music Downloader? Because it downloads and converts Spotify music at 5X with lossless audio quality. And it supports multiple output audio formats including MP3, FLAC, AAC, etc. What's more, you can even change the output quality and other parameters. So, you can now download it via the "Download" button below.
Part 2. How to Download Spotify Music for Playing on NordicTrack Treadmill
In this section, you will learn how to download Spotify songs to MP3 and play Spotify music on NordicTrack treadmills. Now, please browse the tutorial below carefully to download Spotify music to your computer with AudFree Spotify Music Converter.
Step 1

Add Spotify songs to AudFree SpoDable

Open the AudFree Spotify Music Downloader. You will see that the Spotify application is also open. Now add Spotify songs to it by dragging and dropping them. Or you can copy the URL of the song and paste it into the search box. Finally, click on the "+" tab next to it.
Step 2

Reset Spotify output format as MP3

Please click "Menu bar" > "Preferences" in the upper right corner to open the new output settings window. Then select the "Convert" section to reset the output format to MP3. You can also customize other parameters as shown on the window. Remember to click "OK" when your settings are done.
Step 3

Download Spotify to MP3 for NordicTrack Treadmill

Finally, just click on the "Convert" button. And AudFree Spotify Downloader will automatically download Spotify music to your computer. The batch download speed is up to 5X. When the download is complete, you can find the downloaded music in the "history" section.
Part 3. How to Play Spotify on NordicTrack Treadmill
After downloading Spotify songs to MP3 to your local system, you can stream them to any platform or speaker without any issues. Because the NordicTrack treadmill accepts input from any external speakers. You can use an audio cable, Bluetooth or USB to transfer the downloaded Spotify music to your MP3 player, CD player, or other personal audio player. Then you can stream Spotify to NordicTrack treadmill from your audio players.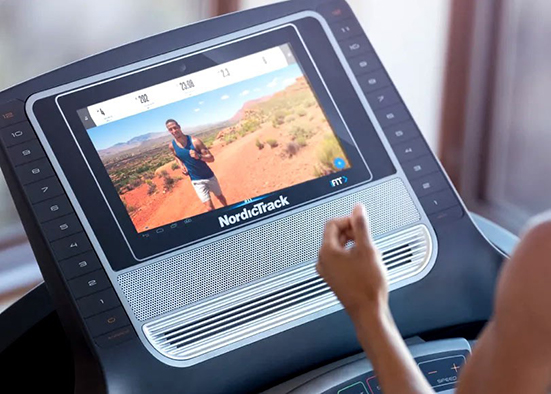 Step 1. Transfer the downloaded Spotify files to your audio player using a USB cable.
Step 2. Plug an audio cable into the audio jack under "Live Workout" on the NordicTrack treadmill.
Step 3. Plug the other end of the audio cable into your audio player.
Step 4. Now you can click the "Play" button on your audio player. And Spotify music will automatically stream to the NordicTrack treadmill.
Part 4. FAQs about Spotify NordicTrack Treadmill
Q1: Does the NordicTrack Treadmill have Bluetooth?
A: Yes, the NordicTrack treadmill models have a built-in speaker console that has Bluetooth functions.
Q2: Can You Play Your Own Music on NordicTrack s22i?
A: Yes, you can use your phone to play music on NordicTrack in 3 ways. Connect directly to the treadmill via Bluetooth, use a cable to connect your phone, or use a Bluetooth adapter.
Q3: Can You Use Streaming Services with NordicTrack?
A: Unfortunately, no. You can't turn on Spotify or Apple Music to play music. If you want to play something from YouTube, you'll definitely need to use an external device like your phone and connect via Bluetooth.
Q4: Can I Connect Spotify to NordicTrack?
A: Yes, you can use AudFree Spotify Downloader to download Spotify music as MP3 and then transfer the downloaded music to the audio player. In this way, you can play Spotify on NordicTrack treadmill through the audio player.