A Spotify MP3 downloader is software or a tool well-designed for music lovers to download Spotify songs to MP3. It allows users to save Spotify music locally and play it on MP3-supported devices, like MP3 players without a problem.
Launched in 2008, Spotify, the Swedish-born platform stands as a trailblazer in streaming music field. It redefines the way we consume and discover music. With more than 100 million songs, over 5 million podcasts, and 350,000+ audiobooks, Spotify provides an unparalleled listening experience.
Although you can access the Spotify music library across various devices, it needs to be bundled with the Spotify app. So today, we will introduce the top 10 best Spotify downloaders to MP3 for you to unlock this restriction. These tools give you the flexibility to explore music on the go.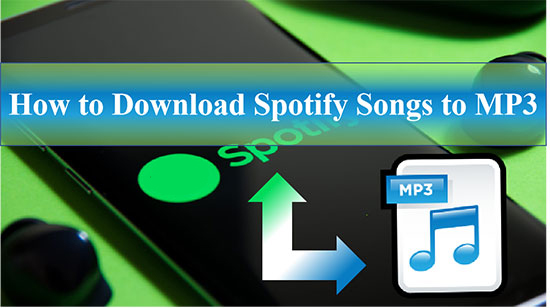 No.1 AudFree Spotify Music Converter [Windows/Mac]
AudFree Spotify Music Converter can be put in the top 1 place of Spotify MP3 downloaders for Mac/Windows. It is a professional music downloader and controller for both Spotify-free and premium users.
It helps you download Spotify songs to MP3 on Mac and Windows computers without touching the original audio quality at a faster conversion speed. You can use it to download not only songs but also playlists, albums, podcasts, or any other audio from Spotify. Apart from exporting Spotify MP3 downloads, it's able to download Spotify music to FLAC, AAC, M4A, M4A, and WAV.
Why Does AudFree SpoDable Stand Out Among Spotify MP3 Downloaders?
Why is it ranked #1? Because it has many outstanding features that other ordinary Spotify to MP3 downloaders don't have. You can check them out below:
✨All Spotify Content Download: Allows users to download not only individual Spotify songs but also whole Spotify playlists and albums at the same time.
✨Multiple Output Formats: It can convert Spotify music to MP3 and other various audio formats for offline playback. There are six output formats you can find in this software.
✨Support Batch Conversion: It can download multiple tracks simultaneously, saving time for users who want to download entire playlists or albums.
✨Preservation of Metadata: It retains all ID3 tags and important metadata information, such as song title, artist, album, and album artwork during the conversion process.
✨Keep Lossless Quality at High Speed: It strives to maintain the original audio quality of Spotify tracks while getting Spotify song downloads to MP3 at a fast conversion speed.
✨User-Friendly Interface & Frequently Updates: It features a user-friendly interface with a straightforward design. It's easy to use even if you are not skillful in technical expertise. And it keeps updating frequently to improve its performance and be compatible with the latest Spotify version.
How to Download Spotify Songs to MP3 via AudFree SpoDable
AudFree Spotify Music Converter is available for Mac and Windows computers. Please download the right version of this software on your computer and then see how to use it to download music from Spotify to MP3 easily.
Step 1. Import Spotify Songs to AudFree SpoDable. Once you launch AudFree SpoDable, it will automatically open the Spotify app. Then there are two simple ways to import Spotify music to AudFree SpoDable. You can choose to drag and drop each song/playlist/album into AudFree's main interface. The second way is to copy the URL of Spotify songs and paste it into the search box of the software. Then click on the "+" icon and all the songs you are ready to download will be listed in the interface.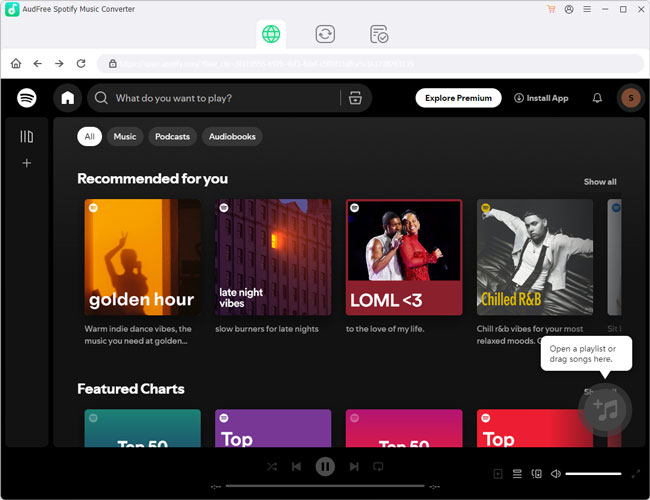 Step 2. Select Spotify Songs Output Format as MP3. On the right-upper corner, click on the three-line menu. And you will need to select the "Preference" option, and then choose the "Convert" tab. There you can choose to set the output format of Spotify songs as MP3. It is worth mentioning that you can also select other output formats such as FLAC, WAV, AAC, M4A, M4B. And you can even customize your own-styled piece by changing the sample rate or bite rate.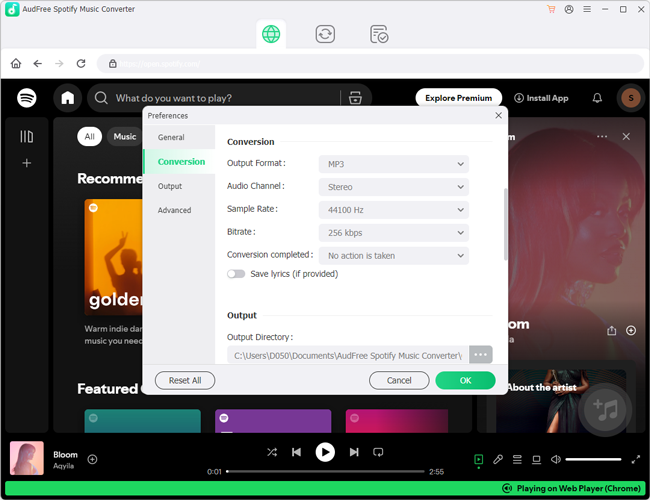 Step 3. Download Spotify Songs as MP3. Click the "Convert" button and it will download songs on Spotify to MP3. Thanks to the 5X conversion speed, in just a short time you can find your downloaded MP3 Spotify files in the "history" list. Now you can enjoy your Spotify music offline and play it on the device you want.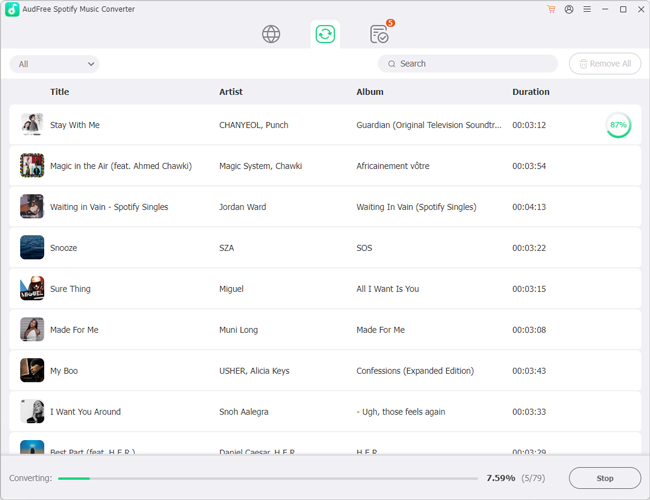 No.2 Soundloaders Spotify Downloader [Windows /Mac]
Soundloaders Spotify Downloader is an open-source and free Spotify MP3 downloader, which can download Spotify tracks to MP3 without spending any cent. Actually, Soundloaders has elven other streaming music downloaders, such as Apple Music, Bandcamp, Mixcloud, Napster, Deezer, YouTube Music, and SoundCloud. So, if you also want to download music from other streaming music platforms, you can also think about Soundloaders.
Soundloaders Spotify Downloader is available for both Windows and macOS computers. It doesn't require you to download the Spotify desktop app as it can support Spotify Web Player directly. But it can only identify song links, sometimes fails to convert, and exports low audio quality at 128 kbps.
How to Download Spotify Song Free as MP3 via Soundloaders
Here is the step-by-step instruction to download Spotify music to MP3 for free with the help of Soundloaders.
Step 1. Open the Spotify app or its Spotify Web Player.
Step 2. Find the songs you want to download. Click on the three dots and select "Share" to "Copy Song Link".
Step 3. Go to the official website of Soundloaders and download this Spotify song downloader to MP3. Paste the link into the text input.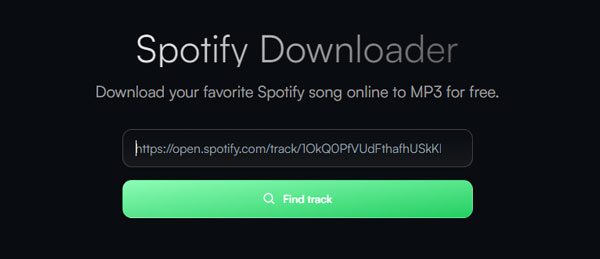 Step 4. Click on "Search" to load the song. Then click on "Download" to download Spotify songs as MP3 online free.

No.3 Spotify Deezer Music Downloader [Chrome Extension]
Spotify & Deezer Music Downloader is a free Google Chrome extension. It enables you to download MP3 from Spotify Web Player with one click. Although you can't access this extension from Google Web Store right now, you can add it to your Chrome browser from a third-party website - ChromeStats. Then you can use this Spotify online downloader to MP3 on both Windows and Mac as long as you have a Chrome browser.
Since it is free, there may be some minor issues here, like you will not be able to download Spotify songs with 100% lossless quality. Besides, users sometimes get missing songs or with wrong ID3 tag information.
How to Download Spotify Songs to MP3 Online Free via Chrome Extension
If you can accept all drawbacks, you can refer to the following tutorial to download music with Spotify Deezer Music Downloader
Step 1. Install and launch Spotify & Deezer Music Downloader on your Chrome browser.
Step 2. At the same time, the Spotify web player will load immediately, log in to your Spotify account.
Step 3. Find the Spotify music, album or playlist you want to download. And click the "Download" button on each track to get the Spotify MP3 tracks.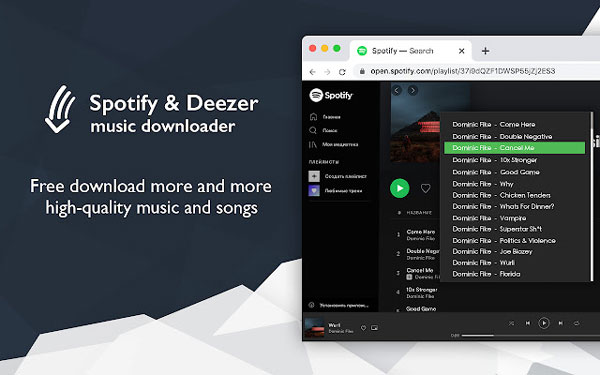 No.4 Spotify Downloader to MP3 [Online]
Spotify-Downloader is an online website designed for Spotify users to download Spotify songs for free without installing extra software. When you have a stable internet connection, it is ready to serve you. It supports Spotify songs, albums, and playlists. What's more, it even doesn't require you to authorize your Spotify account. You just need to find a music link and then get MP3 downloads. There are two output formats it supports, including MP3 and ZIP formats. But you should verify that you are a human before saving tracks.
How to Download MP3 from Spotify Online via Spotify-Downloader
With convenience and ease, the operation process is very easy. Here are steps to download music and albums for free online via this Spotify downloader MP3 online.
Step 1. Search a Spotify song link in the Spotify app, Spotify Web Player, or online directly, and copy the Spotify URL.
Step 2. Navigate to Spotify-Downloader website, copy the URL into the "Enter link" box, and click the "Submit" button to load all songs. Now, you can choose "Download" button to start downloading process.

Step 3. Click the "Save" icon to save Spotify songs as MP3 or ZIP format. After that, all Spotify songs will be saved in your computer's local files in MP3 format.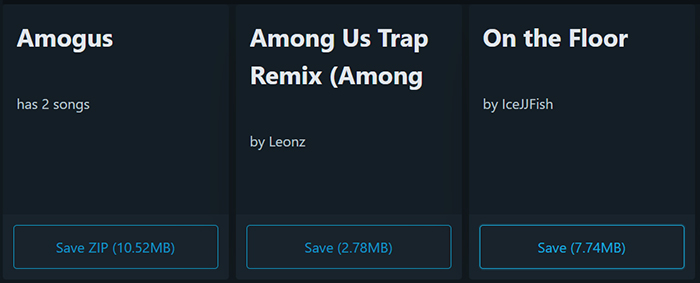 No.5 AlltoMP3 [Windows/Mac/Linux]
AllToMP3 is a music link downloader compatible with Windows, Mac and Linux systems. It can convert Spotify, YouTube, SoundCloud, and Deezer to MP3. This tool is completely free to download any track, playlist or album you like from Spotify. Besides, AllToMP3 preserves the lyrics, artwork and tags of Spotify songs.
It is also specially designed with a search engine that will help you find song sources from different platforms. Meanwhile, this application is still under constant development. Therefore, users may encounter some minor problems when using this software, such as slow conversion speed, loss of output audio quality, and unstable operation process. But this does not prevent it from being a good tool for users to download Spotify music.
How to Download Music from Spotify to MP3 Free via AlltoMP3
Let's see how to use this Spotify music downloader to MP3 on your computer below:
Step 1. Go to the official website of AllToMP3 on your Windows/Mac/Linux computer. Then select the appropriate version of AllToMP3, and install it on your computer.
Step 2. Launch Spotify software on your computer. Browse for any Spotify tracks you want to download and copy the links to the tracks from Spotify.
Step 3. Next, launch AllToMP3, paste the Spotify song links into the search bar and press the "Enter" key on your keyboard. Then AllToMP3 will immediately start to do the ripping of Spotify audio and convert downloaded Spotify files to MP3 at no cost.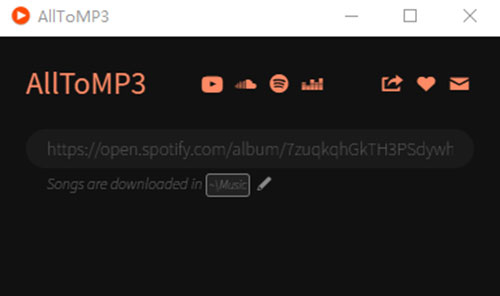 No.6 Audacity [Windows/Mac/Linux]
Why do we recommend Audacity to you? This is not only because it is an easy-to-use Spotify music recorder and editor, but more importantly, it is a free, open-source and cross-platform software. It works by recording Spotify music playing on your computer via microphone or mixer, and then outputting the recorded Spotify music in different file formats, including MP3.
Besides, this process can be implemented in Windows, macOS, GNU, Linux and other operating systems. Therefore, with this excellent free Spotify MP3 downloader, you can easily and freely get Spotify MP3 downloads on many devices.
How to Download Spotify Music to MP3 via Audacity
You can follow these general steps to rip and download MP3 songs from Spotify via Audacity.
Step 1. Download and open Audacity. Remember to turn off software playback before recording. Simply click "Transfer" > "Transfer Options" > "Software Playback". Then click on the "Options" button to select the export format as MP3.
Step 2. Play any Spotify music that you want to record in Audacity directly. Then go back to Audacity and don't forget to click the "Record" button in the Audacity Transfer toolbar to start recording Spotify songs.
Step 3. When the recording is done, click the "Save" button and Audacity will start to rip and download all Spotify songs at once to MP3 free in real time. After that, you can view the recorded Spotify music on your computer.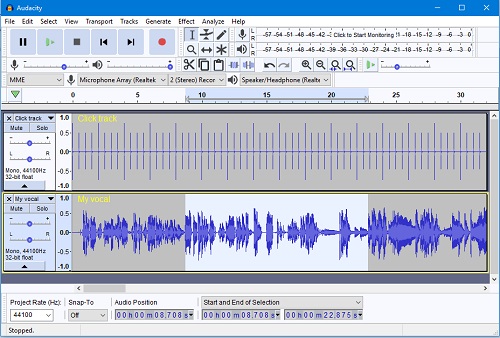 No.7 AudFree Audio Capture for Spotify [Windows/Mac]
AudFree Audio Capture is also an audio recording software, similar to Audacity. But it can export higher audio quality of Spotify audios (320kbps) than Audacity has. It is compatible with computers running Mac and Windows operating systems. You can use it to capture any sound from your computer.
The ability to edit ID3 tags and rename Spotify music enables you to manage your Spotify MP3 music easily and efficiently. Besides, it empowers users to convert Spotify to WAV, FLAC, M4A, M4B, and AAC. Due to this feature, it's able to transfer and play Spotify tunes on more devices.
How to Download Spotify MP3 at 320kbps via Audio Capture
Here's a simple guide on how to use AudFree Audio Capture to download songs as MP3 at 320 kbps.
Step 1. Download, install, and open AudFree Audio Capture on your Windows or Mac computer. And add Spotify app to the main interface by clicking the "+" button.
Step 2. Click on the settings icon to adjust output format, audio quality, and other preferences. And then open the Spotify app to play a song.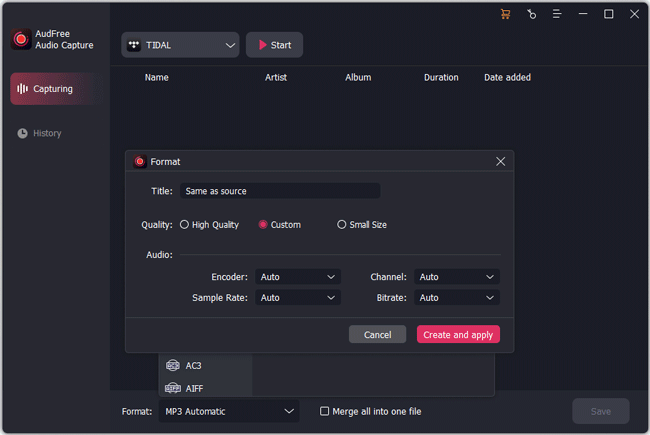 Step 3. AudFree Audio Capture will start to record audio and convert downloaded Spotify songs to MP3 files at the same time.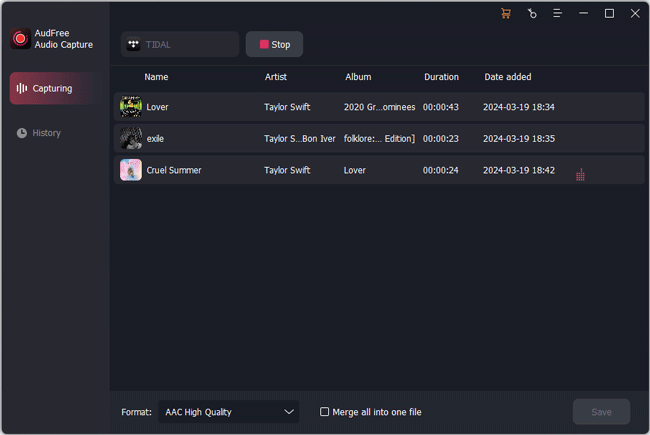 Step 4. When you've captured the desired audio, click the "Stop" button in AudFree Audio Capture to end the recording process. If necessary, you can edit or cut the recorded Spotify music. Or, you can directly click the "Save" button to save Spotify MP3 downloads to your computer.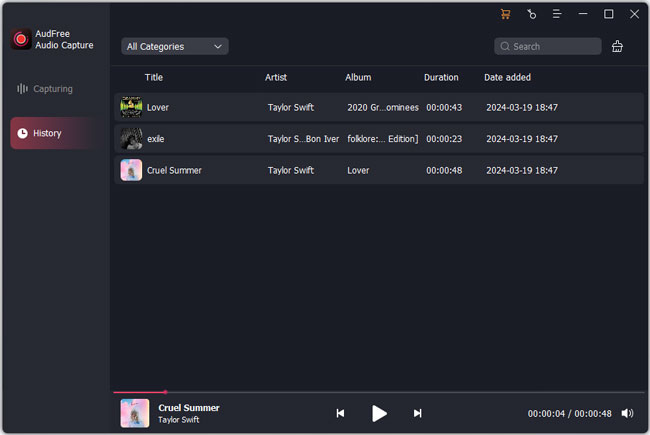 No.8 Telegram Bot Spotify to MP3 Downloader [iOS/Android]
Telegram is undoubtedly a tool you cannot miss to download Spotify tracks as MP3 on your Android or iOS device. Thanks to a professional bot on the application, you can access the Spotify database and thus download music from Spotify.
All you need to do is to enter a link to a Spotify song or try the search function, then the bot will find the matching track on YouTube and download it in MP3 format. After that, all the downloaded Spotify MP3 songs will be saved on your mobile device so you can enjoy Spotify music anytime, anywhere.
How to Download Spotify Tracks to MP3 on Android/iOS via Telegram Bot
Step 1. Download and install Telegram from your Android/iOS device's app store.
Step 2. Open the Spotify app on your phone and copy the links to your preferred Spotify songs.
Step 3. Then launch Telegram and search for "Spotify Music Downloader" in Telegram.
Step 4. At this point you will be able to see Telegram Spotify bot in the search results, select it and click on the "Start" tab.
Step 5. Paste the link of the previous Spotify song into the chat bar. Click the "Send" button by the way and you can start downloading MP3 files of Spotify music.
Step 6. Finally, click on the "Download" icon to save the Spotify MP3 files to your iPhone or Android phone.

No.9 Fildo Spotify MP3 Downloader [Android]
The Fildo app is a popular MP3 downloader and streaming application. You can use it as a Spotify downloader MP3 for Android to download top-quality MP3s from Spotify. Unlike other apps, Fildo does not have its own collection of audio files. So, you are not able to add files to it. Thankfully, Fildo now is available for Windows 10, Windows 10 Mobile, and Xbox One.
How to Download Spotify Songs to MP3 Android via Fildo
Step 1. Go to the official website of Fildo, and download its apk to your Android device.
Step 2. Open Fildo and click on "More" at the bottom.
Step 3. Select "Import SPOTIFY" and log in to your Spotify account.
Step 4. Once logged in, your Spotify library will show on Fildo.
Step 5. You can click on the small dot at the right of the song to start downloading it to MP3.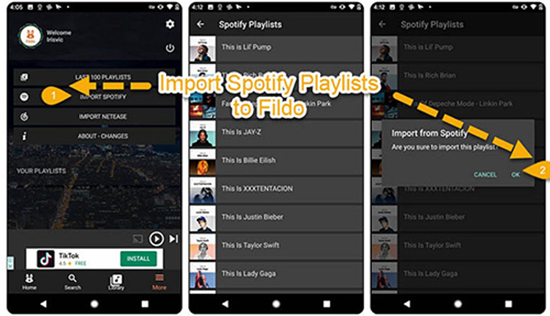 No.10 Siri Shortcuts Spotify Downloader MP3 [iOS]
Siri Shortcuts is an automation app for iOS devices, which can serve as a Spotify MP3 downloader for iOS. If you haven't installed it, go to App Store and download it on your device. Then you can find some shortcuts on it to help you download Spotify music to MP3.
How to Download Music from Spotify to MP3 on iPhone via Siri Shortcuts
Step 1. Download and run the Spotify to MP3 shortcut.
Step 2. Copy the URL of the song you want to download on Spotify.
Step 3. Paste the URL into this shortcut and start downloading Spotify audio to MP3.
Step 4. Open the Files app and then choose "iCloud" > "Shortcuts" > "Music" to find your downloaded MP3 files.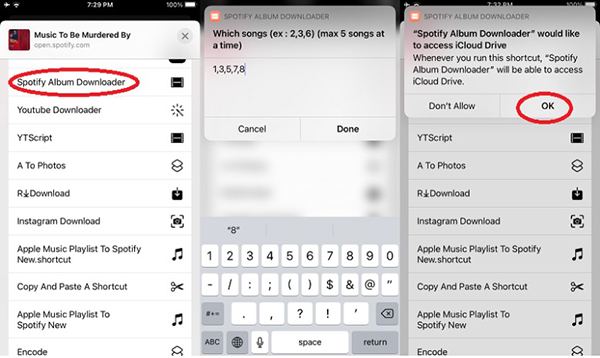 Comparison Table of Best Spotify MP3 Downloader
Since there are various Spotify to MP3 downloaders to get MP3 tracks as we mentioned here, which is the best way? Let's take a detailed look at the differences among these methods with the comparison table below.
Compatible OS
Supported
Output Format
Output Quality
Download Speed
Customize Output Parameters
Keep ID3 Tags
Batch Download
AudFree SpoDable
Windows/Mac
MP3/FLAC/AAC/
WAV/M4A/M4B
Lossless
5X
✔
✔
✔
Soundloaders Spotify Downloader
Online
MP3
Lossy
1X
✘
✔
✘
Spotify Deezer Music Downloader
Chrome Extension
MP3
Lossy
1X
✘
✘
✘
Spotify Downloader to MP3
Online
MP3/ZIP
Lossy
1X
✘
✔
✘
AllToMP3
Windows/Mac/Linux
MP3
Lossy
1X
✘
✔
✘
Audacity
Windows/Mac/
Linux/GNU
MP3/WAV/
AIFF/OGG/FLAC
Lossy
1X
✘
✔
✘
AudFree Audio Capture
Windows/Mac

MP3/AAC/M4A/
M4B/FLAC/WAV

Lossless
1X
✔
✔
✘
Telegram
Android/iOS
MP3
Lossy
1X
✘
✘
✘
Fildo
Android
MP3
Lossy
1X
✘
✔
✘
Siri Shorcuts
iOS
MP3
Lossy
1X
✘
✘
✘
There is no doubt that AudFree Spotify Music Converter stands out among these methods of downloading Spotify to MP3. It is remarkable for its faster conversion speed and perfect output quality. Such a stable and trustworthy tool will bring a wonderful music experience for Spotify free and Premium users.
FAQs about Downloading Spotify Songs as MP3
Q1: Is It Possible to Download Spotify Songs to MP3?
A1: If you just use the Spotify app to download songs as MP3, then it is impossible. Because Spotify actually does not allow its users to extract MP3 files from their software. This is to protect the property rights of their songs. However, you can make it all possible with the help of some third-party Spotify converters as described above.
Q2: Is It Legal to Download Spotify Music to MP3?
A2: If you do it for your personal use, it is legal. However, distributing all of Spotify's MP3 downloads and sharing them with others is highly prohibited.
Q3: What Features of Spotify to MP3 Downloader Should I Pay Attention to?
A3: If you want to download songs from Spotify to MP3, there are various options for you on the market. You should first focus on the basic ability of these tools, then look at some additional features such as conversion speed, audio output quality and interface experience. A best Spotify playlist downloader should not only act as a downloader, but also allow you to batch convert or download Spotify audio files, rip CDs, record Spotify music, etc.
In Conclusion
So, here are the best 10 Spotify MP3 downloaders to download Spotify songs, playlists, albums, audiobooks, and podcasts for better playback. You can choose some free tools, but there will be some quality loss. If you want high-quality Spotify songs, you'd better use the professional AudFree Spotify Music Converter. It is a very good and comprehensive software that can bring you the best experience. We hope you will find the best tool you like and start enjoying your Spotify music. If you have any questions, please let me know in the comments below.