Running apps have made it easier to track your runs, including location, distance, and pace. There are numerous running apps available on the app store, but Runkeeper is an app that is suitable for runners of all abilities. This is because it is simple to use and includes audio cues to help beginners stay motivated. In their respective categories, Spotify and Runkeeper are two of the most favourite apps. Spotify is an easy choice for the best streaming music app because of its easy user interface and humongous catalog.
Since the beginning of the App Store, Runkeeper has been a popular running app making running and music go together like a dream. With that in mind, you'll appreciate the seamless integration they provide. When you match the two applications together, Spotify & Runkeeper can provide what you're listening to at the pace of your run (requires Spotify premium). In this post, we'll explain to you how to use Spotify with Runkeeper and pair it while running.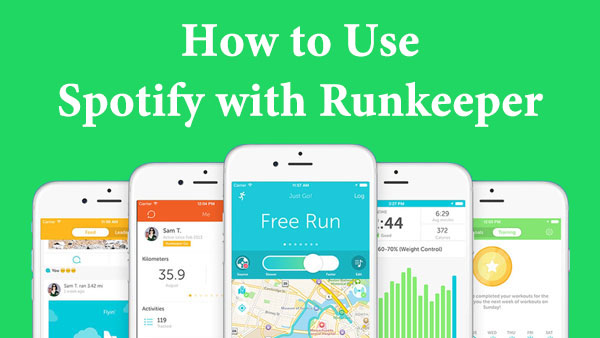 Part 1. Get Runkeeper Spotify Work Together on Mobile Phone
Runkeeper, one of the most highly regarded running apps, is free and compatible with both iOS and Android devices. You can use the Runkeeper app to track your runs once you've downloaded it. Furthermore, the excellent thing is that now Runkeeper only works with Spotify to facilitate Spotify streaming music. As a result, you can use the Runkeeper app to access soundtrack resources.
You can now effectively control Spotify playback on Runkeeper with the Runkeeper and Spotify integration. The following instructions will show you how to use Spotify music in Runkeeper on your iPhone or Android to enhance your running experience. To begin, go to the app store and download the app, then create an account. After that, carry out the following steps.
How to Use Spotify with Runkeeper on iPhone
Step 1. Open Runkeeper and navigate to the Start tab at the bottom of the screen.
Step 2. Navigate to the Music grid, where you'll find two music streaming services, Spotify and iTunes.
Step 3. From the Music Card, select a Spotify playlist, and you'll be taken to Spotify's running playlist page.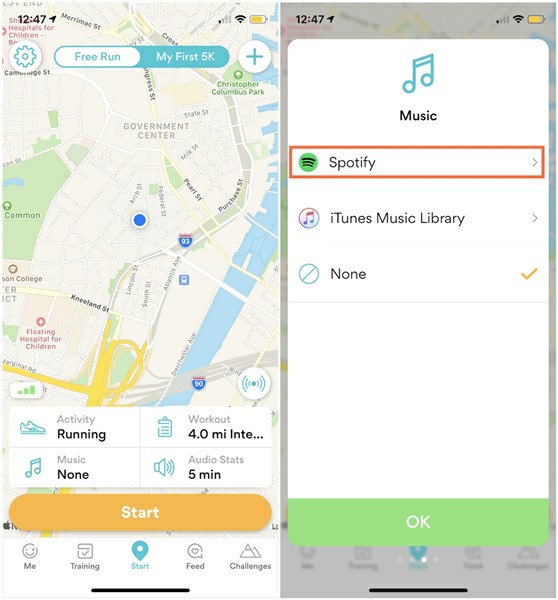 How to Use Spotify with Runkeeper on Android
Step 1. Open Runkeeper and go to the bottom of the screen to the Start tab.
Step 2. Select the Music grid, and you'll be able to use Runkeeper to listen to the music from Spotify and Google Play.
Step 3. From the Music Card, select a Spotify playlist, and then return to Runkeeper to begin tracking with your music.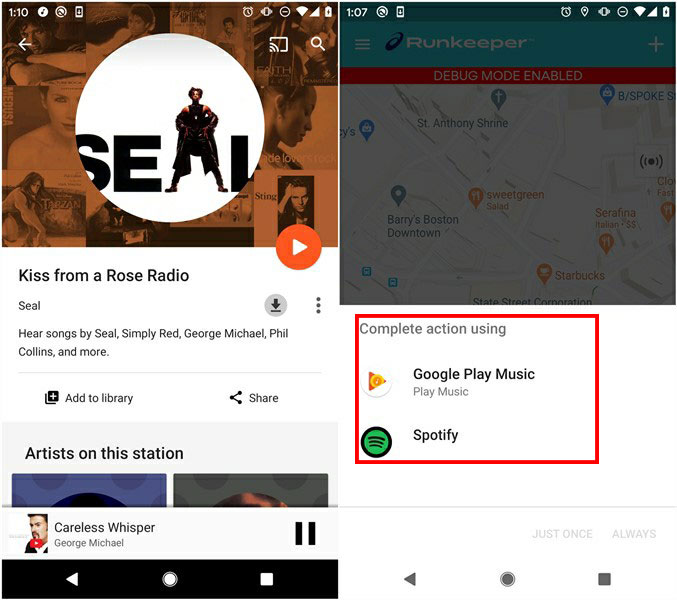 Part 2. How to Use Spotify with Runkeeper Offline?
There are several methods for downloading music from Spotify. If you have a Spotify subscription, you can download the music of your choice to listen to while running. If not, you could try downloading your favorite songs from Spotify and then syncing them to your device using a Spotify music downloader.
If you're ready to start, keep in mind that playing music on Runkeeper is a simple process. First, you have to create a running playlist. Runkeeper will use a lot of data to play music while you're running outside, and sometimes poorer internet can lead to Runkeeper Spotify not working simultaneously. So, the best way to use Spotify with Runkeeper is to pre-download your running playlists.
Enjoy Runkeeper Spotify Offline with Premium
You can download your favorite songs, albums, playlists, and podcasts to your phone with a Premium subscription. Then add Spotify to Runkeeper app to play your downloaded songs. Here's how to do it:
Step 1. Open Spotify on your phone or tablet and navigate to the playlist, album, or podcast you want to save.
Step 2. To download music, tap the three horizontal dots in the upper-right corner or the three vertical dots.
Step 3. Go to Home, tap Settings, and then quickly switch Offline on in the Playback option to begin listening to music offline.
Enjoy Runkeeper Spotify Offline without Premium
AudFree Spotify Music Converter is the ultimate option for you if you want to use a Spotify music downloader to get your favorite tunes. That's because it can download and convert Spotify music to a variety of popular audio formats. AudFree Spotify Music Converter is a fantastic tool for downloading Spotify playlists to MP3, FLAC, AAC, or WAV for saving and offline listening on any device. Please follow the steps below to begin lossless MP3 conversion with AudFree Spotify Music Converter on Windows and Mac.
AudFree Spotify Music Converter
Step 1

Launch AudFree Spotify Music Converter

AudFree Spotify Music Converter is compatible with both Windows and Mac operating systems. Please download the appropriate version of AudFree for your PC. After the software has been installed, double-click the shortcut icon to launch it from the desktop.
Please ensure that you have downloaded and installed the Spotify app from the official website. Spotify is fully compatible with the AudFree program's official application, which can be launched automatically.
Step 2

Import songs/playlists/albums to AudFree

For both free and paid users, AudFree Spotify Music Converter provides two methods for importing songs, playlists, and albums. Drag and drop music into the AudFree conversion window is the most common method. Another option is to right-click on an item, copy the given URL, paste it into the search box in AudFree Spotify Music Converter, and then press the '+' tab.
Step 3

Customize output format and other settings for Spotify Runkeeper

To define the output format, go to the menu bar > Preference to open a new window where you can select your preferred audio format from MP3, FLAC, M4A, AAC, M4B, and WAV. (Mac users should select preferences from the Apple menu bar by clicking the AudFree Spotify Music Converter for Mac icon.) In general, AudFree selects MP3 as the default output format. Other output parameters, such as bit rate, sample rate, and audio channel, can also be customized in this step.
It's strongly advised to set the conversion speed to 1X to make the conversion process more stable and avoid unexpected converting errors. You can also organize the output music library at this point by categorizing the output tracks by albums or artists.
Step 4

Start the download and convert Spotify for Runkeeper

After you've adjusted all of the settings to your taste, click the 'Convert' button to begin the conversion process. AudFree Spotify Music Converter for Windows or Mac will download and convert any additional tracks to MP3 audio files instantaneously. After converting the music, you can listen to it on any MP3 player for offline listening. You can answer your most worrying question that "how do I control my running playlist in Spotify/Runkeeper"?
Part 3. Conclusion
Now you can use Runkeeper to track your runs while listening to music from Spotify. If you don't have enough data to play Spotify music, in case of non-availability of a Wi-Fi network, downloading music from Spotify with a Premium account or using AudFree Spotify Music Converter could be a great option. After that, you can begin using Runkeeper Spotify offline.