The remarkable progress of technology in recent times and its impact on our lives has been unprecedented. Many mobile applications have completely transformed our entire life. And speaking of free streaming audio apps, Spotify, without any doubt, is at the forefront.
Spotify has been one of the most innovative companies in recent history. The app was launched with a bang and transformed how people get their music. In 2008, they changed everything when it became available for free on computers or mobile devices (it is now also an app). There are over 3 million podcasts that can be streamed through Spotify!
And speaking of Spotify, you will know that Pacemaker Spotify has gained immense popularity for the apparent benefits that it offers. If you wonder what it is, let us look at it in further detail.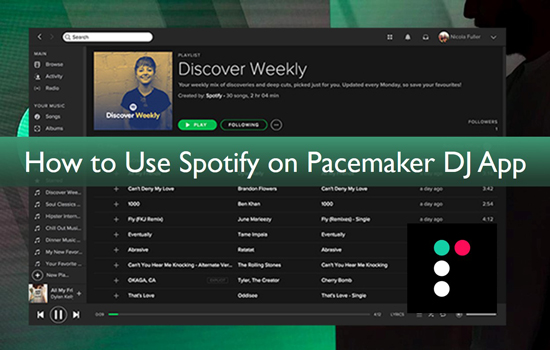 Part 1. Pacemaker and Spotify - Everything We Know
The world of DJing is changing, and Pacemaker wants to be at the forefront. Their unique mixdowns tool for creating masterful music concoctions with artificial intelligence technology has never been done like this before! The best part is that the combination of Pacemaker with the revolutionary Spotify is revolutionizing music and DJing like never before.
So, let us take a closer look at the Pacemaker app Spotify. Let us see how integrating Pacemaker with Spotify can bring music to a whole new level regarding listening pleasure.
Integrating Pacemaker with Spotify
Take your DJ skills up a notch with Pacemaker. Create professional sounding mixes that are unique and full of flavour using the app's artificial intelligence tools for creating beats. You can also pick songs from millions in their Spotify library to play along!
Pacemaker offers a new way to DJ with millions of songs and AI-powered automation. No more futzing around in complicated editing software, Pacemakers automatic tools make it easy for anyone who wants their music heard!
Once you are done with making music magic happen, you can even share it on social media platforms like Facebook so others can enjoy what you've created too. One great thing about integrating Pacemaker with Spotify is that you can use Spotify on Pacemaker offline.
Part 2. How to Use Pacemaker with Spotify via Spotify Premium
The Pacemaker app enables the users to play two songs simultaneously. Thus, if you are new to DJing or experienced, this tool is equally effective for both. If you wonder if Pacemaker works with Spotify premium playlists, you will be happy to know that this can be done.
While using Pacemaker, you might play music from a playlist created by you on Spotify. The good thing about this fantastic application is that it enables users to analyse the soundtrack they intend to play and DJ with Spotify. Thus, through it, you can learn about the tempo of the soundtrack. It thus helps to match the songs you will be playing. In the process, you need not be a professional DJ. You can search on Spotify and choose both the songs you want to play.
Following this, the software will analyse both the soundtracks and help you sync the same. You also have the "Sync" button, enabling you to sync the soundtracks you want to play. And what is more exciting is that you need not have to be a professional DJ for the same.
The other impressive feature here is you can also add specific effects. You will be happy to know that you can use multiple effects and even kill them simultaneously. You need to use the Spotify Premium account to do all of this. After completing the trial period on Spotify, you need to pay and upgrade your existing Spotify account.
Part 3. Tool to Use Spotify on Pacemaker DJ without Premium
Though Spotify is an excellent app at times, you may not have internet. So how to use Pacemaker and Spotify without the Internet? In such times, you can keep playing all the soundtracks you loved even without the Internet. And for this, as already mentioned, you can use the AudFree Spotify Music Converter tool.
It can download Spotify music to Pacemaker-compatible local audio files. After that, you need to simply add Spotify music to Pacemaker and use Spotify music on Pacemaker offline. For doing the same, all you need to do is follow the steps mentioned below.
Step 1

Download AudFree Spotify Music Converter

AudFree Spotify Music Converter is a professional-sounding program with an easy-to-follow installation process. It can be downloaded for free on either PC or Mac operating systems and installed in less than 5 minutes! Just hit on the 'Download' button to download and install it on your computer. Then launch it.
Step 2

Add Spotify music into AudFree

The application uses two methods to import songs, playlists, and albums from Spotify free or paying users. The most common way is to drag-and-drop music into the AudFree SpoDable conversion Window, but there's also an easier method where you can copy a URL of tracks with your mouse right-click. Then paste it onto the search box on AudFree.
Step 3

Set output format of Spotify songs for Pacemaker

You can choose an output format for your Spotify music in the menu bar. There are output audio format such as MP3, FLAC, M4A and more for you. Also, you can reset the channel, bit rate and others for the Spotify songs.
Step 4

Download Spotify music to Pacemaker compatible files

Now, hit on the 'Convert' button to convert and download music from Spotify for Pacemaker. Then the files will be saved in the local storage on your computer. You can find them via the history icon on AudFree.
Part 4. How to Use Spotify on Pacemaker Offline
By using the AudFree Spotify Music Converter, you had got the local Spotify songs for use on Pacemaker offline. Here let's check how to get Pacemaker Spotify offline on iPhone.
Step 1. Connect your iPhone with your computer via the USB cable.
Step 2. Open the iTunes program to sync Spotify music to iTunes.
Step 3. Open the Pacemaker app on your iPhone.
Step 4. Click on the '+' button at the bottom right corner to choose the local Spotify songs to add from your iPhone.
Step 5. Then you can edit and DJ with Spotify in Pacemaker.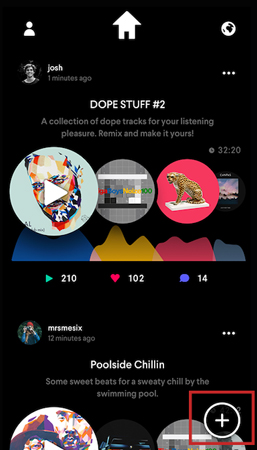 Part 5. In Conclusion
You may not be a professional DJ, but you can use Pacemaker app Spotify with ease from this post. Even better is that you can also keep DJing by using some tools like the AudFree Spotify Music Converter. With this tool, you can get Spotify music as local audio tracks for use on anywhere. After reading and following this article, we hope you can use Spotify on Pacemaker offline without any problem.