Q: Can I use Virtual DJ with Spotify? When I tried to import Spotify to Virtual DJ, I was surprised to find that VDJ 8 was not compatible with Spotify songs and playlists. Is there any way to make Virtual DJ Spotify possible?
Although it's impossible to use Spotify with third-party DJ software immediately, it doesn't mean you can't DJ with Spotify. This article has found an effective workaround to link Spotify to Virtual DJ with ease. Now, follow us to read the key points and find out more details.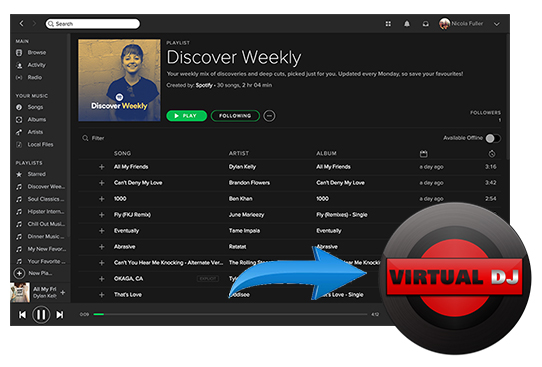 Part 1. Does Virtual DJ Work with Spotify
On the one hand, Spotify is not among the streaming music service options that Virtual DJ is compatible with. On the other hand, Virtual DJ supports common audio formats such as MP3, WMA, OGG and WAV. Spotify music, instead, is encoded in a special Vorbis OGG format with digital rights technology.
| | |
| --- | --- |
| Virtual DJ Compatible Streaming Music Services | Tidal, Deezer, SoundCloud, Beatport, Beatsource |
| Virtual DJ Compatible Format | MP3, WAV, M4A, AAC, WMA, OGG, FLAC, etc. |
| Spotify Music Format | Vorbis OGG |
Thus, even if you download Spotify songs, they are all cached files that Virtual DJ does not recognize. That's why we can't upload Spotify tracks to Virtual DJ 8 in the same way as we can sync local files. Overall, to import Spotify into Virtual DJ app, the crucial task is to solve the problem of format locking.
Part 2. How to Make Virtual DJ Spotify Integration - Best Tool
As mentioned above, cached Spotify tracks are not recognized by the Virtual DJ software at all. Nevertheless, it is possible to use Spotify with Virtual DJ, provided that Spotify is downloaded as an unprotected local file. To achieve this process, we meet AudFree Spotify Music Converter, which has you covered.
It's one of the most well-designed music converters for Spotify and helps both free and premium users on Spotify to download and convert Spotify music. What's more, it can convert Spotify to MP3, FLAC, WAV and other formats supported by Virtual DJ. With this powerful converter, you can make Spotify Virtual DJ available to create unique and unforgettable mixes that will keep the party going all night long.
How to Download Spotify Music to Virtual DJ Supported Format
With the help of AudFree Spotify Music Converter, all users can download Spotify songs on their local computer in just a few clicks. Afterwards, it is easy to import and use Spotify on Virtual DJ software.
Step 1

Add Spotify Music to AudFree SpoDable

Please launch this smart tool and the Spotify app will open simultaneously. There are two ways for you to import Spotify music for download. One is to drag and drop the Spotify tracks you want to add to Virtual DJ into the conversion window. The other is to copy and paste the URL of the Spotify track into the search box at the top and don't forget to press the Add button afterwards.
Step 2

Set Spotify Output Format for Virtual DJ

Please go to Menu > Preference > Convert option. Here, you can start defining the output format as other Virtual DJ compatible audio formats such as MP3 and WAV. You can also customize the output audio quality by changing the bit rate, sample rate, etc. Therefore, it is best to set the bit rate to 320 kbps to improve Spotify audio quality.
Step 3

Download Spotify Songs to Computer Locally for Virtual DJ

To download Spotify songs without Premium, touch the Convert button in the bottom right corner of the main window. When all the conversions are complete, you can find the Spotify song downloads in the target folder on your computer. After that, it's time to connect Spotify to Virtual DJ without any problems.
Part 3. How to Add Spotify to Virtual DJ
Now converted Spotify music can be used on any Spotify DJ app. It's time to add Spotify songs to Virtual DJ so you can create your own unique mixes and explore new creative possibilities.
Method 1. How to Link Spotify to Virtual DJ from Local Folder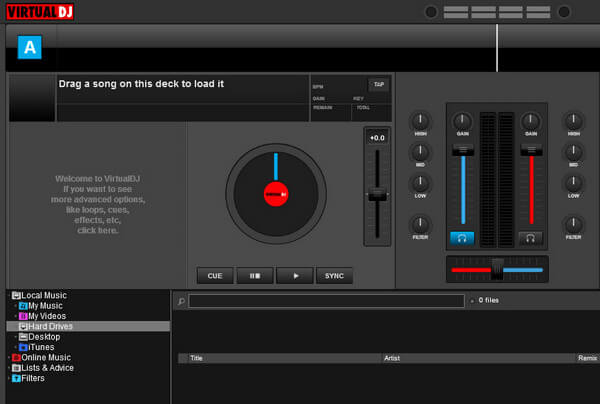 Step 1. Download and install Virtual DJ software on your computer if you don't have it.
Step 2. Then double click on the shortcut to launch it and the home screen will be displayed on your computer's desktop.
Step 3. In the bottom left corner, there is an option for "Local Music" button. It allows you to import local audio files from your hard drive, iTunes and elsewhere.
Step 4. Please click on the "Local Music" menu and select the Spotify playlist from the target source.
Step 5. Once you have added Spotify to Virtual DJ software, you can start to play Spotify playlists on Virtual DJ 8.
Method 2. How to Get Spotify on Virtual DJ from iTunes
Step 1. If you prefer to add music from iTunes to Virtual DJ, please transfer the converted Spotify files to your iTunes library in advance.
Step 2. Open Virtual DJ and click on the "Local Music" tab.
Step 3. Click on the folder icon in the bottom left corner of the screen to open the file browser.
Step 4. Navigate to the location of your iTunes music files and select the Spotify songs you want to import into Virtual DJ.
Step 5. The imported Spotify songs will now be available in your Virtual DJ library.
Part 4. How to Mix Spotify Songs on Virtual DJ
Virtual DJ has become an essential tool for both amateur and professional DJs worldwide. One of the most common tasks performed by DJs is mixing songs. In this part, we will walk you through the steps to mix local Spotify songs on Virtual DJ in detail and create a seamless mix that will keep your audience dancing all night long.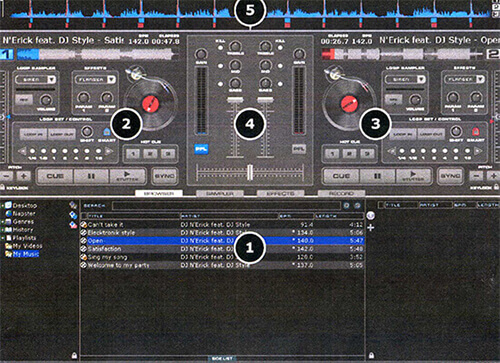 Step 1. Drag and drop the Spotify songs you want to mix onto the decks.
Step 2. Click on the "Sync" button to analyze the BPM (beats per minute) of both songs.
Step 3. Once the BPM is analyzed, click on the "Auto" button to sync the two songs.
Step 4. Adjust the pitch of the second song to match the first song by using the pitch slider.
Step 5. Use the headphones to listen to the second song while the first song is playing.
Step 6. Find a suitable point in the second Spotify song to start mixing.
Step 7. Use the crossfader to fade in the second song while fading out the first song.
Step 8. Adjust the volume and EQ of both songs to create a smooth transition.
Part 5. More Tips about Virtual DJ and Spotify
Q1: Is There a DJ Software That Works with Spotify?
A: Despite Spotify's statement that it no longer supports third-party DJ apps, we've found three free DJ apps that work with Spotify, namely Mixonset, Pacemaker and JQBX
Q2: What Music Services Work with Virtual DJ?
A: Virtual DJ offers access to subscription-based music, video and karaoke pools, and has the potential to integrate five different streaming services through its built-in library browser, including Deezer, Tidal, SoundCloud, Beatport Link, and Beatsource Link.
Q3: What File Formats Are Compatible with Virtual DJ?
A: Virtual DJ supports playback of the following audio formats: MP3, WAV, CDA, WMA, ASF, OGG, OGM, M4A, AAC, AIF, AIFF, FLAC, MPC, APE.
Q4: How to Play Spotify on Virtual DJ without Local Files?
A: Because Virtual DJ works with SoundCloud and Deezer, you can upload Spotify songs to SoundCloud or Deezer, and in turn, it is possible to get Spotify on Virtual DJ without local files.
Q5: How to Set Up Streaming Services on Virtual DJ?
A: Step 1. Launch the Virtual DJ application and select "Online Music" in the left column of the screen.
Step 2. Choose any one of several online streaming music services, such as Deezer, and log in to your account afterwards.
Step 3. Your playlist will be displayed in the left column and you can search for any song on the search bar for playback.
Part 6. Conclusion
That's all about how to use Virtual DJ with Spotify. Since Spotify no longer works with third party DJ software, you are better off using the AudFree Spotify Music Downloader to download and add Spotify to Virtual DJ. Besides, the downloaded Spotify songs are suitable for any DJ software without any restrictive hints.