The world of DJing has been revolutionized by the advent of digital technology, and with the rise of streaming services like Spotify, it has become easier than ever to access and mix music. Spotify is the hot music streaming platform and has a range of features that make it an ideal choice for DJs.
It is known to all that Spotify has a DJ mode that allows you to mix and create playlists like a professional DJ. In this article, we will take a closer look at Spotify DJ mode and how to DJ with Spotify. In addition, you will discover free DJ software that works with Spotify.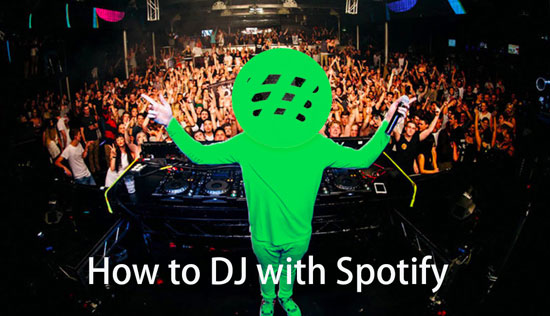 Part 1. Overview of Spotify DJ Mode
In fact, as of July 1, 2020, Spotify no longer works with third-party DJ apps. In this case, how to DJ from Spotify? Thanks to Spotify DJ mode, a feature of the Spotify music streaming service that allows users to mix and match tracks, create playlists, and control the music at parties.
Although you can't DJ Spotify in third-party DJ app through official Spotify DJ mode, it is a popular feature among music lovers and DJs alike. One of the main advantages of DJ Spotify mode is its huge library of music, from classic hits to the latest chart-toppers. This makes it easy for DJs to find the perfect track to set the party mood for their party or event.
Part 2. How to Get Spotify DJ Mode on Spotify
There are several ways to DJ Spotify music on Spotify app, depending on your needs and preferences. Here are three options:
Option 1. Enable Built-in Spotify DJ Mode
With built-in DJ mode, users can mix tracks seamlessly using the Spotify app. It offers a range of features that make it an excellent choice for beginner DJs or those who want to experiment with mixing music. The mode offers a crossfader, tempo control, and other essential DJ tools, allowing users to create a professional-sounding mix from their Spotify library.
Step 1. Launch the Spotify app, sign in to your account information, and play the song you want to mix.
Step 2. Go back to the home page and click on the "Gear" > "Settings" section in the upper right corner.
Step 3. Scroll down to "Playback" and select "Crossfade songs" to set the length of the crossfade between songs.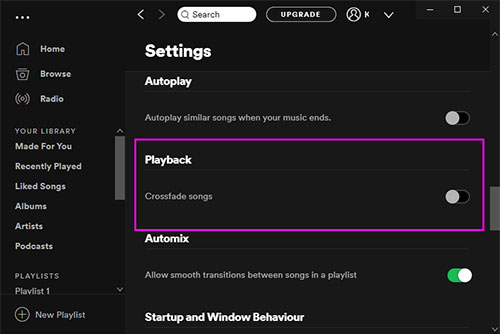 Step 4. Click "Automix" to make a seamless transition between songs in the selected playlist.
Step 5. Enable the "Equalizer" feature to set the Spotify equalizer and adjust the low, mid and high parameters.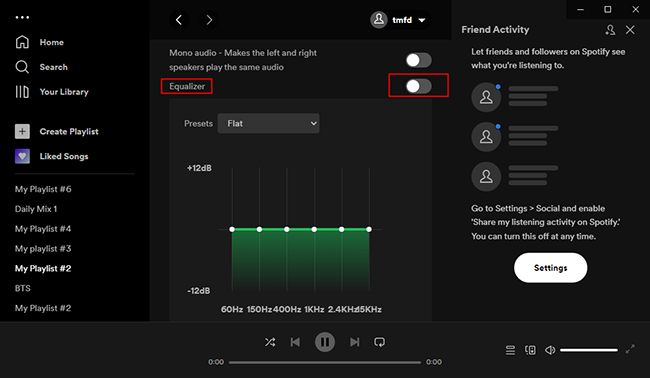 Option 2. DJ with Spotify with Spotify AI DJ
Spotify AI DJ is a feature that uses artificial intelligence to create seamless transitions between tracks. It works by analyzing the beats per minute (BPM) of each song and matching them to create a smooth mix. It is an excellent option for anyone who wants to create a quick and easy mix without spending time manually mixing tracks. To use Spotify AI DJ, follow these steps:
Step 1. Open the Spotify app on your mobile device.
Step 2. Click on "Music Feed" and find the "Play" button on the DJ card.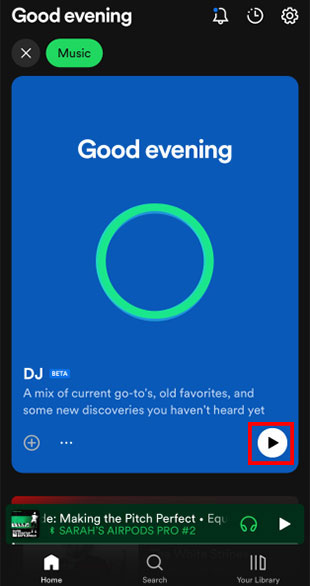 Step 3. The AI DJ will then automatically start playing the tracks that match your style and tempo.
Step 4. Select the "Now Playing" page and click on the "DJ" button to see the type of music that is being intelligently mixed.
Option 3. DJ from Spotify via Spotify Group Session
You can also use Spotify Group Session to DJ with friends remotely. It is a feature that allows multiple users to listen to music together in real-time. With this feature, you can invite up to five friends to join your listening session and take turns adding songs to the playlist. Here's how to use Spotify Group Session:
Step 1. Open the Spotify app on your device and start playing a song on Spotify.
Step 2. Tap the "Connect device" icon at the bottom of the screen.
Step 3. Select "Start Session" > "Invite friends" and invite your friends to join.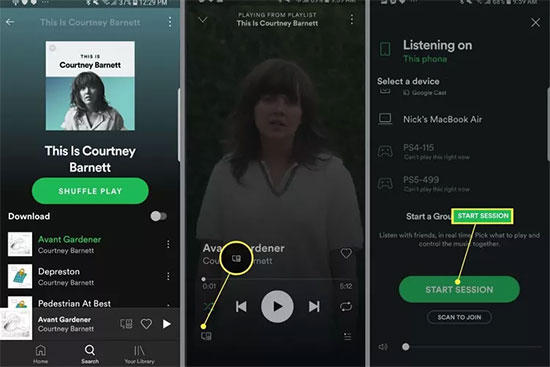 Step 4. Start adding songs to the playlist and take turns controlling Spotify music.
Part 3. Free DJ Software That Works with Spotify
In addition to Spotify's built-in DJ mode, you can also use third-party DJ app that works with Spotify. Although there is very little DJ software Spotify, we have summarized the three available options to have more control over your Spotify mixes.
#1. Mixonset
Mixonset is a free DJ software with Spotify that allows you to mix tracks from your Spotify library seamlessly. It uses AI-powered technology to analyze and match songs based on their key, tempo, and other factors. It offers a range of features, including automatic beatmatching and crossfading, making it an excellent choice for beginner DJs.
#2. Pacemaker
Pacemaker is another free DJ app that works with Spotify and allows you to create mixes and playlists on the go. It includes features like auto-beat matching, tempo control, EQ settings, and effects like filters and loops. It is a great choice for more advanced DJs to use Spotify on Pacemaker.
#3. JQBX
JQBX is a social music platform that allows you to share DJ duties with friends and strangers alike. You can create a room, invite your friends, and start playing music together in real-time. It also has a range of DJ-specific features that make it an excellent choice for anyone who wants to take their DJ skills to the next level. For example, you can adjust the crossfade and gapless playback settings, as well as the equalizer and volume controls.
Part 4. How to DJ with Spotify on Any DJ Apps
While there are several free DJ apps that work with Spotify, some DJs prefer to use their own preferred apps for mixing music like Serato or Virtual DJ. At this point, you'd better download Spotify music locally and convert them to common formats compatible with DJ software. Then you can easily upload Spotify music to any DJ app and mix Spotify songs by yourself.
Here, the professional AudFree Spotify Music Converter can meet the above requirements. It aims to download and convert Spotify to MP3, FLAC, WAV, AAC, M4A and M4B at 5X conversion speed. The output format can satisfy almost all DJ apps, then it's piece of cake to DJ Spotify. And you will get rid of the question of what DJ software works with Spotify.
How to DJ with Spotify on Any DJ Apps
Here, we will demonstrate all the essential steps in detail to download and convert music from Spotify for DJ software.
Step 1

Import songs from Spotify to AudFree SpoDable

To add a Spotify song or a playlist, there are two ways for choice. Please drag and drop songs from Spotify app to the main interface of the tool. Or you can copy the link of a Spotify song or playlist and paste it to the search box. Click the '+' button, it will automatically detect the URL and upload Spotify songs.
Step 2

Set output audio parameters for DJ software

Almost all popular DJ software can recognize MP3 format. Because of this, it's highly recommended to set Spotify output format as MP3. How to do this? Please click the 'Menu' >'Preferences' > 'Convert' option to open the setting window. Shown as the above image. Please choose format as MP3 and customize other audio parameters if necessary.
Step 3

Download Spotify songs for DJ apps

Press the 'Convert' tab from the main window, AudFree Spotify Music Converter will convert Spotify songs you added before to DJ software compatible files at 5X speed. After conversion, please click the 'History' button with a red icon to locate them. All Spotify songs can be uploaded to any DJ app for mixing.
Step 4

DJ with Spotify on any DJ apps

Spotify MP3 music can now be applied to all DJ applications. Simply launch your preferred DJ software and then add local Spotify music for mixing. You can also use other fascinating DJ features to DJ Spotify songs.
Part 5. In Conclusion
Whether you're a professional DJ or just someone who loves mixing music for your friends, you can use Spotify DJ mode in the ways mentioned in this article. Also, it is recommended that you use AudFree Spotify Music Converter to convert Spotify to MP3 in order to DJ Spotify in any DJ app. So why not give it a try to create an unforgettable musical experience?