Does djay pro work with Spotify? One year ago, the answer was positive. But now the situation is completely opposite. Algoriddim released a big update to the djay app. Algoriddim announced the end of a 6-year-partnership with Spotify, declaring djay Pro Spotify integration stops working. Until now, Spotify is no longer compatible with any 3rd party DJ apps.
Spotify integration into the djay community has had a profound impact on DJing. In this case, is there any other way to use Spotify with djay Pro? Thanks to the appearance of the Spotify music converter for DJ, it reversed the current situation. It can download and convert Spotify music, playlists to djay Pro compatible local tracks. Now, let's see how to use a professional third-party tool to make djay Pro Spotify still working!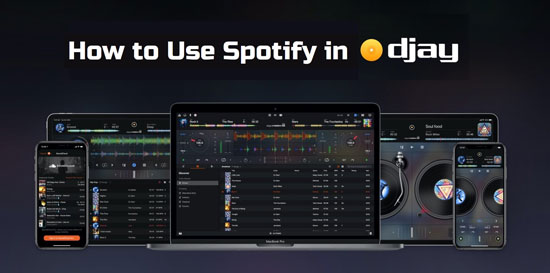 Part 1. Continue to Use Spotify with djay Pro - Best Method
djay Pro DJ app is integrated with some other popular streaming music services. But Spotify is the first choice for so many people to DJ with streaming music. Therefore, we will still share a workable way to download and save Spotify songs to djay Pro 2 for mixing and playback.
This solution is not only used for solving the problem of "djay Pro Spotify not working", it can also help to download the exclusive Spotify songs for further mixing in djay Pro. In other words, it could be an almighty method that can solve almost all problems between Spotify and djay Pro.
All you need is a simple but powerful tool named AudFree Spotify Music Downloader. This third-party software is focused on downloading music from Spotify to djay Pro compatible local files. The Spotify audios can be converted to MP3, WAV, FLAC, AAC, M4A, M4B, and such common formats. The special converting feature of this tool will keep 100% original quality of Spotify songs.
Part 2. Download Spotify Music to djay Pro Supported Files for Mixing
MP3 and other unprotected audio files can be playable and used in djay Pro 2. In the next sections, let's see how to use AudFree SpoDable to download and convert Spotify music and playlists for djay Pro.
Step 1

Load Spotify songs and playlists to AudFree

Download and open AudFree Spotify Music Downloader on your PC or Mac. The Spotify desktop app will also open later. If you haven't installed the Spotify desktop app, you need to download it firstly. Sign in your Spotify account. Then select the tracks and playlists for DJing in your Spotify music library. Then copy and paste the URL of the playlists to the search box on AudFree's interface.
Tip: Due to the Spotify API limitation, please make sure each link contains no more than 100 songs. Then copy and paste multiple links to AudFree Spotify Music Converter for DJ before conversion.
Step 2

Select the output audio preferences for djay Pro

You can reset the Spotify output settings for djay Pro before conversion if you want to. Find and click the menu icon from the top menu bar, and click 'Preference' > 'Convert'. Parameters like output format, bitrate, sample rate are allowed to change. Here are the best output settings as reference: MP3, 48000 Hz, and 320 kbps.
Step 3

Start to download and convert Spotify for djay Pro

Click the 'Convert' button on AudFree's interface. The program will automatically end when it finishes the converting tasks. At that time, please tap the 'History' icon to open the local storage folder 'Converted' to check the Spotify downloads. All Spotify songs and playlists are now available to use in djay Pro software.
Part 3. How to Use Spotify with djay Pro Offline
djay Pro provides complete compatibility with all platforms, such as Windows, macOS, Android, and iOS operating systems. And djay Pro perfectly integrates with the local music library, which allows you to mix and play millions of tracks. Let's not waste any other second and dive right into it! You can refer to the following tutorial to learn how to DJ with Spotify on djay Pro on computers and mobile devices.
How to Use Spotify with djay Pro for Windows
Step 1. Install and launch the djay Pro for Windows on your PC. There is a small toolbar in the lower-left corner of the djay Pro interface. Please navigate to the library browser and click it.
Step 2. There are some options for you to locate your Spotify music collection stored on a Windows computer. You can add Spotify music to djay Pro from Music Playlists, iTunes Playlists, and Explorer Folders.
Step 3. When you click the Explorer section, it's able to add Spotify music folder to djay Pro by clicking the Add Folder option. For clicking Music Playlists or iTunes Playlists, please make sure you have transferred downloaded Spotify music to the target music library, such as iTunes, Windows Media Player, or Groove Music.
Step 4. Select the favorite songs that you'd like to upload. After that, you can use djay Pro 2 Spotify offline without limits.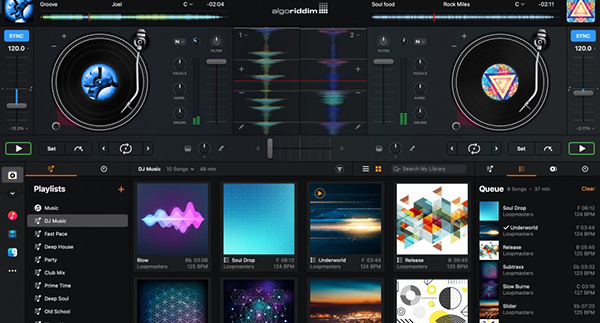 How to Add Spotify Playlist to djay Pro for Mac
Step 1. Download and fire up djay Pro for Mac on your computer and find the same library browser in this app.
Step 2. Here are 3 options to get Spotify on djay Pro, respectively My Library, Music Playlists, and Finder. You can directly hit on the Finder to add Spotify music folder or My Library to select favorite songs.
Step 3. After the syncing process of adding Spotify playlist to djay Pro finishes, you can start to access and mix Spotify music files on Mac computer.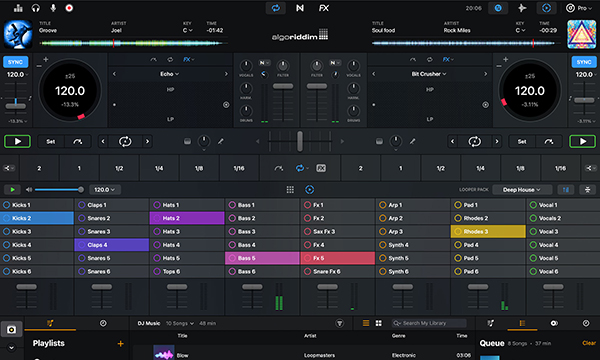 How to DJ with Spotify on djay Pro for Android
Step 1. Please connect your Android device to your computer via USB cable or WiFi connection. And then, please sync downloaded Spotify music to Android phones.
Step 2. Open the djay Pro for Android and hit on the Playlists at the bottom corner. Here, please choose the My Music option to load Spotify songs into djay Pro for a mix. You can also play Spotify songs in djay Pro offline.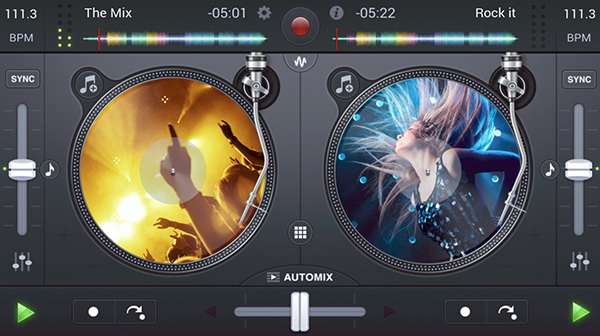 How to Use djay Pro with Spotify for iOS
Step 1. djay Pro for iOS enables users to add local music from iOS device storage, such as iCloud Drive, WiFi hard drives, iOS hard drives, and so on. So, please transfer Spotify music files to your iOS devices in advance.
Step 2. Launch djay Pro for iOS and tap the My Library tab to locate location stored Spotify tracks.
Step 3. Hit on the Number of songs in the playlist > Add from Files to import local files. Now, you can start to access Spotify playlists from djay Pro for iOS.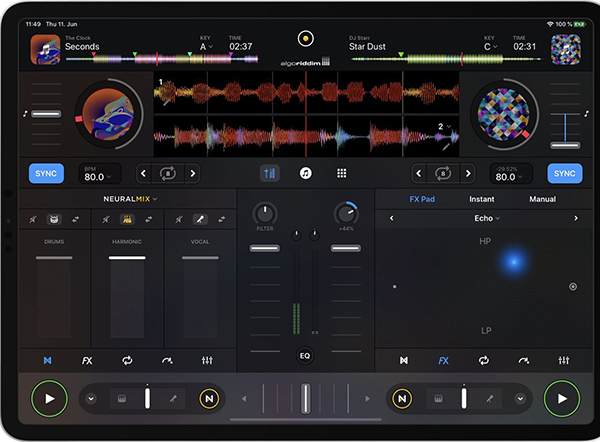 Part 4. djay Pro Spotify Integration - Everything We Know
Why Does djay Pro Spotify Stop Working?
Spotify stops the cooperation with the djay Pro app, the only partner in the DJ industry. A guess might be that Spotify is planning to add a built-in DJ feature to its app. Whether the conjecture will come true or not, what Spotify decided actually disappoints many DJs. And you can't browse Spotify playlists in the djay Pro program.
Which Streaming Services will Replace Spotify in djay Pro?
Although the era of Spotify djay Pro compatibility is over, to use streaming in djay Pro, Algoriddim has expanded the other possibility. Now, you can see Tidal, Beatport, and SoundCloud is in djay DJ software for use. You can get them in djay for cross-platform use on its mobile and desktop client.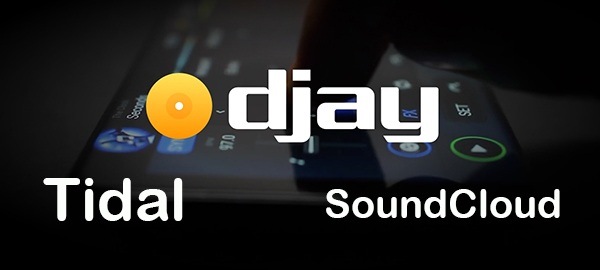 How to switch from Spotify to Tidal or SoundCloud?
To continue using djay Pro, it is necessary to sync Spotify playlists to Tidal, SoundCloud, Beatport. It helps to save time in searching for the same songs and recreating the same playlists. Algoriddim recommends users to use Soundizz or TuneMyMusic for songs' migration online.
NOTICE: The exclusive Spotify tracks are not available to sync. To keep those tracks playable in Tidal and SoundCloud, you need to download them as local unprotected files via the professional music downloader for Spotify below.
FAQ: Spotify Streaming Service Alternatives on djay Pro
Q1: Which SoundCloud subscription should I choose for djay Pro?
The SoundCloud GO+ subscription. It offers subscribers to get over 200 million SoundCloud tracks in djay app.
Q2: Which Tidal subscription should I choose for djay Pro?
The Tidal Premium or the Tidal HiFi subscription. It provides to use more than 60 million Tidal songs and 250,000+ high-fidelity videos.
Q3: Which djay versions support the SoundCloud and Tidal integration?
The latest versions of the djay app on Windows, Mac, and iOS allow users to directly access the SoundCloud and the Tidal.