Twitch is a popular live video platform that brings content creators together. During a live stream, anchors typically use background music to set the mood and engage users. However, playing music like Apple Music, Amazon Music and Spotify on Twitch is not so simple, as there are very clear rules against music use on Twitch.
Want to use Apple Music on Twitch streams? This article finds a suitable solution without violating Twitch's music rules. Follow this guide to learn how to play Apple Music on Twitch.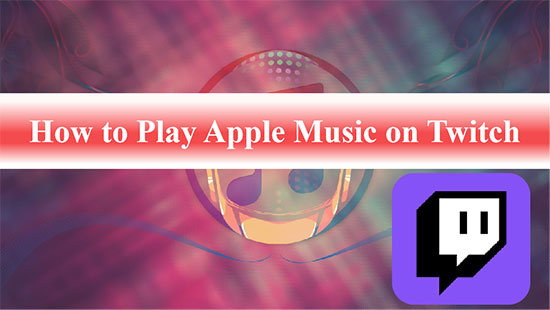 Part 1. What Music Can You Stream on Twitch
Twitch has strict rules for hosts using music in their live streams. You need to know what music is allowed on Twitch streams and on-demand content so that your channel is not blocked and restricted. Here are some of the music types that can be used on Twitch streams.
✔️ Music Owned by You
It refers to music that you have written or produced yourself, or original music that you have recorded or performed live. You need to make sure you have all the rights you need to use that music on Twitch. Also, your contractual relationship with your record label can affect the rights to music on Twitch.
✔️ Music Licensed to You
In general, most songs are copyrighted by a third party, usually a record label. To use music owned by others, you need to obtain permission from all relevant copyright owners to share that music on Twitch. Once you have licensed the music, you can use the songs safely on Twitch.
✔️ Music Streamed Using Soundtrack by Twitch
Twitch has launched its own audio library called Soundtrack by Twitch. You can access tracks from this library to use as background music or sound effects without having to worry about copyright issues. However, the selection of songs available is very limited.
Part 2. How to Enable Apple Music Twitch - Tool Needed
Is copyrighted Apple Music available on Twitch? The answer will disappoint you. If you use protected Apple Music on Twitch, you will violate Twitch's Terms of Service and copyright laws, and in turn face penalties from Twitch. Based on this, you must remove the copyright protection from Apple Music first. Here, we've found AudFree Apple Music Converter to help you out.
It is dedicated to get rid of Apple Music lock and convert it to MP3, WAV, FLAC, etc. In this way, you can get uncopyrighted Apple Music in original audio quality. Then you can stream Apple Music on Twitch live without any violation. Also, you have the freedom to listen to Apple Music on other desired devices and players.
AudFree Apple Music Converter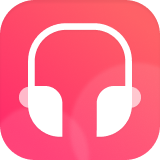 Convert Apple Music to MP3, AAC, WAV, FLAC, etc. for Twitch
Remove the Apple Music copyright protection completely
Play uncopyrighted Apple Music on Twitch
Keep lossless audio quality and ID3 tags for Apple songs
Part 3. How to Play Apple Music on Twitch
Now, we will show you how to convert protected Apple Music and play it on Twitch with the assistance of AudFree Apple Music Converter.
How to Convert Copyrighted Apple Music for Twitch
Step 1. Launch AudFree Apple Music Converter and click the first Add icon at the bottom left corner to import the Apple Music you want to stream on Twitch. You can also drag and drop the target audio files to the main interface directly.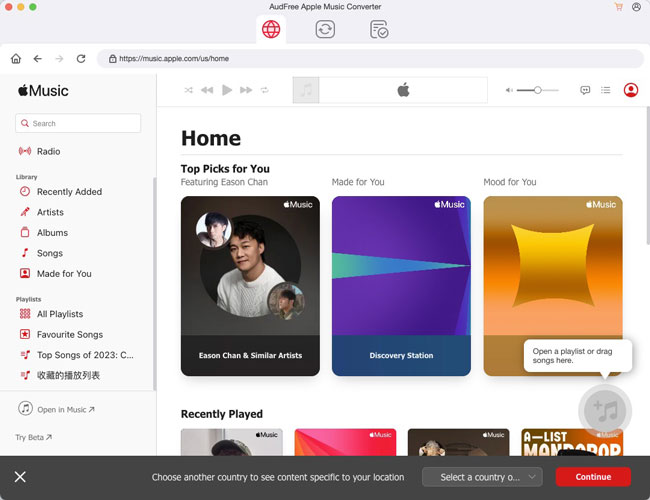 Step 2. Click on the Format panel to set the output parameters such as output format, codec, channel, bit rate and sample rate. You may prefer to select MP3 as the Apple Music output format for easy access on Twitch or more devices.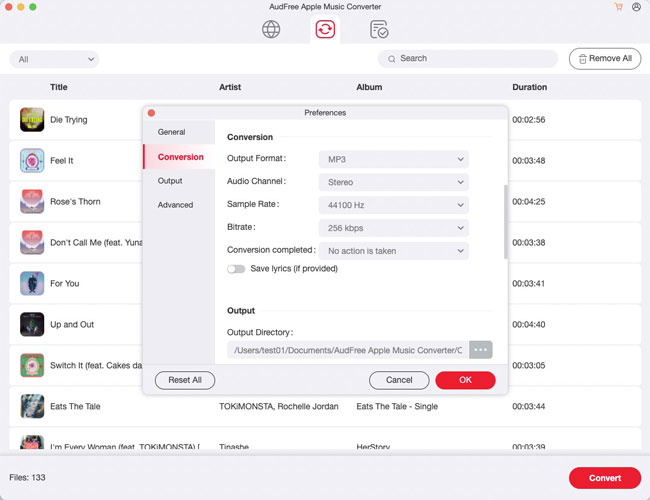 Step 3. Finally, click Convert button to trigger the conversion process. The conversion speed can be up to 30 times faster. Once it is done, tap the Converted icon to view the uncopyrighted Apple Music files on your computer locally.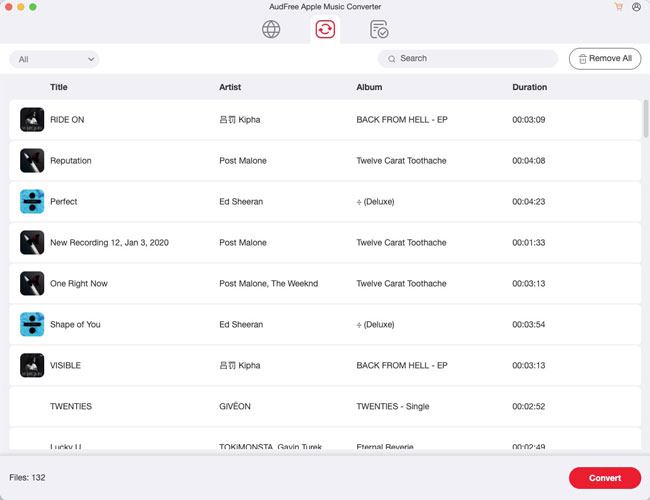 How to Use Apple Music in Twitch Stream via Streamlabs OBS
Now you're well on your way to getting unprotected Apple Music local files. You need to add Apple Music to Streamlabs OBS first, and then set up audio on Twitch to stream Apple songs easily.
Step 1. Launch Streamlabs OBS and click the "+" button on the source page.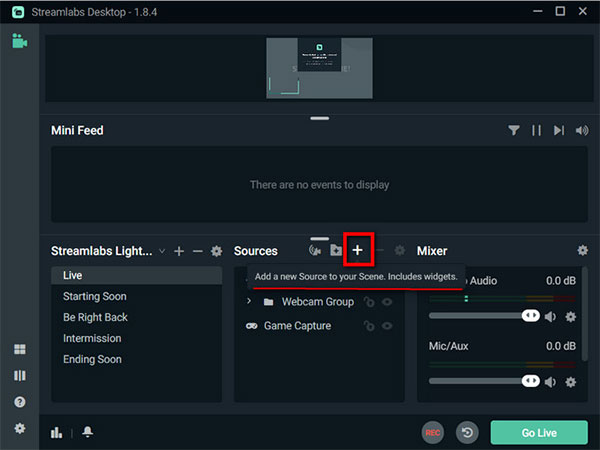 Step 2. Select the Media Source > Add Source button.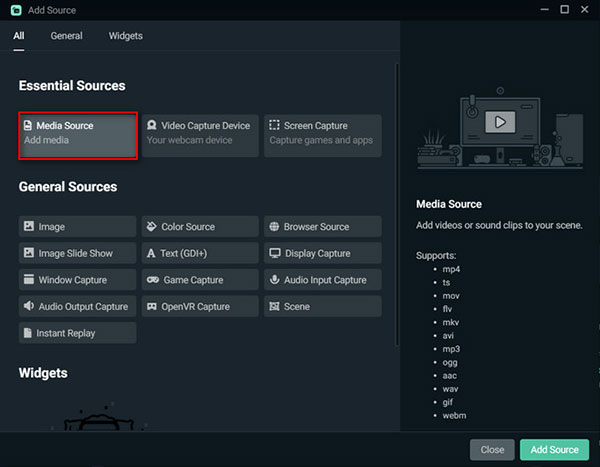 Step 3. Choose the unprotected Apple Music file from the folder and click Done.
Step 4. Now, you can enjoy Apple Music on Twitch stream with your listeners.
Part 4. FAQs of Twitch and Apple Music
Can I Play Copyrighted Music on Twitch through Apple Music?
Twitch is extremely copyright conscious and you are not allowed to use unlicensed Apple Music on Twitch streams. However, you can use AudFree Apple Music Converter to get Apple Music without any copyright protection for free playback on Twitch.
Will I Get Banned on Twitch for Playing Copyrighted Apple Music?
For use of copyrighted Apple Music, Twitch will issue warnings for first-time offenders and penalties for egregious violations, such as suspensions or bans from live streaming.
Part 5. In Conclusion
Due to Apple Music copyright protection, you can't play Apple songs on Twitch directly. But with AudFree Apple Music Converter, you can easily download unprotected Apple Music and then stream them to Twitch. Why not give it a try to enrich your Twitch stream?