For Apple users, you will agree that there is nothing more fascinating on your phone than the music app. The reason is that it helps you come up with your preferred music playlist with ease. While the Apple Music is awesome, it is not necessarily perfect. Yes! You may occasionally lose your playlists on Apple Music, although this is not a must.
So, what should you do once you become a victim of a lost Apple Music playlist? Well, just relax and follow the options provided in this piece. Here, this article will introduce the possible reasons for Apple Music playlist disappeared and 9 top solutions to fix Apple Music library gone.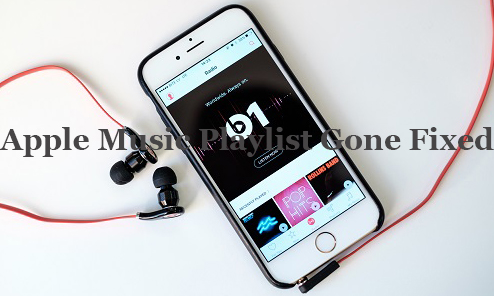 Part 1. Why Did My Apple Music Playlist Disappear
Although it is an occasional phenomenon for some Apple users, Apple Music playlists disappeared issue is not a natural. As for the causes of Apple Music playlist missing, we have listed a few possible factors.
1. Errors in the iCloud Music Library. Ideally, the iCloud Music Library is tasked with syncing and sharing streaming music tracks from Apple Music. Therefore, If songs have disappeared from Apple Music playlists, it's possible that something is wrong with the iCloud Music Library.
2. Apple Music subscriptions expire. Apple Music is a subscription-based streaming service, and all playlists created on Apple Music will disappear once your subscription expires.
3. The abnormal state caused by iOS update. If you update iOS device, you can find that iTunes account is synced between devices and even Show Apple Music option is turned off automatically. Then the issue of Apple Music gone from library will come up.
Part 2. How to Fix Apple Music Library Gone
Based on the possible reasons mentioned above, if you want to know how to restore Apple Music library, please follow these simple and effective solutions.
Fix 1. Enable the Apple Music Playlist
If you find that the Apple Music playlist has disappeared from your iPhone, but the Apple Music playlist from iTunes is still available on your computer, the first way is to enable the Apple Music playlist.
Step 1. Open Apple Music on your iPhone, select "Library" and tap the "Edit" button in the upper right corner.
Step 2. If the Playlists section in the Library view is turned off, you'll need to enable it.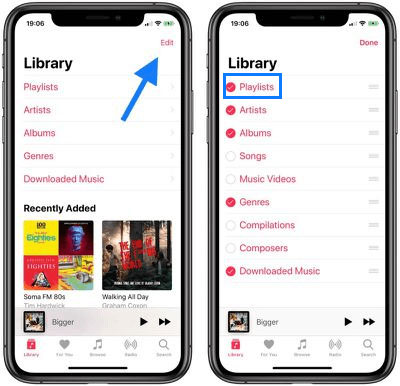 Fix 2. Check Your Apple Music Subscription
If Apple Music playlist gone after subscription, you need to check whether you have successfully subscribed to Apple Music or whether the subscription has expired. Once your subscription account is unavailable, you won't have access to the Apple Music library. Please follow the steps below to confirm account status.
On iOS
Step 1. Tap "Settings" on your iOS device, then click your name.
Step 2. Click the Subscriptions section to check the status of your Apple Music subscription.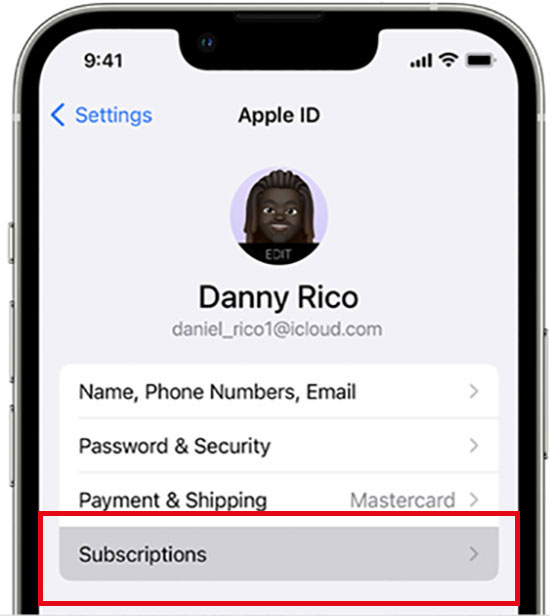 On Mac
Step 1. Run the App Store on your Mac and choose your name.
Step 2. Click Account Settings, scroll down to select the Subscriptions section.
Step 3. Click the Manage button to check your Apple Music subscription status.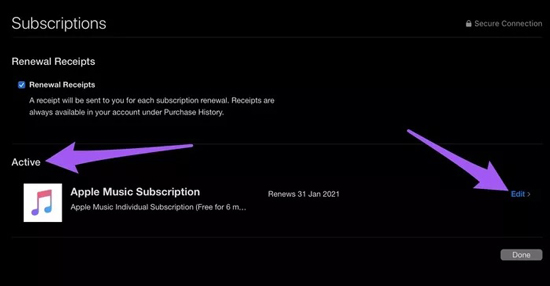 Fix 3. Enable Show Apple Music
After you update iOS, "Show Apple Music" may be turned off automatically. In this case, you need to check and open it to get Apple Music playlists back.
Step 1. Go to Settings > Music of the iOS device.
Step 2. Find the Show Apple Music section under the Music bar. If the option is off, you can turn it on to check if the playlist is visible in Apple Music.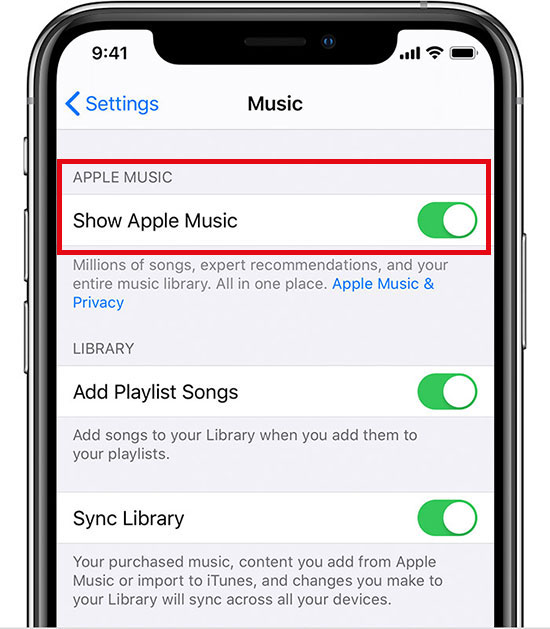 Fix 4. Reset Your Device
Generally, an easy way to fix Apple Music issues is to restart your device. You can press the Power and Home button at the same time until the Apple logo appears on the screen. Then launch the Apple Music app again to see if the playlist is available.
Fix 5. Clear Junk Files from the Device
If the Apple Music deleted my playlist problem occurs, the likely reason is that the storage space in the device is full. In this case, the most direct approach is to clean up and delete unnecessary files and caches to avoid taking up too much storage space. Then check to see if the Apple Music playlist is restored.
Fix 6. Open iCloud Music Library
The iCloud library mainly syncs songs from Apple Music. Once the Apple Music library gone, there's a good chance something is wrong with the iCloud music library. In most cases, this feature could have been disabled and that is why your music disappeared. Therefore, the solution is to re-enable the iCloud music library by following the guidance provided below.
On iOS
Step 1. Open your iPhone and go to the Settings app.
Step 2. Scroll down until you can see the Music option and click on it.
Step 3. Find the iCloud Music Library under Library column, you can turn on this option.
View also: How to Disable iCloud Music Library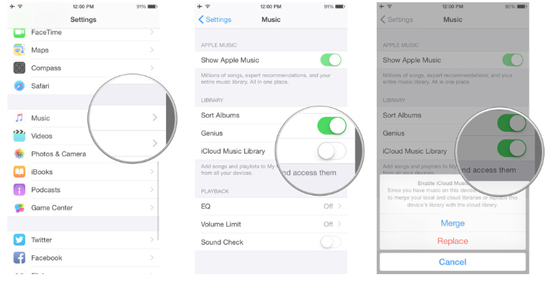 On Mac
Step 1. Run iTunes player on your computer.
Step 2. Click the iTunes button, then select Preferences.
Step 3. Go to the General tab, click on the iCloud Music Library and then click the OK button.

Fix 7. Update iCloud Music Library with iTunes
You can also recover Apple Music playlist by updating your iCloud music library with iTunes. Here are simple steps to get Apple Music gone from library back.
Step 1. Run iTunes on your PC or Mac.
Step 2. Click the File > Library > Update iCloud Music Library button.
Step 3. Now, it will start refreshing the entire library on your computer to recover the missing Apple Music playlist.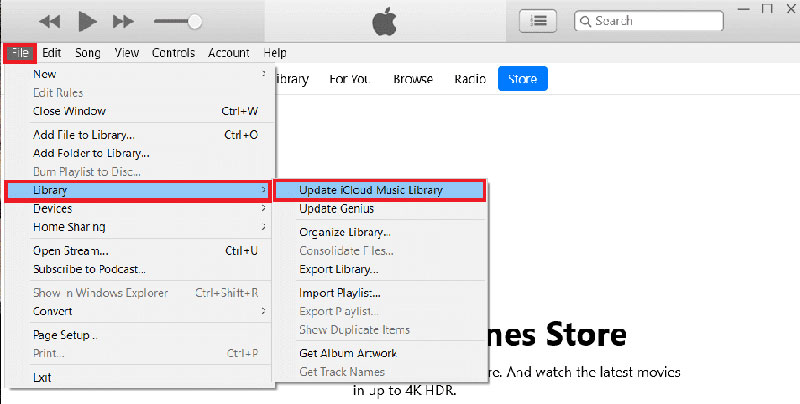 Fix 8. Check the Categories of Apple Music Files
Generally, memory storage for iTunes account or iOS device is divided into Audio, Apps and Other. You can also run into problems with Apple Music playlist gone if your Apple Music files are misclassified to other media. Based on this, you can follow this tutorial to restore Apple Music library.
Step 1. Connect your iPhone or iPad to your computer using a USB cable, then open iTunes.
Step 2. Click the Device icon, and then select the Summary option.
Step 3. Now you can see all the parts on your device. If you find that the other section is too large, it may be that the Apple Music playlist is incorrectly sorted in the other part.
Step 4. Try syncing your device with iTunes and then restarting the device to check that the deleted playlist appears on Apple Music.
Part 3. How to Avoid Apple Music Playlist Gone Forever
If the above methods don't work, here's an ultimate way to ensure that you do not fall victim of Apple Music gone wrong. That is to use AudFree Apple Music Converter, which can avoid losing Apple playlists by storing Apple Music locally. In fact, its main working principle is to download songs, playlists, albums, podcasts, etc. from Apple Music as local files.
What's more, it allows you to convert Apple Music to MP3, WAV, FLAC and other common formats at 30X faster speed. It will preserve 100% lossless output quality and all original ID3 tags of the playlist. With this amazing tool, you can keep and backup unprotected Apple Music forever without worrying about Apple Music playlist disappeared.
How to Avoid Apple Music Library Gone Forever
Step 1. Download and launch the AudFree Apple Music Converter from your computer desktop. Drag the Apple playlist tracks to the main interface.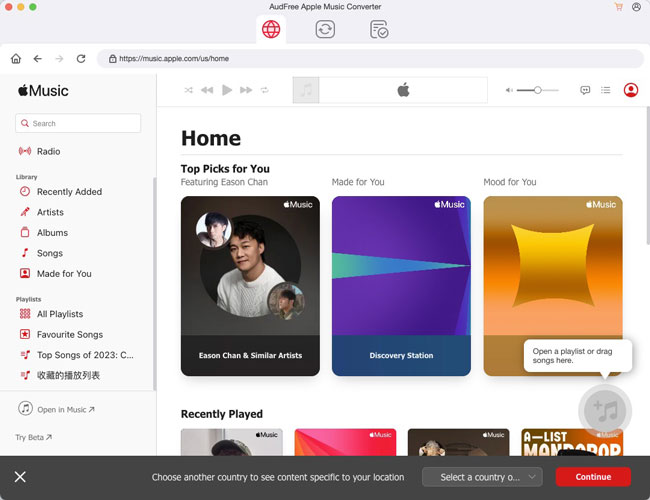 Step 2. Select the Format option in the lower left corner of the screen, here you can customize the output format, bit rate, sample rate, audio channel and other parameters of Apple Music.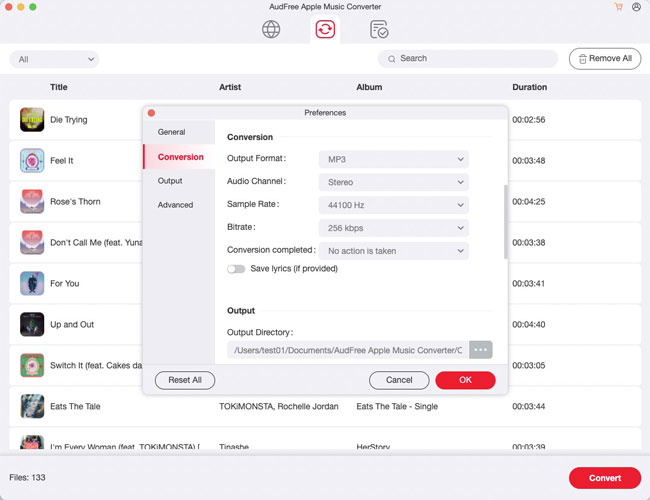 Step 3. Click the Convert option you see and it will start the conversion of the Apple Music playlist to common formats. Then you can freely enjoy Apple Music playlists on any device without any problems.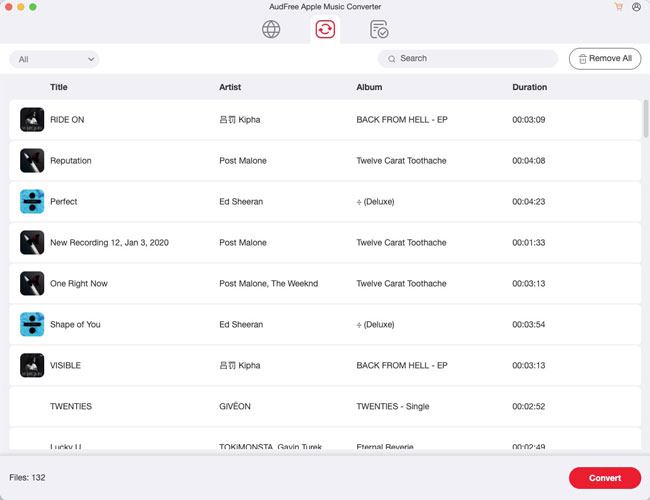 Part 4. Video Tutorial to Fix Apple Music Playlist Disappeared
You can check out the visual video below for the 9 solutions mentioned above to fix the Apple Music library gone problem with ease.
Part 5. Sum Up
The problem of Apple Music playlist disappeared is very distressing. Fortunately, you can restore Apple Music library through the 9 solutions provided in this article. By the way, the best way is to use AudFree Apple Music Converter to download unprotected Apple Music songs locally. With it, you can listen to Apple Music offline without any loss.