You have just downloaded new songs into your Spotify. Suddenly, you realize that some songs have become deleted without your contest or any warnings. What will you do? A lot would panic, and this is understandable. However, there is no need to worry once you find that some music tracks missing in your Spotify account. The reason is that AudFree Spotify Music Converter software has got your back.
Yes! Through this software, you can easily solve Spotify song disappeared issue within the shortest time possible. Wondering how you will do this? How about taking a look into the simple procedure provided in this amazing article below? But first find out why the songs disappeared.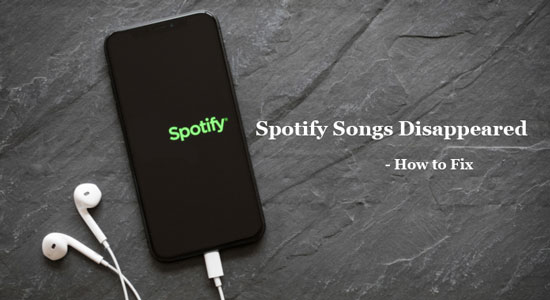 Part 1. Why Do Spotify Saved Songs Disappear
The disappearance of Spotify songs is not a natural occurrence. Various reasons explain the problem. Among the ranked causes of the problem include:
• Poor internet connection
• Exceeding the required limit
• Logging into the wrong account
• Automatic deletion of the songs by the artist
• Changing the region of your VPN network
Given the possible reasons for the disappearance network, here are the things to keep in mind to ensure you do not have to fix "my songs disappeared from Spotify problem" again.
#1. Log in to the Correct Spotify account
Although this is unlikely, the reason your songs are missing in Spotify is that you logged into the wrong account. Therefore, to ensure that this does not occur again, ensure that you have logged into the correct Spotify account. Most of the times, this happens to the people who have multiple Spotify accounts.
Note that this does not mean that it is wrong to have numerous Spotify accounts. It only means that as a user of Spotify, you have to be cautious on the account you are logging in and if it is the account where you saved your alleged missing tracks.
#2. Adhere to the Required Limit
In case you did not know. Spotify is relatively similar to the phone memory. Ideally, if the phone memory is full, it becomes impossible to download more songs. Fortunately for the phone memory, you will always get an alert that the download is unable to complete because of lack of enough space.
With Spotify, the download might continue, but in return, the previously download audio becomes automatically deleted. Therefore, it is essential to understand the limitations of your Spotify account. Ideally, premium users are allowed to download up to 10,000 songs on three devices. However, one must keep track of whether they have exceeded this limit to avoid a case of Spotify song disappearing.
See Also: How to Play Spotify on Multiple Devices
#3. Avoid Changing VPN Network
Although you succeed in downloading various audio tracks on Spotify, something strange might happen. If you change the VPN network of your region, some of the songs you had already downloaded will likely disappear.
It is therefore recommended that you avoid changing the VPN network on your Spotify account. Failure to this, you are likely to continue experiencing more cases of songs disappearing without your knowledge on your Spotify account.
#4. Always Use Stable Internet Connection
During the beginning of this section, the poor internet connection was listed among the reason why songs disappear on Spotify. With this in consideration, it is evident that with a good internet connection, the songs may not go missing in your account.
As a result, it is necessary to ensure that you have a stable internet connection if you do not want to have your songs disappearing from your account. Along with making sure that the internet connection is perfect, you need to ensure that all the other three steps are followed to be on the safer side.
Part 2. How to Fix Spotify Songs Disappeared - Best Way
When it comes to using software to solve the disappearance of Spotify songs, there is much software you can use. However, it is not advised to pick any software in the market as not all get the job done properly. As a result, it is necessary to consider AudFree Windows Spotify Music Converter software. Not only is it reputable to delivering what it has promised, but it also has other advantages. For instance, if one does not need any technical expertise in the niche to fix the underlying problem using AudFree Spotify Music Converter. Also, the cost is pocket-friendly, thus stop worrying about how much it will cost you. Here is a three-step procedure of using this powerful tool to fix Spotify saved songs disappeared problem:
Step 1

Install AudFree Spotify Music Converter

Without launching the software on your device, it won't be possible to use it. Therefore, the first step becomes downloading and installing the software. You can easily do this by clicking the above 'Download' button for Mac or Windows as you wait for the completion of the download and automatic installation of this software on your device.
Step 2

Open the Spotify converter software

Once you are certain that the software has become installed, click on it to open. Direct yourself to the menu and click on preferences. After this, click on the convert option that appears. This allows you to change the audio to the settings you desire. For instance, you can select a different format of the song, like MP3, FLAC, WAV, AAC, etc. And then please add Spotify music to this tool via dragging&dropping action or copying&pasting action.
Step 3

Convert and download Spotify songs

The next step is to click on the 'Convert' button to initiate the downloading of the new formats of the songs. The newly downloaded songs become stored in the history folder and are impossible to disappear, unlike when you save them automatically on the Spotify account. In addition you can now play your sportily songs on any player and can share them with friends without any restrictions.
Part 3. In Conclusion
You will not be the first person to use AudFree Spotify Music Converter software to solve the Spotify song disappeared issue. Many users have tried this method before. Fortunately, the method turned out successful for them. It is therefore unlikely that the software is used in your case, will become any different. Therefore, you have to take the risk and try it! Just ensure that you are adhering to the procedures presented in this article for desired positive results.