Q: "Even though M4P files are compatible with all my Apple devices such as iPhone and iPad, I have found that there seems to be no way to play iTunes M4P files on other devices or players. So I have tried many ways to convert M4P files to MP3 for infinite joy of music, but none of them are very successful. Is it really possible to convert M4P to MP3?"
The answer is yes, and the problem can be readily solved as long as you have an excellent M4P to MP3 converter. Here, this article handpicks several qualified M4P to MP3 converters for Windows/Mac, online, free, and introduces the detailed operation steps to convert M4P to MP3.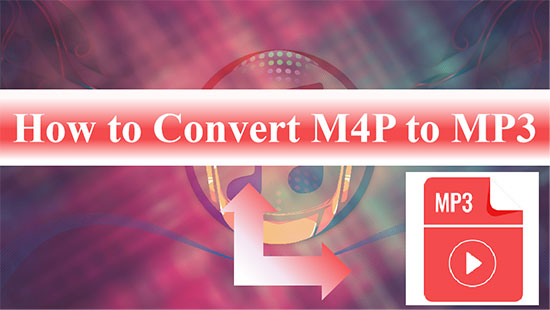 Part 1. What's the Difference Between M4P and MP3
In general, M4P is a protected MPEG-4 audio, an encoded audio file that is restricted to playback on Apple computers or devices such as iPhone, iPad or iPod. In fact, before the launch of Apple Music Lossless HD, most of the audio files that can be downloaded from iTunes Store were made with M4P file extension, and its essence is just an AAC audio file protected with encryption, so sometimes we also call M4P as iTunes Music Store audio file.
Comparatively speaking, MP3 is short for MPEG-1 Audio Layer 3, a file type that compresses the data needed for audio files. MP3 files stand out because their size takes up only one-tenth of the storage capacity of a CD track. Nowadays, MP3 is the most widely used audio file format, almost all audio playback applications are able to open MP3 files - probably even your e-reader. And Windows and macOS users can play MP3 files directly without installing any third-party software.
Part 2. How to Convert M4P to MP3 on Windows/Mac - Best M4P to MP3 Converter
There are many M4P to MP3 converters on the Internet that claim to help you handle the conversion, but mostly with very little success. When it comes to industry-leading iTunes converters, AudFree Auditior must be on the list. As a professional and powerful iTunes M4P songs downloader and converter, it can not only download and convert iTunes songs to MP3 format effortlessly, but also perform the conversion of Apple Music, Audible and common audio.
Moreover, this is an all-in-one M4P to MP3 converter that is perfectly compatible with Windows and Mac systems. And there is no data loss after conversion - the original quality and ID3 meta tags of M4P songs will be preserved after 30X conversion speed. Downloading your entire iTunes library locally is quite easy with this handy conversion assistant. After that you can keep all your MP3 songs in your iTunes library forever and listen to them even without a subscription.
AudFree M4P to MP3 Converter
How to Convert M4P to MP3 on Windows/Mac
Step 1

Import M4P Songs to AudFree Auditio

Make sure you have downloaded and registered AudFree Auditior on your PC/Mac. Remember to authorize your computer with the correct iTunes account, and that M4P Songs will play well. After that, drag the M4P audio files from your computer's hard drive directly to AudFree Auditior's conversion window. If you like, you can also use the first Add button to import these files. Also, you're able to add multiple files for batch conversion.
Step 2

Customize M4P Songs Output Format to MP3

Once the M4P files are added to AudFree Auditior, just click or the Format button and select the audio output format to MP3. Next, go ahead and select to define other audio properties such as codec, channel, sample rate, etc. Then click on the Edit icon, you will be directed to a window where you can edit the ID3 tags of your MP3 music.
Step 3

Download and Convert M4P to MP3

Now click the Convert button and let AudFree Auditior start converting your songs according to your settings above. Once done, you can get the converted MP3 songs from the History folder so that you can play iTunes songs on multiple MP3-compatible devices and players without any restrictions.
Part 3. How to Convert M4P to MP3 Online - M4PConvert.com
M4PConvert.com is one of the popular online M4P to MP3 converters recently and plays an important role in the process of converting M4P files. If you need to get MP3 files online and make them compatible with different devices, you've come to the right place. With this easy-to-use online M4P converter, you can convert every M4P to MP3 format in just a few simple clicks without downloading or installing any other additional software.
Moreover, you don't need to worry about the security of your personal information because M4PConvert.com automatically removes every uploaded M4P file within one hour. As for the conversion process, high quality conversion is achieved by specially designed algorithms and conversion speed is 3 times faster than anywhere else. What's more, this awesome M4P conversion assistant makes an algorithm that allows you to perform countless conversion jobs. It will always serve you as long as you need it.
How to Convert M4P to MP3 Online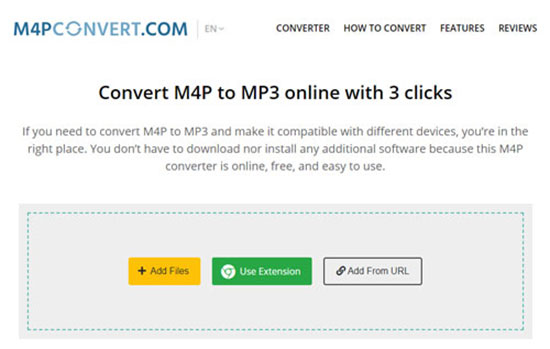 Step 1. First select any iTunes M4P file you like, drag the selected audio file and drop it into the upload box on M4PConvert.com.
Step 2. Press the "Convert" button and M4PConvert.com will start to convert M4P to MP3 automatically. Then wait for a moment and the conversion will be finished.
Step 3. Click the Download button to download the converted MP3 files. You can then add this new MP3 song to your playlist and enjoy MP3 music at your own pace.
Part 4. How to Convert M4P to MP3 for Free - FreeConvert.com
It must be excellent if you can find a free way to convert M4P to MP3. Fortunately, FreeConvert.com has emerged in response to popular demand. In fact, it's a free M4P to MP3 converter without any software installation. With an uninterrupted Internet connection, you can use it to effortlessly make M4P to MP3 conversion a reality on any web browser.
Using open source and custom software, this ensures that the conversions performed through FreeConvert.com are of high quality. In addition, when you upload M4P files, they are protected by 256-bit SSL encryption and are automatically deleted after 2 hours. This also protects the security and privacy of documents extremely well.
How to Convert M4P to MP3 for Free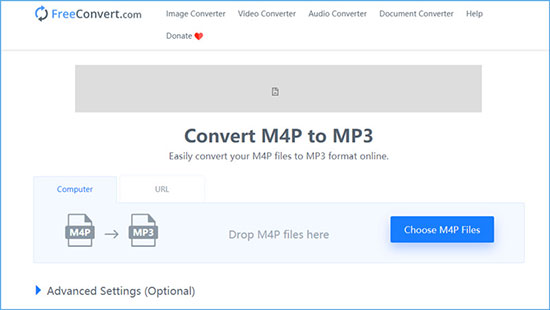 Step 1. Click the "Select File" button and choose your favorite M4P file. Or drag and drop it directly to the upload window.
Step 2. After the files are uploaded, click the "Convert to MP3" button to start converting M4P files to MP3.
Step 3. When the conversion is done, click the Download MP3 button and you have successfully converted your iTunes library to MP3. After that, you have the privilege to play MP3 songs as you like without any limiting condition.
Part 5. How to Convert M4P to MP3 with iTunes
Here are two methods to help you convert M4P audio files to MP3 format with iTunes. Just follow the steps below to try it out together.
How to Convert M4P to MP3 via iTunes Match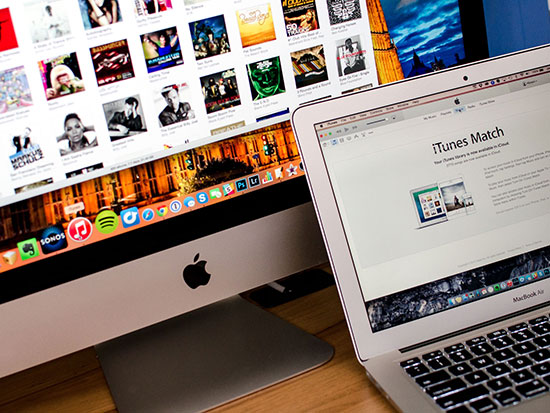 Step 1. Open the iTunes app on your computer, click the Sign In button, and enter your Apple ID and password to sign in to your iTunes account.
Step 2. At this time, you can see all the M4P music files purchased from iTunes store, find the music you want to convert. Click on the target music file and click Delete from Library there.
Step 3. Click on Store option to open iTunes Store tab and click on Purchase link option. Select the "Not in my library" tab and find the song or album you deleted earlier.
Step 4. Finally, click the Download icon and go to File>Convert>Create MP3 Version, thus you can smoothly convert unprotected M4P files to MP3.
How to Convert M4P to MP3 via a Burned CD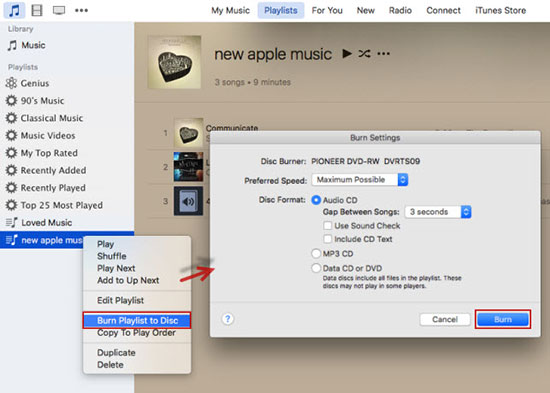 Step 1. Launch the iTunes App on your computer and insert a blank disc into your disc drive. Click File > New > Playlist to create a new playlist and save your protected M4P files in this playlist.
Step 2. Click File > Burn Playlist to Disc option and adjust the burning settings in a pop-up window named Burn Settings. Once the settings are done, select the Burn button to continue burning.
Step 3. After creating the disc, click File > Convert > Create MP3 Version to save the contents of the disc to your computer.
Step 4. Finally, click Edit>Preferences>General on iTunes option, and then click Import Settings button to start ripping those iTunes songs from the CD to your computer. In this way, your M4P files are all converted to MP3 format and you can see the converted MP3 music on your computer.
Part 6. FAQs About Converting M4P to MP3
Q: How Do I Open M4P Files?
A: In reality, you can use iTunes on your Apple device to open M4P files. It is worth mentioning that the computer using iTunes app must be authorized to play M4P files, and this can be achieved by logging into iTunes using the same account from which the M4P files were downloaded. Alternatively, you can use QuickTime and PotPlayer to play M4P files.
Q: How to Open MP3 Files?
A: As mentioned earlier, MP3 is the most widely used audio file format today, and almost all audio playback tools can play MP3 files. You can play MP3 not only in Windows with Windows Media Player, but you can also play MP3 files in Mac with iTunes.
Q: Can MP3 Players Play M4P Files?
A: Unfortunately, M4P files are not compatible with most popular devices, including MP3 players, Android phones, and even iPod Nano. When you want to transfer iTunes M4P files on your portable MP3 player, or play them in your car, you are always blocked.
Q: Why We Need to Convert M4P to MP3?
A: Since M4P files are only compatible with all Apple devices, they cannot be played on other unlicensed devices or players. Therefore, converting M4P files to a more versatile and widely supported format, such as MP3, is a more convenient idea. In this way, you can enjoy iTunes MP3 music to the maximum.
Part 7. In Conclusion
If you want to enjoy iTunes songs to your heart's content, converting M4P to MP3 is undoubtedly the optimal choice. Here are the best M4P to MP3 converters for your reference. What are you waiting for? Just take practical action now.