Q: "Although M4P files are compatible with all my Apple devices (like iPhone and iPad), I find that there seems to be no way to play M4P files on other devices or players. So I have tried many ways to convert M4P files to MP3 for the infinite joy of music, but none of them are very successful. Is it really possible to turn M4P into MP3?"
The answer is yes. Here, this article summarizes several 100% effective M4P to MP3 converters to convert DRM-protected M4P to MP3 on Mac, Windows, free, and online. Now, let's look at the specific details.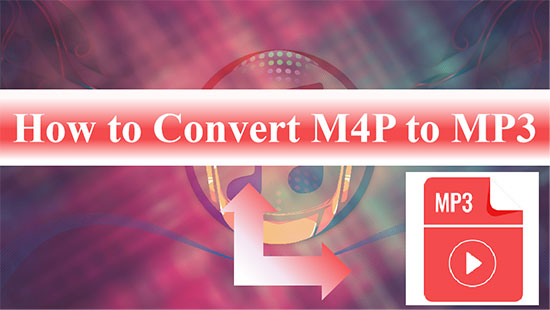 Part 1. M4P and MP3: What You Should Know
What's MP4 vs What's MP3
M4P is a protected MPEG-4 audio, adopted by Apple in 2015 and only used in Apple Music. Before the launch of Apple Music Lossless HD, most of the downloaded audio files in the iTunes/Apple Store were made with the .m4p file extension. It is essentially a file extension used for encrypted and protected AAC audio files with Apple DRM technology. That means the .m4p files can be playable only on authorized devices. In general, M4P files tend to have higher sound quality than MP3 files, but they also take up more storage space.
MP3 is short for MPEG-1 Audio Layer 3. It is a file type that compresses the data needed for audio files to reduce the file size while maintaining a reasonable level of audio quality. The .mp3 file size is only one-tenth of the storage capacity of a CD track. It was first introduced in 1994 and has since become the standard format for digital audio files. Nowadays, this format is available for a wide range of devices and software applications.
Why We Need to Convert M4P to MP3
As you can see from the comparison table below, M4P files are only associated with Apple ID and compatible with all Apple devices. But it cannot be played on other unlicensed devices or players. Therefore, converting M4P files to the more versatile and widely supported MP3 format is a more convenient idea. In this way, you can enjoy Apple Music MP3 to the maximum.
| | M4P | MP3 |
| --- | --- | --- |
| Compression | Lossy | Lossy |
| Multimedia DRM protection | ✔️ | ❌ |
| Compatibility | Apple devices with iTunes installed | Almost all devices and music players |
| File size | Larger | Smaller |
| Quality | Higher quality | High quality |
| Bitrate | 128 - 256 kbps | 96 - 320 kbps |
Part 2. How to Convert DRM-Protected M4P to MP3 on Windows/Mac
There are many M4P to MP3 converters on the Internet that claim to help you handle the conversion. But the conversion proccess of many tools are rarely successful. When it comes to industry-leading tools, AudFree M4P to MP3 Converter must be on the top of the list. It can not only effortlessly remove Apple Music format locks, but also convert Apple Music M4P to MP3, WAV, FLAC, AAC, and so on.
Besides, it's an all-in-one audio converter, fully compatible with Windows and Mac systems. And there is no data loss after conversion - the original quality and ID3 tags of M4P songs will be preserved after 30X conversion speed. This way, you can save all your MP3 songs forever locally and listen to them offline even without a subscription.
Pros
✔️ Convert Protected M4P to MP3 and More Formtas:
AudFree Apple Music M4P to MP3 Converter is specialized in removing built-in DRM restrictions from Apple Music M4P files. Apart aside MP3, it also works to convert those M4P files to unprotected FLAC, WAV, AAC, and other popular formats.
✔️ Download and Keep All Apple Music Content Locally Forever
AudFree Auditior works to batch download songs, playlists, podcasts, albums, artists, and the like from Apple Music as local files that you can keep forever.
✔️ Work with Apple Music/iTunes/Audible
Besides Apple Music, AudFree Auditior is also designed to export iTunes audio and Audible audiobooks as well as regular audio.
✔️ Retain Lossless Audio Quality and Full Metadata Info
It adopts top-notch conversion technology, making it capable of preserving the original audio quality and ID3 tags of Apple M4P songs.
✔️ Enable to Customize Output Formats and Parameters
This expert gadget allows you to customize output formats and more parameters for Apple Music M4P songs, such as bit rate, sample rate, audio channels, etc. to keep the highest streaming quality.
✔️ Support Batch Conversion at 30X Faster Speed
AudFree Auditior supports converting M4P files in batch. You can add files and export files as much as possible at one time.
✔️ Easy to Use with Intuitive User Interface and High Success Rate
Boasting an easy-to-use user interface, this converter is friendly for beginners with a high success rate while also has many powerful features.
Cons
❌ Requirements for installing the iTunes/Apple Music app.
How to Convert M4P to MP3 on Mac/Windows
Hit the above download button to install this M4P to MP3 software on your Windows or Mac computer. Please download the M4P songs from Apple Music with your existing Apple Music account beforehand.
Step 1

Import M4P Songs to AudFree Auditior

Make sure you have authorized your computer with the correct iTunes account, and that M4P songs will play well. After that, drag the M4P audio files or the whole folder from your computer's hard drive directly to this top Apple Music converter. If you like, you can also use the first 'Add' button in the bottom left corner to load multiple files at one time.
Step 2

Customize M4P Songs Output Format to MP3

Once the M4P files are added to AudFree Auditior, just click the first lower-right 'Audio' button. From the pop-up Format Setting window, select the audio output format to MP3. Next, go ahead to define other audio properties such as codec, channel, sample rate, etc. By clicking on the 'Edit' icon to the right of each track, you will be directed to a window where you can edit the ID3 tags of your MP3 music.
Step 3

Download and Convert Apple Music M4P to MP3

Now click the 'Convert' button, and the AudFree Auditior will batch convert M4P to MP3 files. Once done, you can get the converted MP3 songs from the History folder. Afterward, you can play Apple songs on multiple MP3-compatible devices and players without any restrictions.
Part 3. Three M4P to MP3 Converters Online
As for converting M4P files to MP3 online, here are three top online tools that help you change M4P files to MP3 for free.
1. FreeConvert.com
FreeConvert.com is an online M4P to MP3 converter that doesn't require any software installation. With an uninterrupted Internet connection, you can use it to effortlessly make M4P convert to MP3 in any web browser.
Using open source and custom software ensures the conversions performed through FreeConvert.com are of high quality. In addition, when you upload M4P files, they are protected by 256-bit SSL encryption and are automatically deleted after 2 hours. This also works well to protect the security and privacy of your documents.
Pros
✔️ Free to use, no need to install any software
✔️ Convert M4P to MP3 free online
✔️ Ensure privacy and security for uploaded M4P files
✔️ Support multiple input resources
Cons
❌ Slow conversion speed for larger files
❌ Require Internet connection to use
❌ Limited customization options
❌ Low success rate due to unknown errors
How to Turn M4P into MP3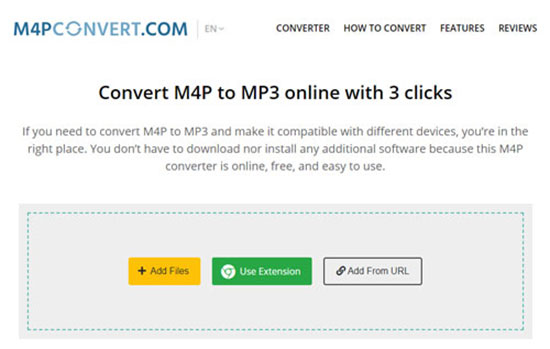 Step 1. Navigate to the FreeConvert.com website. You need to download the Apple Music M4P songs from iTunes in advance
Step 2. Click the 'Choose Files' button and select your favorite M4P file. Or drag and drop it directly to the upload window.
Step 3. Once uploaded, choose 'MP3' from the Output section on the right of the added files to start changing M4P files to MP3.
Step 4. Once done, click the 'Convert' button and you have successfully converted your iTunes library to MP3. After that, you have the privilege to play MP3 songs as you like without any limiting conditions.
2. Filezigzag
Filezigzag is an online file conversion service that supports over 180 different file formats including 11 audio formats. It allows users to convert various file types, including audio, video, images, documents, and archive files. Therefore, it is also a popular choice for changing M4P files to MP3. However, you can only use M4P files up to 10MB in size for free, and larger files require a paid subscription.
Pros
✔️ Supports over 180 different file conversion formats covering 11 audio formats
✔️ No software installation required
✔️ 256-bit SSL encryption protection for uploaded files
Cons
❌ Limited options for customizable related parameters with annoying ads
❌ File size limit of 10MB for the free version
❌ Convert at an extremely low speed
How to Change M4P to MP3

Step 1. Go to the official Filezigzag website. Please make sure you have downloaded Apple Music M4P songs in advance.
Step 2. Click the 'Browse for Files' button to select the downloaded M4P files you want to convert, or directly drag and drop your M4P files.
Step 3. Select 'MP3' as the output format under the 'Target Format' section.
Step 4. Tap the 'Start Converting' button to kick off the conversion process.
Step 5. Once finished, hit the 'Download' button to save the MP3 files to your computer or device.
3. OnlineConvertFree
The last online M4P to MP3 freeware you can't miss is OnlineConvertFree. It allows users to convert a wide range of file types, including audio, video, images, documents, and archived files. What's more, it supports more than 20 different audio formats, making it a versatile tool for converting normal M4P to MP3. The service is free to use, and no software installation is required.
Pros
✔️ Support over 20 different audio formats
✔️ Simple and user-friendly interface
✔️ Automatic deletion of uploaded files after 24 hours
✔️ Completely free, no software to install
Cons
❌ Support only one output audio format: MP3
❌ Conversion speed will be slower for larger files or during periods of high traffic
❌ Internet connection is required to use
How to Convert M4P Files to MP3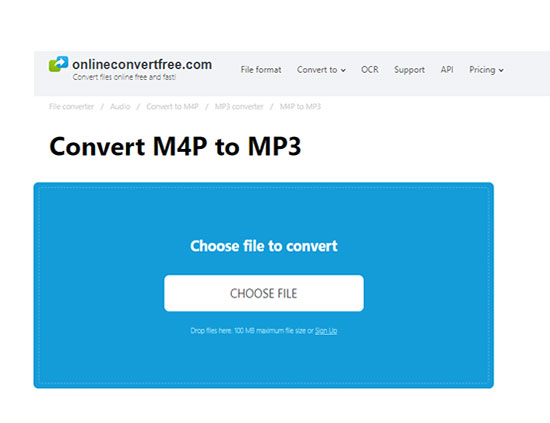 Step 1. Visit the OnlineConvertFree website.
Step 2. Click the 'Choose File' button to select the M4P file to be converted.
Step 3. Select 'MP3' as the output format of the M4P file.
Step 4. Click the 'Convert' button to start the conversion process, the conversion time depends on the size of the file.
Step 5. Select the 'Download' tab to get a more widely compatible MP3 file.
Part 4. How to Convert M4P to MP3 on Mac with iTunes
Apart from the above tools, you can also opt to change M4P to 256 kbps MP3 files for your audio files on iTunes directly. Here are two methods to help you convert M4P to MP3 format with iTunes. Just follow the steps below to try it out together.
How to Convert M4P to MP3 via iTunes Match
Note: This method only works for purchasing M4P music files from iTunes or Apple. And you need an iTunes subscription at $24.99 per year to activate the iTunes Match feature.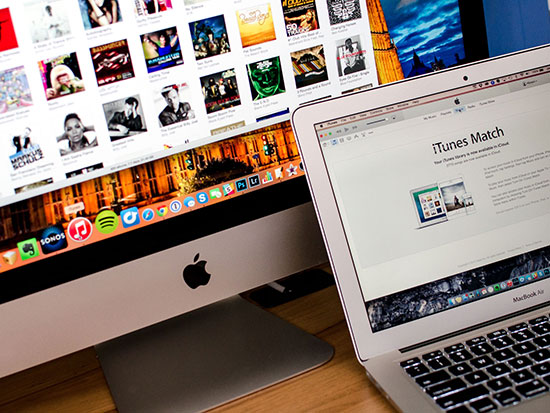 Step 1. Open the iTunes app on your computer, and click the 'Sign In' button. Then enter your Apple ID and password to sign in to your iTunes account.
Step 2. At this time, you can see all the M4P music files purchased from the iTunes store, and find the music you want to convert.
Step 3. Click on the target music file and click 'Delete from Library' there.
Step 4. Hit on the 'Store' option to open the iTunes Store tab and click on the 'Purchase' link option.
Step 5. Select the 'Not in my library' tab and find the song or album you deleted earlier.
Step 6. Finally, click the 'Download' icon and go to File > Convert > Create MP3, thus you can smoothly convert unprotected M4P files to MP3.
See also the difference between Apple Music and iTunes Match: Apple Music vs iTunes Match.
How to Convert M4P to MP3 via a Burned CD
You can also convert unprotected M4P to MP3 using a burned CD, this method is applied to those audio files purchased from iTunes. Please remember that each song can only be burned up to 7 times, after burning, the sound quality will be slightly degraded. If you don't mind, follow the steps below to burn Apple Music to CD.
Step 1. Launch the iTunes App on your computer and insert a blank disc into your disc drive.
Step 2. Click 'File' > 'New' > 'Playlist' to create a new playlist and save your protected M4P files in this playlist.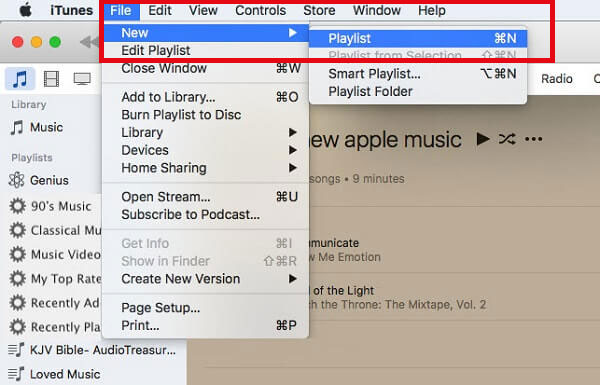 Step 3. Click the 'File' > 'Burn Playlist to Disc' option and adjust the burning settings in a pop-up window named Burn Settings. Once the settings are done, select the 'Burn' button to continue burning.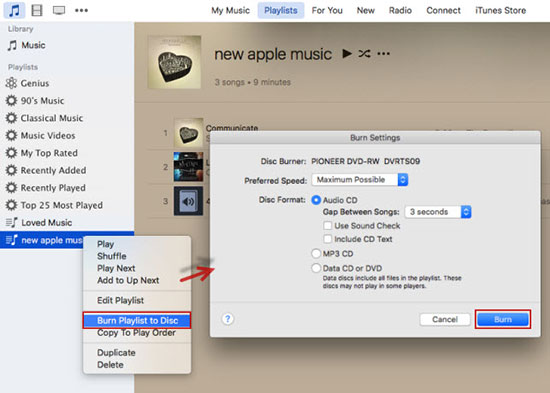 Step 4. After creating the disc, click 'File' > 'Convert' > 'Create MP3 Version' to save the contents of the disc to your computer.
Step 5. Finally, click 'Edit' > 'Preferences' > 'General' on the iTunes option, and then click the 'Import Settings' button to start ripping those iTunes songs from the CD to your computer.
Step 6. Now, your M4P files are all converted to MP3 format and you can see the converted MP3 music on your computer.
Part 5. FAQs About Converting M4P to MP3
Q1: How Do I Open M4P Files?
A: In reality, you can use iTunes on your Apple device to open M4P files. It is worth mentioning that the computer using the iTunes app must be authorized to play M4P files, and this can be achieved by logging into iTunes using the same account from which the M4P files were downloaded. Alternatively, you can use QuickTime and PotPlayer to play M4P files.
Q2: How to Open MP3 Files?
A: As mentioned earlier, MP3 is the most widely used audio file format today, and almost all audio playback tools can play MP3 files. You can play MP3 not only in Windows with Windows Media Player, but you can also play MP3 files in Mac with iTunes.
Q3: Can MP3 Players Play M4P Files?
A: Unfortunately, M4P files are not compatible with most popular devices, including MP3 players, Android phones, and even iPod Nano. When you want to transfer iTunes M4P files on your portable MP3 player or play them in your car, you are always blocked.
Q4: Is It Legal to Convert M4P to MP3?
A: In general, it may be legal to convert M4P files to MP3 for personal use.
Q5: Will Converting M4P to MP3 Affect the Quality of the Music?
A: Yes, since MP3 is a compressed file format and the conversion process itself may result in a slight loss of quality. The degree of loss will depend on the bitrate of the original M4P file and the bitrate of the converted MP3 file.
Part 6. In Conclusion
If you want to convert M4P files to MP3 free online, you can choose FreeConvert, Filezigzag, or OnlineConvertFree. But the conversion speed and security as well as the success rate can't be guaranteed. We recommend you use AudFree Apple Music Converter to convert DRM-protected M4P to MP3 without any quality loss. And you can also customize various output parameters to enjoy MP3 songs to your heart's content.