As for most people listen to music, or voice notes every day, but there are very few who are also aware of the difference between audio formats. Still, there is hardly anyone who can tell which format is used for which purpose. Now take the example of M4A, and most among you would ask what is M4A? Well, it's just another format for audio. Even some individuals will ask what is MP3? Or what is the difference between M4A and MP3?
First of all, you need to understand that both of these are just two different audio formats, that are used for different purposes. You need to be clarified the depth of these two formats before you even fall into that how to convert M4A to MP3? Now let's first take a look at the comparison on M4A vs MP3.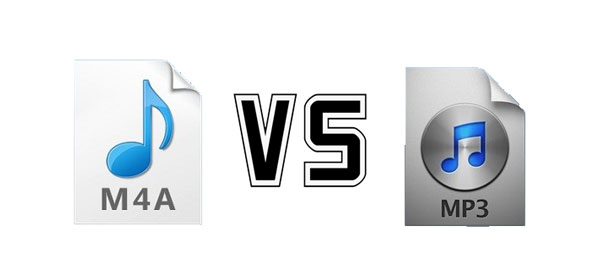 What Are M4A and MP3 Formats?
What Is M4A?
M4A is just the format being applicable for Apple users who download different audio files from a third-party source other than iTunes. So basically, this format is not the protected one, and that means you have unlimited access to the library of M4A audio format files due to the zero-payment limit.
Furthermore, you can also use these files as your iPhone Ringtone, but you need to rename the format of this file from M4A into M4R and make iPhone ringtone from Apple Music.
Last but not least these are high quality and less space-consuming files which means you can download as much as you want and have little concern about fewer storage problems. Now coming to its negative side, and for that first one has already been mentioned above that it does not support video sound. M4A is also limited to a few devices.
What Is MP3?
The next one is MP3, which most of you are already aware of because this is one of the most commonly used audio formats all around the world. This file format is also restricted to audio-only, but it has become so much popular that every iPhone user downloads files in MP3 format because it lets them freely share them across different devices. Plus, due to its low size, they are really easy to keep as well.
Comparisons Between M4A and MP3
Now if you want to find out which one is better in quality from MP3 vs M4A, then MP3 is in low quality as compared to M4A. As now you are already aware of the basics, plus and minus points of both of these formats, so next, you should know the basic difference between M4A and MP3.
Sharing and Compatibility
As you are aware that both of these are audio-only formats, which means you can use them just for listening audio-only. Both of these formats use compress technology that has allowed both of these format files to be less in size, but less in size does not mean that both have the same voice quality. Usually, the M4A format file size is a bit higher as compared to MP3, and for sure higher the file size, the better the voice quality.
Now if most of you were using MP3 then there is nothing to worry because MP3 is not a bad voice quality file. It is all about the comparison of MP3 vs M4A, that M4A is better due to its file size. On the other hand, when you compare both of these formats on the behalf of sharing and compatibility then MP3 is a lot better than M4A because M4A is a kind of restricted file format with very few sharing options.
Whereas when it comes to MP3 then it does not matter that on which device you play it on, it will be compatible with all of them. As far as sharing is concerned then due to its compatibility freedom you can share these files freely without any restriction at any device and anywhere.
How to Convert M4A to MP3
Now after you find out the compatibility and sharing the freedom of MP3, you would surely want to know that how to convert M4A to MP3? Now to convert M4A to MP3, most people find trouble finding out any appropriate platform where they can easily convert M4A to MP3 in simple steps. Well, AudFree Audio Converter is one easy-to-use software where you can convert any audio file format to six formats including MP3. Conversion of file formats is really simple in this software, as all you need to do is to simply download and install it over your PC, and start the conversion in 3 steps.
Step 1. The first step is to choose the input file format and files for conversion. For this purpose, there are two different options available. The first one is to load iTunes library and the second one is to add your local files which allows you to add M4A file format from your storage.
Step 2. Once the input file is loaded, then the next step is for sure to select the conversion file format, and for that, there will be a whole list for you to choose from. Here simply select MP3 and other audio parameters according to your needs.
Step 3. Now click the Convert button, and AudFree Audio Convert can run at 30X high conversion speed. You are then free to download and share this new MP3 file anywhere you like, and that is how you can simply convert M4A to MP3.
Conclusion
In the end, most of you might judge MP3 to be better than the M4A file format, well MP3 doesn't need to be the prior choice for everyone. It simply depends on the taste for the quality of audio, which no doubt M4A has better than MP3. As for individuals whose choice is an MP3 file format, they have their reasons for easy sharing. Remember that each of these file formats has their plus points, that can attract anyone.