Music streaming services have revolutionized how we listen to music. By paying a small subscription fee you can access millions of songs to listen to at all times. This gives you a lot of options and thus dramatically enhances your listening experience. But, there are many service providers in the market, which may leave you a headache given that most of these services look the same from the surface.
Have you been exposed to Apple Music or Spotify, the two most popular music streaming services? To facilitate you make the right choice, we will take you through the comparison of Apple Music vs Spotify from all aspects. So which is better Spotify or Apple Music? Here is how they compare. Also, we will present a simple method to download Spotify OGG Vorbis to MP3, AAC, etc., and transfer the available downloads to Apple Music. Please read on!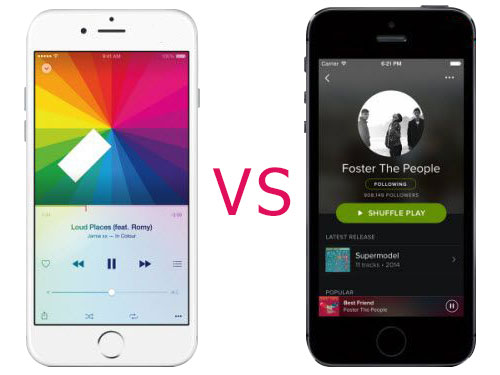 Part 1. Apple Music vs Spotify Sound Quality
The music quality difference between Apple Music and Spotify is regarded as a primary factor in selecting the platform to stream music from. Look at the comparison chart of Apple Music quality vs Spotify quality below. Spotify Free streams music in basic 128 kbps and 160 kbps in AAC codec while Spotify Premium supports 320 kbps in Ogg Vorbis format. This gives you a lot of options when choosing the quality of music. Apple Music also provides AAC format at 256 kbps just like the songs on its iTunes. At the same time, it offers ALAC as the max streaming quality from 16-bit/44.1 kHz (CD Quality) to 24-bit/192 kHz.
Both Spotify and Apple Music give you an equalizer for setting the quality of songs you are streaming, among which the one for Spotify is easier to use and gives you more options. Spotify also offers more options to select the quality of music to download while Apple Music provides the highest quality file as the default setting automatically for you.
Music Services
Apple Music
Spotify
Supported Formats
AAC (Max Desktop Quality)
ALAC (Max Streaming Quality)
AAC (Spotify Free & Premium)
Ogg Vorbis (Spotify Premium)
Sound Quality
AAC:
256kbps
ALAC:
16-bit/44.1 kHz (CD Quality)
24-bit/192 kHz
AAC:
128kbps or 160 kbps
OGG Vorbis:
320 kbps
Part 2. Spotify vs Apple Music: Music Library
Apart from the streaming quality, music library size also plays a significant role in choosing music services. Both Spotify and Apple Music are loaded with music tracks. But, who is the winner: Spotify vs Apple Music in terms of the music library and catalog?
Spotify prides itself on having more than 100 million tracks and over 5 million podcasts in its library and over 49,000 songs added daily. Like Spotify, Apple Music also boasts over 90 million songs and more than 2 million podcasts in its library now. There are 30,000 songs added daily on Apple Music as well. There are a few differences between Spotify and Apple Music in the numbers.
Then let's look at a few additional features that are related to their music libraries. Spotify has a new release tap, empowering you to listen to all the latest songs that are usually added to the library every Friday. Apple Music, however, has the iCloud Music Library feature that lets you add any song, not on the streaming services to your Apple Music Library but from your PC or iPhone. Also, Apple Music has also signed contracts with mega stars who release their music exclusively on their platform meaning that you won't be able to listen to such new songs on any other streaming service.
What's more, Spotify is available in 183 countries until now while 167 countries support Apple Music. Evidently, when it comes to this, Spotify gets the edge over Apple Music.
Part 3. Apple Music vs Spotify: Design
Spotify provides an ad-free interface for its Premium users while Spotify Free shows with pop-up ads. And Spotify's backround is diaplayed with a dark theme. There is a stationary sidebar in the right interface of the desktop app and a navigation bar at the bottom of the mobile app, presenting the main feature such as a search option, home button, collection, curated playlists, your library, and your created playlists.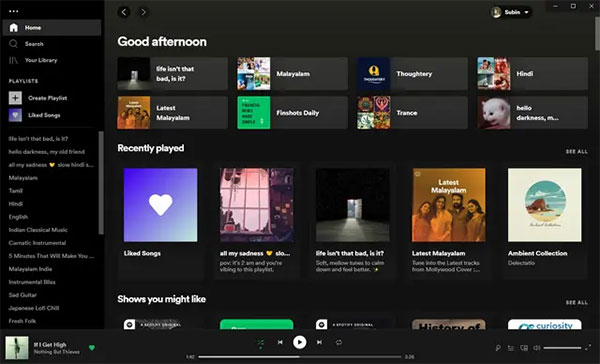 Distinct from Spotify, Apple Music boasts an ad-free interface for all users with a bright theme as its background. Likewise, Apple Music is designed with a left panel on its interface. But different from Spotify, you are allowed to customize the feature options you want to display on the sidebar.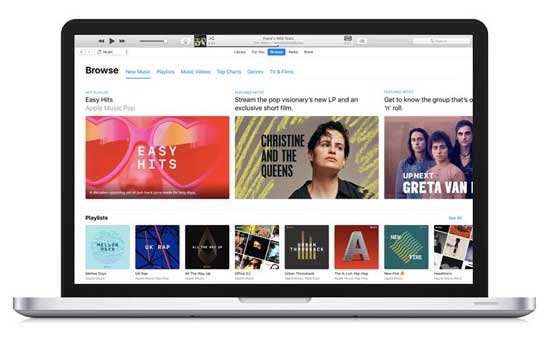 Part 4. Apple Music vs Spotify: Price Plans
When it comes to pricing, there is not much difference between Spotify Premium vs Apple Music subscription prices. Spotify offers two main options for its users: a free version which limits your experiences and carries a number of ads and the premium version which you have to pay for but without limits. And it also provides four options for its Premium plan: Individual Plan at $9.99/month, Duo Plan at $12.99 per month, Family Plan at $15.99/month, and Student Discount at $4.99/month.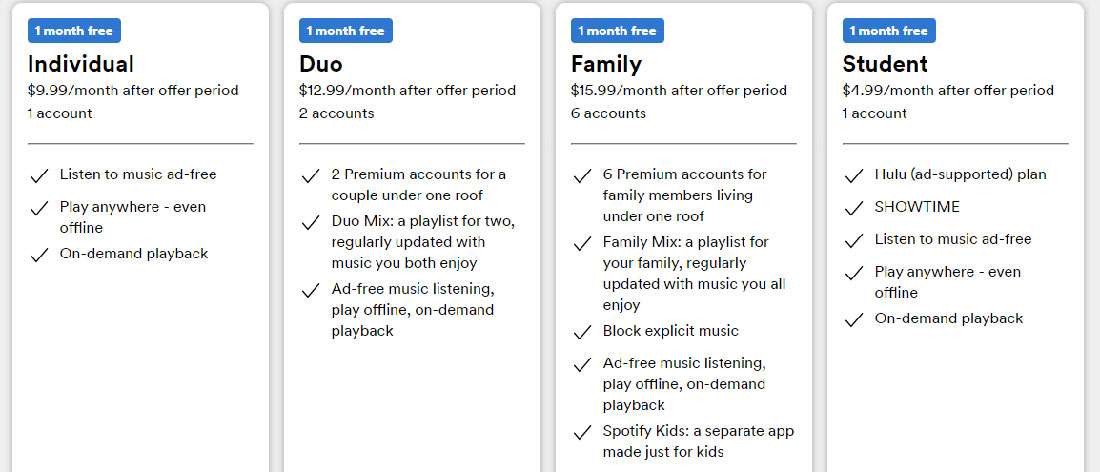 However, Apple Music does not have a free version but a free trial period of up to three months for its new users who thereafter have to subscribe to the premium plans. On Apple Music, subscribers also are provided multiple options: the family monthly plans at $16.99, Individual monthly plans at $10.99, student monthly plans at $5.99, and especially voice's monthly plans at $4.99 per month.
| Subscriptions | Spotify | Apple Music |
| --- | --- | --- |
| Free Version | ✔ | ❌ |
| Individual Premium | $9.99/month | $10.99/month |
| Duo Premium | $12.99/month | / |
| Student Premium | $4.99/month | $5.99/month |
| Family Premium | $15.99/month | $16.99/month |
| Voice Premium | / | $4.99/month |
Part 5. Spotify vs Apple Music Users
Do more people use Spotify or Apple Music? There is a huge gap between Spotify users vs Apple Music users. Until the end of 2022, Apple Music has 98 million users and over 82 million subscribers while Spotify has over 456 million users with about 188 million being paying subscribers. And on December 2022, Apple Music had approximately 85 million monthly active users, while Spotify had approximately 345 million monthly active users.
Obviously, more music lovers select Spotify as their shot.
Part 6. Spotify vs Apple Music: Music Discovery
The music discovery feature helps you find awesome music and new songs created by your loved artists or matching your tastes, which is specially tailored for you. Apple Music discovery vs Spotify Discovery Weekly, which will win?
Spotify Discover Weekly algorithmic playlist endows you with the ability to find new music on Spotify. With 30 fresh songs that you have never listened to but are matched with your tastes and listening habits embraced in the curated and exclusive playlist.
However, Apple Music has not rolled out specific 'Discovery Weekly' playlists like Spotify. But in the 'For You' section, 'Mixes' and 'New Music' options will release tailored playlists including new songs released recently. And the mixes style and genre are different each week.
Part 7. Compatibility Difference Between Apple Music and Spotify
Besides the factors mentioned above, compatibility is also an important feature that you should consider when you want to subscribe to a music streaming service. Because not all streaming services are compatible with all the music-playing devices available in the market. Your choice should be in line with your home appliances.
If you have invested heavily in Apple devices such as iPhones, Apple Watch, Apple TV, Mac computers, and Siri among others then you should choose Apple Music since Apple Music is only compatible with Apple Devices. Via AirPlay 2 or other channels, you can connect Apple Music to other devices.
Spotify, on the other hand, is not compatible with the Apple ecosystem but supportS many devices such as Google Home, the Amazon Echo, Windows, PS4 and Ebox. If you want to download playlists then using a music converter as explained above is your best option. However, if you love streaming music without downloading then the best option is to settle on a platform that is compatible with your devices. Just like AirPlay 2, Spotify Connect allows you to cast Spotify Music on other speakers or players.
Part 8. Spotify Wrapped vs Apple Music Replay
Spotify Wrapped, the musical recap for listeners releaseD at the end of the year, allows you to check a compilation of data about streaming activity on Spotify over the past year and share the wrapped report to social media. It will create a personalized summary report for you, indicating the total minutes streamed on Spotify, your top 5 artists, the top five songs, and the top genre you like. It is usually released towards the end of the year.
See Also: Fix Spotify Wrapped Not Working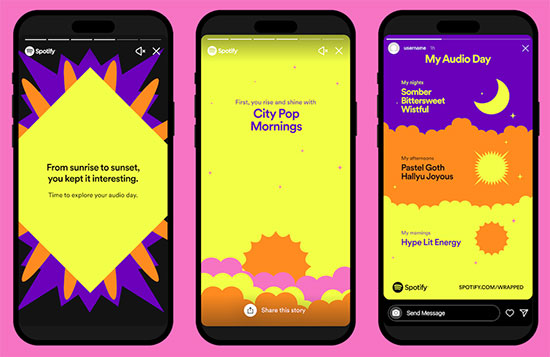 Apple Music Replay, a curated playlist of top songs for the year that updates weekly, helps you make a further understanding of your listening history including your most played songs, artists, and albums on Apple Music throughout the year. Compared with Spotify, Apple Music won't give you a summary but provides a playlist for you, which is available year-round and updates in real time.
See Also: Fix Apple Music Replay Not Working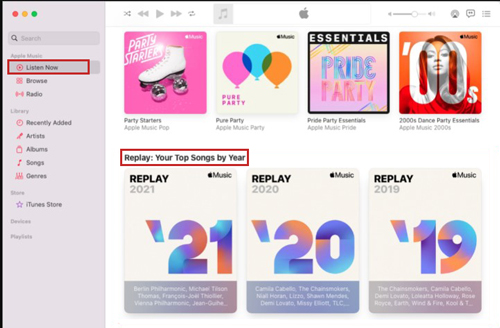 In brief, Apple Music Replay is more like the 'Discovery Weekly' playlist on Spotify than an annual report similar to Spotify Wrapped. That's why Spotify is in the forefront of the best music app recap.
Part 9. Apple Music vs Spotify: Social Feature
Spotify is well-known for its social feature. It empowers you to share your favorite music within the mobile app, look over and react to 'Friends Activity' which means what your friends are listening to, find your friends' profiles and follow their Spotify playlists by connecting with Facebook, access and make a Spotify Blend & Collaborative playlists created by your friends and you.
Likewise, From the profile on Apple Music, you can see what your friends are streaming. Moreover, you are able to share playlists through social media, messaging apps, or AirDrop. However, distinct from Spotify Blend, the songs you add to the shared playlist may not be accessible to your friends.
So amid the different social features, Spotify wins.
Part 10. Overview: Difference Between Spotify and Apple Music
Still in a dilemma about whether to give Spotify or Apple Music a shot? Check the following table that can help you make a decision quickly.
Apple Music
Spotify Music
Free Version
No
Yes
Sound Quality
AAC:
256kbps
ALAC:
16-bit/44.1 kHz (CD Quality)
24-bit/192 kHz
AAC:
128kbps or 160 kbps
OGG Vorbis:
320 kbps
Music Library
Over 90 million songs
Over 2 million podcasts
Around 30,000 songs added daily
Over 100 million tracks
Over 5 million podcasts
Over 49,000 songs added daily
User Interface Design
Bright theme
Ad-free for Spotify Premium users
Customizable sections on sidebar
Dark theme
Ad-free for all users
Stationary sidebar and sections
Subscription Price
$10.99/month(Individual)
$16.99/month(Familiy)
$4.99/month(Voice)
$5.99/month(Student )
$9.99/month(Individual)
$15.99/month(Family)
$12.99/month(Duo)
$4.99/month(Student )
Users and Subscribers
Around 98 millon users
Over 82 million subscribers
Around 85 million monthly active users
Over 456 million users
About 188 million subscribers
Approximately 345 million monthly active users
Available Country
167 countries
183 countries
Supported Devices
iPhone, iPad, Apple Watch, Apple TV, Mac, HomePod, CarPlay, Smart TVs, Gaming Consoles, Roku, Android, PC, Amazon Echo, Sonos, Google Net
Android and iOS Devices, Computers, Smart TVs, Car or Home Audio Systems, Game Consoles, Wearables, Smart Speaker, Smart Display, Wireless Speakers, , Car Audo, Streamers and Separate, Headphones, Smart Home
Evidently, from most aspects such as the subscription prices, compatibility, amount of users, etc., Spotify gets the edge over Apple Music.
Pro-Tips: How to Transfer Spotify Music to Apple Music
In this section, we will discuss how to transfer Spotify playlist to Apple Music. Due to the limits of the Spotify free version, Spotify Free users cannot download and turn on the offline mode on Spotify. Also, both Spotify Free and Premium users will play Spotify music only on supported devices. However, with a third-party music converter, you can achieve it to download Spotify music and listen to them on a wide range of devices or players.
Here, we recommend AudFree Spotify Music Converter which enables you to convert your Spotify songs locally into several commonly used formats including MP3, M4B, M4A, WAV, FLAC, and AAC. Besides, the customizable parameters such as the bit rate/depth, sample rate, audio channel, and so forth help you enjoy truly lossless audio quality. With original ID3 tags and metadata information preserved, you are enabled to manage your local music library. Most importantly, it allows you to play Spotify music on all devices and players offline whenever you want. The app is easy to use and operate. All you need is to hit the following green 'Download' button and install it on your desktop that has your Spotify. It is 100% secure and legal to install this converter for personal use.
Now, we will take you through how to download Spotify songs or playlists to AAC and transfer them to Apple Music.
Step 1

Add Spotify Music to AudFree SpoDable

Launch AudFree Spotify Music Converter on your desktop, and the Spotify app will open in sync automatically. Next, drag and drop the single songs or the whole playlists from the left sidebar of Spotify to this converter. Also, it is feasible to copy and paste the URL link of the playlist to the address box and tap on '+' to load it.
Step 2

Set Spotify Output Format and Other Parameters for Apple Music

Go to the top toolbar, and tap on 'Preferences' > 'Convert' to draw down the settings menu. Select 'AAC' as the audio format since it is available to Apple Music. To keep the lossless audio quality and ensure availability, please set the bit rate as 256 kbps which is the max desktop quality for Apple Music.
Step 3

Convert Spotify Music for Adding to Apple Music

Please hit the bottom-right 'Convert' button on the interface of this Spotify to Apple Music playlist converter, then it will kick off the converting process for Spotify songs. Once done, please tap the 'history' tab to locate the download Spotify files. Then add Spotify music to iTunes and access the Spotify downloaded playlists via the Apple Music app.
Please see also to find more detailed information: Transfer Spotify Playlist to Apple Music.
Conclusion
Spotify or Apple Music? Is Spotify better than Apple Music? It all depends on your needs. Both services are excellent in many ways with each having its own unique features that give it an edge over the other. The huge number of subscribers for both Spotify and Apple Music is a testimony to the quality of the two services. To get the best for your situation, all you need is to understand the features that make sense to your situation.
For example, if you already have a lot of devices that fall outside of the Apple ecosystem such as Google Home, Xbox, and PS4, then it will make a lot of sense to subscribe to Spotify. However, if you already have a huge collection of devices that make up the Google ecosystem such as a Mac computer, an Apple Watch, and an iPad, then Apple Music should be your natural choice.
If you have more questions or advice about Apple Music and Spotify or the best Spotify playlist downloader, please leave your words In the following comment area.