What makes a game captivating is not only the game itself, but also the exciting soundtrack, as it creates a more immersive atmosphere for gamers. Meanwhile, the collaboration between Deezer and Xbox brings carefully crafted Deezer Music to Xbox One games, making it easy to match the perfect soundtrack to your games.
If you're not satisfied with mediocre game music, it's time to liven up Xbox One with Deezer Music. Here, this article will introduce the best ways to play Deezer on Xbox One with/without Premium to greatly enrich the gaming experience.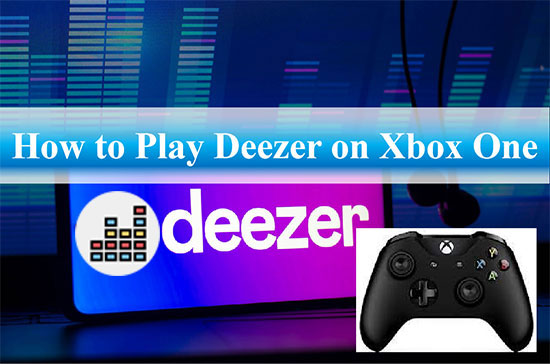 Part 1. How to Stream Deezer to Xbox One with Premium
Thanks to the Deezer Xbox One app, you are able to listen to Deezer Music on Xbox One, but it should be noted that it is only available for Deezer subscribers. Please become a Deezer Premium user or sign up Deezer for Xbox One in advance, then you can follow the steps below to take control of your Xbox One soundtrack with Deezer.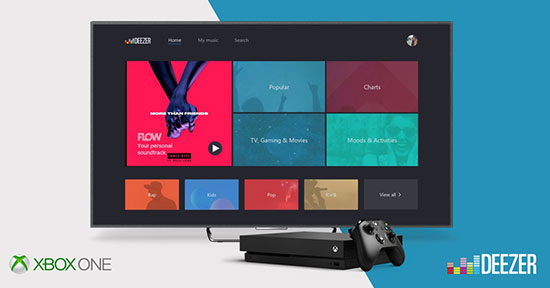 Step 1: Go to the Microsoft Store on your Xbox One, download and install the Deezer app.
Step 2: Once the installation is complete, launch the Deezer app and enter your Deezer account credentials to sign in to your Deezer account.
Step 3: Now, you have synced your Deezer to Xbox One, in turn, you can stream Deezer to Xbox One as background music.
Part 2. How to Play Deezer on Xbox One without Premium
As mentioned above, only Deezer Premium users can listen to Deezer on Xbox One directly, but can free users make Deezer Xbox One possible? Yes, in order to achieve this purpose, it is very appropriate to download Deezer Music as local files on your computer because Xbox One supports playing audio files from USB drives as well.
If you'd like to get Deezer Music downloads, the best AudFree Deezer Music Downloader will be your perfect helper. On the one hand, it is dedicated to download and convert Deezer Music to MP3, AAC, WAV and other common formats supported by Xbox One. On the other hand, it is open to all Deezer users, whether you are Deezer Free, Deezer Premium or Deezer HiFi, you can download your favorite Deezer Music and listen to Deezer offline for free on Xbox One without any restrictions.
AudFree Deezer Music Downloader
How to Play Deezer on Xbox One without Premium
Step 1

Set Deezer Music Output Format for Xbox One

Install and run AudFree Deezer Music Downloader on your computer, click the menu icon and select "Preferences" and "Convert" option. The settings window will pop up, at this time, you can adjust Deezer Music to Xbox One supported formats, like MP3, WAV, M4A, etc. If you like, it's able to change other audio parameters of Deezer, like sample rate, bit rate, audio channels.
Step 2

Import Deezer Music to AudFree Deezable

Select any preferred Deezer Music in the Deezer Music app, then tap to the "three dots" icon on the cover and select the "Share" > "Copy" button. After that paste the URL of the track into the search bar at the top of AudFree Deezable and then remember to click the "+" icon.
Step 3

Download and Convert Deezer Music for Xbox One

Hit on the "Convert" button and it will start downloading music from Deezer according to your settings. When it's done, click the "Converted" icon on the bottom bar or navigate to the target folder on your computer to browse all the downloaded Deezer Music.
Step 4

Play Deezer on Xbox One without Premium

Please transfer the converted Deezer Music from your computer to a USB drive and insert it into your Xbox One afterwards. Then you can view Deezer Music files and play Deezer on Xbox One freely without any problem.
Part 3. FAQs about Deezer on Xbox One
Q: Does Deezer Work on All Versions of Xbox?
A: The Deezer app is available for the following Xbox consoles, such as Xbox One, Xbox S-Series and X-Series consoles, with the exception of Xbox 360.
Q: Can I Listen to Deezer HiFi on Xbox One?
A: The answer is of course yes, Deezer HiFi users can stream Deezer Music on their Xbox devices including Xbox One with freedom.
Q: Where Is Deezer for Xbox One Available?
A: You can simply play Deezer on Xbox One if you are in one of these countries where Xbox is available, like USA, Canada, UK, Spain, Italy, Ireland, France, Germany, New Zealand, Brazil, Australia, etc.
Q: Can You Play Deezer on Xbox One for Free?
A: Although Deezer on Xbox One is only available for Premium users officially, this article find a perfect tool - AudFree Deezer Music Downloader to make Deezer Xbox One a reality without Premium.
Part 4. In Conclusion
The Deezer app on Xbox One gives gamers the option to tailor their personal game soundtrack. If you are a Deezer Premium user, follow the above official program to play Deezer on Xbox One. If you are a free user, this post also introduces the best tool to use Deezer on Xbox One without hassle.