Can you get Tidal on Xbox One? Game lovers tend to play music while gaming on Xbox One, but unexpectedly there is no popular Tidal Music in the entertainment menu of Xbox One. In this case, you can't use Tidal on Xbox One directly without official Tidal Xbox One app.
However, people have been expecting the integration of Tidal and Xbox one. So is there any other way to make Xbox Tidal possible? Truth be told, nothing is impossible in this world as long as you try to find it and it happens that here is the right place. This article describes a special tool along with its detailed guide to help you play Tidal on Xbox One.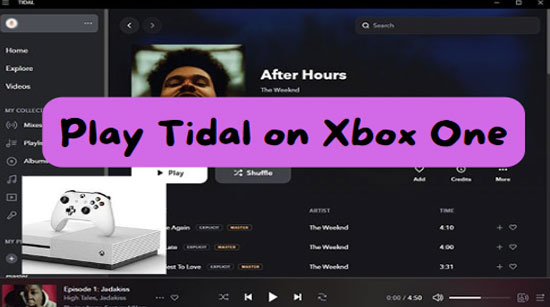 Part 1. Is Tidal on Xbox
Since there is no Tidal Xbox app here, the answer should be rather obvious, you will hardly be able to put Tidal Music on Xbox One through the official way. Generally speaking, Tidal Music is encoded in a special format, and even if you download Tidal Music through Tidal HiFi subscription, you have no right to transfer and play Tidal on other devices, including Xbox One.
Part 2. How to Make Tidal Xbox One Work Together - Tool Required
From what we discussed above, Xbox One is not able to recognize the format of Tidal itself, and you desperately need a third-party tool to solve this problem, and AudFree Tidal Music Downloader is probably the best choice. As a pioneer of Tidal Music Converter, it focuses on converting Tidal Music to MP3, FLAC, WAV and other common formats.
What's more, it can download Tidal tracks as local audio files and retain 100% original quality. In this way, you can easily transfer Tidal music to USB drive because Xbox One supports uploading local music from USB flash drive. With the help of this powerful tool, you can enjoy Tidal Music on Xbox One as background game sounds to make Xbox Tidal 100% integrated.
With cutting-edge technology, the AudFree Tidal Music Downloader has the power to convert more than 100 songs in a playlist at once, downloading Tidal streams at extremely fast speeds (up to 5X faster). In addition to downloading Tidal Music, it can also download podcasts, audiobooks and radio. Also, the output Tidal tracks come with full metadata such as artist, album, title and other tags. Then you can organize your local Tidal Music according to your needs, which is very convenient.
Part 3. How to Get Tidal on Xbox One
Now, let's see how to convert and download Tidal for Xbox One. After that, you'll be able to stream Tidal to Xbox One without the Tidal for Xbox app.
How to Convert Tidal for Xbox One
Step 1

Import Tidal Songs and Playlists to AudFree Tidable

Make sure you have installed the AudFree Tidal Music Downloader and the Tidal app from the official website on your computer desktop. Launch the downloader and the Tidal app will be opened automatically. After that, please find your favorite track or playlist on the Tidal app. Next, click on 'Share' > 'Copy Link' and paste the URL into the search bar on the tool's main screen. Then simply press the '+' button to finish loading the song.
Step 2

Define Tidal Output Parameters for Xbox One

Find the 'Menu' icon in the top right corner of the main page and click on the Preferences > Convert section. Later, it will bring up a new settings window where you can reset the output quality of Tidal by changing the format, sample rate, bit depth, channels, etc. If you want to get better quality, you should select "Format" as FLAC/WAV, "Sample Rate" as 48000 Hz and "Bit Depth" as 16-bit/24-bit.
Step 3

 Download Tidal Music for Xbox One

Now, click on the obvious "Convert" bar in the bottom right corner of the main page. The program will run at 5X speed to download the tracks to the output format you set before. When the conversion is finished, a red dot showing the number of songs will be prompted on the "Converted" icon. Please press it to locate the destination folder where all converted Tidal streams are stored.
How to Stream Tidal on Xbox Series X
Since Xbox Series products are capable of playing local audio files from your USB drive or any portable media player such as iPod, here, we will show you how to use Tidal on Xbox Series X as background music.
Step 1. Please create a music folder in your USB and name it "Tidal Music", this will help you to find it more easily.
Step 2. Add the Tidal Music file to USB and then plug it into your Xbox Series X from your computer.
Note: The maximum number of input songs is 200, and it is not available if you save as many tracks from the drive to Xbox One.
Step 3. Now you can select the media player in Xbox Series X to play the Tidal soundtrack on the USB drive. Thus, Tidal Xbox Series X integration becomes a perfect reality.
Part 4. Final Verdict
That's all you need to do, very easy, right? Before the Tidal Xbox app arrives, you can make good use of the AudFree Tidal Music Downloader to play Tidal Music while playing games on Xbox One. By the way, you can also stream Tidal on Xbox Series X without any restrictions. Let's start playing games on Xbox One with Tidal soundtrack.